Searching for a quiet Greek island escape? Look no further than Sikinos Island in Greece. Find out more in this travel guide on things to do in Sikinos island Greece.
About Sikinos Island in Greece
Sikinos is a small island in the Cyclades group of islands in Greece with a population of barely 300. Located between the better known islands of Ios and Folegandros, it is often described as the Greek island you go to read a book.
I have to say, I can't argue with that!
We visited Sikinos in September of 2020 and found it incredibly relaxing. Everything was low-key and chilled, and we enjoyed balancing our days between hours spent on a quiet beach, hiking, and sightseeing.
People who are after relaxed holidays will love Sikinos, as it's one of the quietest Greek islands. A place where you can get away from the stresses of real life.
If you're after a lively summer buzz and party scene though, you will probably prefer to visit another island instead. Just being honest!
Sikinos Travel Guide
This blog post has been written as an introduction to Sikinos so you can work out if it's a good fit for you, and what to see and do when there.
We've included travel tips, insights and other information about sightseeing so you can explore Sikinos at your own pace.
Bottom line: Sikinos is for independent travelers who want to be left alone to get on with their own thing.
Things to do in Sikinos Greece
There are two main settlements in Sikinos – Alopronoia is the port town, and Chora is the island's main settlement up on the mountain. The rest of the island is made up of farming land, a few beaches, churches, and many mountain paths.
Sightseeing in Kastro Chora
The main town in Sikinos island is Chora, a small settlement divided into two parts on different parts of the main road. They are called Kastro and Chorio.
As you are coming up from the port, you will find Kastro on your right-hand side. This is the oldest part of the town, and this is where all the action, by Sikinos standards, is.
Follow the stairs up from the street, between the whitewashed houses. The first thing you will see is a large, blue-domed church, typical of the Cycladic churches, right in the middle of the village's main square.
The picturesque temple is called Pantanassa and was built in 1787. Inside, you will see an impressive altarpiece and several post-byzantine icons.
A short walk up from the main square, you will find a small white chapel, Pantochara. The famous Greek poet, Odysseas Elytis, wanted to have a small church built on the island.
The chapel was inaugurated in 2011, a hundred years after the poet's birth. Interesting detail – the poet had never visited Sikinos.
Chryssopigi Monastery
Walk further up from Kastro, and you will eventually reach the Monastery of Chryssopigi, also known as Zoodochos Pigi. This nunnery was founded in the 1690s and was used by the islanders as a shelter when the pirates attacked Sikinos.
Chryssopigi remained active until 1834, when King Otto ordered for its operation to be terminated. The eight nuns who lived here at the time moved in with local families.
The monastery was abandoned until the mid-2010s, when it was revived. Currently, one nun, Sister Dorothea, lives here. At the time of writing, she welcomes visitors during afternoon and evening hours.
Walk around Chorio in Chora
Across the street from Kastro, you will see the newer part of the town, Chorio. Many of the houses here are abandoned, while a few others have been renovated. All in all, the village is very picturesque and deserves a visit.
From Chorio, you can also get a nice view of the Kastro settlement.
We read about the Ethnographic Museum in Chorio. When we were in Sikinos, there weren't any signs for it, plus no one seemed to be around to ask. It will have to wait till next time we visit!
The abandoned villa in Sikinos
Opposite Chorio, you can't fail to notice an abandoned villa. This impressive neoclassical house was built in 1900, and was fully functional until the mid-2010s, when a lightning destroyed part of the tower.
Hopefully, the family can get it restored. Until then, it's a quaint place to visit, and a beautiful – if windy – sunset spot.
The small church right next to the villa has an outstanding fresco and altarpiece. If you are interested in having a look, get in touch with Sikinos Travel who should be able to arrange a visit.
Episkopi Monument
High on the mountain, away from everyone and everything, you will find the unique monument of Episkopi. This large temple was originally a Roman mausoleum, dating from around the 2nd – 3rd century AD. During the 17th century, it was transformed into a Christian church.
After the 1956 earthquake in Sikinos, which also affected Santorini, access to the temple was prohibited for safety reasons. In the last decade, restoration works have begun on the monument, and they will be hopefully be over by late 2021.
In the meantime, the monument and archaeological site is surrounded by scaffolding and cannot be visited.
You can reach Episkopi from Chora village by car as it's 4.4 kms away. Other options to get from Sikinos Chora to the Episkopi monument include hiking or waving down a ride.
Tip – Irrespective of the Episkopi temple, it's worth coming up to the parking at night, just to look at the stars! There are no lights anywhere near, and you can clearly see the Milky Way.
Beaches in Sikinos
Sikinos island doesn't have a massive variety of beaches like Milos or Mykonos. In fact, there are only three Sikinos beaches that are directly accessible by car. The rest of the beaches can be reached by hiking or by boat trip.
As Chora / Kastro is a popular place to stay, you should know that it is not really near the beaches. You'll need to use a hiking path from Chora to the beach, rent a car, or fingers crossed use a local bus – if you ever see one!
Alopronoia beach is a calm, sandy beach right by the port. If this is where you are staying, it's convenient for a swim. This is where many of the locals seem to go. If you are staying in Chora and don't want to rent a vehicle, you can hike down to this beach in 45 minutes or so.
A dirt road in good condition leads to Dialiskari, a small, pebbly beach to the east of Alopronoia. You can also take a hiking path to Dialiskari Beach. There is no canteen or taverna, so bring anything you may need for the day.
Our favourite beach in Sikinos was Agios Georgios, a sandy-and-pebbly beach with a little taverna. Despite the strong meltemi on the days we were here, the water was absolutely calm, and Agios Georgios beach was quiet and relaxing.
These three beaches all have umbrellas that have been installed by the municipality. There are also some benches where you can sit, though it might be best to bring your own beach mat and towels.
Maltas beach, on the east coast of Sikinos, can be accessed through a hiking path. It's best avoided on meltemi days, as it is not very sheltered.
Apart from these beaches, there are many more swimming spots on the island. You can swim off the rocks in several areas, like Katergo, Santorineika, Agios Panteleimonas or Agios Ioannis.
Depending on weather, you can also take a boat tour of Sikinos, and visit the hidden coves and caves around the island.
Related: Best Greek Islands For Beaches
Hiking in Sikinos
Like most of the Cyclades islands, Sikinos is ideal for hiking. Sikinos Travel can help you discover the hiking trails, and they also provide a great hiking map of the island.
One of the easiest hikes is from the Episkopi monument to the chapel of Agia Marina. We took this hike ourselves at sunset, and it's roughly a 30-40 minute walk. Once at the top, there's great views all around Sikinos.
Most other hikes on the island of Sikinos lead to chapels and churches. Like mentioned above, you can also hike to the beaches.
Manalis winery
Nowadays, Santorini is world-famous for its wines. Did you know, however, that a few decades ago, they had to bring in grapes from Sikinos?
There is one place to go for wine-tasting in Sikinos, and this is Manalis winery. It's a short drive or bus ride up from Chora, on the same road leading to Episkopi monument.
They currently produce four types of wine (white, rose, red and sweet) and two types of tsipouro (normal and aged). You can taste the wines, and then sit for a snack or meal in their beautiful terrace.
If you only have one evening in Sikinos, by all means come here for sunset and enjoy the views, wine and food. This was by far our best meal in Sikinos, and the views and sunset experience were really beyond description.
The chickpeas that have been slowly cooked in a claypot were just divine!
Food and drink in Sikinos
Apart from the Manalis winery, most of the places to eat on the island are in the Chora of Sikinos. The best known one is Kapari taverna, right on the main road. They have a long menu of dishes, some of which use the local capers that are abundant throughout the island.
The most popular place to eat seems to be a souvlaki place called To Steki Tou Garmpi. They mostly have meat dishes and salads, and there is one traditional Greek dish per day.
Right on the square, you will find a café / snack bar / all-day restaurant, appropriately called Plateia ("Square" in Greek). Apparently, it is the only restaurant on the island that is open year-round.
Other choices for snacks, desserts and drinks are To Kastro, Soulatso and Anemelo. And this is pretty much it!
Now I have to admit, if there was one let down to Sikinos, it was the food. It's not that it was bad, it was just average. Keep in mind that I've lived in and traveled around Greece for 5 years now, so perhaps my standards are too high!
Shopping in Sikinos
You may be surprised to find a bookstore in Chora, and a really good one at that. There is a large selection of Greek books, and some in English.
As you will immediately notice, they have all been very carefully selected to represent Greece. For example, you will find Homer's Iliad and Odyssey, as well as translated poems by Odysseas Elytis.
The town also has a couple of quality souvenir stores that you can visit. Do not expect the normal tacky souvenirs – many of these are hand-made and worth a look.
Getting around Sikinos
Sikinos is one of these islands where you won't really need to rent a car or quad. If you like walking, you can enjoy the hiking paths and forget about transportation.
Still, there are a couple of places to rent your own wheels if you want. There is also a gas station – just ask for opening hours as they may be limited.
In addition, there is a local bus connecting Alopronoia, the port, Chora, Manalis winery, Episkopi and the beaches. You will find the bus timetables in pretty much every bus stop and central areas on the island.
Where to stay in Sikinos
There are really two options when it comes to areas with accommodation in Sikinos – Chora and Alopronoia. If you want to stay by the beach, you should stay in Alopronoia, but my suggestion would be to stay in one of the Sikinos hotels in Chora.
We stayed at a great self-catering apartment right above Kapari taverna which we would go back to on another trip to Sikinos. There are a few other room options in the village.
We recommend Booking to look for Sikinos accommodation online. Take a look at the Sikinos map below for more accommodation options.


Note that the island's minimarkets are located close to the port. If you are not planning to rent a vehicle, it's worth asking your hotel owner if they can help you with some heavy shopping, e.g. water.
Best time to go to Sikinos
Unlike better known islands like Santorini or Naxos, Sikinos has a relatively short season. My suggestion would be to avoid late July and August, and go in either September or May-June instead.
While the sea in September may be warmer, the days are shorter and you may still come across the meltemi. May and June are safer in terms of wind, and you will also enjoy the end of spring, seeing the Cyclades in a different light.
If you are after panigiria, the traditional Greek religious festivities, you will be pleased to know that Sikinos has a few. Some of the most important summer panigiria are on 1 and 27 July, on 6 and 15 August, and on 8 and 14 September.
You will definitely enjoy participating in these local festivals with food, free-flowing wine and lots of traditional Greek music and dancing.
How to get to Sikinos
There is no Sikinos airport, and so the only way to travel to Sikinos island is by ferry.
Depending on the time of year, there are a few ferries per week from Piraeus (Athens) to Sikinos. I've a guide here – How to get from Athens to Sikinos.
There are also connections with nearby islands in the Cyclades, such as Ios, Folegandros, Kimolos and Milos.
I've two guides here for the closest island ferry connections:
I recommend Ferryhopper as a source to both research and book Greek ferry tickets online.
Sikinos Blog FAQ
Readers who want to spend time on the Cycladic island of Sikinos often ask questions similar to:
Is Sikinos worth visiting?
The quiet island of Sikinos is a good choice of Greek island to visit for anyone who is looking for an off the beaten path destination to relax and take things easy.
What's the best time of year to go to Sikinos?
The summer months are the best time to visit Sikinos. In particular June and September are excellent months to go.
Where is Sikinos Greece?
Sikinos is one of the Cycladic islands of Greece, positioned between lively Ios and Folegandros.
Why visit Sikinos?
Sikinos feels like one of the more remote places in Greece. The whole island is relaxed, daily life is laid back, and the quiet beaches an escape from busier Greek destinations.
Which Greek islands are near Sikinos?
Places to consider island hopping before or after Sikinos include Ios, Folegandros, Santorini, Paros, and Naxos.
Have any questions about Sikinos? Leave them in a comment at the end of this Greek travel blog post, and I'll answer them as soon as I can!
In the mean time, please share this on social media using the buttons in the bottom right hand corner of your screen. Cheers!
---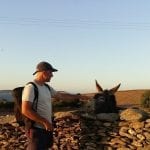 –
Dave Briggs
Dave is a
travel writer
who has been living in Greece and writing about the country since 2015. In addition to writing this travel blog about Sikinos island Greece, he's written hundreds more guides to other destinations in Greece. Follow Dave on social media for travel inspiration from Greece and beyond: