There is one regular daily ferry from Naxos to Folegandros in Greece during the summer months, with additional ferries added according to seasonal demand.
How to get to Folegandros
The Greek island of Folegandros has been an up and coming destination in the Cyclades island chain for a few years now.
Visitors appreciate the way it has not totally succumbed to mass tourism in the way that Santorini and Mykonos have, but also like that it has just enough tourist infrastructure to cater to their needs.
It helps, of course, that you have to make an effort to get there, which keeps the package tour companies at bay. There are no direct flights as the island does not have an airport, and so the only way to reach Folegandros is by ferry.
Naxos Folegandros Ferry Crossings
If you've decided to visit Folegandros directly after spending time in Naxos, you'll find the two islands are well connected by direct ferries.
During the the busiest months of summer, there is one regular direct ferry per day, and on occasion two ferries from Naxos to Folegandros. These ferries to Folegandros from Naxos are operated by SeaJets and Blue Star Ferries.
Travel times for the regular daily crossing operated by SeaJets sailing to Folegandros from Naxos island takes around 4 hours.
This is supplemented, according to the demands of the year, by additional ferries by SeaJets and sometimes a once weekly Naxos Folegandros Blue Star Ferries crossing.
You can generally expect faster ferries to have more expensive tickets prices. The best place to look at up to date schedules and book tickets online is Ferryhopper.
Folegandros Island Travel Tips
Here's a few travel tips for visiting Folegandros island that will help you organize an itinerary and explore more:
Ferries sail from the ferry port in Naxos Town (Chora) in Naxos. Passengers are advised to be at departure ports at least a half hour before trips are due to begin.
---
Ferries arrive at Karavostasis port in Folegandros.
---
For places to stay in Folegandros, I recommend using Booking. They have a great choice of apartments in Folegandros and areas to consider staying include Ano Meria, Karavostasis, Agali, and Chora.
---
I've previously stayed at Coral rooms at Karavostasis, which I found to be excellent accommodation for the price (I stayed in September – a cheaper month). If you are traveling to Folegandros in the months of July, August, and September, I advise reserving hotels in Folegandros a month or so in advance.
---
---
Ferryhopper is perhaps the easiest site to use when it comes to checking timetables and booking Ferry tickets online. I suggest you book your Naxos to Folegandros ferry tickets in advance, and especially book any onward tickets in advance. I didn't find the staff at Diaplous Travel in Folegandros to be very helpful or friendly at all when arranging onward tickets.
---
---
---
How to get from Naxos to Folegandros FAQ
Questions that people ask about traveling to Folegandros from Naxos in the Cyclades islands include:
How can I get to Folegandros from Naxos?
If you want to make a trip from Naxos to Folegandros the best way is by ferry. There is one regular direct ferry per day, and on occasion two ferries sailing to the island of Folegandros from Naxos.
Is there an airport on Folegandros?
The island of Folegandros in Greece does not have an airport. The nearest airport to Folegandros is on either Santorini or Milos.
How many hours is the ferry from Naxos to Folegandros?
The standard travel time between Naxos and Folegandros by ferry is 4 hours. You might find an occasional quicker ferry during the summer according to the demand of the season.
Where can I buy tickets for the ferry to Folegandros?
I find that the Ferryhopper website is the best place to book ferry tickets online. Although I suggest you book your Naxos to Folegandros ferry tickets in advance, you might also prefer to use a travel agency in Greece when you have arrived.

Have you taken this ferry route? Do you have any preference when it comes to ferry companies or have any tips for making the boat journey go more smoothly? Please leave a comment below and share it with the world!
---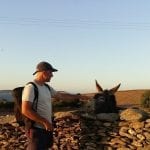 –
Dave Briggs
Dave is a
travel writer
who has been living in Greece and writing about the country since 2015. In addition to writing this travel blog guide ferries from Naxos to Folegandros, he's written many more travel blog posts about destinations in Greece. Follow Dave on social media for travel inspiration from Greece and beyond: