Discover the best things to do in Folegandros and what makes this little Greek island so special in this travel guide to Folegandros island in Greece.
Folegandros, Greece
Folegandros is one of the smallest Cycladic islands in the Aegean Sea. It is located between Milos, one of the most upcoming destinations in Greece, and Sikinos, one of the least known Cyclades islands.
Many people choose to go to Folegandros after visiting the more famous island of Santorini first. As a result, a lot of people prefer the much slower pace of Folegandros and think of it as a more authentic Greek island.
This is because in comparison to islands like Santorini and Mykonos, Folegandros is relatively little developed, with just four main settlements:
Chora, the main town with the amazing Castle and the most tourist infrastructure
Karavostasis, the port town, where you can catch a ferry from / to other islands and Piraeus
Ano Meria, sometimes known as Ano Mera, a small quaint village where time seems to have stopped
Agali, a small beach resort.
Arguably, the best known feature of Folegandros are the stunning cliff views from Chora. In fact, this is the main reason why some people compare Folegandros to Santorini.
However, this tiny island has lots more to offer, including lovely beaches, wild landscapes and delicious food. In this Folegandros travel guide, you'll have all the information you need to start planning your trip.
Folegandros Greece Travel Planning
You'll find the following sections in this guide useful when preparing to travel to Folegandros:
Things to do in Folegandros
If you're visiting Folegandros after Santorini, you might just be happy to get out to the beaches and away from people for a few days! If you're still into sightseeing though, here's some other suggestions of things to do in Folegandros island.
Stroll around Chora, the picturesque main town
Many people consider Chora Folegandros to be the prettiest main town in the Cyclades. Now I have to say, many islands claim that their main town is the prettiest! But it's true that Chora in Folegandros, sitting at an altitude of 200 metres, has something special.
The oldest part of Chora (pronounced hor ah) is called "Kastro", the word used in Greek for Castle. Rather than a proper castle, it is a medieval defensive settlement built around the 13th century AD.
It was originally constructed to protect the residents from pirate attacks, and it has been continuously inhabited since then. There are similar settlements on most other Cyclades islands, like Milos or Kimolos.
The northern side of the Castle is built right on the edge of a cliff, and the setting is pretty insane – the words "really impressive" don't really cut it!
The main settlement is full of streets with white washed buildings, pretty squares, quaint Cycladic-style houses and picturesque Greek churches.
In addition, there's a nice mix of charming little cafes, tavernas, bars and a handful of shops. Stroll around, and you will discover cute corners largely untouched by mass tourism.
With that said, do not expect Chora to be 100% authentic. You will immediately notice that much of the infrastructure is strictly for visitors.
In fact, most of the tavernas close in winter, as they only rely on tourism. Still, it's a very attractive main town, and if you avoid July and August you will have enough space to appreciate the original architecture.
Walk up to Panagia church for stunning views of Chora
Look up from Chora, and you will see a white church up on the hill. This is the emblematic church of Panagia, the largest church in Folegandros, dedicated to the Virgin.
The church was most likely built over the remains of an ancient Greek temple dedicated to Artemis and Apollo. Looking closely, you will discover ancient statues, columns and inscriptions in the courtyard and inside the church.
Inside the church, you can see an icon of the Virgin, dating from the Byzantine times. There are many stories and legends connected to the icon, which is considered to be miraculous.
It will take you 10-15 minutes to walk up to the church, and you will be rewarded with breathtaking views of the Chora and the cliffs. As you can imagine, it's one of the popular places for sunset, but you should also visit during the daytime for some clearer views.
Enjoy some of the best sunsets in Greece
Santorini's sunsets may be legendary, but they are not the only sunsets in Greece worth looking for. Folegandros has some great sunset spots.
The most popular sunset in Folegandros is the one from Panagia church. A winding path leads up to the church with panoramic views of the towering cliffs.
Make sure you get there early, to reserve a good spot. Even though Folegandros is nowhere near as crowded as Santorini, this location is does attract a lot of people.
Another place we really liked watching the sunset from, was Chrysopigi church. There's an easy asphalt road all the way there. Walk a little further down the path, and you may end up just on your own. This was an amazing spot to see the sun dive straight into the Aegean!
Visit the authentic village of Ano Meria
The small settlement of Ano Meria, up on the mountain, seems to have come out of an old book. Unlike Chora, it has largely kept its authenticity, with just a few houses scattered here and there. At first, they may seem uninhabited, but look closely and you will realize that people live there.
You may be surprised to hear that this is where most of the permanent residents live during winter, so this is where the "action" moves.
You won't find much to do in Ano Meria, apart from a few tavernas and rooms to let. In fact, the main reason why visitors come to Ano Meria, is to go to one of the best tavernas in Folegandros.
Places like Irini's, I Sinantisi, and the small souvlaki house called Marankoudiko all come highly recommended. Also, check out the hidden bakery with all sorts of pies, cookies and koulouria.
Tip – if you have a car, leave it on the main street and just walk to the bakery… trust me on that!
A must-visit tourist attraction in Folegandros, is the Ecomuseum in Ano Meria. This is a small folk museum housed in a 17th-century building which has been renovated with respect to old construction techniques. You can see what life was like in previous centuries, and there is information on cultural, social and economic aspects. You will also have the chance to see a traditional cheese-making facility and an oil press.
Unfortunately, the Ecomuseum was closed at the time we visited, but I would love to visit next time I go to Folegandros.
Folegandros during Greek Easter
If you are ever in Folegandros on Greek Easter, you are in for a very special treat. You will witness an important procession tied to Greek religious customs.
On Easter Sunday, the miraculous icon of the Virgin which you can normally see in Panagia church, is carried all around Chora and the castle. The icon is taken from one house to the next, bringing good luck, fortune and blessings.
On Monday, the icon is carried around Ano Meria, while on Tuesday it's taken down to Karavostasis port, where all boats and vessels are blessed.
On these three days, all people in Folegandros open their homes to receive the icon. Anyone can visit, and in true Greek fashion, treats are included! On Tuesday night, the icon returns back to the church, where it will remain until the following Easter.
This is definitely one of the most unique Greek Easter customs. If you are planning to visit Greece in spring, try to include Folegandros in your itinerary.
Panagia church also celebrates on the 14 August. Other local festivals in Folegandros include the celebration of Agia Marina in Agali, on 16 July, and the celebration of Agios Panteleimonas in Ano Meria, on 26 July.
Those local festivities, called panigiria, always end up in eating, drinking and dancing, and visitors are most welcome to attend!

Explore the beaches in Folegandros
For an island of its small size, Folegandros has more than its fair share of beautiful beaches with crystal-clear waters. Sandy, pebbly, or rocky, there are many beaches in Folegandros to choose from.
Most of them are wild and unspoilt, with little to no infrastructure.
If you are staying at Karavostasis port town, you can easily walk to many Folegandros beaches. A popular beach is the pebbly Chochlidia, right by the port. It's great on those windy days or just for a quick swim. There are a few trees for shade, and cafes – tavernas nearby.
Tip – sunrises here are amazing!
One of our favourite beaches in Folegandros was Vardia, a beautiful long sandy beach to the north of the port. You will have to walk down a few stairs, and you will arrive on a beach that visitors often seem to miss. Note that Vardia is exposed to the northern winds.
Other places to swim near Karavostasis include Latinaki, Vintsentsou and the sandy Livadi, a short walk to the south.
Clustered together in the middle of the island, you will find the pretty beaches of Agali, Galifos and Agios Nikolaos. As they are all facing south, they are relatively protected from the winds and popular overall.
You can easily get to Agali by your own vehicle, public bus or even on foot. Apart from the beach itself, you will find many cafes and tavernas. There's also a small marina, from where small boats depart to Livadaki beach.
From Agali, you can then walk to the other two beaches further east. Galifos is a small, almost hidden cove, whereas Agios Nikolaos is a long, wide beach with a couple of restaurants.
And finally, here's some info on the two most well-known beaches in Folegandros – Katergo and Livadaki.
Go to Katergo beach in Folegandros
Arguably the most famous beach in Folegandros is Katergo, located at the southernmost part of the island. You can easily get here on a quick boat trip from Karavostasis port. There are generally several boats a day, but as the itineraries may change, ask around at the port. In 2020, the round-trip price was 10 euro.
Alternatively, it is possible to hike here. There's a relatively easy trail across a wild landscape, starting a couple of kilometres south of Karavostasis.
It should take you 20-30 minutes to hike to Katergo, or about 45-50 minutes if you are hiking from the port town itself.
I've a full guide here: Hiking to Katergo Beach in Folegandros.
Apart from water and snacks, I would suggest bringing an umbrella, as there's practically no shade on the beach. And by all means bring a snorkel, as this beach and the nearby rock has some of the clearest waters we have seen!
More here: Katergo Beach Folegandros
Hike to Livadaki beach in Folegandros
One of the most beautiful beaches in Folegandros, Livadaki, is on the north-west coast of the island. The easiest way to get here is on a small boat from Agali beach.
These generally depart a few times per day, but as itineraries may vary, ask around at the small marina. Round-trip tickets should cost you around 12 euro.
If you are feeling energetic, you can also hike to Livadaki beach from Ano Meria. There are a couple of starting points and the hike takes about an hour each way. It's an easy hike overall, though there are a couple of steep places.
The beach itself is full of large pebbles, and there are very few sandy patches. There are also a few trees for shade, so you won't necessarily need an umbrella. Remember to bring plenty of water, sunscreen and snacks.
Close to Livadaki beach, you will also find the Aspropounta lighthouse. If you don't mind hiking in the dark, you could consider staying here for sunset.
More here: Livadaki Beach Folegandros
Hike around Folegandros
Apart from the hikes mentioned above, there are a few more hiking paths in Folegandros. They are clearly marked, and ideal for people who like exploring the Cyclades on their own two feet!
In fact, Folegandros is one of the best islands to hike, even if you are not an experienced hiker, as the trails are relatively short and easy to follow.
There are five main hiking trails you can use to explore Folegandros:
3.5 km trail linking Chora and Agali, passing by Stavros, Christos and the small Fira beach
3 km path from Ano Meria to Agali, passing by the lovely Agios Nikolaos beach
4 km trail from Ano Meria to the northern beaches of Agios Georgios and Lygaria
A short 2 km hike from Ano Meria to Ampeli beach
A longer, circular route of 5.5 kms, connecting Ano Meria, Livadaki and the Aspropounta Lighthouse.
We have found that the signs are pretty accurate in terms of time needed to hike. Just don't forget to bring water, snacks and definitely a hat and sunblock, if you are walking under direct sun.
Take a boat tour around Folegandros
If hiking is not your thing, or if you have limited time in Folegandros, a boat tour is the easiest way to see many beaches in one day. You will also explore seacaves, see stunning beaches, and check out some amazing rocky cliffs.
It's one of the things to do in Folegandros that you'll want to make sure you have a fully charged camera for!
These tours last for a few hours, and a meal plus refreshments are generally included. Depending on the winds, the boat may or may not tour around the entire island, but it will stop at the best beaches and some hidden coves.
Ask around at travel agencies in Folegandros, to see what's available at the time of your visit.
Note – Folegandros has a cave called Chrysospilia, located on the north-east coast. This large cave is over 300 metres long, and can only be approached by sea, when the winds permit. Human relics and artefacts dating from Roman times have been found inside the cave.
In addition, there are carved names all around its ancient walls. These most likely date from the 4th century BC. It is believed that some type of ritual occurred, possibly involving adolescents reaching adulthood.
At the time of writing, Chrysospilia cannot be visited.

Where to eat in Folegandros
There are several local dishes that you can find on the Cyclades islands. These include fresh fish, goat meat, local tomatoes, capers and the fantastic local cheeses.
While you can get all of those in Folegandros, there is one specialty that everyone agrees you should try. It is called matsata, and it's a type of handmade fresh pasta served with chicken, rabbit or some other meat.
I have to admit that I didn't find them so special, even though we had them at Irini's in Ano Meria, one of the most renowned tavernas. If you try them, let me know your opinion.
In addition, you can try the kalasouna, a local pie with cheese and onions. As onions are not typically included in Greek pies in Athens where I live, it was a lovely surprise.
In terms of restaurants in Chora, some of the best choices are Goupi, Piatsa, Sik and Kritikos. Wherever you go, order as many different dishes as you can, and explore the local flavours.
Tip – there are two excellent places for ice-cream in Chora. The one is called "Lo Zio" and is marked on googlemaps as "παγωτό 'Ο θειος'".
The other one is called Parasagas and also serves fantastic-looking breakfast. I can't decide which one was better, so try them both!
Finally, Chora also has a few nice bars. Astarti is famous for its rakomelo, a strong drink based on raki and honey.

Getting around Folegandros
Folegandros is one of those tiny Greek islands where having your own vehicle is not necessary, especially if you like walking.
There is a frequent bus covering all the main areas. This includes Karavostasis port, Chora, Agali and Ano Meria, all the way to Agios Andreas church.
Most of the beaches and other places to go in Folegandros, are accessible either on foot or by sea.
If you want to visit the northern part of the island, including Ligaria and Agios Georgios beaches but don't want to hike, you could consider renting a 4X4 or a quad.
In our experience though, that side of Folegandros isn't so special, and you can safely leave it out of your Folegandros itinerary.

Where to stay in Folegandros
The main areas to stay in Folegandros are Karavostasis port and Chora. You can also find a few rooms in both Ano Meria and Agali. Folegandros has a wide range of accommodation to choose from including boutique hotels, seaside studios and a[artments.
Check out my hotel guide here: Best hotels Folegandros
We stayed at Coral rooms at Karavostasis ourselves. We were happy with our choice, as the rooms were spacious and bright, and Myrtia, the manager, was super helpful. Furthermore, they were right next to several beaches and parking was very easy. Since we had our own car and were travelling for several weeks, this was important to us.
Chora itself is much busier, and this is really where it's all happening. It's the best place to stay in Folegandros if you want a wide choice of cafes, tavernas and nightlife. Note that, if you have a vehicle, you will need to park it outside the town, in designated parking areas.
Here's a map of places to stay in Folegandros. Apparently, places get sold out months in advance, especially for peak season (July and August), so it's best to book early to avoid disappointment!



How to get to Folegandros
Folegandros is a fairly remote island. There are several types of ferries leaving from Piraeus (Athens) to Folegandros, taking anywhere between 4.5 hours and about 10 hours. Read this guide: How to get from Athens to Folegandros.
Those ferries typically stop on a number of islands along the way, including Kythnos, Serifos, Sifnos, Milos and Kimolos. They may then continue to Sikinos, Ios and / or Santorini.
The Santorini to Folegandros ferry is also a popular choice, as Folegandros is a refreshing place to visit after the touristy island of Santorini.
There are also several local ferries, connecting Folegandros with other Cycladic islands, like Anafi, Naxos, Syros and Paros.
Take a look at my full guide to islands near Folegandros to plan where to visit after!
You can check out all itineraries and book your tickets at Ferryhopper.
Best time to go to Folegandros
When is the best time to go to Folegandros? We visited in September 2020, and compared to other islands I visited on the same trip, like Ios or Sikinos, Folegandros seemed very busy!
For better or for worse, its popularity has increased massively over the past decade, so it may be more crowded (and more expensive) than what you had expected.
With that said, I would personally choose to visit either over Easter, to see the unique customs, around early June, or in late September / early October. I would definitely avoid July and August, as the island is quite small, and we were told that it can get really busy.
If this is your style, by all means go during peak season – but wouldn't you prefer to have these beaches to yourself?

What I thought to Folegandros
There seems to have been a gradual buzz building up about Folegandros over the last 10 years, and so I was excited to finally have a chance to visit.
The word 'authentic' had been bandied around quite a lot in regards to Folegandros, and people seemed to rave about the beaches.
If I'm to be honest, I was slightly disappointed. Whilst Folegandros certainly doesn't have Santorini or Mykonos levels of tourism and associated infrastructure, there was a definite 'built for tourists' feel to it.
I'd say that well over 50% of the buildings on the island are accommodation for tourists built over the last decade or so.
Talking to the locals, they said the Chora was all but closed in the winter in terms of places to eat for locals. This is a very different situation when compared with Kimolos, a similarly small island.
This doesn't make it a bad place of course. Anyone coming off the ferry from Santorini to Folegandros is going to feel instantly relieved. There are no chain restaurants or cafes, far fewer people, and it has the air of a relaxed holiday resort.
And that's what Folegandros is of course – a holiday destination.
The highlights for me were the hiking trails and the walks to both Katergo and Livadaki beaches, as well as the sunset over the Chora.
In short, Folegandros is a nice island to visit after a few days in Santorini or Mykonos for first time visitors to Greece. Personally though, I've been once and that's enough for me.
Ultimate Folegandros Travel Guide
If you enjoyed reading this Folegandros travel blog, please share it on social media. You can find sharing buttons in the right hand corner of your screen.
What to do in Folegandros FAQ
Readers who plan to visit Folegandros to enjoy its stunning landscapes and popular beaches often have questions similar to these:
How many days do you need in Folegandros?
Folegandros offers only a handful of beaches and a slow pace of life, so plan on staying between three and five days to fully enjoy your experience there.
What is Folegandros known for?
Folegandros is one of the most beautiful Greek Islands in the Cyclades group. Famed for its wonderful landscape, spectacular views, fantastic sunsets, and charming Chora, you could describe the island as being a lower key Santorini.
Does Folegandros have nice beaches?
Folegandros has several secluded beaches and a few which are easy to reach. The beaches are a mix of sandy and rocky, and all are backed by fabulous blue waters. Beach hopping on a boat tour is definitely recommended for one day of you stay on the Greek island of Folegandros.
How do you get to Folegandros Greece?
You can only reach Folegandros island by ferry as there is no airport. You can get to Folegandros by ferry from Athens as well as the nearby Greek islands in the Cyclades.
Which Greek islands are near Folegandros?
The best Greek islands near to Folegandros include Sikinos, Milos and Santorini.
---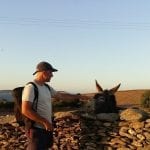 –
Dave Briggs
Dave is a
travel writer
from the UK, currently living in Greece. He created this travel blog back in 2005 to document his travel adventures around the world. Since moving to Greece he has a somewhat ambitious (perhaps impossible) goal of visiting all the Greek islands and writing about them. Follow Dave on social media for new posts, travel and adventure inspiration: