Discover the best things to do in Naxos Island, Greece. Includes where to stay in Naxos, best beaches and more!
Naxos Island Travel Guide
In this Naxos blog post, you'll discover more about this beautiful Greek island in the Cyclades. With great beaches and a laid back atmosphere, Naxos is the calmer, more family friendly version of Mykonos you've been looking for.
Whether you want to stay in Naxos for a few days or spend your entire vacation there, there's plenty to see and do.
This travel blog gives you the basics on the Naxos island attractions, and provides essential travel tips and information so you can plan a vacation.
What is there to do in Naxos?
I've visited Naxos a few times now, and can testify that there really is something here for everyone. It's the largest island in the Cyclades, and it has everything from hiking to watersports, from visiting archaeological sites to walking through quaint villages and towns. And don't forget the beaches!
My preference when visiting the Greek islands, is to mix and match beach time with sightseeing. This is because I'm not one of those people who can spend 8 hours a day on a beach, and also, I like to see a little of the place I'm visiting.
Some of my readers are the same, and I recently had this suggestion from John to add on sightseeing in Naxos:
We had an amazing private tour of the Pamplonas Distillery where they make Kitro on Naxos. The fourth-generation daughter, Sophia, gave us the tour. She introduced us to her incredibly friendly family… brother, father, mother, grandmother. It was a highlight of the visit to that island and worth a mention on your blog.
As such, I've listed the main things to do in Naxos at the top, and then gone into more detail about the beaches in Naxos at the end.
Let's start off with a few things you should see when in Naxos.
1. Portara of Naxos (Temple of Apollo)
The Portara is the most recognisable landmark of Naxos, and you'll probably see it straight away if you arrive at the ferry port.
This frame marble door is part of the unfinished Temple of Apollo which was commissioned by Lygdamis, a 6th century BC tyrant.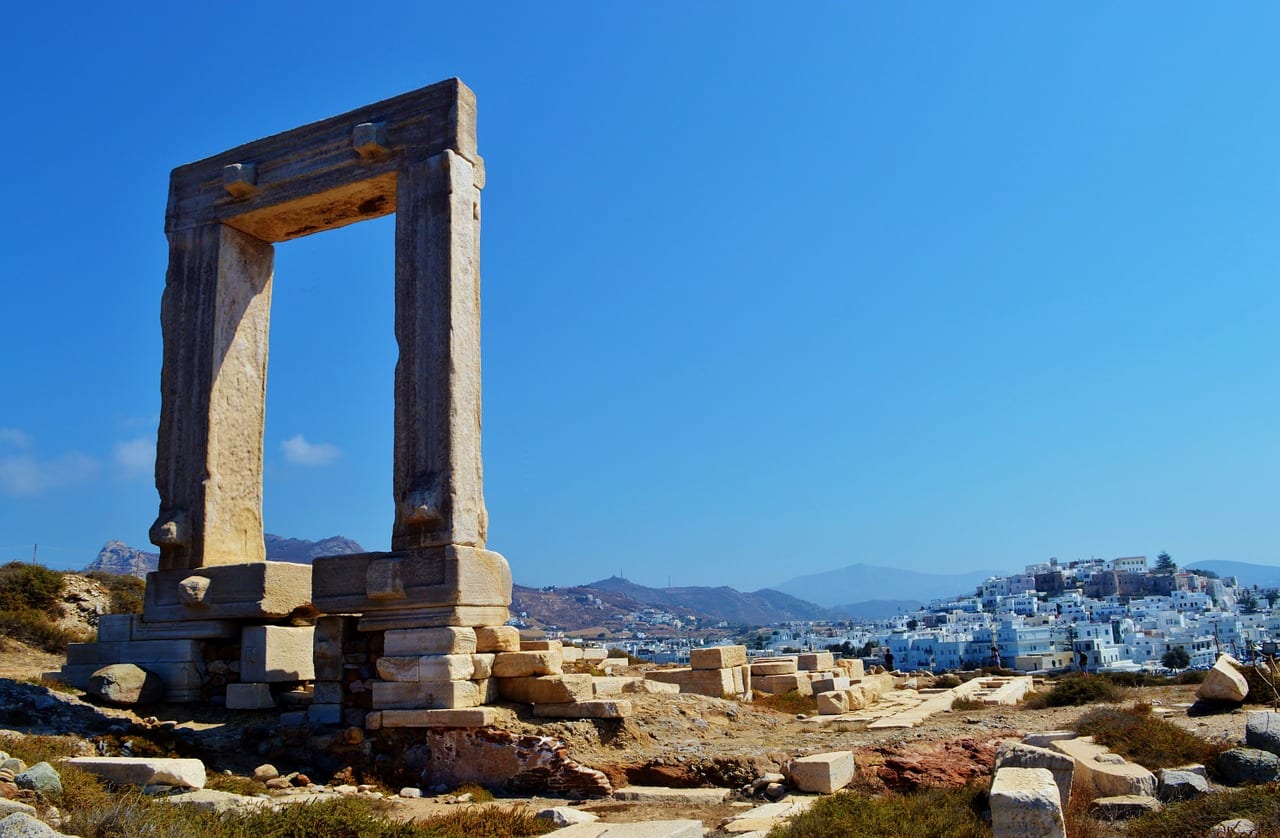 Much of the temple dedicated to the God Apollo was looted over the centuries, but the marble pieces of the Portara of Naxos were so heavy they were never taken. Each piece is said to weigh nearly 20 tonnes!
The doorway stands on a small islet called Palatia close to Naxos Port, and is a great sunset spot. If you are looking for Instagramable places on Naxos, the Portara is perfect!
There is currently no entrance fee to walk around the Portara, and in addition to the doorway itself, you get some amazing views back out over the Chora.
One additional note: People with keen eyes may spot a small, natural pool on the right hand side when walking up to the doorway. This is known as Ariadne's pool. (In Greek Mythology, Ariadne was abandoned by Theseus on Naxos after the adventure of the Minotaur and the Labyrinth).
2. Naxos Town / Chora
Sometimes referred to as Naxos City, this is the main settlement, and everybody passes through here at one point or another even if they decide to stay elsewhere on the island.
The chora divided into 3 rough areas, which could be described as the waterfront where you will find yachts moored, the Venetian fortress area, and the area outside the old castle walls.
It is your typical, beautiful Cycladic old town. Historic neighbourhoods, narrow alleyways, cobbled streets, whitewashed houses, and boutique shops are all waiting to be discovered.
There's plenty to see and do in Naxos Chora, including many restaurants so you'll have your pick of which taverna to eat at. We had an excellent meal at Το κάτι Άλλο taverna – the giant beans are a must-try!
3. Walking in the Kastro
Although this could be described as being a part of Chora, it's worth listing it separately. The Kastro, or castle area has Venetian influence and is going to tick your 'quaint' box as you stroll through its narrow alleyways and maze-like streets.
In places, the castle walls still survive, as do two remaining gates of this medieval citadel.
There's even a measuring gauge on the side of one of them, where merchants would have to make sure they sold fabric in the correct lengths before they were allowed to enter the castle!
The Venetian castle is laid out over 3 distinct levels, and oozes with history. As you walk along, you may see parts of ancient temples embedded in building walls, Catholic and Orthodox churches, and the remains of a tower at the top where the Kastro commander Marco Sanudo may have lived.
We were kindly shown around the Venetian part of the town by Antonis, an expert guide more well known for his tours of Delos and Mykonos.
As a proud local though, he took us around the old part of Chora during his own vacation, something we really appreciated! You can contact him here – Antonis Delos and Mykonos guide.
4. Visit the Archaeological Museum
Since Naxos is known for its history and prominent role in the ancient Cycladic culture, you should consider visiting the Archaeological Museum of Naxos.
Located in Naxos Town (Kastro), the museum is housed in an old Venetian building, and has some excellent displays featuring the Cycladic figurines. In fact, it's collection is comparable to the Cycladic Art Museum in Athens.
Note: When we visited in June 2020, the museum was closed for development.
5. Flerio and Farangi Kouroi
A kouros is a type of Greek statue whose design dates from the Archaic period. When looking at them, it's easy to see that they might have been influenced by Egyptian designs.
These statues were typically carved from marble (for which Naxos is famous), and there are several abandoned Kouroi on the island. Two can be found near the village of Melanes, where there was an ancient mine.
The first is the Flerio Kouros, and the second is a short walk away down a well signed path called the Farangi Kouros. It was very interesting to see them there, and reminded me of travel on Easter island!
If you are staying on the west side of the island, the best way to see these statues is by visiting them if you intend to see the other side of the island. We combined it with a trip to Moutsouna and then down to Panormos, which is further away that it looks on the map!
6. Panagia Drossiani church
This is the oldest Christian church on the island, and can be visited just after the Kouroi. The views on the way here are pretty epic, and you'll find a nice place to pull over where you can take photos of a green valley.
Unfortunately when we visited, the Panagia Drosiani church was closed, but even walking around the outside, you can feel its immense age (it dates to the 6th century AD).
Inside, are said to be unique artworks and icons.If you happen to be visiting on Good Friday, there is a special celebration with local villagers.
7. Visit traditional villages
Whilst many visitors to Naxos will be content in the coastal regions of the island, I'd say it's worth visiting some of the traditional villages in the centre of Naxos and elsewhere. There is a feeling of time stood still, and perhaps more importantly in our fast paced world, that tourism isn't everything!
Many of the villages are made up of rural communities, who make their living from agriculture. They are characterised by the relative peace and quiet, fresh air, and much more laid back nature.
Some of the villages you should try to see include Melanes, Filoti, Chalki, and especially Apiranthos. You'll love the old churches, marble sidewalks, and steps leading ever upward!
These villages are also the place to enjoy a Greek coffee as the world goes by, or try some tasty Naxian cuisine.
8. Visit the Temple of Demeter
Take a drive out to the ancient temple of Demeter if you can.
Located near the village of Sangri, it doesn't take long to visit, but you'll enjoy the setting as well as the photo opportunity.
The marble temple was constructed during the 6th century BC and is rated among the most iconic buildings in Naxos. It was converted to a church at some point in its history, and there's actually a small Byzantine church next to it today.
In addition to the temple there is also a small museum on site which explains some of the history and the finds made there.
9. Apollonas
Located at the north-east of the island, Apollonas is a resort village with quiet, sheltered bay – at least on the day that we visited!
Apart from being able to say you have been to one of the more far away points on Naxos island, there is also an impressive Kouros laying nearby.
10. Emery Mines
For many years, one of the main industries on the island was emery mining and export. The mines are now for the most part abandoned, along with some buildings, machinery, and even an incredible cable system designed to take the extracted rocks to the coast at Moutsouna.
The emery mines can be visited en-route to both Moutsouna and further south Panermos villages.
Naxos Beaches
Naxos has dozens of beaches to choose from, including organised beaches with beach-bars, sun-beds and umbrellas as well as unorganised ones where you will need to take along everything you need for the day.
I normally make it a mission to visit at least one beach a day when on vacation in Greece. Even if you do the same with the best beaches in Naxos listed here, you'll have your work cut out on your holidays fitting them all in!
The Sandy Beaches of Naxos
Does Naxos have some of the greatest beaches in the Aegean Sea? The locals think so, and perhaps so do I!
Some of the best Naxos beaches include: Mikri Vigla, Alyko, Agios Prokopios and Agios Georgios. A few of these beaches are located near towns while others are in remote areas.
Agios Prokopios
For many, this is the one of the most beautiful beaches in Naxos. Located about 5kms away from Naxos Town, its long stretches of golden sand and idyllic waters go on and on.
The beach has several different access points and sections. This means that you can choose from an organised section where you can rent umbrellas and beds, or pick a quieter, unorganised area.
In June, it could be tempting to think you have it all to yourself (well almost!). In August, it might be a different story.
Plaka Beach
Plaka beach used to be a nudists beach, but as tourism gathered pace on the island, 'regular' beach lovers started frequenting it as well.
During the off-season it does still have a nudist scene, but when the families and visitors to Naxos descend en-mass in August, they tend to get pushed out to the edges.
The sandy beach is good for swimming, and families with younger kids will appreciate how it is sheltered from the strongest winds. Sections of Plaka are organised so you can always hire an umbrella and beds if you wish.
During our visit to Naxos island, we visited many of the beaches, but I personally thought that Plaka was the best.
Mikri Vigla
Relatively untouched by mass tourism, Mikri Vigla beach is a good place to head for if you like windsurfing and kite surfing. It also has those perfect gold sandy stretches, divided in two by the Cape.
Orkos
This beautifully sandy beach is considered the jewel of Naxos, and lies between Mikri Vigla and Plaka beach. The red hills behind the beach look perfect when balanced with the golden sand and turquoise water.
Aliko
Located on the south-western side of Naxos, its a lovely place where people can relax and stay away from the crowds of people in the island. it has a region of small bays with white sand and crystalline water.
In 2018, well known street artist WD created some artworks on an abandoned hotel in the area. It's well worth visiting to see this unique combination of a crumbling old hotel and cool street art in Alyko.
To access Aliko beach you really need your own vehicle. There's plenty of vehicle hire places on the island.
Maragas
Yet another beautiful beach in Naxos (aren't they all!), Maragas beach is located 7km south from Chora. Although it doesn't have the big, wide sand dunes like the beaches above it is still considered one of the best because of its soft sand and its crystalline water.
This beach can become easily crowded though because of a campsite located nearby . The campsite is a good accommodation choice if you want to stay in Naxos for the summer.
Agia Anna
Located 7km away from Hora is the beautiful and amazing beach of Agia Anna. It is a group of sandy beaches that is interrupted by a little fishing port and several rock formations.
It's actually a continuation of Agios Prokopios, and with its numerous umbrellas and beds is considered one of the most organized beaches in Naxos. Whether this is a good thing or a bad thing depends on what you prefer!
Amitis
This sandy beach located in the northwestern part of the island is a short distance from Eggares a small village. Due to the strong currents this isn't a good beach for beginning swimmers.
Instead come here to enjoy the sand or take part of sea sports like wind and kite surfing. This is a beach that is perfect for the adventurous traveler who wants to enjoy the beach while still taking part in some action.
Psili Ammos
Great for couples enjoy a romantic experience on this spectacular beach. While the beach is enjoyable by itself its certainly set in magical surroundings – Far from crowds and any buildings the beach is next to a cedar wood.
Panormos Beach
It's not quite on the end of the world, but the journey there felt it after we'd made a few other stops! In fact, our return trip to Chora took about 1 hour 30 minutes without stops.
Panormos beach is worth the trek though if you get the feeling there's not many visitors. The countryside you drive through is epic, there's sea views along the section from Moutsouna, and when you finally arrive, there is a line of palm trees facing onto a quiet bay.
The beach itself is rather pebbly in places, so I'd suggest bring chairs or something comfortable to lay on. There's a small canteen which will serve drinks and snacks, but I'd suggest bringing your own water just in case it's not open when you visit!
Apollonas Beach
There is a small stretch of sand in the bay at Apollonos in front of several tavernas. It's not the biggest beach in the world, but pleasant enough for a dip and a bite to eat if you've made the journey to see the Kouros.
Activities in Naxos
Wind sports are some of the must-do activities in Naxos. You can try out kite surfing and windsurfing on most of the island's beaches such as Laguna, Orkos and Mikri Vigla. The good thing is that there are several recreational centers that rent out sporting equipment.
Hike to the Kalamitsia – Hiking is just one of the must-do activities in Naxos. The Monastery of Kalamitsia is one of the ideal hiking grounds that you should visit. It is surrounded by mountain villages which are dotted with numerous footpaths. You can choose to walk or cycle on these paths.
Naxos Tours
There are a number of day trips from Naxos you can take, along with other island tours and cultural activities.
If you're interested in learning more about Greek cuisine and how to prepare your own Greek dishes, want to go on a sailing trip, or would like a personal guide to show you around, anything is possible!
You can also visit other Greek islands on a day trip from Naxos. Popular nearby islands to take day trips to include Paros, Antiparos, and Koufonisia.
Where is Naxos?
The Greek island of Naxos is the largest island in the Cyclades chain, positioned in between the two islands of Santorni and Mykonos and directly opposite Paros.
This central location made it a hub for the pre-historic Cycladic culture, and also makes it a popular destination for modern day Greek island hopping.
How to get to Naxos
Many people decide to visit Naxos combined with a visit to Santorini and Athens. As such, your travel itinerary in Greece will have an effect on which modes of transport you decide to take.
If you are traveling from Athens, this is worth reading: How to get from Athens to Naxos by ferry.
Flights to Naxos
The Greek island of Naxos has no international airport at the time of writing. Apparently, the runway is too small to take those sized planes.
Air travel is possible though as there are domestic flights with Olympic Airways (Part of Aegean), to and from Athens airport and the airport in Thessaloniki.
Ferries to Naxos
Due to the size of Naxos and its location, there are many ferry services connecting Naxos with the other nearby islands as well as to mainland Greece.
Ferry services to Naxos run at full pace through the summer months, but offer reduced frequency during the winter months.
If you plan to visit the small Cyclades islands of Koufonisia, Donoussa, Iraklia and Schinoussa after, you may find that there are not daily ferries, and the ones there are leave at some ungodly hours in the morning!
When planning your trip to Naxos, you may find that you are unable to book ferry tickets months in advance. This is just a Greek thing! Sometimes, the summer sailing schedule is not set until the winter is out of the way.
Ferry tickets to Naxos rarely sell out, but allowing a degree of flexibility will aid in your travel plans.
You can check Ferryhopper for schedules in Greece and to also book e-tickets online.
I've got a guides here on how to get from Naxos to Santorini and Naxos to Ios ferry information you may be interested in.
Weather in Naxos
Like many of the islands in the Cyclades, Naxos has great weather between the months of June and late September. It's highly unlikely you will see any rain during this time, and day time temperatures can be anywhere between 30 and 40 degrees.
Winter in Naxos can be chillier than some people imagine it might be, with day time temperatures around 15 degrees. Sure, this is still warmer than northern Europe at the same time of year, but you'd be pretty brave to try swimming between November and April!
One advisory note – Like other islands in the Cyclades, Naxos 'enjoys' the Meltemi winds! These can happen between late June and early September.
Sometimes, the winds are light, but other times, it can make sitting on the beach uncomfortable. If this happens, it's wise to consider visiting beaches on the other side of the island that you think may be sheltered from the prevailing winds.
When to visit Naxos
Whenever I am asked when is the best time to visit Greece, I always say to avoid August if you can! The Greek islands and coastal resorts just get too crowded with foreign and domestic tourists alike.
Naxos as a central island of the Cyclades is no exception to this, and whilst its size helps to absorb the extra tourists a little better than some other islands, if you have a choice, there are better months to visit.
In my opinion, the best months to visit Naxos are June and July, and then September to mid October. This way you get all the benefits of amazing weather with the added bonus of far fewer other tourists.
If you don't have a choice when it comes on what time of year to visit Naxos, and it has to be August, don't let me put you completely off! After all, it's far better that you visit Naxos than not at all!
It's just that (again in my opinion) you'll have a much more relaxing and enjoyable experience in Naxos outside that peak month.
Where to stay in Naxos
There is accommodation available all over the island, so your choice of where to stay is really only limited by how you would like to get around.
If you are going to rely on public transport to get around Naxos, then perhaps the best place to stay in Naxos would be Naxos Town itself.
Not only does the main town have a full range of accommodation for all styles and budgets, but it also acts as the transport hub to get to other areas of the island.
If you are taking your own vehicle to Naxos, or are planning to rent a car, scooter, or quad bike, you could perhaps look further afield.
Suggestions of other areas to look at include: Agia Anna Beach, Agios Prokopios Beach, Vivlos and Plaka Beach.
When we visited in 2020, we chose to stay just off Agios Prokopios, and found an unbeatable deal at family-run 25 Euro a night for a self-catering studio room with kitchenette! Check them out on Booking here: Aggelos Studios.
I've got a more specific travel guide here on where to stay in Naxos.
Naxos FAQ
Some of the most commonly asked questions readers have when planning a trip to the Greek island of Naxos include:
What to do in Naxos in 2 days?
There are plenty of things to do in Naxos in 2 days, including visiting archaeological sites, spending time at the sandy beaches, taking in a mountain village or two, and of course sampling that wonderful local cuisine!
Is Naxos or Paros better?
Paros might arguably be more higher profile, but Naxos seems to edge it out when it comes to the gorgeous beaches, history, cuisine, and local culture. The landscapes of Naxos are also more epic!
How many days do you need in Naxos?
If you just want to see the main highlights and get a taste of the island, 3 days in Naxos is enough time. If you really want to get to know Naxos though, a week would be better.
Is Naxos a party island?
While Naxos does have some nightlife, it's not exactly a Mykonos or Ios when it comes to a party scene. You can enjoy a few late bars and clubs in Naxos, but it has more of a family-friendly reputation.
Pin this Naxos Travel Blog for later
---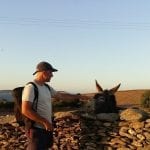 –
Dave Briggs
Dave is a
travel writer
who has been living in and writing about Greece since 2015. As well as creating this guide to the best things to do in Naxos, he's also written hundreds of other travel guides tp popular and off the beaten path destinations in Greece here at Dave's Travel Pages. Follow Dave on social media for travel inspiration from Greece and beyond: