It's time to start planning your Naxos holidays today! I'll show you the top things to do in Naxos, where to stay, the best beaches in Naxos and more.
Naxos Travel Guide
In this Naxos blog post, you'll discover more about this beautiful Greek island in the Cyclades. With great beaches and a laid back atmosphere, Naxos is the calmer, more family friendly version of Mykonos you've been looking for.
Whether you want to stay in Naxos for a few days or spend your entire vacation there, there's plenty to see and do.
Where is Naxos?
The Greek island of Naxos is the largest island in the Cyclades chain, positioned in between the two islands of Santorni and Mykonos and directly opposite Paros.
This central location made it a hub for the pre-historic Cycladic culture, and also makes it a popular destination for modern day Greek island hopping.
How to get to Naxos
Many people decide to visit Naxos combined with a visit to Santorini and Athens. As such, your travel itinerary in Greece will have an effect on which modes of transport you decide to take.
Flights to Naxos
Naxos is connected by air for several international flights, which include London to Naxos, Paris to Naxos, Munich to Naxos, and Tel Aviv to Naxos. The island of Naxos also has numerous and frequent connections with Athens airport.
Ferries to Naxos
Due to the size of Naxos and its location, there are many ferry services connecting Naxos with the other nearby islands as well as to mainland Greece.
Ferry services to Naxos run at full pace through the summer months, but offer reduced frequency during the winter months.
When planning your trip to Naxos, you may find that you are unable to book ferry tickets months in advance. This is just a Greek thing! Sometimes, the summer sailing schedule is not set until the winter is out of the way.
Ferry tickets to Naxos rarely sell out, but allowing a degree of flexibility will aid in your travel plans.
I've got a guide here on how to get from Naxos to Santorini you may be interested in.
Naxos Greece Weather
Like many of the islands in the Cyclades, Naxos has great weather between the months of June and late September. It's highly unlikely you will see any rain during this time, and day time temperatures can be anywhere between 30 and 40 degrees.
Winter in Naxos can be chillier than some people imagine it might be, with day time temperatures around 15 degrees. Sure, this is still warmer than northern Europe at the same time of year, but you'd be pretty brave to try swimming between November and April!
When to visit Naxos
Whenever I am asked when is the best time to visit Greece, I always say to avoid August if you can! The coastal resorts just get too crowded with foreign and domestic tourists alike.
Naxos is no exception to this, and whilst its size helps to absorb the extra tourists a little better than some other islands, if you have a choice, there are better months to visit.
In my opinion, the best months to visit Naxos are June and July, and then September to mid October. This way you get all the benefits of great weather with the added bonus of far fewer other tourists.
If you don't have a choice when it comes on what time of year to visit Naxos, and it has to be August, don't let me put you completely off! After all, it's far better that you visit Naxos than not at all!
It's just that (again in my opinion) you'll have a much more relaxing and enjoyable experience in Naxos outside that peak month.
Where to stay in Naxos
There is accommodation available all over the island, so your choice of where to stay is really only limited by how you would like to get around.
If you are going to rely on public transport to get around Naxos, then perhaps the best place to stay in Naxos would be Naxos Town itself. Not only does it have a full range of accommodation for all styles and budgets, but it also acts as the transport hub to get to other areas of the island.
If you are taking your own vehicle to Naxos, or are planning to rent a car, scooter, or quad bike, you could perhaps look further afield. Suggestions of other areas to look at include: Agia Anna Beach, Agios Prokopios Beach, Vivlos and Plaka Beach.
Best Hotels in Naxos
Naxos has some excellent luxury hotels with swimming pools to choose from. My top 5 hotels in Naxos with swimming pool would be:
Naxos Greece Hotels
Don't think that Naxos is strictly restricted to luxury hotels though! As I said, accommodation is suited to every budget, and personally I find that the 35-45 euro a night hotels and guesthouses provide great value for money. Take a look at some of the latest Naxos hotel deals here:
Things to do in Naxos
Now you know when to visit Naxos, and where to stay, it's time to work out what you actually want to do when there!
Fortunately, there's plenty of things to do in Naxos Greece, from hiking to watersports, from visiting archaeological sites to walking through quaint villages and towns. Let's start off with a few things you should see when in Naxos.
What to see in Naxos
Naxos is a great island to explore, whether you hire a car for a few days or use the public transport system. Here's a few things to do in Naxos you should include in your travel plans:
1. Portara of Naxos (Temple of Apollo)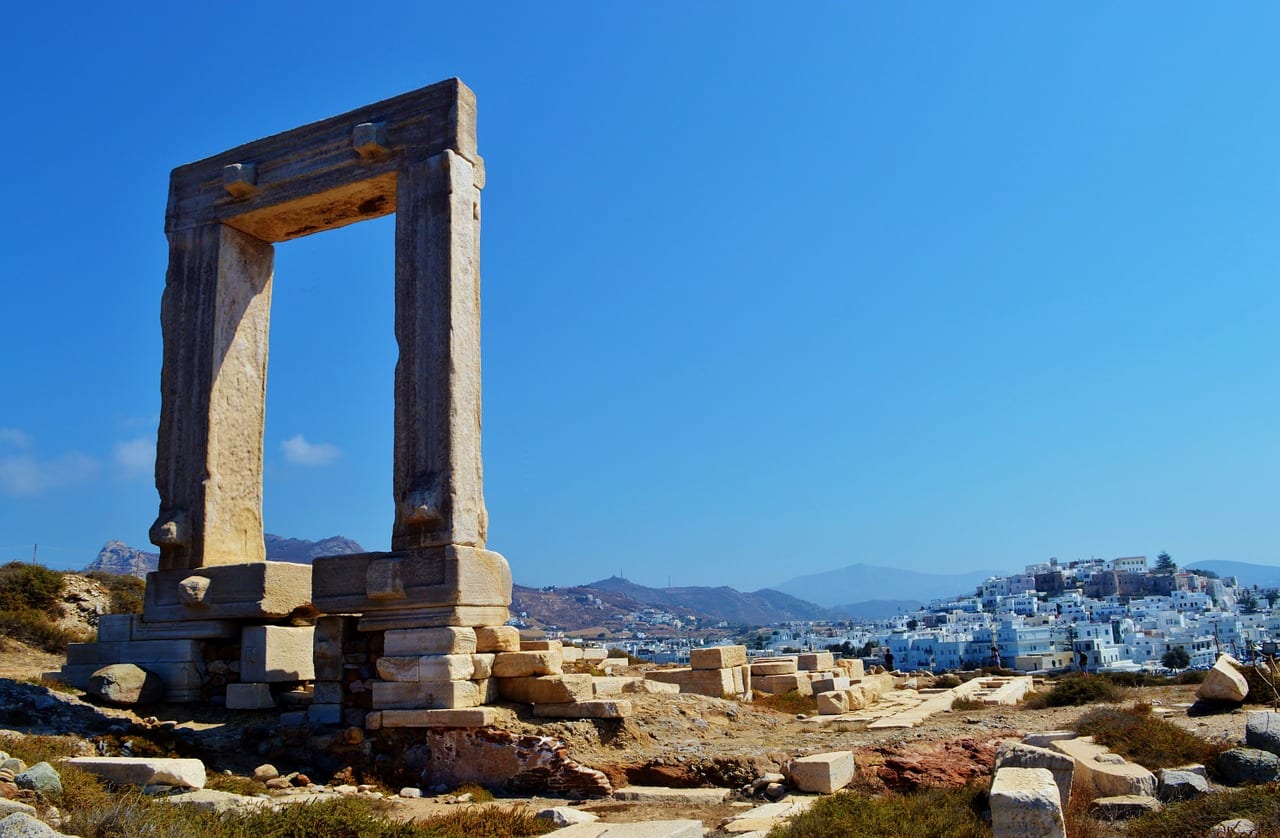 The Portara is the most recognisable landmark of Naxos, and you'll probably see it on plenty of marketing material during your stay! This frame marble door is part of an unfinished Temple of Apollo which was commissioned by Lygdamis, a 6th century BC tyrant.
Much of the temple was looted over the centuries, but the marble pieces of the Portara of Naxos were so heavy they were never taken. Each piece is said to weigh nearly 20 tonnes!
The doorway stands on a small islet called Palatia close to the harbour of Naxos, and is a great sunset spot. If you are looking for Instagramable places on Naxos, the Portara is perfect!
2. Naxos Town / Hora
This is the main settlement on Naxos, and everybody passes through here at one point or another even if they decide to stay elsewhere on the island.
The Hora is your typical, beautiful Cycladic town. Historic neighbourhoods, narrow alleyways, cobbled streets, whitewashed buildings, and boutique shops are all waiting to be discovered.
There's plenty to see and do in Naxos town, including a great selection of restaurants to eat at. Some of things things to do in Naxos town I have listed separately.
I found this video of Naxos Town on YouTube to give you a better idea:
3. Visit the Archaeological Museum
Since Naxos is known for its history and prominent role in the ancient Cycladic culture, you should consider visiting the Archaeological Museum of Naxos. Located in Naxos Town, the museum is housed in an old Venetian building, and has some excellent displays featuring the Cycladic figurines.
4. Walking in the Kastro
Over the years, Naxos Town and Naxos Castle have merged into one another. In places, the walls still survive, as do two remaining gates. I've listed it separately just in case when you visit Naxos Town, you don't realise about the castle.
5. Visit traditional villages
Whilst many visitors to Naxos will be content in the coastal regions of the island, I'd say it's worth visiting some of the traditional villages in the centre of Naxos and elsewhere. There is a feeling of time stood still, and perhaps more importantly in our fast paced world, that tourism isn't everything!
Many of the villages are made up of rural communities, who make their living from agriculture. They are characterised by the relative peace and quiet, fresh air, and much more laid back nature.
Some of the villages you should try to see include Melanes, Filoti, Halki, and especially Apeiranthos. You'll love the old churches, marble sidewalks, and steps leading ever upward! These villages are also the place to enjoy a Greek coffee as the world goes by, or try some tasty Naxos cuisine.
6. Visit the Temple of Demeter
You can take a walk or even cycle to this ancient temple of Demeter. The temple was constructed during the 6th century BC and is rated among the most iconic buildings in Naxos.
Located near the village of Sangri, it doesn't take long to visit, but you'll enjoy the setting as well as the photo opportunity.
7. Naxos Beaches
Naxos has dozens of beaches to choose from, including organised beaches with beds and umbrellas as well as unorganised ones where you will need to take along everything you need for the day.
I normally make it a mission to visit at least one beach a day when on vacation in Greece. Even if you do the same with the best beaches in Naxos listed here, you'll have your work cut out on your holidays!
Best Beaches in Naxos
Some of the best Naxos beaches include: Mikri Vigla, Alyko, Agios Prokopios and Agios Georgios. A few of these beaches are located near towns while others are in remote areas.
Agios Prokopios
For many, this is the best beach in Naxos. Located about 5kms away from Naxos Town, its long stretches of golden sand and idyllic waters go on and on.
The beach has several different access points and sections. This means that you can choose from an unorganised section where you can rent umbrellas and beds, or pick a quieter, unorganised area. In June, it could be tempting to think you have it all to yourself (well almost!). In August, it might be a different story.
Plaka Beach
Plaka beach used to be a nudists beach, but as tourism gathered pace on the island, 'regular' beach lovers started frequenting it as well. During the off-season it does still have a nudist scene, but when the families and visitors to Naxos descend en-mass in August, they tend to get pushed out to the edges.
The sandy beach is good for swimming, and families with younger kids will appreciate how it is sheltered from the strongest winds. Sections of it are organised so you can always hire an umbrella and beds if you wish.
Mikri Vigla
Relatively untouched by mass tourism, Mikri Vigla beach is a good place to head for if you like windsurfing and kite surfing. It also has those perfect golden sand stretches, divided in two by the Cape.
Orkos
This beautifully sandy beach is considered the jewel of Naxos, and lies between Mikri Vigla and Plaka beach. The red hills behind the beach look perfect when balanced with the golden sand and turquoise water.
Aliko
Located on the south-western side of Naxos, its a lovely place where people can relax and stay away from the crowds of people in the island. it has a region of small bays with white sand and crystalline water. To access Aliko beach you really need your own vehicle.
Maragas
Yet another beautiful beach in Naxos (aren't they all!), Maragas beach is located 7km south from Hora. Although it doesn't have the big, wide sand dunes like the beaches above it is still considered one of the best because of its soft sand and its crystalline water. This beach can become easily crowded though because of a campsite located nearby . The campsite is a good accommodation choice if you want to stay in Naxos for the summer.
Agia Anna
Located 7km away from Hora is the beautiful and amazing beach of Agia Anna. It is a group of sandy beaches that is interrupted by a little fishing port and several rock formations. It's actually a continuation of Agios Prokopios, and with its numerous umbrellas and beds is considered one of the most organized beaches in Naxos. Whether this is a good thing or a bad thing depends on what you prefer!
Amitis
This sandy beach located in the northwestern part of the island is a short distance from Eggares a small village. Due to the strong currents this isn't a good beach for beginning swimmers. Instead come here to enjoy the sand or take part of sea sports like wind and kite surfing. This is a beach that is perfect for the adventurous traveler who wants to enjoy the beach while still taking part in some action.
Psili Ammos
Great for couples enjoy a romantic experience on this spectacular beach. While the beach is enjoyable by itself its certainly set in magical surroundings – Far from crowds and any buildings the beach is next to a cedar wood .
Activities in Naxos
Wind sports are some of the must-do activities in Naxos. You can try out kite surfing and windsurfing on most of the island's beaches such as Laguna, Orkos and Mikri Vigla. The good thing is that there are several recreational centers that rent out sporting equipment.
Hike to the Kalamitsia – Hiking is just one of the must-do activities in Naxos. The Monastery of Kalamitsia is one of the ideal hiking grounds that you should visit. It is surrounded by mountainous villages which are dotted with numerous footpaths. You can choose to walk or cycle on these paths.
Naxos Tours
There are a number of day trips from Naxos you can take, along with other island tours and cultural activities. If you're interested in learning how to prepare your own Greek dishes, want to go on a sailing trip, or would like a personal guide to show you around Naxos anything is possible! Here are a few suggestions:
Pin this Naxos Travel Blog for later
Plan your Naxos holidays
If you would like more information on planning a holiday in Greece, why not sign up for my free travel guides? I'll share the best of the best with you, providing inside tips and travel advice to help your next Greek vacation go smoothly.