The three main areas to stay in Folegandros island are Chora, Karavostasis, and Ano Meria. This guide shows you where to find the best hotels in Folegandros.
Where to stay in Folegandros
The Greek island of Folegandros is one of the top destinations in the Cyclades for people who like laid back ambience, good food, and authentic experiences.
As there's no direct flights here (the island has no airport), people have to reach the island by ferry. This means it attracts a certain type of person who is happy to travel independently.
Travelers to Folegandros are most likely to have visited Greece before, and almost all of them prefer Folegandros to the much busier Greek islands of Santorini and Mykonos.
Over the years, the accommodation options on Folegandros have greatly increased. You'll find boutique hotels, resort type hotels with swimming pools, and affordable rooms and studios on the budget end of things.
The main areas where you'll find places to stay are Folegandros Town, Karavostasis and Ano Meria. Most travelers will find Folegandros Town (Chora) to be the more convenient location.
Best Luxury Hotels in Folegandros
These hotels all have a swimming pool. A pool can be useful when staying at hotels in Greece on days when the Meltemi winds blow too strongly to be able to enjoy the beaches.
Blue Sand Boutique Hotel Folegandros
This beautiful boutique hotel sits in a prime location on Agali Beach. The traditional Cycladic architecture is wonderfully blended with modern amenities to create an atmosphere that's comfortable and inviting.
You'll find this charming hotel just 15 meters from the beach, private balconies overlooking the Aegean Sea, air conditioning, free Wi-Fi throughout–this hotel has it all!
Enjoy delicious food at one of three restaurants within walking distance or make use of their fully stocked mini bar while you're relaxing in your room. If you want to explore more than just beaches during your stay then don't worry because there are also buses nearby for easy transportation around the island. Guests give this great reviews as a choice for couples.
Onar Suites Folegandros
The Cycladic-style Onar Suites & Villas is centrally located just a short walk from Vardia beach, offers elegantly decorated suites and a villa with unobstructed sea views over the Aegean. The air-conditioned units of Onar are fitted with traditional flooring, white furnishings and white washed walls. Each unit has a seating area and private bathroom with bath tub or built-in shower.
On site facilities include spacious furnished balconies overlooking the sea to enjoy panoramic views of the Aegean Sea as well as an outdoor hot tub for relaxation after a day at the beach.
Polikandia Hotel
The Cycladic-style Polikandia Hotel has a great location in the main town and has a lovely heated pool. Family's might like this hotel for its separate children's section. Other features include hot tub, wrought-iron beds that open onto furnished balconies overlooking the pool or the blossomed garden. Air conditioning suites come equipped with TVs, espresso coffee machines, fridges and kettles; some also include hydromassage showers.
Chora Resort Hotel & Spa
Situated in the heart of Folegandros, this serene hotel offers a truly memorable holiday. The Aegean Sea is just 200 metres away and you can enjoy a spectacular view from your balcony or terrace. Free WiFi access is available throughout the resort as well as air conditioning, satellite TV and much more! in each room.
The centre of Folegandros is just 200 m away from the resort, where you can find shops for shopping or exploring the cobbled streets of the town by foot – it's an ideal place for those who want to get out and explore and it's easy to get back again at night!
Anemi Hotel
5-Star Luxury Accommodation in Folegandros. It's time to enjoy a luxury holiday and escape the daily grind. Get away from it all at Anemi Hotel, located just metres away from Karavostasis Port and boasting beautiful views of the Aegean Sea. The hotel offers accommodation with Cycladic features, as well as amenities such as poolside dining and fitness centre for those who want to take care of their health during their stay.
Vrahos Boutique Hotel
Discover the luxury of Vrahos Boutique Hotel. Located on a rocky slope at Karavostasis bay in Folegandros, 20 m from the beach. It offers an open-air hot tub and café-snack bar with sea view. Accommodation is fully equipped and consists of tastefully decorated rooms and apartments with air conditioning and fridge. Maid service provided daily. A rich Greek Breakfast served at our restaurant overlooking the sea! Request breakfast to be served a la carte or on a breakfast box for your convenience!
The Best Folegandros Hotels
Here's a list of the popular hotels in Folegandros.
Best Hotels in Folegandros
Underneath, you'll also find an interactive map of the Greek island of Folegandros where you can see the locations of boutique hotels and other accommodation types..
Folegandros FAQ
If you're planning a trip to Folegandros, these questions and answers might be useful:
Which area to stay in Folegandros?
The three main areas to stay in Folegandros are Chora, Karavostasis, and Ano Meria. Most travelers will find Folegandros Town (Chora) to be the more convenient location.
Is Folegandros worth visiting?
Yes, Folegandros is definitely worth visiting. It's one of the quieter and more laid-back islands in the Cyclades, and it attracts a certain type of traveler who prefers to relax in a beautiful setting. The food is also really good, and you'll find plenty of authentic experiences here.
Does Folegandros have nice beaches?
Several beaches, both sandy and rocky, with a wide range of blue hues dot the landscape of Folegandros. However, there are a few of them that aren't readily accessible: you'll either need to walk a bit or hire the bus boats in Karavostasi. Karavostasi and the white-sand gorgeous Angali are both reachable by bus or car/moto.
Can you fly to Folegandros?
The island of Folegandros does not have an airport. The only way to get to Folegandros is by ferry. and regular ferry services connect Folegandros with other islands in the Cyclades as well as Athens.
Folegandros offers a variety of hotels to suit your needs. Whether you are looking for more luxurious accommodations with private pools or something on the simpler side, there is surely an option waiting for you in this gorgeous Greek island in the Cyclades.
If you found this Folegandros hotel guide useful, please share it far and wide on social media!
Have any questions about accommodation in Folegandros Greece? Have you stayed anywhere on Folegandros island you'd like to let other travelers know about? Please leave a comment below and I'll get back to you.
---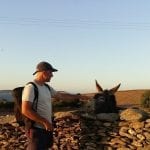 –
Dave Briggs
Dave is a
travel writer
originally from the UK, and now living in Greece. In addition to creating this travel blog post about where to stay on Folegandros island in Greece, he's also written hundreds more travel guides to Greek destinations all over the country. Follow Dave on social media for travel inspiration from Greece and beyond: