Planning to visit Amorgos in Greece? In this travel guide I'll describe the best things to do in Amorgos, cool activities, and places to stay.
This blog post shares some of the most exciting things that you can experience on the beautiful Greek island of Amorgos. Find out more about Amorgos and what is waiting for you when you visit!
Amorgos Island
The film The Big Blue might have given Amorgos a slightly higher profile over the years, but it's fair to say that this Greek island is still reasonably low key.
Mass tourism on the scale of Santorini or Mykonos is never going to happen here. This means that its unique natural beauty is combined with a more relaxed pace of life you might not find on other islands.
Like other Greek islands though, Amorgos has more than its fair share of pristine beaches, ancient sites, picturesque villages, and must see attractions. The Chora is often thought to be one of the prettiest in the Cyclades, and a network of hiking trails enable people to appreciate the wild beauty.
In this guide to the best things to do in Amorgos, I'll give you an overview of the top attractions and experiences, as well as a few island specific travel tips. If you plan to stay for a few days in Amorgos, you can easily put together an itinerary from these suggestions of what to see and do in Amorgos.
Things to Do in Amorgos: Places to Visit and Activities
When you visit Amorgos Greece, here's some of the top attractions and things to do you'll want to include in you travel itinerary.
Chora Amorgos
Almost every Cycladic island has a Chora, and Amorgos is no exception. In fact, the Chora in Amorgos is often described as the prettiest one in the Cyclades chain!
Located almost on the middle of the island, Amorgos Chora is a typical Cycladic village, complete with whitewashed houses, bougainvillea, labyrinth like narrow alleys, and plenty of steps!
Dominating the Chora, is the Kastro which is built on top of a huge rock. It was closed when we visited, but it was well worth the walk up there just the same!
The archaeological museum is also worth a visit, and it houses ancient objects found at different sites on the island. Above Amorgos Chora, you will find the enigmatic windmills which provide a great backdrop for photos.
In addition you will find plenty of places to eat and drink in the Chora. I recommend a meal at Transistoraki taverna. We had a selection of very tasty dishes!
Hozoviotissa Monastery
One of the top attractions of Amorgos is the monastery of Panagia Hozoviotissa. It is located quite literally on the edge of a cliff overlooking the Aegean Sea, and is a stunning sight.
According to some, this is the second oldest monastery in Greece, and was built in 1017. There are numerous legends associated with the how the monastery was built, and the icon of the Virgin Mary which came from Palestine. You can read more here: Hozoviotissa Monastery
You can reach the Panagia Hozoviotissa monastery in Amorgos via a walking path from Chora. Alternatively you can drive down to the car park below. From there, it's a steepish walk up the 300 or so steps to reach the monastery itself.
Visitors should be aware that there is a strict dress code, where men should wear trousers and women wear long skirts. You may find some clothes to put over what you are wearing outside the entrance, but it's best to bring your own just in case.
Three monks are officially based at the monastery, although when we visited, one of them was now living at another church in Amorgos. The monastery of Panagia Hozoviotissa has a number of interesting aspects, but it's the view that many people remember!
Agia Anna Beach
Agia Anna is one of the most famous beaches in Amorgos, thanks to being one of the filming locations for the film The Big Blue.
While it's good for snorkeling and diving, I found that as a beach in its own right, it lacked shade and space which doesn't make it practical for a relaxed time. Perhaps that's just me though!
You can combine a visit to Agia Anna with the Monastery of Panagia Hozoviotissa.
Kalotaritissa Beach
This is one of the most unique places in Amorgos, and is well worth the journey to the far south of the island! It's set in a lovely bay, and you are likely to see catamarans and yachts moored here.
If staying on the main beach itself, be careful getting in and out of the water, as some of the larger rocks may have urchins on. Once in though, you'll love swimming in the transparent waters with the sun shining above!
Part of this beach is normally organized – which means that you can hire umbrellas and sunbeds. If you are like me, you'll probably not want to pay for that sort of thing, and you'll find plenty of space to set up your own beach gear!
Olympia Shipwreck
One of the most photogenic attractions in Amorgos, is the shipwreck of the Olympia. Located in the same area as Kalotaritissa, you can reach it by a short walk from the road side over a rough trail.
The beach isn't particularly inviting to swim on, although I daresay some people do choose to get as close to the wreck as they can!
Katapola
According to some people, this is the main port town. According to others, it is the second port. Regardless, if you're staying in Amorgos in another area for more than a couple of days, you'll find yourself here sooner or later.
Technically, Katapola is actually divided into three separate areas: Katapola, Rachidi, and Xilokeratidi. In each part, you'll find places to eat and drink, hotels, and a couple of beaches.
Katapola has a relaxing atmosphere, with white washed houses and traditional taverns. This is also a good place to rent a car or ATV for exploring the island. Above the town, is an archaeological site known as Minoa City that you can reach by a walking trail.
As the name might suggest, this is thought to be a colony of the Minoan civilization, although if my calculation of the dates is correct, the Minoan civilization collapsed a few hundred years before this site was built.
Try Veggera Traditional Restaurant for a great meal with a sunset view. Get there early, or reserve a table at the front to get the better view of sunset!
If you plan to arrive on Amorgos at Katapola, the chances are you'll be staying in the town. You can find the best hotels on Booking.
Aegiali Beach
While Kalotaritissa might be considered the most beautiful beach in Amorgos, I think that Aegiali Beach is probably the best one on the island. It has a long stretch of sand with some natural shade, and it's easy to get in and out of.
Suitable for families, Aegiali beach is a good place to spend a day, and there are a number of cafes and tavernas nearby where you can escape the heat and enjoy a meal or a drink.
Aegiali is also one of the best beaches in Amorgos for sunset views!
Aeigiali Town
The town of Aegiali is often referred to as the second port town on Amorgos. This is where we arrived after taking a ferry from Athens to Amorgos, and where we chose to stay.
It's really just a small village, and its relaxing atmosphere is a far cry from other busy Greek islands like Santorini!
Aegiali is a good place from which to explore the north of the island, and you can get to the villages of Langada, Tholaria and Potamo by driving or using the local hiking paths.
The town itself has all the practical amenities you might need – ATM machines, small supermarkets, pharmacies, places to eat etc. It's crowning glory is really the beach. Talking of which…
Amorgos Beaches
In addition to the beaches already mentioned, there are dozens more scattered all around the island. Here's a brief description of some of them:
Maltezi Beach: A sandy, picturesque beach near Katapola. You'll have to walk to the beach, which is about half an hour from Katapola, as there is no parking nearby to it.
Mouros Beach: If you're driving to the south of the island, head here and walk down the steps to the beach. The views on the way down are magnificent!
Agios Pavlos Beach: I have to say I wasn't blown away by this beach. You can take boat tours over to the small island of Nikouria. The crystal clear waters are inviting for swimming and snorkeling, but personally, I didn't think it worth spending much time here.
Paradise Beach: This is a small beach you can visit after seeing the Olympia shipwreck. If you want to spend any time here, it's best to arrive earlier in the day in order to get some space. The snorkeling looked quite interesting here.
Villages of Amorgos
The main settlements in Amorgos are Katapola, Chora, and Aegiali. There are quite a few other villages as well, which are worth dropping by if you are en-route to other attractions on the island.
The villages that are worth spending a little time in each are:
Langada
Potamos
Tholaria
Asfontilitis
Each one is worth spending a little time at. The most curious is Asfontilitis, which doesn't seem to consist of more than a dozen houses. The things to keep your eye out for though, are the countless stone carvings which were made by a local over the course of many years.
You can find out more about the story here: Stone carvings in Asfontilitis.
Hiking in Amorgos
One of the best things to do in Amorgos (when it's not too hot!), is to use the hiking paths. There are seven primary hiking trails in Amorgos, with numerous side tracks and unofficial trails.
The 7 well marked hiking trails on Amorgos island are:
The Old Strata: Chora – Monastery of Panagia Hozoviotissa – Kapsala – Asfondilitis – Potamos – Langada
Fotodotis: Chora – Milies – St. Irini – Katapola (Xilokeratidi)
Itonia: Lefkes – St Saranda – Kamari – Ancient Arkesini -Vroutsi – Rachoula – St Triada
Melania: Aegiali – Langada -Stroumbos – Panagia – Tholaria – Fokiotripa
Pan: Lagkada – St Ioannis Theologos – Stavros – Krikelos
Valsamitis: Katapola – St Georgios Valsamitis – Minoa – Katapola
Evangelistria: Xylokeratidi (Katapola) – Nera – Vigla – Peristeria – Evangelistria
Even if you decide against walking a trail in its entirety, you'll probably end up walk part of a trail to see certain points of interest and attractions in Amorgos.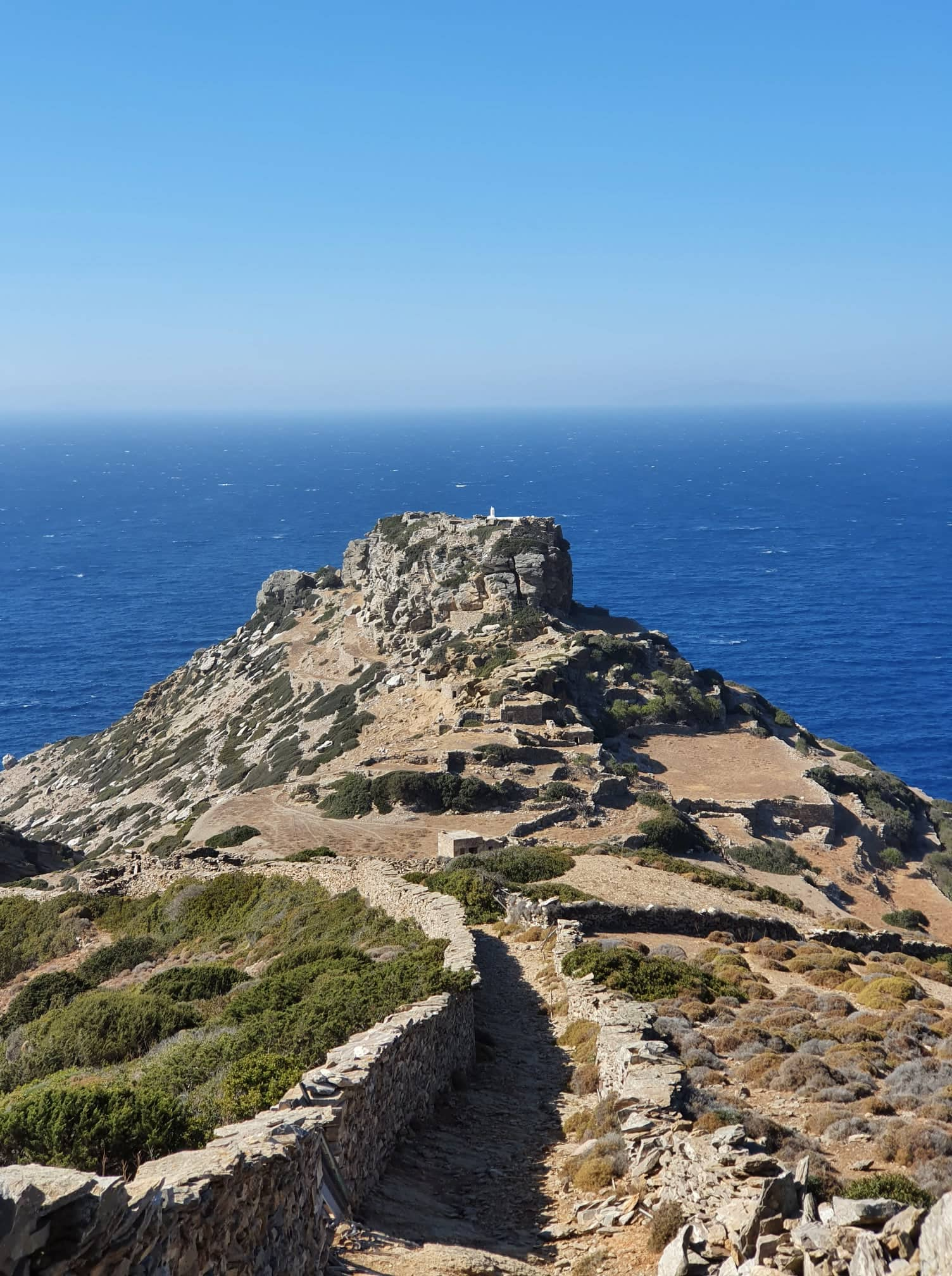 My favourite hikes were from Katapola to the Lighthouse and back, as well as the hike from Vroutsi to Ancient Arkesini. The views from Ancient Arkesini were amazing, and it was a real experience to be able to wander around this old, abandoned fortification right on the edge of the island.
Food and Drink
Finding places to eat and drink in Amorgos Greece is really not going to be a problem. There are many restaurants all over the island, serving traditional Greek fare, some local specialties, and menus designed for tourists. So you can take your pick!
I tried many places to eat in Amorgos, and had some amazing food. My very favourite meal was in Amorgialos, by the seafront at Aegiali. If you go, try to make it a sunset meal so you can enjoy the change of the colours in the sky as you dine!
Where to stay in Amorgos
There are three main places to stay on the island, which are Aegiali, Katapola, and Chora. For the most part, where you choose to stay may be determined by which ferry port you arrive at.
If you arrive at Aegiali, it will be easier to stay in that area, and there are plenty of hotels to choose from. I have previously stayed in Akrogiali Studios just up from Aegiali Beach which had a lovely sea view. Watching sunset from the balcony was a great way to relax at the end of the day!
If you arrive at Katapola port, you can choose to stay in the port town or in the Chora. If you opt to stay in a hotel in the Chora, see if your hotel owner can pick you up at the port. Alternatively, you'll need to get a taxi, hire a car, or keep your fingers crossed that the bus is running!
Look here for hotels in Amorgos: Booking
How to get around Amorgos
The easiest way to see more of the island is to rent a car. You can find car rental companies at both island ports. As these are local companies, I suggest contacting them ahead of time to reserve your hire car.
Read my tips to renting a car in Greece if you have never hired a car in the islands before!
Amorgos Greece Travel Tips
A few key points to keep in mind when formulating an Amorgos plan are:
There are two ports in Amorgos – Aegiali and Katapola. Make sure you know which one you arrive and depart from!
There are plenty of ATM machines in Aegiali, Chora, and Katapola.
The Meltemi winds may be stronger if you visit Amorgos in August
Hotel prices are more expensive in August
Make sure to book any onward ferry tickets as early as possible especially when traveling in high season. You can use a travel agency in the port towns.
A minimum of 3 nights is needed on the island to experience the best things to do in Amorgos.
Getting to Amorgos
With no airport, the only way you can reach Amorgos is to take a ferry. There are regular ferry connections between Athens (Piraeus Port) and Amorgos, with the journey taking between 6.5 and 8.5 hours.
Amorgos is also connected to surrounding Greek islands in the Cyclades by ferry services. Popular island connections with Amorgos include Santorini, Mykonos, Naxos, and the Small Cyclades islands.
A popular destination to visit after Amorgos is Donoussa, as it's only an hour away by ferry. You can find out here about how to get from Amorgos to Donoussa.
To look at schedules and to book ferry tickets to Amorgos Greece online, I suggest using Ferryhopper.
FAQ About visiting Amorgos
Readers planning to visit the Greek island of Amorgos often ask questions similar to these:
Do you need a car in Amorgos?
If you want to easily travel between the north and south of Amorgos, it's best to have a hire car. Public transport may run between key places such as Chora and Katapola, but can not be relied upon for more out of the way attractions on the island.
How do you get around Amorgos?
The best way to travel around Amorgos is to hire a car or quad bike. If you are an outdoor enthusiast, you might also like to make use of the hiking trails that link key natural and cultural places of interest in Amorgos.
How far is Amorgos from Athens?
The island of Amorgos is located 172 nautical miles or 320 km from Piraeus Port in Athens. The only way to get to Amorgos is by ferry, and the journey can take between 6.5 and 8.5 hours.
How far is Amorgos from Santorini?
The distance between the islands of Santorini and Amorgos is 43 nautical miles or 80km. There is one high speed ferry per day sailing from Santorini to Amorgos in the summer, and the journey takes 1 hour and 15 minutes.
Greek Islands Travel Guides
You might also be interested in reading these other guides to the Cyclades islands in Greece so you can plan your next trip:
If you're looking for things to do in Amorgos, this blog post has you covered. From the stunning beaches and dramatic cliffs to the fascinating archaeological sites and charming villages, there is something for everyone on this beautiful Greek island. Make sure to book your ferry tickets early so you don't miss out on a trip to Amorgos!
---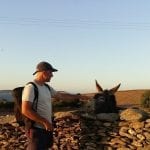 –
Dave Briggs
Dave is a
travel writer
from the UK who's been living in Greece and writing about the country since 2015. As well as creating this blog post about the top things to do in Amorgos, he's written many more articles about destinations in Greece. Follow Dave on social media for travel inspiration from Greece and beyond: