The bike touring blog post from day day's cycling from Santa Rosa de Osos to Medellin in Colombia. Part of my Alaska to Argentina bike tour.
Cycling to Medellin
It had rained heavily overnight, and in places a couple of landslides had fallen onto the road.
There were a lot of road cyclists out today, which being a week day was unusual in that they should have all been at work.
Chatting to Rodrigo, a cyclist from Don Matias, I soon discovered that it was a public holiday. This was great news in terms of negotiating my way into the
city of Medellin
, but sucky in the sense that I would not be able to get my bike fixed until the next day.
As a parting gift, Rodrigo gave me his arm warmers, which protect both from the sun and the cold – they will come in handy for the mountains ahead of me. Thanks very much Rodrigo !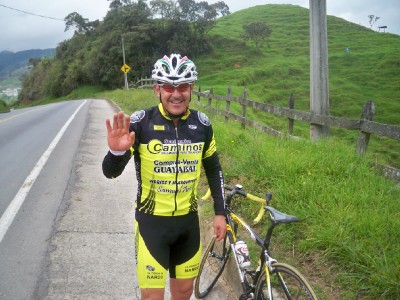 Entering Medellin was actually a bit of a pleasure, as the main road leading into the city was closed for all vehicles except cyclists.
As it was a holiday, literally hundreds of people were out walking, cycling and skating along road between the city centre and the stadium.
I somehow have difficulty imagining the A45 being closed to all traffic on a Sunday, but why not?!? We could learn something from countries like Colombia.
Into the centre, and I ended up in Hotel Sol y Luna for 20,000 pesos a night which is ok for a major city.
[mailmunch-form id="728831″]
Read more about cycling from Alaska to Argentina