A collection of interesting and fun facts about cycling and bicycles. 20 things you didn't know about bicycles and other cycling trivia.
Cycling is a great way to get around, whether you're commuting to work, going for a leisurely ride on the weekend, or taking an epic journey such as cycling from Alaska to Argentina.
As a low-impact form of exercise, riding a bike is great for your health and good for the environment. Cycling produces zero emissions, and can help to reduce traffic congestion and noise pollution.
And there's no excuse not to have a bike. There are many different types of bicycles available, from simple one-speed bikes to specifically designed touring bicycles designed for adventurous bicycle trips. You can even buy electric bicycles, which have a motor to assist you as you pedal!
Fun Facts About Bicycles
Here's a whole bunch of things you probably didn't know about bicycles and cycling. A few random bicycle facts you can pull out of the bag when ever the situation demands!
1. How many bicycles are there in the world?
It is estimated that there are roughly one billion bicycles in the world. 450 million of those bicycles are thought to exist in China. How many bikes are actually ridden and not just sitting around is something market research is yet to determine!
2. Bike theft is the most common crime in Amsterdam
Nearly 10,000 bicycles are reported stolen per year in Amsterdam. In 2018, 11290 police reports had been made about stolen bikes and light mopeds.
3. How many people can you fit on a bicycle?
The longest tandem bicycle seated 35 people, and it was more than 20 meters long.
4. When was the bicycle invented?
The bicycle evolved from 4 wheel human powered machines during the 19th century, and in 1817 a German baron named Karl von Drais presented his two-wheeled vehicle. It was known by many names throughout Europe, including the dandy horse and hobby horse.
5. Is cycling good for you?
Regular cycling is a great way to keep fit and healthy. It stimulates and improves the function of the heart, lungs and circulation, and reduces the risk of cardiovascular diseases.
6. Bicycles don't take up much space
You can fit almost 15 bicycles in the same amount of space that one average sized car occupies.
7. The Wright Brothers built bicycles before they invented the airplane
The Wright Brothers may be best known for inventing and flying the first airplane, but their 'day job' was building, repairing and selling bicycles.
8. Cycling is three times quicker than walking
On average, it is reckoned that cycling is three times quicker than walking over the same distance. Unless you're a cycling pro of course, in which case you'll cover the distance faster!
9. Riding a bike is a good way to burn calories
The average person will burn between 450 to 750 calories per hour cycling. The variance in between the number of calories burned is due to individual factors such as a cyclist's weight, bicycle weight, and speed.
10. Bicycles are everywhere in the Netherlands
In the Netherlands, 30 percent of all trips made are on bicycle. Surveys show that seven out of eight Dutch people aged over 15 years old have a bicycle.
11. The Tour de France is over 100 years old
The world's most famous bike race, the Tour de France, was first staged in 1903. The initial plan was a five-stage race starting in Paris and stopping in Lyon, Marseille, Bordeaux, and Nantes before returning to Paris. Cyclists in those early days drank beer, wine and even champagne during the race!
12. Bicycles are cheap to maintain
It costs very little money to keep a bicycle in good working order, and it's estimated that it's twenty times cheaper to maintain a bicycle than a car.
13. Cycling around the world
Thomas Stevens is the first person credited with having cycled around the world. He did this in the 1880s with a penny-farthing bicycle, which he ended up pushing up many hills!
14. The smallest bicycle is really tiny
The smallest adult bicycle ever created had wheels made from silver dollars.
15. Bikes can ride by themselves
As long as a bicycle is moving faster than 8 MPH, it doesn't need a rider to stay upright – as long as it's been put together well of course.
16. Bicycle tires were originally made of iron
Bicycles have often been called Boneshakers, and this is due to them not having inflatable tires. In fact, the early human powered bikes had iron bands. The first practical pneumatic tire was made by John Boyd Dunlop in 1887 for his son's bicycle. The company he founded still bears his name today.
Related: Best Bike Touring Tires
17. Bicycles are not always made from metal
Some bicycles are made of wood, although nowadays it's more for aesthetics than for practicality. below is a photo of a wooden bicycle in Greece.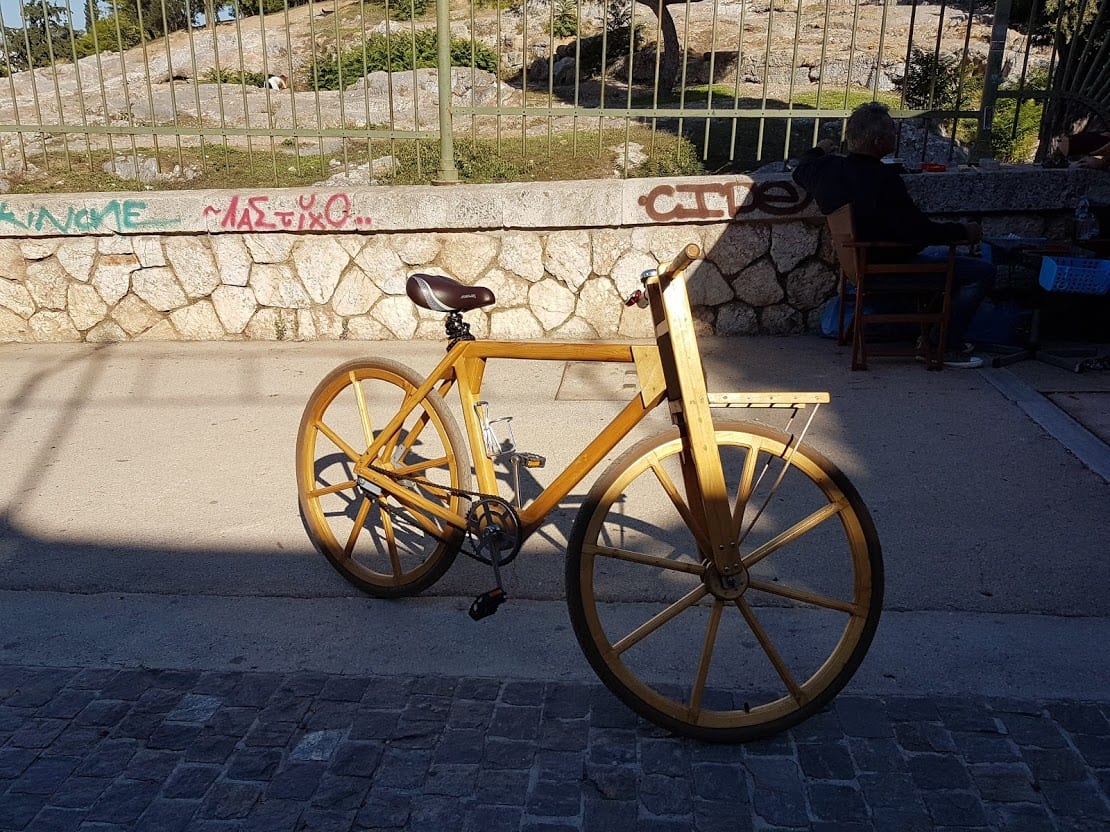 Related: Best songs about bicycles
Best Quotes About Bicycles and Cycling
Let's finish this post with 10 of the best quotes about cycling and bicycles. For a full list, check out my other quotes here – Quotes about bicycles.
"Life is like a ten speed bicycle. Most of us have gears we never use."
~ Charles M. Schulz
---
"The bicycle is the noblest invention of mankind."
~ William Saroyan Nobel prize winner
---
You never have the wind with you — either it is against you or you're having a good day.
~ Daniel Behrman
---
On my tenth birthday a bicycle and an atlas coincided as presents and a few days later I decided to cycle to India.
~ Dervla Murphy
---
"Every time I see an adult on a bicycle I no longer despair for the future of the human race."
~ H.G. Wells
---
"There is nothing, absolutely nothing, quite so worthwhile as simply messing about on bicycles."
~ Tom Kunich
---
"It never gets easier, you just go faster."
~ Greg LeMond
---
"It's the first machine we master as children and the one we abandon when the seductions of the automobile take over."
~Colman Mc Cartly
---
"Get a bicycle. You will certainly not regret it, if you live."
~ Mark Twain
---
"The bicycle is a curious vehicle. Its passenger is its engine."
~ John Howard
Cycling Articles
You might also be interested in these other articles about cycling and bicycles:
---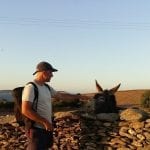 – Dave Briggs
Dave has cycled around most of the world, including long distance bike tours such as riding from Greece to England, and cycling from England to South Africa. Now living in Greece and working as a travel writer Dave has a somewhat ambitious goal of visiting every Greek island (there's over 200!) and writing about them all.
Follow Dave on social media for travel inspiration from Greece and beyond: