Colombia is without doubt one of the great bike touring destinations in the world. You'll experience amazing scenery, the kindness of strangers and more when bike touring in Colombia.
Cycling in Colombia
Many cyclists on the Pan Am trail start their Colombian cycling adventure by taking a boat trip from Panama, and I was no exception!
In 2009, I started cycling from Alaska to Argentina. By May 2010, I had cycled down to Panama, where I then took a boat ride via the San Blas islands to Colombia.
My entry point to Colombia was the city of Cartagena, and this was my first introduction to a country I had never visited before. After a couple of days in the city, I would then cycle through Colombia for a few weeks and on to Ecuador.
Visa for Visiting Colombia
Due to an oversight on my part, I either asked for the wrong visa in Colombia, or forgot to get a visa extension. Whichever it was, it meant that instead of enjoying a leisurely 60 days to cycle in Colombia, I now had only 30.
Whilst it was still doable, there was a feeling of being against the clock a little. As a result, I didn't get much chance to appreciate the country, which is a shame. Everyone I met was super-friendly, and I was invited to stay with people on more than one occasion.
My advice to other cyclists planning a bike tour in Colombia, would be to spend as much time there as you can. Budget permitting of course!
I believe it would be a good idea to see what your options are and consider getting a visa extension – even if it means cycling to Bogota first! Seriously, you will love bikepacking through Colombia, so stay as long as you can.
Memorable Moments of my Colombia Bike Tour
This wasn't my first time in South America, but it was a first for cycling in Colombia.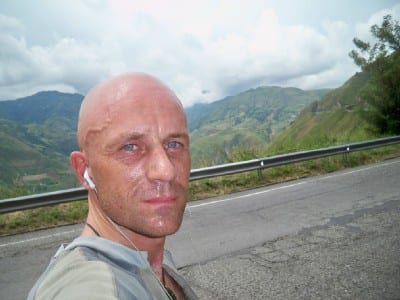 Some of the highlights of biking in Colombia were:
The sailing trip via the San Blas islands
The hospitality of strangers – Thank you Rodrigo!
Feeling pretty damned bad, but having to cycle anyway
Meeting other cyclists on the road
Incredible views and very big mountains!
Bike Touring in Colombia
My bike touring route through Colombia took me more or less on a direct route to the border with Ecuador. You can see the route I took below.
During my time bicycle touring in Colombia, I kept a blog post a day. Keep in mind that these bike touring blogs were written day by day in 2010.
You might find the writing style less refined and more earthy, and precise information about cycling in Colombia may be dated. Still, I think you'll find them useful reading when planning your own Colombia bike tour.
I've listed the blog posts below. At the end of each post, you'll find a little navigation section where you can go on to the next post, or back to the previous one.
Colombia Bicycle Touring Blogs
Here's my Colombia bikepacking blog posts, starting from sailing into Colombia, and finishing with crossing the border into Ecuador.
Pin this bike touring Colombia post
Feel free to use the image below to save to one of your Pinterest boards about bike touring in Colombia.
Is Colombia safe to cycle?
I felt safe cycling in Colombia, and encountered no problems. In fact, Colombia is one of the most generous and hospitable countries to got bikepacking in my opinion!
What is the terrain like to cycle in Colombia
The terrain in Colombia varies a lot, with big mountains – there's not many flat rides when on a cycle journey in Colombia.
Any tips for planning bike tours in Colombia?
Some things to keep in mind when planning a bike tour in Colombia: Knowing some Spanish is really going to help you. You can find a good bike shop in most large towns. This is coffee country, so you'll have some of the best coffee in the world!