There can be up to 11 Santorini to Anafi ferry crossings per week, and the quickest ferry trip takes 1 hour and 15 minutes.
Anafi island in Greece
Tiny Anafi is one of the lesser visited islands in the Cyclades of Greece. It's probably to do with the fact it takes a bit of effort to travel there.
It's certainly a long ferry ride from Athens to Anafi, and even getting from Santorini to Anafi takes some commitment.
In the past, there were only two ferries sailing between Santorini and Anafi every week. In 2022, the frequency was increased so at some points there were 11 ferry crossings on the itinerary in the high season.
Check which ferry companies operate on the day you want to sail at: Ferryscanner
Santorini Anafi Ferry Route
Ferry connections between Santorini and Anafi are offered by SeaJets, Blue Star Ferries, SeaSpeed Ferries, Anek Lines, and Maistros Santorini.
If I'm to be honest, there's no rhyme or reason to the schedules they keep! Some weeks there's 11 ferries, other weeks there's 2.
Of course, there are always less ferry crossings in the spring and autumn, but even during the summer months, the frequency is unpredictable!
Traveling from Santorini to Anafi
There is no airport in Anafi island, so the only way to get from Santorini to Anafi is by taking a ferry.
During the high season months of July, August, and September, there can be 11 weekly ferries that have regular slots on the ferry schedule.
The ferries to Anafi from Santorini operated by Blue Star Ferries are often scheduled for the small hours of the morning, coming at the end of a route which may have originated in Athens to the Cyclades islands 10 or 12 hours previously.
Ticket prices are cheap though. Tickets for passengers start at just 6 Euros. Check the latest timetables and book online at Ferryhopper.
According to seasonal demand, other Greek ferry companies such as SeaJets might also add a ferry connection from Santorini to Anafi.
Ferries to Anafi from Santorini
I've probably already mentioned it, but some of the ferries going to Anafi island from Santorini depart at awkward times in the small hours of the morning.
Back in the day, I would have embraced these times as it would probably have saved me a night's accommodation fee! Perhaps not so much now.
If you want to check schedules and book tickets for the ferry online, check out Ferryhopper.
As for how long the ferry to Anafi takes: The quickest crossing from Santorini going to Anafi takes around 1 hour and 10 minutes, with the slow ferry sailing to Anafi from Santorini island taking around 1 hour and 35 minutes.
Anafi Island Travel Tips
A few travel tips for visiting Anafi island:
Booking has a good range of accommodation and hotels in Anafi. That said, there may be some local choices that don't appear on Booking. It might be worth spending some time online looking for other options. I haven't got a dedicated guide to Anafi hotels yet, but rest assured it's on its way!
---
Ferryhopper is the place to go for updated ferry schedules and ticket prices. I use this site myself for booking tickets, and it's an easy way to get your Santorini Anafi ferry tickets in little time.
---
If you are going to take one of the early morning ferries from Santorini to Anafi, make sure you have organized your transportation to the port in advance. Normally, I'd recommend arriving an hour before the ferry is due to depart, but if you are taking a 2 am ferry, half an hour prior should be fine.
---
Welcome offer an excellent method of pre-booking taxis from Santorini hotels to the port at very reasonable prices.
---
Things to do in Anafi Greece
Anafi is a lovely island to relax and enjoy some incredible beaches. Some of the key highlights of Anafi include:
Agioi Anargyroi Beach
Katsouni Beach
Roukouna Beach
Livoskopos Beach
The Church of Panagia Kalamiotissa
How to take the journey from Santorini to Anafi FAQ
Some of the most commonly asked questions about traveling to Anafi from Santorini from readers include:
How do I get to Anafi from Santorini?
The only way to travel from Santorini to Anafi is to use one of the ferries. There are up to 1-2 ferries per day sailing to Anafi from Santorini during the summer months, although some of them depart at awkward times of the day such as 01.40 and 02.30, particularly on the Blue Star Ferries services.
Is there an airport in Anafi?
There's no airport in the Greek island of Anafi, with the closest one being on Santorini. The only way to make a trip from Santorini to Anafi is to take one of the Santorini Anafi ferries.
How long is the ferry ride from Santorini to Anafi?
The ferry from Santorini to Anafi takes between 1 hour and 10 minutes and 1 hour and 35 minutes. Ferry operators on the Santorini Anafi route may include SeaJets, Blue Star Ferries, and Anek Lines.
How can I buy tickets for the ferry to Anafi?
Ferryhopper is perhaps the easiest site to use when it comes to booking Santorini Anafi ferry tickets online. Although I suggest you book your Santorini to Anafi ferry tickets in advance, you could also use a local travel agency in Greece.
---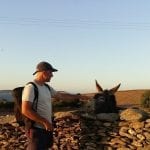 – Dave Briggs
Dave is a travel writer who's been living in Greece since 2015. He spends his time visiting Greek destinations and then writing travel blogs such as this one on how to get from Santorini to Anafi. It's a hard life!
Follow Dave on social media for travel inspiration from Greece and beyond: