You can take the ferry from Santorini to Amorgos once a day in the summer using SeaJets. Express Skopelitis also offer a Santorini Amorgos ferry service on occasional days.
You can get cheap ferry tickets for around 11.50 Euro on the infrequent Express Skopelitis, but the more regular SeaJets Santorini to Amorgos ferry has ticket prices upwards of 74 Euro.
Check ferry schedules, and ferry ticket prices at: Ferryscanner
Amorgos island in Greece
Amorgos is the eastern-most of the Cyclades islands in Greece. With its beautiful beaches and incredible landscapes, it's an island that takes some effort to reach – but that effort is well rewarded!
If you're planning to visit Amorgos after having spent some time in Santorini, you'll find it very different in nature. This is the island you'll enjoy more if you're a beach lover, and the pace of life is a lot quieter than Santorini!
Amorgos Santorini Ferry Trip
There isn't an airport on the island of Amorgos, so the only way to travel from Santorini to Amorgos is to use a ferry.
During the busiest time of summer, there is always 1 and occasionally 2 ferries per day from Santorini to Amorgos. These ferries to Amorgos from Santorini are operated by SeaJets and Express Skopelitis.
SeaJets is a high speed ferry – quicker but more expensive. The Express Skopelitis, operated by Small Cyclades Lines, is a very small ferry that is considerably slower.
Book your ferry ticket for either ferry company here: Ferryscanner
High Speed Ferry to Amorgos
SeaJets is by far the faster service, but is more expensive the the Express Skopelitis. You can expect the ticket price to be around the 74.50 Euro mark (thank you 2022 inflation!).
The timing of the high speed Amorgos ferry via Seajets is a good one. In summer 2022, the Seajet ferries either leave at 15.05 and arrive at 16.25, or leave at 15.25 and arrive at 16.45. No early alarm clock needed to take this boat!
Important note: If you're traveling to Amorgos by ferry on Seajets from Santorini, make a note of which port in Amorgos the ferry arrives at. In 2022, they mainly arrived at Katapola Port.
Book your ferry tickets here: Ferryscanner
Express Skopelitis to Amorgos
If you plan on hopping around the 'Lesser Cyclades' (the islands around Naxos), you'll probably end up using the Express Skopelitis quite a lot. Perhaps somewhat surprisingly, they also offer a service from Santorini to Amorgos that takes around 4 hours and 15 minutes.
Operated by Small Cyclades Lines, the Express Skopelitis ferry from Santorini is by far the cheapest option. Passenger tickets start at just 11.20 Euro, and they also have some limited vehicle space.
In 2022, the Express Skopelitis only ran on a Sunday. This ferry also arrives at Katapola port.
Book your ferry tickets here: Ferryhopper
Ferries to Amorgos from Santorini
The quicker SeaJets from Santorini going to Amorgos takes around 1 hour and 10 minutes. These high speed ferries leave every day of the week during the high season.
The slower ferry Express Skopelitis sailing to Amorgos from Santorini island has a trip duration of around 4 hours and 55 minutes. This vessel currently only sails on a Sunday.
Book your ferry tickets
The best place to look at up to date schedules and book ferry tickets online is Ferryhopper. I use this website myself when planning island hopping trips in Greece. It's simple to use, and a great place to check ferry schedules in English.
Try to be at Santorini Thira ferry port at least an hour before your ferry trip is due to start. There are some cafes at the port area you can sit in the shade when waiting if the sun is too hot!
Amorgos Island Travel Tips
A few travel tips for visiting the island of Amorgos:
Amorgos has two ports which are Katapola and Aegiali. Currently, ferries from Santorini arrive at Katapola port. I would suggest booking your accommodation in this port town or the Chora.
---
Booking is by far the best site to reserve your Amorgos hotels online. There's also a loyalty scheme which makes hotels cheaper the more you use the platform. If you speak Greek, you might find better prices by talking to hotels in Amorgos directly. Also keep in mind that not all accommodation on the island is listed on Booking.
---
Ferryhopper have up to date timetables for the ferries leaving from Santorini and sailing to Amorgos. Note that sometimes schedules are only uploaded a month or two before. If you're checking for summer ferries in the winter, it's unlikely you will see any ferries scheduled quite yet, and those that are may be subject to change.
---
Amorgos does have ATM machines in Aegali, Chora and Katapola, but it is prudent to carry some spare Euro notes with you just in case.
---
Welcome taxis offer a pre-booked service that will pick you up from your hotel in Santorini, and drop you off at the port. I'd suggest getting to the port an hour before your ferry Santorini Amorgos is due to depart.
---
What to see in Amorgos Greece
Some of the things to experience and do when in Amorgos include:
Explore the Chora and Venetian Kastro
Get plenty of photos of the Cyclades Windmills
Visit The Monastery of Panagia Hozoviotissa
Use the island hiking trails to discover a different side to the island
Go on a boat tour around Amorgos
Most importantly – chill out at the beach!
Check out my full Amorgos guide here: Things to do in Amorgos
Taking the ferry from Santorini to Amorgos FAQ
Some commonly asked questions about traveling to Amorgos from Santorini include:
How do we get to Amorgos from Santorini?
In order to take the journey from Santorini to Amorgos the best way is to use a ferry. There are up to 1 and occasionally 2 ferries per day sailing to the Greek island of Amorgos from Santorini.
Is there an airport on Amorgos?
There isn't an airport in Amorgos island, so the only way to make a journey from Santorini to Amorgos is by the ferry services. The closest airport to Amorgos is on the island of Naxos.
How long is the ferry ride from Santorini to Amorgos?
The ferries to the Cyclades island of Amorgos from Santorini take between 1 hour and 10 minutes and 4 hours and 55 minutes. Ferry operators on the Santorini Amorgos route may include SeaJets and Express Skopelitis.
How do I buy ferry tickets to Amorgos?
One of the best places to look at ferry schedules and to book tickets online for the Santorini Amorgos route is at Ferryhopper. Although I recommend you book your Santorini to Amorgos ferry tickets in advance, you could also use a local travel agency in Greece.
Island Hopping from Santorini
Other destinations and Greek islands you can reach from Santorini include:
Tips for Greek island hopping
Greek island hopping is an amazing way to explore and experience the beauty of Greek culture and landscapes. Here are a few tips for making your Greek Island hopping adventure as seamless as possible:
Plan your travels carefully. Careful planning and flexibility are key when it comes to hopping around the Greek islands. Consider researching your route ahead of time, so you can make sure you're not missing any must-see spots or activities when you visit Amorgos and Santorini.
Have contingency plans for transportation delays. Most of the islands in Greece don't have airports, and adverse weather conditions may lead to ferries being cancelled.
Pack light: Keep the weight of your luggage down by packing versatile pieces that can be used for multiple occasions. You'll be moving around often, so the lighter your bag is, the easier it will be! Don't forget essentials like sunscreen and insect repellent! Luggage with wheels is a good idea when walking to and from ferry ports.
---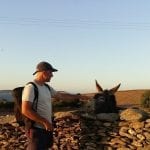 – Dave Briggs
Dave is a travel writer who's been living in Greece since 2015. He's spent his time visiting and then writing about cool destinations in Greece, producing useful guides such as this one on how to get from Santorini to Amorgos. He hasn't visited all of the islands in Greece yet – but he is working on it!
Follow Dave on social media for travel inspiration from Greece and beyond: