You can easily travel from Athens to the Cyclades islands in Greece by ferry, and some of the Cycladic Islands also have an airport. This guide shows you how.
Travel to Cyclades Islands
The Cyclades islands are among some of the most popular travel destinations in Greece. Most people have heard of the big name islands like Mykonos and Santorini, but there are 22 other equally amazing inhabited Cycladic islands you can visit.
In fact, you can check out my shortlist for the best islands in the Cyclades if you're stuck which ones to travel to!
As only some of these Greek islands have International Airports, most people need to work out how to get to the Cyclades from Athens. In this guide, I'll show you the best way to fly and take a ferry from Athens to the Cyclades in Greece.
If you are tired of reading already, go and check out Ferryhopper for the latest Greek ferry schedules and timetables.
Flying from Athens to the Cyclades
In terms of travel time, flying to the Cyclades islands that have airports is the quickest way to get to them. However, after you've allowed travel time to the airport in Athens, and boarding procedures, perhaps there's not much of a time advantage in the end.
Although not all of the Cyclades have airports, flying can be a good option. For example, some people choose to fly into Santorini, and then go island hopping from there on the ferries, which may save 2 or 3 hours on a ferry crossing from Athens.
Islands in the Cyclades with Airports
The following Cycladic islands have airports you can fly to from Athens.
Milos Island: Olympic Air and Sky Express operate flights from Athens to Milos.
Naxos Island: Naxos is the biggest island in the Cyclades, but only has domestic flights. Sky Express and Olympic Air fly from Athens to Naxos.
Mykonos Island: Mykonos has an international airport as well as plenty of choice of domestic connections with Athens.
Paros Island: Seasonal charter flights from some European destinations make it an International Airport. Olympic Air and Sky Express enable you to fly from Athens to Paros.
Santorini Island: In addition to the International flights, Santorini also has plenty of connections with Athens on a number of different airlines.
Syros Island: Syros may be the capital of the Cyclades, but only Sky Express currently fly from Athens to Syros.
I've a full guide here to Greek islands with Airports.
Ferries from Athens to Cyclades Islands
The easiest way to travel from Athens to the Cyclades islands in Greece is by ferry. The Greek ferry network is both a masterpiece in logistics, and a somewhat confusing mass of information, half of which can never be found.
Things have been changing in the last few years though, and I personally love the Ferryhopper site for booking Greek ferry tickets online.
Almost all of the Cyclades Islands in Greece can be reached directly by ferry from Athens during the summer months which is the tourist season.
The touristy islands such as Mykonos will have more than one ferry per day, whilst other lesser visited islands may have only one or two boats per week. It varies from year to year.
We should make a note now that obviously 2020 was a chaotic year for travel. The ramifications of travel in 2021 and beyond are still not fully thought out. My guess is that ferry frequencies will be much less in the couple of years ahead until tourism rebounds.
Ferry Ports in Athens
Athens has three ferry ports which connect with the Cyclades islands. Piraeus is the most well known port, whilst Rafina and Lavrio ports are smaller.
Wherever possible I prefer to use Rafina port, as it is a lot less stressful than Piraeus in terms of finding out where I need to be!
If you have a choice in which port from Athens you'll leave from to go the to Cyclades, you might also consider Rafina especially if you are traveling in a vehicle. If you don't have a choice, then it doesn't matter anyway!
How to get to Cyclades from Athens
If you're planning to go island hopping in Greece, you'll definitely find that Ferryhopper is the best online tool to use. I also have these other in-depth guides on how to get from Athens to islands in the Cyclades.
---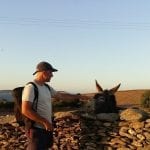 – Dave Briggs
Dave is a travel writer originally from the UK and now living in Greece. He started this travel blog in 2005, and over the years has written hundreds of travel blog posts about Greece and the Cyclades islands. He has a somewhat ambitious goal of visiting every Greek island (there's over 200!) and writing about them.
Follow Dave on social media for travel inspiration from Greece and beyond: