Travel information on ferries from Athens to Anafi, Greece. Includes how to book Anafi ferry tickets, schedules, and essential travel tips for Anafi island.
Anafi island in Greece
The Greek island of Anafi is often described as the hidden gem of the Aegean. Still untouched by the type of mass tourism that affects Santorini, Anafi has lovely sandy beaches and a night sky with more stars than seems possible.
Some of the things to do and places to visit in Anafi include visiting the Kalamos Rock, the Monastery of Kalamiotissa, the Monastery of Zoodochos Pigi, hiking, and of course enjoying plenty of beach time!
With a population of barely 300, Anafi is one of the least known islands in the Cyclades. It's an island to get away from it all. Somewhere to relax, not do a lot, and enjoy the summer!
Related: Best Greek Islands For Beaches
Athens Anafi Ferry Connections
You can take a ferry to Anafi from the ports of Piraeus and sometimes Lavrion in Athens. On some years, there may also be boats sailing from Rafina that will include a stop at Anafi.
Most ferry companies depart from Piraeus Port though, and of these, Blue Star Ferries offers the most regular crossings. During the summer months, you can expect ferries to sail on the route from Piraeus to Anafi about three times per week.
The best place to check for updated ferry schedules and to book tickets for the ferries to Anafi is at Ferryhopper.
You should note that quite often, ferry schedules for Anafi are only announced a month in advance. In order to get a feel for what schedules you might expect from Athens to Anafi in the future, take a look at previous year's timetables at openseas.gr.
Other ways to get to Anafi
As there is no airport on Anafi, the island can only be reached by sea from Athens and the other Cyclades islands. For example, you can get from Santorini to Anafi quite easily, as the two islands are located close together.
On arrival, there should be a bus that connects the port of Anafi with Chora and other areas on the island. If you've pre-booked accommodation in Anafi, your hotel owner might be kind enough to pick you up from Anafi port.
Travel Tips For Visiting Anafi
Passengers should be at Piraeus Port at least an hour before departure time.
---
I recommend using Booking to look for and book accommodation online 4-6 months prior to traveling to Anafi island.
---
Ferryhopper is the easiest resource for booking Anafi ferry tickets online.
---
Arrive at the ports in Athens at least one hour before your boat to Anafi is due to sail.
---
---
---
Anafi only has one ATM machine. Make sure to have cash with you just in case. Read Money in Greece for tips.
---
FAQ About Traveling To Anafi
These are some of the most commonly asked questions regarding how to get to Anafi from Athens.
How do I get to Anafi Greece?
You can only get to Anafi island by sea. In addition to connections with the other islands in the Cyclades, there are also regular ferries from Athens to Anafi.
Can I fly to Anafi island in Greece?
Anafi does not currently have an airport, so you can not fly there. Rumours have been going around that the military may build an airport at Anafi which may lead on to civilian part use, but no progress has currently been made.
How long does the Athens to Anafi ferry take?
Ferries to Anafi island that depart from Piraeus port in Athens can take between 10 and 12.5 hours to make the crossing. If there is a highspeed ferry available, it may reduce the travel time to 6 hours.
How do I book ferry tickets for Anafi?
You can use Ferryhopper to book tickets online, or alternatively, visit a Greek travel agency when you are traveling in the country.
---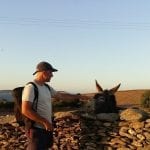 – Dave Briggs
Dave is a travel writer originally from the UK and now living in Greece. He's been writing at Dave's Travel Pages since 2005. Over the years he's created hundreds of travel blog posts about destinations in Greece and the Cycladic islands. He has a somewhat ambitious goal of visiting every Greek island (there's over 200!) and writing about them all.
Follow Dave on social media for travel inspiration from Greece, Europe and beyond: