This is an easy to follow 4 day itinerary for Singapore, based on my own trip there. See the highlights of Singapore at a relaxed pace with this Singapore itinerary 4 days guide.
4 Days in Singapore
I visited Singapore in November as part of a planned 5 month trip around Asia with my girlfriend. Although I had visited Singapore briefly many years ago, everything was new to me on this trip.
With five months to play with, we had enough time to spend a little longer in Singapore than perhaps other people do. As such, we settled on 4 days in Singapore which we thought would give us enough time to see the places that interested us most.
Whilst many people seem to only stop by Singapore for a few days in between destinations, we were amazed at the amount of things to see and do there.
Even after four days sightseeing in Singapore, we hadn't really completed our 'wishlist'. In all honesty, our 'wishlist' would have barely scratched the surface in any case!
What to do in Singapore in 4 days
Still, there's only so much you can do in limited time, and I think our 4 day Singapore itinerary was pretty good in the end.
It took in the major attractions of Singapore such as the Gardens by the Bay, lesser visited places like the Red Dot museum, and even included an evening dinner with new Singapore friends!
Singapore Itinerary 4 Days
As such, I've shared our experience of 4 days in Singapore so that it might help you plan your own sightseeing itinerary. This is in no way meant to be a definitive guide. Consider it to be a realistic 4 day Singapore itinerary by real people!
This sample Singapore itinerary balances out our jetlag with enthusiasm, late starts with late nights, and includes a few interests that you may or may not share.
At the end, I've mentioned a few places we wish we would have seen, and some general travel tips to help your own experience of visiting Singapore go a little bit easier. Enjoy!
Singapore Itinerary Day 1
After arriving on our Scoot flight from Athens to Singapore in the early hours of the morning, we had an hour or so to kill before the MRT (metro) opened. We used our time getting a coffee and buying a 3 day tourist card for the metro system.
When the metro system finally opened, we jumped on board and headed to our hotel.
Using the MRT in Singapore
The MRT system in Singapore is very easy to use. There are various ticket options available, and we decided to go for the 3 day tourist pass. This provided unlimited travel on the Singapore metro system for 3 days, on a card we could claim a deposit fee back on later.
As we were on a 4 day Singapore itinerary, we had to put some extra money on the card for the final day. We didn't use all this money, and so were pleasantly surprised when we not only got our card deposit back, but also our unused funds back.
In retrospect, it would have been a little cheaper to buy a 1 day tourist pass and top it up for our remaining days there, as a one-way ride rarely seems to cost over 1 dollar and we never used the metro over four times on the same day as we ended up walking a lot.
Where to stay in Singapore
The city can be quite an expensive one when it comes to accommodation. What cheaper accommodation there is, tends to be of lower quality or less desirable areas.
Whilst it would have been lovely to have stayed at the Marina Bay Sands, this was way out of our budget. Instead, we found an affordable place in the Geylang district in Singapore.
The Geylang area is well known as being a red-light district, and though we saw brothels on the streets, the area was hardly a dangerous one. Let's just call it interesting!
Fragrance Hotel Crystal
Our room at the Fragrance Hotel Crystal was not available when we arrived at 7 am, which was hardly surprising! So, we left our luggage in their locker room, and caught the metro to a nearby mall to grab some breakfast.
When we eventually checked into our hotel, we found it to be acceptable. Not great, not bad, just ok. For its price, we think it offered pretty good value for money. If you're looking for a similar place to stay in Singapore, you can check it out here – Fragrance Hotel Crystal.
Bugis Junction Mall
It was still early when we left our luggage at the hotel, so we jumped back on the metro and headed to Bugis Junction Mall. This acted as an intersection for the MRT lines in Singapore, and we also decided to have some breakfast here.
This was our first introduction to shopping malls in Singapore. Although nowhere near as grand as some of the other malls that Singapore is famous for, it was interesting enough to wander around and then eat at the food court.
Somewhat revived, and with the time getting nearer to 9 in the morning, it was time to get on with the sightseeing itinerary in Singapore! First stop, would be the Haji Lane and Arab Street areas.
Haji Lane
It was raining when we arrived at Haji Lane in Singapore. A bit of a shame, but not a lot that could be done! In addition, because it was still early, not many of the cafes, restaurants and shops in Haji Lane had opened yet.
We later stopped off for a juice at the place in the photo above, which was most welcome. That said, we were in danger of falling asleep because of the jetlag so we decided to move on as quick as we could.
Haji Lane looks like it would be a nice place to visit at night. We'll give it a go on our next 4 days in Singapore!
Bike Share Schemes in Singapore
Walking along Haji Lane, we also caught our first glimpse of a bike share scheme in Singapore. These are most often unlocked with an app. You can then ride the bike, and leave it where you like.
In some parts of the world, notably China, bike share schemes have suffered to either vandalism or an over-supply of bike. In Singapore, the bike share schemes seemed to work fine. I'm sure a local might tell me differently though!
Arab Street
You'll often hear of Arab Street in Singapore. This actually refers more to the neighbourhood of which Haji Lane is a part. Due to the weather, we probably didn't give this neighbourhood in Singapore the time it deserves, but we had a good walk around all the same.
Masjid Sultan Mosque
This colourful mosque is arguably the centre of the Arab quarter in Singapore. If you would like to visit inside, you might need to check available times as they don't allow visitors at times of worship. Conservative dress and respect should be exercised when visiting the Masjid Sultan Mosque in Singapore.
Singapore Art Museum
With the weather showing no real signs of improving, we decided to choose an indoor activity as our next thing to do in Singapore. The Singapore Art Museum is a contemporary art museum, which always proves amusing!
Displaying rotating exhibitions, I'll be honest and say we visited more for my girlfriend's benefit than mine! Writing this article several weeks after visiting, I can't really remember what was on display here, and didn't take any photos. It did keep us dry for a while though!
Sri Krishnan Temple
The Sri Krishnan Temple is a Hindu temple located on Waterloo Street in Singapore. It is elaborately decorated, and has recently undergone a renovation. The Sri Krishnan Temple is Singapore's only South Indian temple dedicated to Sri Krishna and his consort Rukmini.
Kuan Yin Thong Hood Cho Temple
Located just a couple of buildings down from the Sri Krishnan Temple, is the Kuan Yin Thong Hood Cho Temple. This is a traditional Chinese temple, first built in 1884. I found this temple a curious one to visit, with its Buddhist statues, and worshippers using the fortune telling sticks.
The Kuan Yin Thong Hood Cho Temple in Singapore doesn't take long to visit, but I'd recommend just staying there and watching to see what goes on. You might even end up with some fruit given out to you!
Lunch
At this point we were starting to flag pretty badly. We'd been up well over 30 hours, with only some sporadic broken sleep on the flight over from Athens to Singapore. Perhaps lunch would help rescue us?
We were pretty unadventurous when we headed to a shopping mall to find something to eat. Later of course, we would realise that shopping malls are an important part of life in Singapore!
And then we crashed
Inevitably though, tiredness beat us in the end. Admitting defeat, we headed back to our hotel in Singapore just after 14.30, where we really didn't move for the rest of the day.
Singapore Tour Itinerary Day 2
Jetlag. You can't really predict it. Both of us have flown hundreds of times, and this was probably the worst we suffered with it.
Of course, the fact we'd been up for 36 hours without sleep, crossed numerous time-zones, and walked over 12 kilometres in Singapore the day before may have had something to do with it!
As such, it was a late start after lunch. My advice here, is when you are planning your own sightseeing itinerary for Singapore, don't go crazy packing a lot of things in. You never know how energetic you are going to feel when there!
Bus 63 to Bugis Junction
Deciding to mix things up a little, we took a local bus up to Bugis Junction. Our three day visitors cards covered the MRT and buses, so it was just a matter of scanning them as we got on and off the bus.
The bus journey was a little quicker than the metro, possibly due to one turning up straight away. Getting off at Bugis Junction, we went for breakfast. This consisted of runny eggs, coffee and toast, and was also very cheap!
Swapping over to the Singapore Metro, we then headed out to the Bayfront area.
Bayfront Singapore
The redeveloped Bayfront area of Singapore has become the modern symbol of the city. We would visit here over the next few days, admiring it both during the day, and at night which is when it is perhaps at its most spectacular.
Unfortunately for us, it was an overcast and rainy day, so we first decided to visit the Red Dot Museum. Entry here was free for us, as we had bought a cheaper ticket for the Domes at the Gardens of the Bay, and the Walkway via the Klook app. More about that later!
Red Dot Museum Singapore
This museum is run by one of the largest design awards organisations in the world. Fun fact – I do some occasional work for one of their more exclusive rivals!
The Red Dot Museum in Singapore was interesting for me to walk around. Here, you could see winners in design categories such as concept and innovation. Some of the designs were quirky, and others I can't wait to see in the shops!
The Shoppes Mall at Marina Bay Sands
I'm not a shopping mall fan. I'm not a shopping fan full stop. But it's not often you visit a shopping mall with a canal complete with boats running through it.
That, and it's big. I mean REALLY big!
We decided to pass through here, stop for lunch, and then continue on to the Gardens by the Bay. I wouldn't normally recommend a shopping mall as one of the things to do in a city, but you should really spend at least a little time at The Shoppes!
Gardens by the Bay
A short walk took us to the Gardens by the Bay. This was the top of my list of things to see in Singapore, and I'd been looking forward to it for a while.
We'd pre-booked some tickets on the Klook app that gave us admittance to the paid areas such as the Walkway and the Domes. It all worked out very well, and I'd recommend that visitors in Singapore also download the app just to check what deals are available.
What is the Gardens by the Bay?
The Gardens by the Bay in Singapore is a large, green area located near the Marina Bay Sands. Think of it as a futuristic version of an 18th century botanical garden!
Two sealed eco-domes house flowers and a rainforest, there are large green areas, and giant 'supertrees'.
It's a fascinating place to visit, simply because ecological endeavours on this scale are so rare in the modern world. In fact any type of project on this scale is a rarity!
Flower Dome
There are two giant domes at the Gardens by the Bay, and the first we visited was the Flower Dome. If the photos so far have given you an idea of the scale of things in Singapore, you can take my word that the Flower Dome was no different!
Enclosing an area of 3 acres, and with a height of 38 metres, it is a giant, temperature controlled environment. Inside, flowers and trees from different parts of the world are displayed in segmented areas.
When we visited in November, the dome also had a Christmas feel. This gave it a weird, Disney vibe. Basically, it added to the surrealism of it all!
Cloud Forest Dome
Although smaller in total area covered than the Flower Dome, the Cloud Forest Dome is far taller. Inside, you can see a 42 metre high Cloud Mountain, a 35 metre high waterfall, and a walkway leading up, down, and in-between.
There's different areas inside the dome and the mountain itself. These include the Crystal Mountain, Lost World, and Secret Garden amongst others. This was by far my favourite dome of the two, and certainly worth the price of admission.
Things to do in Singapore at night
If you only have one night free in Singapore, I'd strongly suggest you spend it watching the Gardens of the Bay Light Show. It's pretty amazing!
We'd timed this well with leaving the domes, as we only had an hour to fill before sunset. After sunset, the lights come on the Supertrees, and the countdown to the sound and light show begins!
Supertree Grove at Gardens of the Bay
After picking up some bright green and very tasty Pandan cake outside the domes, we wandered over to the Supertree Grove. Our Klook tickets included the OCBC Walkway between the supertrees, and whilst we could have gone up straight away, we decided to wait until after the tree lights came on.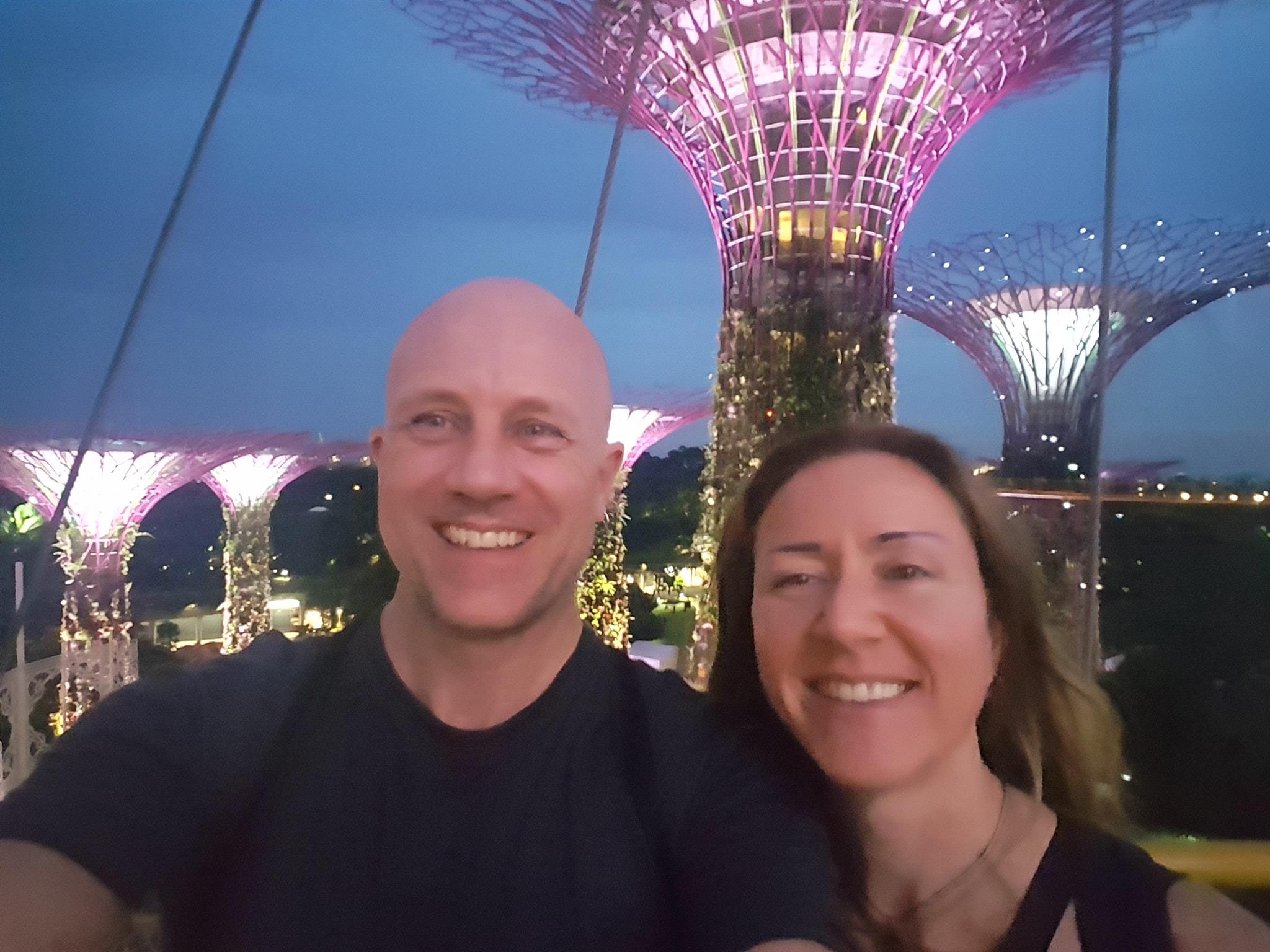 Good decision! Although there was a small queue to get up to the walkway, it really was spectacular up there. The Supertrees were illuminated, and there were incredible views out over the Singapore Bay area. People with fear of heights might not enjoy it up here! For the rest of us, Singapore at night really is amazing!
Gardens of the Bay Light Show
The Gardens by the Bay Light Show is really spectacular, and because of the time of year, we saw one with a Christmas theme. For a better feel for it, check out the video above and the Singapore blog post I've already mentioned.
After leaving the Gardens, we had dinner, and then headed back to the hotel. Day 2 in Singapore was over!
Singapore Walking Tour Itinerary Day 3
I'm not going to lie and say we had completely recovered from jetlag on day 3 in Singapore, but we were getting there!
Up and out at a reasonable time, we headed to the Chinatown area in Singapore.
Chinatown in Singapore
I'm going to say that I wasn't blown away by Chinatown in Singapore. It's not that it didn't lack places of interest such as the Buddha Tooth Relic Temple, but in a way as a neighbourhood, it just didn't stand out for me. Each to their own and all that though!
Here's a taste of some of the places we visited in Chinatown, Singapore.
Buddha Tooth Relic Temple
This unique building stands in stark contrast to the modern metropolis being constructed around it. Inside, is a temple, and area which is said to house a relic of the Buddha.
Visiting the Buddha Tooth Relic Temple was interesting for me because of the museum. It helped explain some of the history of not only the temple, but this version of Buddhism. Walking around probably took around an hour.
Maxwell Food Centre
When hunger kicks in, it's always good to head to where the locals eat. In Chinatown, it's the Maxwell Food Centre. Organised hawker stands specialise in different dishes guaranteed to satisfy the taste-buds. We loved the laksa at the Old Nyonya stall.
Singapore City Gallery
The Singapore City Gallery probably doesn't feature in many people's 4 day Singapore itinerary. It might not have featured on our Singapore sightseeing itinerary had we not been right next door to it during a very rainy spell!
It's an interesting place though, documenting the development of Singapore over the years. It also gives an indication of how Singapore might develop in the future. Definitely worth a half an hour of your time when in Chinatown.
Sri Mariamman Temple
Yes, I know it's called Chinatown, but there's also a rather impressive Hindu temple there. As there was some sort of ceremony when we entered, we didn't really stay long. Overall, it's an interesting place to admire, even if just from the outside.
Esplanade Art Centre
As the daylight drew to a close, we headed to the Esplanade area by the bay. At the art centre, there are rotating exhibitions, displays and live shows. Some of these are free, and others have a fee.
Whilst we visited, there seemed to be some sort of Indian cultural exchange program, as there were a number of Indian acts on. If you are looking for free things to do in Singapore at night, it would certainly be worth checking out what's going on here during your own visit.
Marina Bay Area in Singapore At Night
And then it was time to head back to the hotel. The walk from the Esplanade, over the Helix Bridge and around the Marina Bay Sands area looks amazing. When we visited, we were even treated to a full moon!
Singapore Itinerary Day 4
And before we knew it, we were on to day 4 in Singapore, our last full day.
Before starting our trip, I had been concerned that there would not be enough to see in Singapore in 4 days. Now, I was aware that 4 days would not be long enough! I've included some of the places we'd still like to visit at the end of this Singapore blog post. For now though, let's look at day 4 in Singapore!
National Gallery Singapore
The National Gallery Singapore was our 'big' place to visit on this day. And yes, it was big! The gallery had a mix of permanent and rotating exhibitions, some of which involved an extra ticket.
When we visited the National Gallery Singapore, the temporary exhibition was a minimalism one which was good fun to see. There was also this art piece which I called the Vertigo piece!
Now, it must be said that the National Gallery is massive. There are seemingly endless rooms and galleries, and even after 3 or 4 hours we hadn't seen them all.
If art is your thing, you should check it out. Bring your own snacks and avoid the cafe though, as it's really expensive and not great quality.
Little India in Singapore
Little India is another neighbourhood you should see in Singapore. Located to the east of the Singapore river, it's just across from Chinatown.
As you might expect given the name, this area is heavily influenced by the Indian population here. Expect temples, foods, colour and noise!
We spent an hour or two in Little India, Singapore. After which we then took the metro to meet some new friends.
Sengkang dinner at friends' house
Back in Athens, Vanessa gives walking tours. Some of these are free, and others people pay for. This gives her the opportunity to meet people from all over the world, and a while back she met a couple from Singapore, Elena and Joanna.
As we were in town, they invited us over for dinner! It was much appreciated, as was the chance to learn a little about life in modern Singapore and see the inside of an actual apartment. They'd also travelled to some of the countries we planned to on this trip around South East Asia, so it was good to get some inside tips!
Once dinner was over, we had our first of what would be many Grab taxi experiences, and got back to the hotel. The next day, it would be time to fly out for 3 weeks in Thailand!
Singapore Travel Tips
Here are some travel tips that might make your life easier when spending time in Singapore. They'll either save you money, time or hassle. Sometimes, all three!
Klook
This is a great travel app that offers discounted tours and services throughout Asia. We booked our tickets for the Gardens by the Bay domes and walkway through Klook, and it saved us quite a bit of money. A handy thing to have, as you can use it for suggestions about areas in Asia you are visiting.
Grab
Install Grab on your phone, and you'll have access to cheap taxi rides in Singapore. Again, Grab works through the rest of the South East Asia region as well. This is quite handy in terms of getting a set taxi price to avoid the haggling and overcharging that can happen otherwise.
Things we didn't have time to see but would like to in Singapore
As mentioned, we didn't get the chance to see everything in Singapore that we wanted to. As we'll probably fly back out of Singapore to Athens, we'll try to see the following places on our next visit.
Arts and Science Museum
Botanical Gardens
National History Museum
Asian Cultures Museum
Peranakan houses
East Coast Park
Planning to visit Singapore soon and have any questions? Leave a comment below, and we'll do our best to help you out!
Singapore itinerary FAQ
Readers planning a Singapore trip often ask questions similar to these:
Is 4 days enough for Singapore?
Singapore is a fantastic destination to visit, with attractions ranging from the awe inspiring Singapore skyline to the delicious food found in Hawker centres. When planning your first trip to Singapore, use my four days in Singapore itinerary as a guide!
How many days are required in Singapore?
It might be tempting to just give Singapore a couple of days before moving on, but a longer stay of 4 or 5 days will give you the chance to explore the Singapore botanical gardens, check out the Adam road food centre, enjoy the Marina Bay light show at night and much more.
What can you see in Singapore in 5 days?
Here's an idea of some of the attractions and places to visit if you're staying for 5 nights: Art Science Museum, Singapore National Museum, Night Safari at Singapore Zoo, Jurong Bird Park, Singapore Botanic Gardens, Gardens by the Bay, Marina Bay Sands Sky Park, Sentosa Island, Singapore Clark Quay, and more!
What can you do in Singapore in 3 days?
If you only have 3 days in Singapore, consider including some of the following in your itinerary: Buddha Tooth Temple in Chinatown, Old Hill Street Police Station, Little India Arcade, Tan Teng Niah's House in Little India, Sri Veeramakaliamman Temple, Gardens by the Bay, Marina Bay Sands Observation Deck, Merlion Park.
More Blog posts from this trip
If you enjoyed this Singapore itinerary for 4 days, here are some of the blog posts from other countries we visited on this trip you might also like:
Malaysia
Thailand
Vietnam
Myanmar