The direct ferry from Tinos to Koufonisia only sails between June 24th and September 5th. It is a once a day crossing taking 3.5 hours.
Tinos Koufonissi Ferry Route
To be quite honest, although Tinos and Koufonisia are both Cyclades islands, I wad quite surprised to find out that they are connected by a direct ferry!
The reason for this, is that Koufonissi is tucked behind the bigger island of Naxos, so it makes quite a weird route.
Still, there is a direct ferry service, although it only travels between June 24th and September 5th. This Tinos to Koufonissi crossing operates once a day, and the sailing durations are around 3 and a half hours.
These ferries to Koufonisia from Tinos are operated by Fast Ferries. For up to date ferry schedules, and to book the cheapest tickets online, I suggest using Ferryscanner.
Koufonisia Island Travel Tips
A few trip planning tips for visiting Koufonisia island:
Ferry services depart from the island's main ferry port in Tinos Town. Passengers should be at the port at least a half hour before the Tinos ferry to Koufonisia is scheduled to depart.
---
Ferries arrive at the main port in Chora in Koufonisia.
---
Most accommodation in Koufonisia is located in or around Chora. I've previously stayed in Archipelagos hotel, a few minutes walk from the village. Higher end options include Aeris, right in the centre of the village, and Pyrthea, if you are looking for more privacy and sunset views.
---
Hotels in Koufonisia, like other Cycladic islands, can quickly book out during the high season. Book online well in advance if traveling during this time.
---
For some quality beach time, head to these beaches in Koufonisia: Pori, Finikas, Italida, Ammos, and Fanos.
---
To look for direct ferries from Tinos to Koufonisia and other islands in the Aegean Sea, I recommend Ferryscanner for booking online with ease.
---
Feel sea sick on Greek ferries? You may want to try ginger (On long distance rides, you can search "ginger tablets").
---
---
---
How to make a journey from Tinos to Koufonisia FAQ
Questions about about traveling to Koufonisia from Tinos in the Cyclades group include:
How do I get to Koufonisia from Tinos?
The only way to make the journey from Tinos to Koufonisia is by ferry. There is not a year round service, and ferries only sail between June 24th and September 5th when there is one ferry a day.
Is there an airport in Koufonisia?
As there is no airport in the Greek island of Koufonisia, so the only way to go to from Tinos to Koufonisia is to take a ferry. The nearest airport to Koufonisia is at Naxos which is located close by.
How long is the ferry ride from Tinos to Koufonisia?
The ferries to the Cyclades island of Koufonisia from Tinos take between and 3 and a half hours. Ferry operators on the Tinos Koufonisia route may include Fast Ferries.
How do I buy ferry tickets to Koufonisia?
The easiest way to get hold of ferry tickets in Greece is by using Ferryhopper. Although I suggest you book your Tinos to Koufonisia ferry tickets in advance, you might also prefer to use a travel agency in Greece when you have arrived.
What ferry company sails Tinos Koufonisia directly?
The only ferry company to sail directly on the route Tinos to Koufonissi is Fast Ferries.
---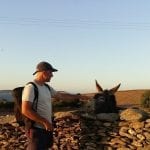 –
Dave Briggs
Dave is a
travel writer
from the UK who lives in and writes about Greece As well as writing this guide about ferries from Tinos to Koufonisia, he's created many other guides about Greek islands and destinations in Greece. Follow Dave on social media for travel inspiration from Greece and beyond: