There is one ferry a week sailing from Tinos to Kea island in Greece. The ferry leaves Tinos every Thursday and takes 5 hours to reach Kea.
Tinos Kea Ferry Route
The Greek islands of Tinos and Kea are both Cyclades islands. Although quite close together, this is not one of the most popular ferry routes.
In fact, there is just one ferry per week sailing the Tinos Kea route. This is a direct crossing, and leaves every Thursday.
The ferry company operating the boat sailing from Tinos to Kea is Blue Star Ferries. Travel times are not very quick, and passengers should expect a journey of around 5 hours for the ferry from Tinos to Kea in the summer.
For up to date ferry connections and to book tickets for ferry trips in Greece, I recommend Ferryscanner.
Kea Island Travel Tips
A few travel tips that might be useful when you visit the destination of Kea:
Ferry services depart from the main port of Tinos. Aim to be at the ferry port at least a half an hour before the vessel is scheduled to depart.
---
Ferries arrive at Korissia port in Kea.
---
You should buy ferry tickets well in advance of your departure date, especially if traveling between Tinos and Kea in the high season.
---
To book tickets for the route Tinos Kea and other islands in Greece, I recommend using Ferryscanner for the best prices.
---
For places to stay in Kea, I suggest using Booking. They have a great selection of hotels in Kea and areas to consider staying include Otzias, Ioulida, and Korrisia. If you are traveling to Kea in the busiest months for travel, I advise reserving where to stay in Kea a month or so in advance.
---
Readers recommend visiting the following beaches in Kea: Xila, Spathi, Pisses, Kampi, Sikamia, Koundouros, and Kaliskia.
---
When packing for a beach holiday in Greece, be sure to bring swimsuits, sunscreen, sunglasses and hats. It's also a good idea to pack light clothes such as shorts and t-shirts, and sandals or flip-flops.
---
---
---
How to go to from Tinos to Kea FAQ
Questions that people ask about traveling to Kea from Tinos include:
How do we get to Kea from Tinos?
The only way to make a trip from Tinos to Kea the best way is by ferry. There is a once a week sailing to the island of Kea from Tinos.
Is there an airport on Kea?
There's no airport on Kea island, so the only means of transport from Tinos to Kea is by taking a ferry. The airport most close to Kea is at Athens.
How long is the ferry crossing from Tinos to Kea?
The duration for the ferries to the Greek island of Kea from Tinos is 5 hours. Ferry operators on the Tinos Kea route may include Blue Star Ferries.
How do I buy ferry tickets to Kea?
The best place to look at the Greek ferry schedule for the Cycladic Islands online is Ferryhopper. I think it's better that you book your Tinos to Kea ferry tickets in advance, you might also go to a travel agency in Greece after you arrive.
You might also want to read:
Taking the ferry from Tinos to Kea is a great way to explore two of the most beautiful Greek islands. The crossing takes 5 hours, and there is just one ferry per week sailing between the two islands. If you're looking for things to do on Kea, be sure to check out some of the island's best beaches!
---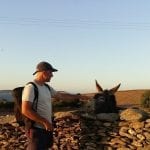 –
Dave Briggs
Dave is a
travel writer
based in Greece In addition to writing this guide about ferries from Tinos to Kea, he's written hundreds more guides to other destinations in Greece. Follow Dave on social media for travel inspiration from Greece and beyond: