The Koufonisia islands, located in the Cyclades archipelago of Greece, are known for their fantastic beaches and natural beauty.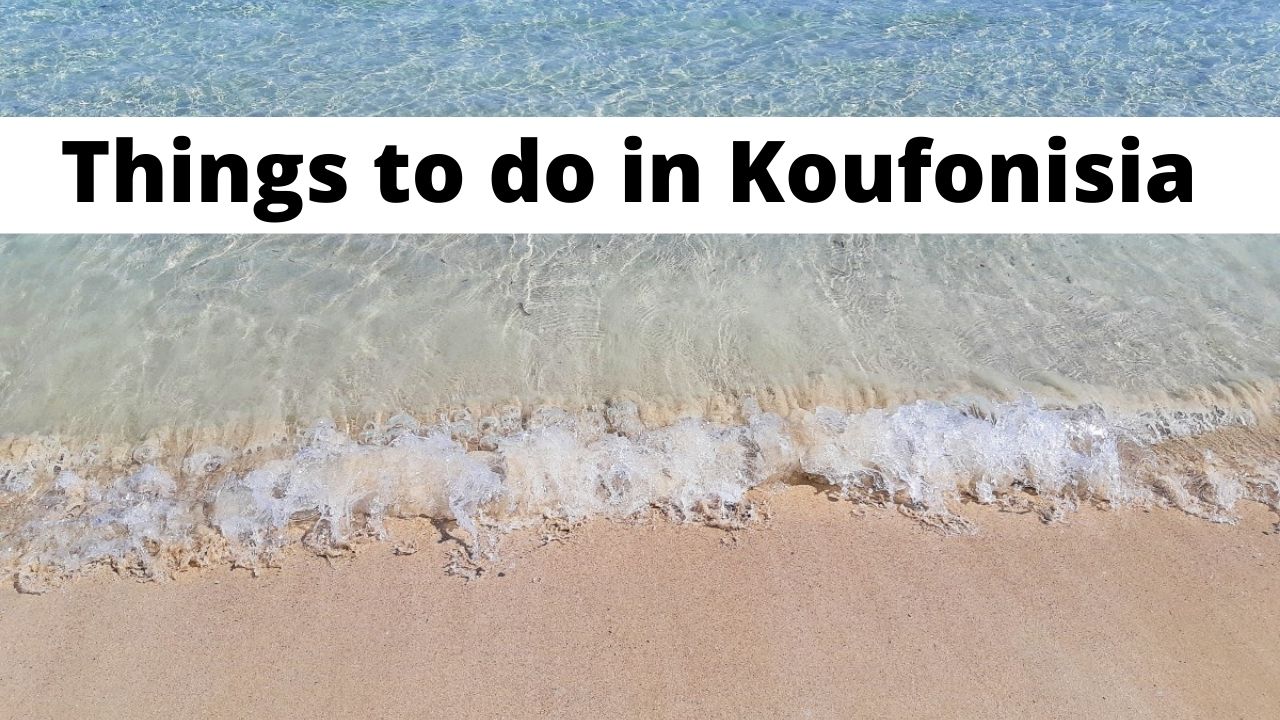 Koufonisia in Greece is a perfect destination for anyone that loves serene beaches, crystal clear waters, and low-key tourist development. The words "hidden gem" can be overused in some cases, but they perfectly describe Koufonisia!
This is not to say that tourism is unknown here – of course it is – but there's no high rise monstrosities or luxury resorts. Visiting Koufonisia after spending time on any of the big name islands in the Cyclades such as Santorini, Mykonos or Paros will feel like you are in a different world!
This guide includes the best things to do in Koufonisia, as well as travel tips for planning your trip there.
What is Koufonisia famous for?
Koufonisia is famous for the fantastic sandy beaches with crystal clear sea, the beautiful island scenery and laid-back pace of life.
It's the perfect destination to relax and unwind, without having to think about what to do next. And perhaps you can read that book that you've been postponing for months.
At the same time, there's enough activities and things to do that will excite anyone.
If you want some adventure and outdoor activities, head out and explore. You can go on boat tours, snorkeling trips, try some water sports or just hike around this paradise on earth.
No matter what your interests are, there is something here for you. But before we dive in, let's clear up what can be slightly confusing for some people…
Koufonisia or Koufonisi – And how many islands is it?
Koufonisia actually consists of three tiny islands in the Cyclades archipelago in Greece – Ano Koufonisi, Kato Koufonisi, and Keros.
Of these, Keros can not be visited, which leaves us two islands – Ano Koufonisi and Kato Koufonisi.
All the official accommodation is on Ano Koufonisi.
Kato Koufonisi does not have official accommodation, but free camping has been happening for years here. It's also a popular day trip to take from the main island.
So, when people say they are staying in Koufonisia, they typically mean Ano Koufonisi. When people say they have visited Koufonisia, they might mean both Ano and Kato Koufonisi.
I hope that clears it up – Maybe read it twice to make sense!
For the rest of this travel guide, I'll refer to the destination as Koufonisia in the singular. Phew!
Where is Koufonisia in Greece?
Koufonisia is located in the Small Cyclades subgroup, (which also includes Schinoussa, Iraklia and Donoussa), close by to the much bigger island of Naxos.
How to get to Koufonisia
You can get to the Koufonisia islands by ferry from Piraeus and Rafina ports in Athens.
The famous Blue Star ferries take just under 8 hours from Piraeus, while one of the faster SeaJet ferries covers the route in 4.5 hours.
In addition, there are several direct ferry connections with other islands in the Cyclades, like Naxos, Mykonos or Santorini.
If you are coming from a European destination, it may be quicker to fly into Mykonos international airport, and then take a 1.5 hour ferry trip to the Greek island of koufonisia.
These guides on how to get to Koufonisia explain all your options in detail.
Ferries to Koufonisia arrive at the main port on Ano Koufonisi. I recommend Ferryhopper for looking at schedules and booking Greek ferry tickets online.
Where to stay in Koufonisia
Most of the accommodation in Ano Koufonissi is located in or around Chora, the main village. If you've already pre-booked somewhere to stay, your host will probably meet you at the port.
When choosing a Koufonisia hotel, you will find dozens of different options, ranging from budget self-catering rooms to villas and deluxe suites.
We stayed in Archipelagos hotel, a few minutes walk from the village. They offer spacious rooms with a kitchenette. The owner and her sister were very helpful with suggestions about the island.
Higher end options include Aeris, right in the centre of the village, and Pyrthea, if you are looking for more privacy and sunset views.
You can find a wide range of Koufonisia hotel choices on Booking.
Koufonisia things to do
And now we've got some of the logistics out of the way, let's check the things to do in Koufonisia!
Swimming in Koufonisia
Swimming is the number one thing to do in Koufonisia. Both islands have beautiful, pristine sandy beaches where you can spend a few hours, or several days.
The water is some of the clearest around the Cyclades. The sea is shallow, making the Koufonisia beaches ideal for families.
Many of the beaches in Koufonisia are facing south, which makes them ideal when the meltemi winds blow from the north.
Beaches in Koufonisia
One thing you should know is that none of the beaches here are fully organized. You will find bars near some of them, but there are no facilities like umbrellas and sun loungers right on the sand.
Unless your hotel provides umbrellas for guests, my suggestion is to buy an umbrella from one of the local minimarkets. You can then leave it behind for the next visitors.
Walking and cycling are the only way to reach the beaches in Ano Koufonisi by land. There is a lovely, scenic coastal path which most people will be able to follow. There is also an inland road, ending in Pori beach.
Alternatively, you can take the small boat that does Koufonissi tours on a daily basis.
Here are the beaches in Ano Koufonisi, one by one, starting from the main village.
Ammos beach
Ammos, meaning "sand", is a beautiful stretch of soft sand with turquoise waters. It is located right in the main village in Ano Koufonisi.
It is the easiest option for a quick swim. If you are lucky you can get a space in the shade and spend all day. You will find all amenities like restaurants and cafes nearby.
The fishing boats in the bay just add to the ambiance. This is one of the best port beaches in the Cyclades.
Chondros Kavos Beach
This sheltered, pebbly cove is the first beach to the east of the village, after roughly a ten minute walk. The waters are crystal clear, ideal for snorkeling.
You can have a meal at the nearby taverna with the same name.
Finikas Beach (Charokopou)
This is a popular beach in Ano Koufonisi, about a 15-minute walk from the village. Its original name is Charokopou, just like the wider area.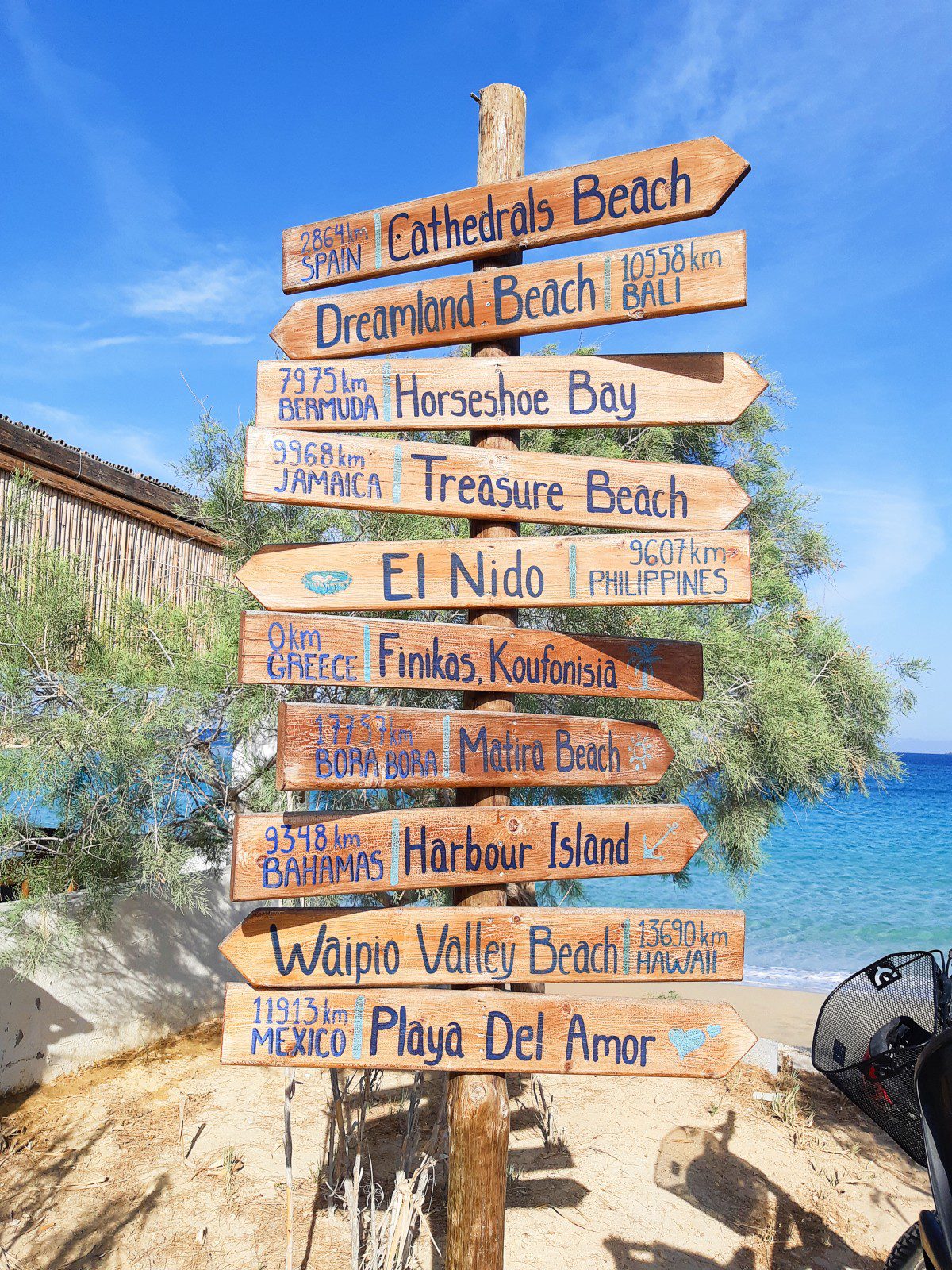 However, most people know it as Finikas. This is the name of the friendly beach cafe-restaurant, where you can stop for a drink or a meal.
Finikas is sandy, with shallow aqua-jade waters. You can snorkel around the nearby rocks and caves.
Fanos Beach
Fanos is one of the most visited beaches in Ano Koufonisi. The sea is very similar to Finikas, with several coves and bays to explore.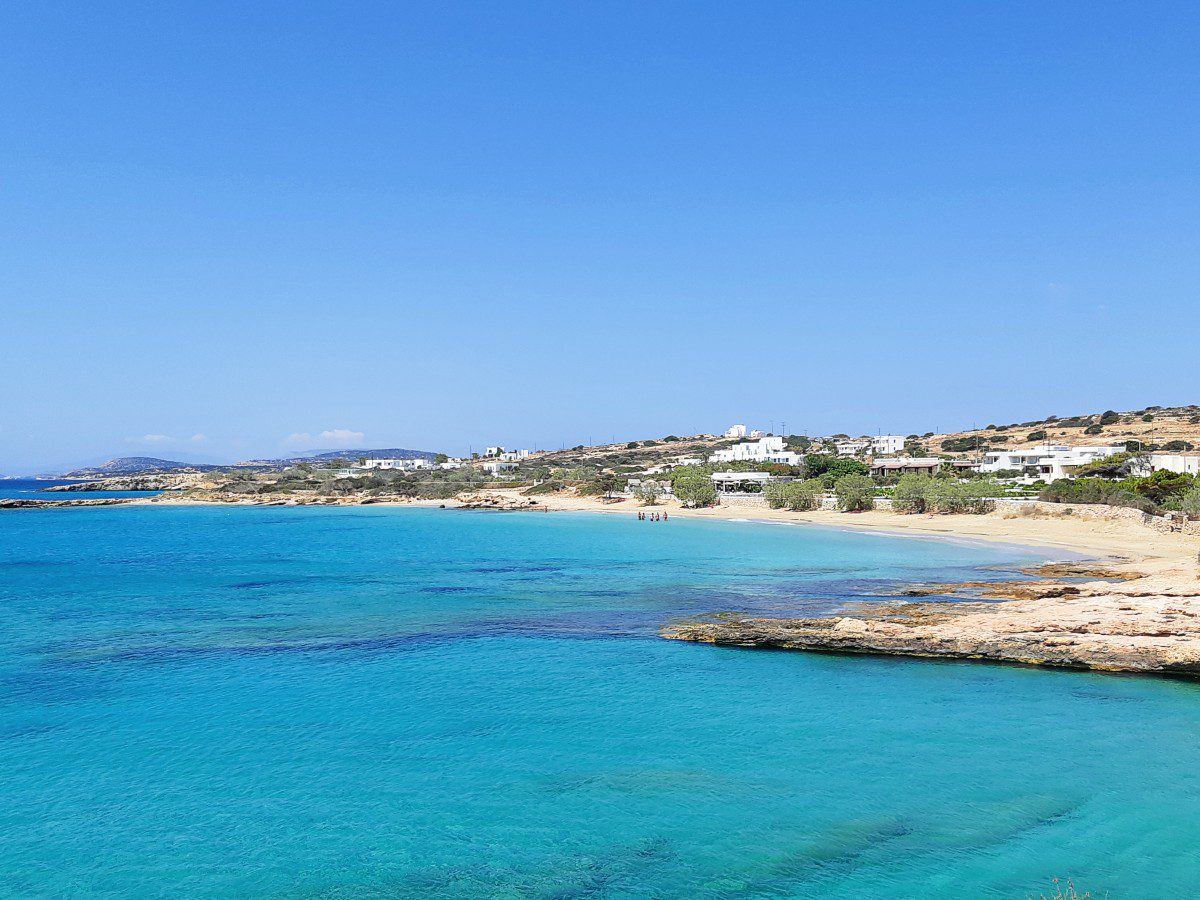 There is a comfortable, rather posh-looking bar-restaurant where you can spend a few hours. The bar is equipped with umbrellas and sunbeds.
Fanos is a five minute walk from Finikas, following the coastal road.
Platia Pounda / Italida Beach
Platia Pounta is a wide sandy beach, with crystal clear waters and fine sand. It's a popular stop in Koufonisi, and is naturist-friendly.
Platia Pounta is about 30 minutes walk from the village. There are no facilities or cafe / bar here, so make sure you have all you need with you.
The closest place where you can get some water or snacks is Fanos.
This beach is best known as "Italida", literally meaning "Italian lady". Apparently, an Italian lady owned part of the area just above the beach, hence the name.
Pori Beach
Many people consider Pori to be the island's best beach. It's a long sandy crescent, open to the northeast. There is soft, golden sand and crystal clear waters. On calm days, it looks like a natural pool.
It can be reached on foot, but it's best to avoid the hottest time of the day, as it takes 40-50 minutes from the village. On some years, there is a bus taking visitors to Pori on an inland road.
The bay itself is quite popular with yachts. There are also two restaurants, serving coffees, drinks and food.
On days with strong northern winds, Pori won't be very sheltered. On these days, it's best to go to one of the numerous south-facing beaches.
Gala Beach
Gala is a pebbly beach adjacent to a cave, a short walking distance from Pori.
The name of the small cove means "milk" in Greek. The name derives from the white foam created by the waves when it's windy.
Gala beach is best avoided with north winds, as swimming will not be easy.
Loutro and Spilia beach
West of the main and only village in Koufonissi, you will find two small coves, mostly frequented by locals, Loutro and Spilia.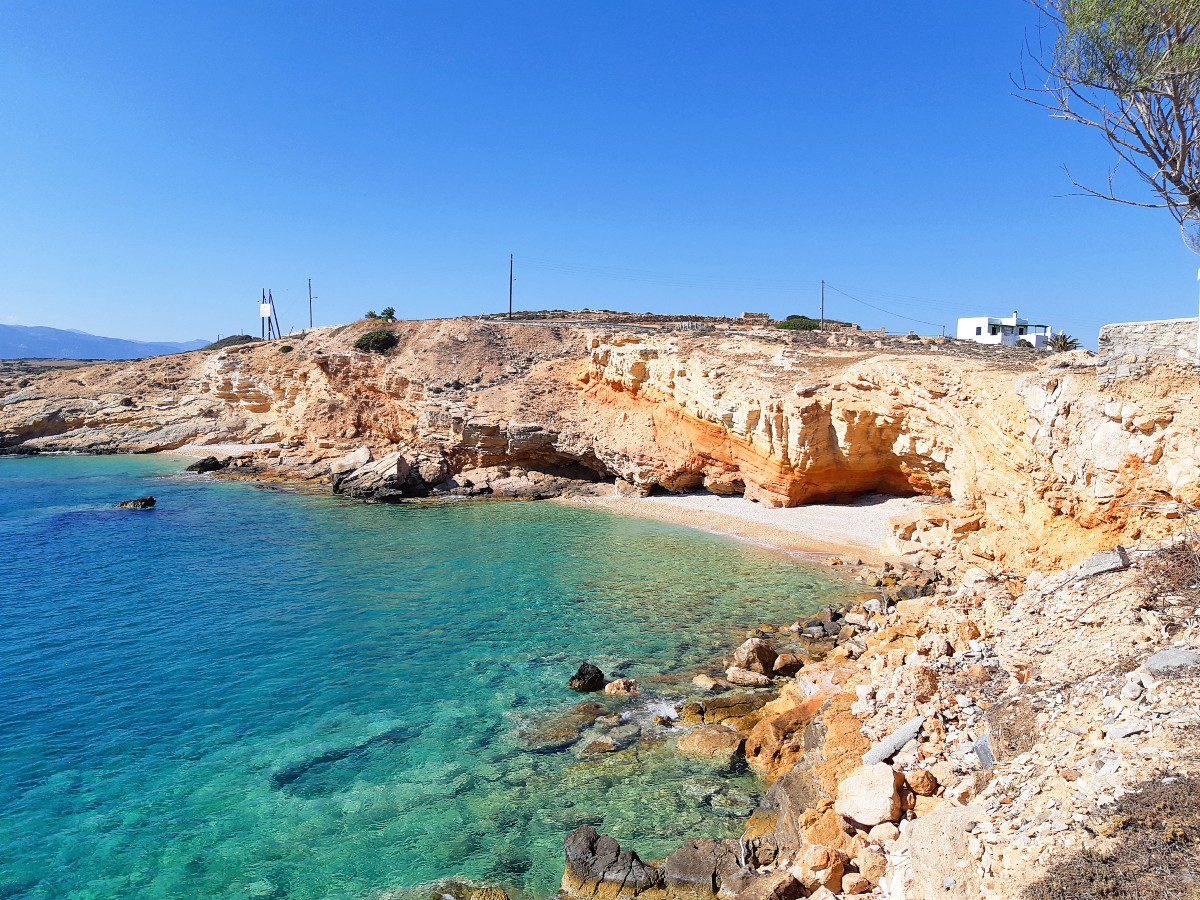 These two beaches aren't as impressive as Finikas, Italida or Pori, but they are a great alternative if you want more privacy.
Rock formations in Koufonisi – Devil's Eye, Piscina, Xilompatis
Apart from the beautiful sandy beaches, Ano Koufonisi is full of interesting rock formations, all around the coastline.
Close to Platia Pounta, you will find a small natural pool, known as Piscina. You will likely see local children and foreign visitors diving in.
Devil's Eye is another one of the Koufonissi sights you can't miss. It's an iconic cave, located between Platia Pounta and Pori.
If you get to Pori, you should also walk along the rocky cliffs, and observe the impressive caves of Xilompatis from above.
Related post: How to keep valuables safe at the beach
Visit Kato Koufonissi
Once you've explored Ano Koufonisi, it's time to visit its sister island, Kato Koufonisi!
You can visit the deserted island on Koufonissi boat tours, which depart from the main port, depending on weather. Departure times vary by season, so ask around.
Kato Koufonisi is famous for its free camping. In terms of tourist facilities, there is only a taverna. Make sure you bring everything you need for the day, including water, sunscreen and maybe a few snacks.
What to do in Kato Koufonissi
There are several virgin beaches on the wild island. The boat will first stop on Panagia, and then continue to Nero beach which is further south.
My suggestion is to get off at Nero, where you can spend a few hours, and then walk backwards to Panagia beach.
On the way, you will see a few other beaches, Alonistria, Detis and Laki. You will love the unspoiled, natural beauty and rugged landscape!
Eventually, you will reach the deserted village of Panagia. You can explore the path towards the old chapel, and eventually get to the famous Venetsanos taverna, where you can have some tasty local food.
And if you miss the last boat back to Ano Koufonisi, don't worry, you won't be the only one!
Koufonissi Boat Tours
As mentioned already, there are two types of Koufonissi tours.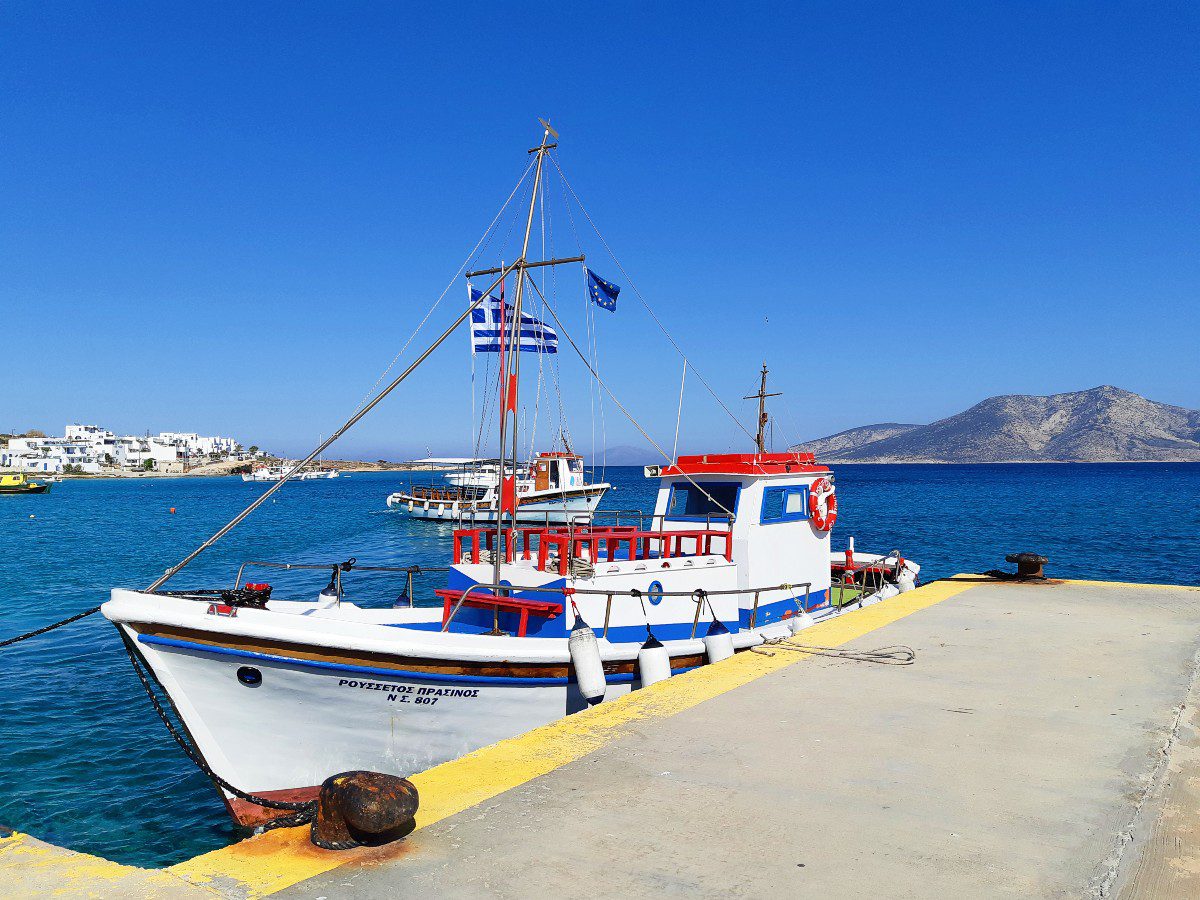 If you want to take it easy, you can reach most beaches on Ano Koufonisi on a boat trip around the island. Note that, in case of strong winds, the boat might not be able to approach all of the bays.
In addition, a boat trip is the only way to get to Kato Koufonisi, and discover the uninhabited paradise.
Explore the main village, Chora
Like every Cycladic island, Koufonissi has a small main town, Chora. Walk around the narrow alleyways, and discover the traditional architecture and unique island charm.
Don't miss the old windmill, which has been transformed into tourist accommodation. You will find it on the west coast, right above the old shipping yard.
There are plenty of cafes, tavernas and bars in Chora where you can stop and enjoy some delicious food or a drink.
Anyone interested in Koufonissi shopping will discover a few stores with unique handmade jewelry and original clothing items.
As you are walking around the village, you will come across a small Ethnographic museum, containing old objects and curiosities. These were donated by locals, in an attempt to keep the culture alive.
Where to eat in Koufonissi
For such a small island, Ano Koufonissi offers a lot of choice when it comes to tavernas and restaurants. Local meat, especially lamb, and fresh fish feature in most restaurant menus.
Capetan Nicolas and Captain Dimitri are considered among the best restaurants in Koufonisia for fish and seafood. Capetan Nicolas has a lovely terrace facing the sunset.
We enjoyed Rouchounas, a restaurant serving dishes made with excellent local products, including their famous meats.
For an authentic local experience, check out Karnagio, a small restaurant towards the edge of the village. They have a large selection of dishes and mezes, at very sensible prices. The setting is great too.
Koufonissi Nightlife
Koufonissi nightlife isn't exactly the main reason you'd visit Koufonisia. However, there are a few low-key options for a relaxed drink.
Between Mylos, Scholio, Astrolouloudo, Horaki and To Kyma, you will definitely find a bar to have a late-night drink, or three.
Why you can't hire a vehicle on the island
Koufonisi is one of the few Greek islands where you can't hire a car or quad.
Although there is plenty of tourist infrastructure on the island, the locals are keen on preserving the beautiful Koufonissi nature.
As a result, the only vehicle you can hire is a bicycle. Strictly speaking though, you won't really need it, as it's possible to walk everywhere.
Why are there so many different spellings?
This question puzzles many visitors! Is it Koufonisia, or Koufonisi? And, how many "s" does the word have? Here is an explanation.
Koufonisia are two small islands. The main island, which is round-shaped, is called Ano Koufonisi ("Ano" means "Upper"). It has about 400 residents, and this is where you will find all accommodation and facilities.
There is also an long-shaped, uninhabited island, called Kato Koufonisi ("Kato" means "Lower"). The only thing you can visit here apart from the beaches is a famous taverna.
In Greek, Koufonisia is the plural form of the word Koufonisi. So, technically speaking, Koufonisia refers to both islands. When people talk about Koufonisi they normally mean Ano Koufonisi.
You will often find their names written as Koufonissia, or Koufonissi. This is a matter of pronounciation – the word is pronounced Koufonissi rather than Koufonisi. In Greek, you only need one "s", and the name is Κουφονήσι.
Frequently asked questions about Koufonisia Greece
People visiting Koufonisia often ask questions like these:
How many days do you need in Koufonisia?
You can spend as long as you want in Koufonisia. Some people visit for a day trip, while others stay a whole week! I would recommend at least two days in Koufonisia, or three if you want to visit the uninhabited Kato Koufonissi as well.
Do I need a car in Koufonisia?
A car is not necessary in Koufonisia, and there are no car rental options. The island is small and flat, and you can easily reach the beautiful beaches on foot.
How do you get around Koufonisia?
It is easy to get around Ano Koufonisi on foot. The furthest beach, Pori, is only 40-50 minutes away from the main village. You can also hire a bike, though you will inevitably have to push it on the island's long stretches of sand. Other options include taking the local boat or hopping on the bus to Pori.
Can you fly to Koufonisia?
There is no airport in Koufonissia. The closest islands with international airports are Mykonos and Santorini. You can also fly to Naxos, which has a domestic airport, and take a quick ferry ride.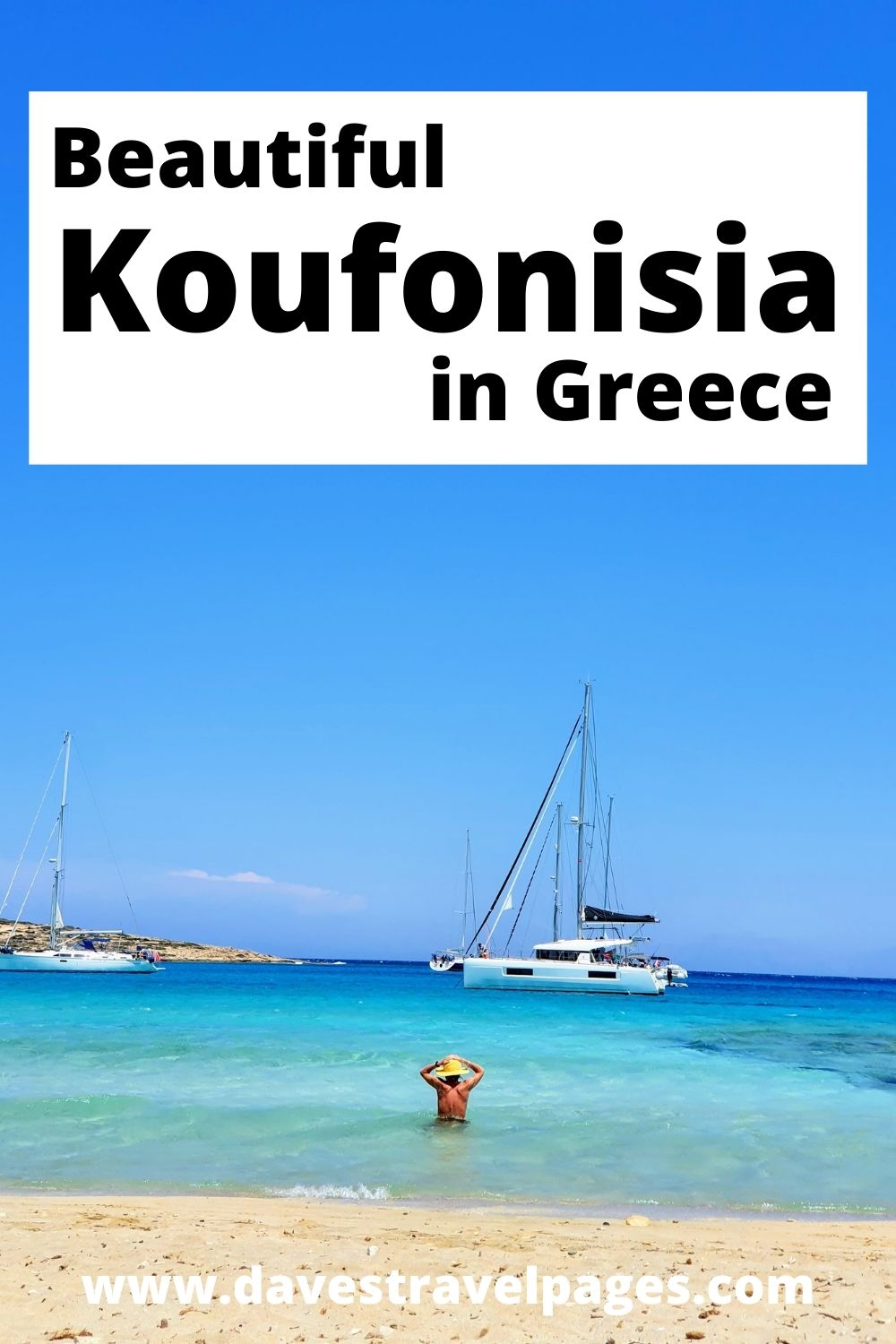 ---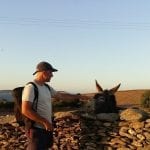 –
Dave Briggs
Dave is a
travel writer
who's now living in Greece. If you enjoyed reading this travel guide on things to do in Koufonisia Greece, you might also like his other travel tips and guides to Greece. Follow Dave on social media for travel inspiration from Greece and beyond: