The best road trip quotes guaranteed to fuel your wanderlust. Each one of these inspiring road quotes about going for a long drive brings you a step closer to the open road!
There's something about being on the open road that just makes you feel free. You can stop when you want, change your route if need be, or pull over because the scenery is beautiful.
You'll never see the country in such detail from an airplane window as you will from inside your car looking at all the different landscapes there are.
From mountains to deserts, forests to ocean views, if you're feeling adventurous, take a cross-country road trip!
That was Vanessa and myself taking a road trip in the Peloponnese of Greece in our beaten up 20 year old car. You don't need a new vehicle to make the most of the open road!
Remember: Life is too short to not go on that spontaneous road trip!
Trip Quotes To Inspire
"Road trips are the equivalent of human wings. Ask me to go on one, anywhere. We'll stop in every small town and learn the history and stories, feel the ground and capture the spirit. Then, we'll turn it into our own story that will live inside our history to carry with us always. Because stories are more important than things." – Victoria Erickson
" All he needed was a wheel in his hand and four on the road. " – Jack Kerouac
" You know more of a road by having traveled it than by all the conjectures and descriptions in the world. " – William Hazlitt
Quotes for Road Trips
Whether you're driving cross-country or just out for a day, there are so many inspiring quotes about road trips that will help you make the most of your voyage.
These road tripping quotes are guaranteed to feed your wanderlust!
I've chosen 50 of the best quotes about road trips and travel, each one paired with a beautiful image.
If you're looking to plan an epic road trip, or just want to mentally escape the 9 til 5 for a few moments, these long drive quotes are for you!
Related: Travelling by Car: Advantages and Disadvantages
50 Awesome Road Trip Quotes
---
"The freedom of the open road is seductive, serendipitous and absolutely liberating."
– Aaron Lauritsen
---
"I just go with the flow, I follow the yellow brick road. I don't know where it's going to lead me, but I follow it."
– Grace Jones
---
"Our battered suitcases were piled on the sidewalk again; we had longer ways to go. But no matter, the road is life."
– Jack Kerouac On The Road Quote
---
"Only those who risk going too far can possibly find out how far they can go."
–T.S Eliot
---
"Because the greatest part of a road trip isn't arriving at your destination. It's all the wild stuff that happens along the way."
— Emma Chase
---
"Sometimes, it's only in walking the path that we discover why we are walking at all."
–Richard Paul Evans
---
"Roads were made for journeys, not destinations."
— Confucius
---
"It doesn't matter where you're going. It's who you have beside you."
— Unknown
Related: Adventure Couple Quotes
---
"Travel sparks our imagination, feeds our curiosity, and reminds us how much we all have in common."
— Deborah Lloyd
---
"Look at life through the windshield, not the rear-view mirror."
— Byrd Baggett
---
Road Quotes
Are you inspired to go on a daring adventure yet? Perhaps it's time to plan the trip of a lifetime!
It's time to take a break from the daily grind. You've been working hard and now it's time for you to reap the benefits of your labor by taking a long distance road trip. Here's the next section of roadtrip quotes for you.
---
"The road is there, it will always be there. You just have to decide when to take it."
– Chris Humphrey
---
"Traveling tends to magnify all human emotions."
— Peter Hoeg
---
"Look for chances to take the less-traveled roads. There are no wrong turns."
— Susan Magsamen
---
"Travel far enough, you meet yourself."
– David Mitchell
---
"Never underestimate the therapeutic power of driving and listening to very loud music."
— Unknown
Related: Best Travel Songs
---
"One's destination is never a place, but rather a new way of seeing things."
–Henry Miller
---
"You may not find a path, but you will find a way."
– Tom Wolfe
---
"Don't expect the unexpected. Let the unexpected expect you."
― Kiara Maharaj
---
"She wasn't where she had been. She wasn't where she was going, but she was on her way."
― Jodi Hills
---
"Sometimes the road less traveled is less traveled for a reason."
– Jerry Seinfeld
---
Best Travel Quotes About Road Trips
If you're looking for an adventure, inspiration, or just some much needed time off from every day life, a long distance road trip might be the perfect thing.
There are many reasons why people take these trips and chances are that one of them sounds like what you need right now.
Break out of the cubicle, hit the road, and go traveling. It's time to stop worrying and live life!
---
"If you make the mistake of looking back too much, you aren't focused enough on the road in front of you."
– Brad Paisley
---
"At the end of the day, I understand that life has roadblocks, and life is like school – you'll be tested; we gotta pass it."
– DJ Khaled
---
"When all's said and done, all roads lead to the same end. So it's not so much which road you take, as how you take it."
– Charles de Lint
---
"Still, round the corner, there may wait, A new road or a secret gate."
– J. R. R. Tolkien
---
"God made the world round so we would never be able to see too far down the road."
– Isak Dinesen
---
"That's why I love road trips, dude. It's like doing something without actually doing anything."
– John Green
---
"If you don't know where you are going, any road will get you there."
– Lewis Carroll
---
"If you're on a road trip, you need driving music."
– Edgar Wright
---
"Two roads diverged in a wood and I – I took the one less traveled by."
– Robert Frost
---
"Discovery consists not in seeking new landscapes, but in having new eyes."
– Marcel Proust
---
Short Travel Quotes on Road Trips
A lot of people think that long distance road trips are for young, adventurous types.
That is not true at all!
There are many reasons to take a road trip and they don't require you to be in your 20s with nothing but time on your hands.
If you like these quote about travel, feel free to add them to one of your Pinterest boards. That way you'll spread the love, and help get more people out there to see the world!
---
"At the end of the day, your feet should be dirty, your hair messy and your eyes sparkling."
– Shanti
---
"Road trips required a couple of things: a well-balanced diet of caffeine, salt and sugar and an excellent selection of tunes—oh, and directions."
– Jenn McKinlay
---
"The most beautiful in the world is, of course, the world itself."
– Wallace Stevens
---
"Good company in a journey makes the way seem shorter."
– Izaak Walton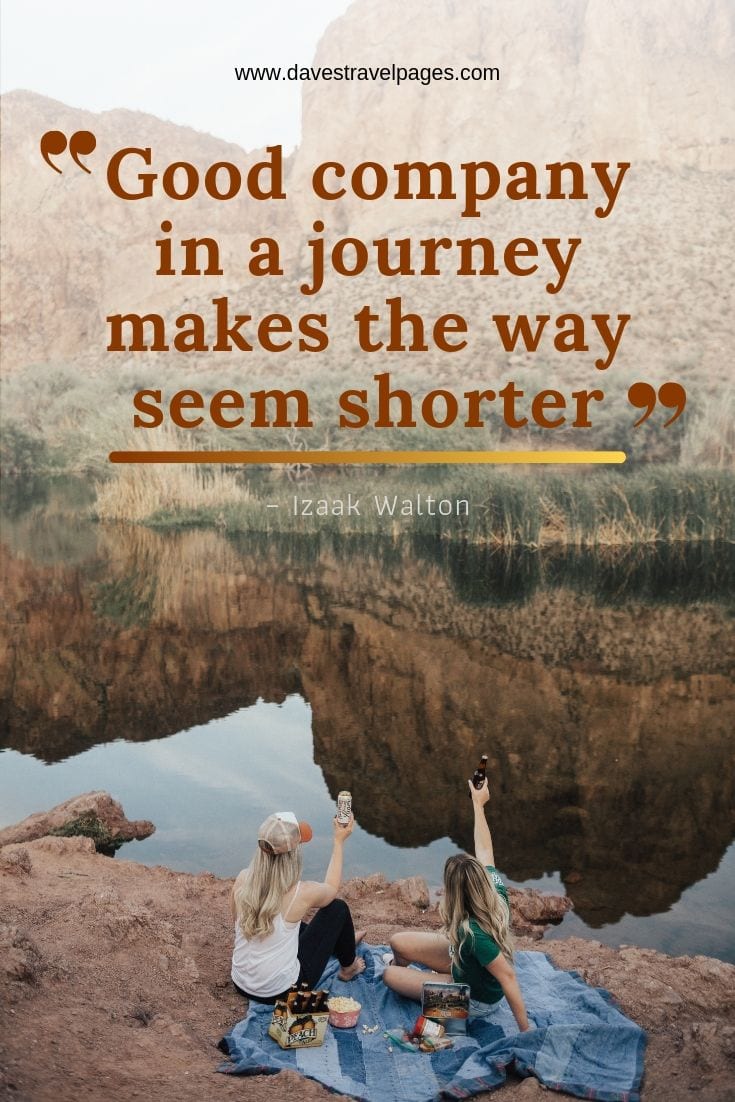 ---
"The wise man travels to discover himself."
– James Russell Lowell
---
"An adventure is only an inconvenience rightly considered. An inconvenience is an adventure wrongly considered."
– Gilbert K. Chesterton
---
"Do not follow where the path may lead. Go instead where there is no path and leave a trail."
–Ralph Waldo Emerson
---
"I love road trips. You get into this Zen rhythm; throw the sense of time out the window."
– Miriam Toews
---
"The freedom of the open road is seductive, serendipitous and absolutely liberating."
– Aaron Lauritsen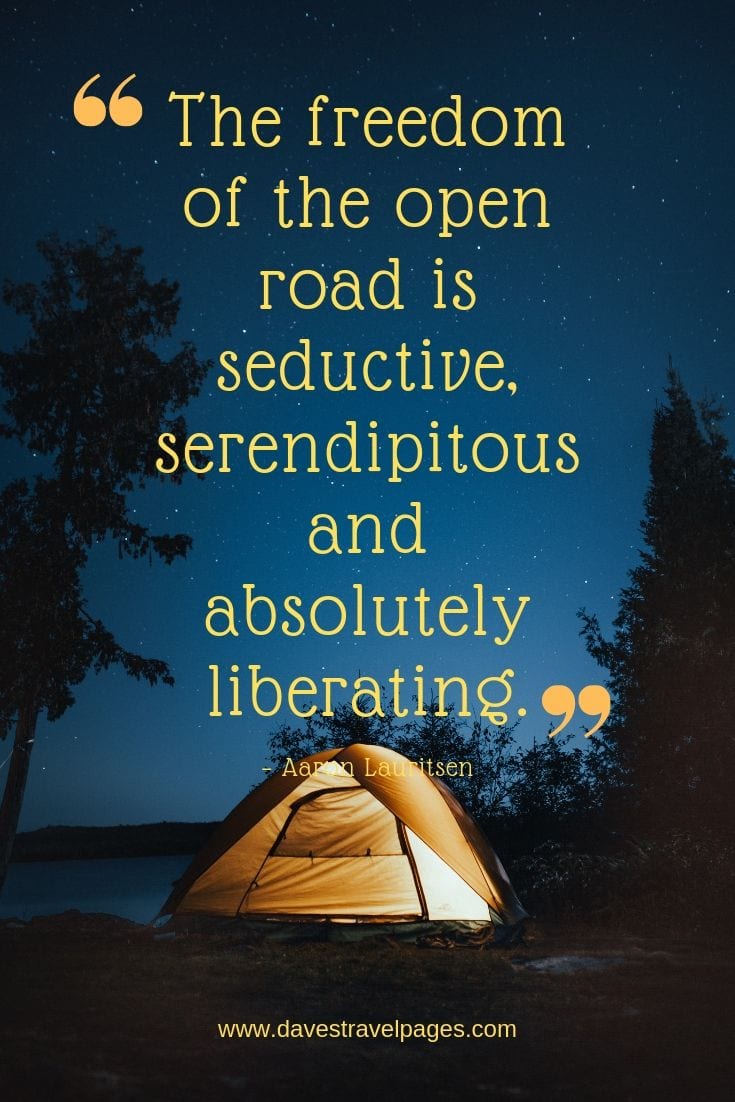 ---
"I may not have gone where I intended to go, but I think I have ended up where I intended to be."
– Douglas Adams
Enjoy the Journey
Inspired to take a road trip but don't know where to go? Travel is about the journey, so don't sweat it! I do have some road trip ideas for you at the end of this travel blog post though.
---
"I take to the open road, healthy, free, the world before me."
– Walt Whitman
---
"A road trip is a way for the whole family to spend time together and annoy each other in interesting new places."
– Tom Lichtenheld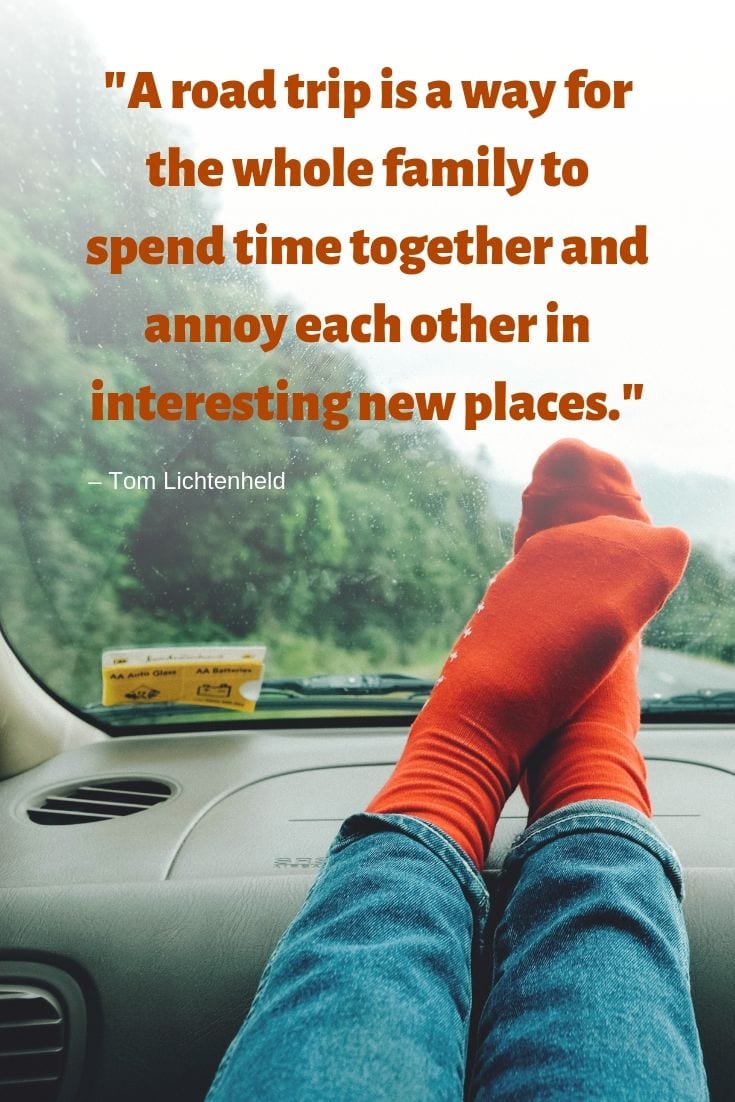 ---
"Driving at night is about communicating with lights."
– Lukhman Pambra
---
"Just DO It! … and say a little prayer."
– Lugene Hessler Hammond
---
"Stop worrying about the potholes in the road and enjoy the journey."
– Babs Hoffman
---
"I climb behind the steering wheel… I drive off immediately without once looking back; it's a long journey but it leads to freedom."
– Corinne Hofmann
---
"Map out your future – but do it in pencil. The road ahead is as long as you make it. Make it worth the trip."
– Jon Bon Jovi
---
"Sometimes the most scenic roads in life are the detours you didn't mean to take."
– Angela N. Blount
---
"Some beautiful paths can't be discovered without getting lost."
– Erol Ozan
---
Road Trip Inspiration
If these road trips quotes have got you in the mood, then you might be interested in a few blog posts to read!
I've taken quite a few road trips over the last 25 years of independent travel. My first, was in Australia, where I bought a car and drove around Australia for a year.
After moving to Greece, we've also taken a few road trips here as well. You might be interested in these posts about road trips in Greece:
Looking for travel tips on planning a trip to Greece? Grab my free guides by signing up below.
More Travel Quotes
Looking for more inspirational travel quotes? Check these out!
Pin these Road Trip Quotes for later
Feel free to pin any of the quotes about road trips on this page to one of you Pinterest boards. You can also use the image below.
Which of these road trip sayings captions inspired you the most? Let us know in the comments below!