The weather in the Canary islands in December, January and February is pleasantly warm enough that they make an ideal winter sun holiday destination.
Why visit the Canary islands in December?
The winter in Europe can seem to last a long time, and this year might seem the longest of all! The prospect of months of cold weather without seeing the sun is too much to think about.
It's not all bad news though – especially if you pick a winter sun destination with care.
If you're looking for warm places in December, the Canary islands could be an ideal choice. Although geographically they are not part of Europe, they're still pretty close by for most people from Europe to reach on a plane within a few hours.
And the best thing? The Canary islands have GREAT weather during the winter months.
If you're in desperate need of a winter holiday with plenty of sunshine hours and a little beach time, the Canary islands might be just for you.
Which Canary islands is hottest?
Tenerife and Gran Canaria are the warmest Canary islands during the winter months of December, January and February. The southernmost points of both islands are warmer than their northern most points.
Temperatures in the Canary Islands in Winter
Along the coasts, the daily average temperature averages 18 °C (64 °F) in January and February, with the temperature in the lowlands almost never dropping below 10 °C (50 °F) at night.
Canary islands weather in December
Visitors to the the Canary Islands in December can expect a warm climate and high amount of sunshine nearing 10 hours per day. You should be aware though, that rainfall does increase. Occasional storms may pass over Lanzarote, Fuerteventura, Gran Canaria, Tenerife and La Palma.
There is an average temperature of 14°C in the Canary Islands in December. Night time average temperatures rarely drop below 8°C across the most popular islands of Lanzarote, Fuerteventura, Gran Canaria, Tenerife and La Palma.
Canary islands weather in January
The temperatures pick up slightly in the Canary islands in January. For example, in Lanzarote, average temperatures in January are around 17°C. You can expect highs of 21°C during the day, and lows of 14°C at night.
Tenerife is slightly cooler in January, with average temperatures of 16°C. This includes highs of 19°C during the day and lows of 13°C during the nighttime. Both islands can expect rainfall in January, but it's reasonably minimal.
Canary islands weather in February
Three of the Canary islands – Lanzarote, Fuerteventura and Gran Canaria – enjoy average temperatures of 18°C in February. You can expect highs of 21°C in the daytime, and it can dip to 14°C in the night.
The neighbouring island of Tenerife is slightly cooler in February in comparison, with an average temperature of 16°C.
Facts about the Canary islands
Here are some more facts about the Canary islands that will give you more background information in case you decide to travel their for a warm winter vacation.
Where are the Canary Islands?
The Canary Islands are an archipelago located in the Atlantic Ocean, south-west of Spain and opposite the coast of central Morocco. They are administered by Spain, and the main language spoken by the locals is Spanish.
How many Canary islands are there?
There are seven main islands in the Canaries. These islands are grouped in two provinces: Las Palmas and Santa Cruz de Tenerife. The names of the main Canary islands are:
Tenerife
Gran Canaria
Lanzarote
Fuerteventura
La Palma
La Gomera
El Hierro
Are the Canary islands good for digital nomads in winter?
In recent years the Canary islands have become a good winter destination for digital nomads in Europe living the laptop lifestyle. There's plenty of accommodation around, internet connections are good, and the average temperature during the winter is pleasant.
Things to do in the Canary islands in winter
There's plenty of things to see and do in the Canaries. So, if you are traveling there as a digital nomad in the winter, you can break up your days with sightseeing or excursions.
Some recommended tours and activities include:
---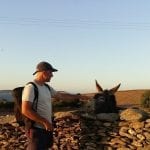 –
Dave Briggs
Dave is a travel writer from the UK, currently living in Greece. He created this travel blog back in 2005 to document his travel adventures around the world. Since moving to Greece he has a somewhat ambitious (perhaps impossible) goal of visiting every Greek island and writing about it.