The best time to visit Greece is September, when you can still expect excellent weather but fewer tourists because it is considered a shoulder season month.
Here's everything you need to know about the best time to visit Greece and the Greek islands. Includes the best time to travel to Greece for sun, sea, beaches, outdoor activities and more!
Choosing the best time to visit Greece
Planning your next vacation, and wondering when is the best time to visit Greece? Let me help!
After eight years of living in and writing about Greece, I've traveled around Greece in all months and seasons. During that time, I've come to appreciate those shoulder season months when the weather is still awesome, but the number of other visitors is lower.
Personally, I find that the months of June and September are the best for traveling in Greece. There's lovely weather (not too hot!), and fewer tourists.
It's August, however, that is the most popular month to travel to Greece. Popular doesn't make it better though. It depends what you are after.
Is August a good time to visit Greece?
If you want to go to Greece to experience the nightlife of Mykonos, you should really only go in August. It's when all the clubs and party scene are at their peak. The same goes for Ios island.
That's not for me though!
In fact, in August, you're more likely to find me in Athens than traveling. Why is that you ask?
Well, if you're from the US and Canada, you should know that the main European holiday month is August. Literally everyone on the continent takes a vacation at the same time – and millions of them love Greece! (And I do mean millions).
If you are at all flexible when you can travel, August is the month to avoid coming to Greece in my opinion.
Not only are there far too many people around, but all the hotel prices shoot up in price as well. Wait until September, and you'll enjoy Greece a whole lot more.
Of course, Greece is a lovely country to visit at any time of the year. And this would be a super short article if I stopped now!
So, here's some more travel advice and insights – From when to visit Greece for tourist free summer sun on the Greek islands, to the best time to visit Athens, here's what you need to know.
Best months to visit the Greek islands
Some of the Greek islands close down completely in low season during the winter and only open for the summer months. Other islands get super busy at certain times of year, particularly in August.
Here are the best months to visit the Greek islands.
When to visit Greece for weather and activities
Here's a condensed guide on the best time to travel to Greece for various activities and interests.
Let's take a look at the best time to go to Greece in more detail.
The best time to travel to Greece is…
There's no time like the present!
Whenever people ask me "When is the best time to visit Greece?", I reply "Right now!". Greece is a fantastic country to visit all the year through no matter what the season.
With that said, some months are definitely better than others depending on what your image of an ideal vacation is.
As an honorary local, let me introduce you to the best time to go to Greece based on as many different holiday types as I can think of.
I've also included some of my own travel experiences in Greece where I think they might help. For specific and practical information after you've decided when to go, take a look at my travel tips for Greece.
When to go to Greece
If we are talking about general summer type vacations, the standard answer on when is the best time to visit Greece, is between the months of April and October.
The season for tourism traditionally starts after Greek Orthodox Easter, and finishes towards the end of September, mid-October.
During this time, you can be more or less guaranteed of good weather for your beach holiday, the sea is warm enough to swim in, and the tourist infrastructure is open for business.
In particular, late May to September is ideal.
There is one small problem though, and that's August. Everyone, and I mean EVERYONE seems determined to visit Greece in August!
This is a real shame for a number of reasons.
Peak Season In Greece – August
Firstly, the weather can be insanely hot during August. Higher temperatures sound great in theory, especially if you are coming from colder climes, but in practice it can really sap the energy from you, making sightseeing a bit of a drag.
For this reason, when people ask me when is the best month to visit Greece, I always say to avoid August!
Secondly, it's peak season, and there are just too many tourists. These are added to by the Greeks themselves who also decide to take their own summer vacations at this time en masse.
Thirdly, prices shoot up for accommodation during this month of the year, and it can become harder to find rooms by the coast. In short, if you do have a choice on when to visit Greece, maybe you might want to avoid August.
Athens in August: The Exception to the Rule
There's always an exception to the rule however, and so it is in this case when it comes to visiting Greece in August. You see, whilst everyone makes a mad dash to visit the coast in August, Athens is left virtually deserted.
August in Athens is actually my favourite time of year in the city. There's minimal traffic, at least 75% fewer people, and you can even find car parking spaces. Crazy right?! So, if you want to visit Athens during a quieter period, maybe August isn't so bad after all.
Note: I've no direct experience with staying in Thessaloniki at this time, but I suspect it may be similar.
What If I Don't Have A Choice?
I totally understand that some people are restricted by their circumstances, and that high season in August may be the only month they can take a holiday in Greece. If you are in this position, it pays to plan ahead.
My advice is to book your Greece flights and accommodation well in advance, especially when it comes to those super-popular Greek islands such as Santorini and Mykonos. Make sure you get a room with air-con as well, as you might need it!
Best times to visit Greece
If you do have some choice over what time of year to visit Greece though, this following quick guide might help. I've put down a bunch of different Greek vacation ideas based on activity as well as by month.
If you don't quite fall into any of these categories or want to ask a question, please leave a comment on the guide at the end. I'm always happy to help people with their Greek vacation plans!
Please note – I'm including August in the lists, but I hope my message about trying to avoid it got through!!
Best time to visit Greece for weather
There's lots of sunny weather between May and mid-October, with July and August being the very hottest months. If you see rain during these months, you should consider yourself witnessing something of a rare miracle, especially on the more southerly islands!
Talking of which, there is one small issue to keep in mind. The 'Meltemi winds' can occur from mid-May to mid-September. These are dry, surprisingly strong winds that come in from the north Aegean Sea. There's no real predicting when they will happen, as they just arrive and last for 3 or 4 days before dying down.
The Meltemi winds have the bonus of being great if you are into windsurfing and want to cool down from the heat. They are not so good if you want to relax on a beach, and the wind happens to be blowing in the wrong direction!
If they do happen when you are on holiday on a Greek island, ask the locals if they know of any beaches which might be sheltered from them.

Best time to travel to Greece for Cycling
I'm on something of a mission to encourage people to cycle more in Greece! What it lacks in cycling infrastructure it makes up for in varied landscapes. Check out my recent Hercules Bike Tour of the Peloponnese!
If you are planning to cycle in Greece, the best months are May and June, along with September and October. These months will provide warm weather with less chance of rain.
Last year I cycled in Greece during August for a week, which was pretty hot. It reached above 36 degrees for most days. Don't be like me!

Best time to visit Greece for Sightseeing
Personally, I find it a lot easier to wander around some of the excellent Greek archaeological sites in cooler weather than when it's very hot.
With this in mind, the best months for sightseeing at ancient sites in Greece are May and June, along with September and October.
Check out this guide on things to do in Athens in October.
You still get the benefits of the 'summer hours' for archaeological sites then as well. During the winter months, the opening hours are reduced, with many main sites closing at 3 in the afternoon.

Best time to visit Greece for Swimming
Some hardy souls will tell you that you can swim in Greece all the year around. Winter swimming is not not quite for me, and the latest I've braved the waters has been November, getting in again in late March.
The rest of the year you are going to find the sea temperatures quite lovely for swimming. The very best time for swimming in Greece is mid June until late September.
Best time for Greek Island Hopping
The summer months and early autumn are the best time to travel between the islands of Greece. The number of available ferries scales up in accordance with demand, and it's easier to get from one island to another.
If you're thinking of exploring the Cyclades, the Mediterranean Sea is generally warm enough to swim comfortably in from mid June onward. Early summer can be a good time for beach vacations.
In fact, many Greek islands don't have much in the way of tourist facilities outside of this period in any case. It's not unusual for many residents of the smaller islands to spend their winters in Athens. Read this look at the best Greek islands in May if you want to travel earlier.
Interested in Greek island hopping, or want to include a few Greek islands in your travel itinerary? Check out my Greek island hopping guide, with practical information and tips such how you should allow for possible ferry delays and strike action.
Don't plan your timetable too tight! You might find this guide on the best time to visit Santorini useful. There is a little information inside about other Greek islands to visit from Santorini as well.

Greece Time To Go For Skiing
What – Skiing in Greece? I hear you ask. Yes, you read it right. Greece has a couple of excellent ski resorts, with perhaps the most popular being Mount Parnassus near Arachova. It's just a few hours drive from Athens, and is also quite close to Delphi.
The ski season in Greece starts in December, with January being the most solid month. The ski season can go on until May and late spring depending on the snow that has fallen.
If you were visiting Delphi on a day trip from Athens in April, you might perhaps consider staying longer if you hear that the slopes are still open.

Best time to visit Greece on a Budget
Greece is a very affordable country to visit at any time of year, but the cheapest time to go to Greece is during the off-season.
The absolute best time of year to visit Greece on a budget, is between the months of October and April. Accommodation is easy to find and often at a much discounted rate during this period.
This is a great time to visit Greece in terms of value for money, although some of the tourist infrastructure does close down.
I loved visiting Santorini in November for example, as the temperature was still pretty good but there were virtually no tourists.
Counterbalancing this though, was a reduced selection of places to eat and drink at night. Still, I enjoyed my time on Santorini in November, and found it the ideal time to hike from Fira to Oia.
Budget minded travelers might want to check out this guide on the Greece currency, ATMs and using cash.
Best Time For Traditional Festivals
If you're looking to experience Greece like a Greek, you should really try visiting during the Easter week. This is the most important religious event in the Greek calendar, and is celebrated throughout the country.
As this is a public holiday, you might find getting a hotel room in a popular place over Good Friday and the Easter weekend challenging. Book in advance if you can!
If you'd like to find out more about Easter Sunday and some of the traditions attached, take a look at this guide to Greek Easter.
My opinion
On reflection, I would say the best month to come to Greece is in September. The average temperatures are still nice and warm, there are few rainy days, and there are fewer crowds.
A runner up would be shoulder season month June, although the later in June you make it the better. It's more laid-back, and the crystal clear waters are warming up nicely. Read more here: Greece in June.
For good weather and beach time the summer season is best. To walk around ancient ruins, autumn is a good choice.
Greece Travel Planning Tips
If you've more or less decided when you want to take a vacation in Greece, you might be interested in these resources.
Booking.com – Easily book hotels and accommodation online
Get Your Guide – The tour booking website I use myself when traveling
Ferryhopper – By far the best website to book Greek ferry tickets online.
Enjoyed this Greece Travel Guide? Why not pin this blog post about the best time of year to go to Greece for later?
The best time of year to visit Greece
Also read: Where is hot in Europe December
FAQ About When To Travel To Greece
Readers trying to work out when to plan their vacations to the Greek islands and mainland often as questions similar to:
What is the best month to travel to Greece?
Greece is renowned for its spectacular summer weather, brilliant sunshine, and blue skies from May through September. This is typically the ideal time to visit Greece, but you must balance the excellent weather with the number of tourists. As a result, I'd choose September as the best month to go to Greece.
What is the cheapest time to go to Greece?
Budget conscious travelers will want to avoid peak season travel in August if they are looking to save some money. The cheapest time to go to Greece and still enjoy good weather are the shoulder seasons. May and June, and September and October are all good months to go.
What month is the hottest in Greece?
The warmest month in Greece is August. The highest average high temperature in August is 31°C, and on many days of the month, the hottest temperatures may exceed 40°C.
What is the best month to visit Santorini?
I've found that October and November can be good months to go to Santorini. In addition to there being fewer people around, the sky has less haze than summer, meaning that sunset photos are fantastic!
What is the coolest month in Greece?
December through to March are the coldest months in Greece. The weather can also be quite variable, and while there may be some glorious sunny days, its not unusual for snow to fall in some parts of the country.
When is the best time to visit Mykonos?
If you want to enjoy the beaches, hot weather, and nightlife in Mykonos, the best time to visit is between mid July and early September.
Where can I catch winter sun in Greece?
While typically Greece has mild temperatures in the winter when compared to the rest of Europe, the coldest months of December, January and February can have quite chilly, damp weather. The best Greek islands to try for sun in the winter months are Crete, Rhodes, Karpathos, and Kos.
---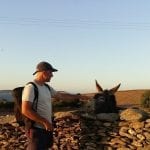 –
Dave Briggs
Dave is a
travel writer
from the UK who lives in and writes about Greece. As well as creating this guide about when is the best time to go to Greece, he's also written many more travel blogs and itineraries for destinations all over the country. Follow Dave on social media for travel inspiration from Greece and beyond: