The best way to visit Delos in Greece is on a day tour from Mykonos. Here's everything you need to know about Mykonos to Delos day trips.
Includes how to get from Mykonos to Delos, ticket information, the best guided tours of Delos and more.
Delos Island Day Trip
The UNESCO World Heritage Site of Delos is somewhere I'd wanted to visit for a while. In 2020, everything finally lined up, and we were able to take a day trip to Delos from Mykonos.
It's a fascinating place, and quite honestly we were visiting it in highly unusual circumstances. Typically, hundreds of people a day visit Delos island from Mykonos, but when we went, we were the only two tourists on the island. At least travel in 2020 had some upsides after all!
Even better, we went with a guide who showed us around Delos, explained the history, and put everything into context for us. It was a truly unique experience, and I'm so glad we took the Delos tour from Mykonos.
I've created this guide as a way to plan your own trip to Delos from Mykonos. Note that you can get to Delos from Naxos, Paros and Tinos, but I'll cover those in another travel guide.
The Best Way To See Delos Island
It is possible to go on a Delos self tour. However, in my personal experience, Delos is one of those ancient sites that are best visited on a guided tour.
Unless you have a solid background in archaeology, you probably won't be able to understand much if you just wander around on your own. You'll either come away disappointed or having missed half the stuff.
A licensed tour guide is going to make the Sacred Island of Delos come much more alive, and you'll have a better understanding of its importance and place in the Ancient Greek world.
Delos Tours Mykonos Greece
There are several companies providing a Delos island tour from Mykonos. I recommend Get Your Guide as the best platform to compare and book excursions to Delos online. Viator also has good offerings.
In my opinion, the best Delos tours Greece are the following:
The Original Delos Guided Tour
This half-day trip from Mykonos to Delos is one of the most popular tours. It includes transportation on the Mykonos to Delos ferry, and a guided tour of Delos.
You will have three hours on the island, and your licensed guide will explain the most popular sights.
You can choose between a morning and an evening option. According to our guide, the evening tours are generally less crowded, and the temperatures can be more comfortable. Plus, on your way back from Delos to Mykonos, you may catch a lovely sunset!
Delos and Rhenia Day Trip
This day trip combines a semi-private Delos tour, some leisure time on the nearby deserted island of Rhenia, and a delicious Greek meal. It's a great option for people who have more time and also want to snorkel in crystal-clear waters.
You will be transported in a private yacht, so you won't need to think about Mykonos to Delos ferry schedule or any other logistics. In addition, this option includes complimentary hotel transfers.
Visiting Delos without a tour
If you plan on going to Delos without a guide, it's fairly straightforward. First, you'll need to get a ferry ticket from the booth in the old port near Agios Nikolaos Church.
When you buy the ticket, make sure to ask what time the boat returns to Mykonos from Delos, and then plan your time sightseeing in Delos accordingly.
Once you've arrived at Delos, you'll then need to join the queue at the entrance for tickets. The entrance fee for the museum and archaeological site of Delos is 12 Euro.
Pick up any free leaflets you see and then head in! If you are walking around Delos without a guide, I might suggest visiting the museum first, and then making your way back to the boat slowly from there.
Ancient Delos in Greece
The island of Delos is one of the most interesting ancient archaeological sites in Greece. Here's some background information so you can make the most of your Mykonos to Delos day tour.
Like many other Cycladic islands, Ancient Delos has been inhabited since the 3rd millennium BC. According to Greek mythology, it was the birthplace of Apollo and Artemis, two of the Olympian gods.
From the 8th century BC onwards, the sanctuary of Apollo attracted pilgrims from all around the Greek world. The little island became a popular destination. In fact, the name "Cyclades" was given to the group of islands around the Holy Delos, as they formed a circle (cycle) around it.
After the end of the Persian Wars in 478 BC, several Greek city-states formed an alliance. The main aim was to unite against the foreign enemy and be better prepared for any future attacks. The treasury of the alliance was originally transferred to Delos, and the island's importance increased even further.
The Romans conquered Delos in 166 BC and decided to turn it into a tax-free port. As a result, it grew into a significant international commerce hub. People from all around the known world moved here to work and trade.
At its peak, the tiny island was home to an incredible number of 30,000 people. The wealthiest residents commissioned luxurious, exclusive mansions to live in. Some of the Delos ruins from that era have been preserved exceptionally well.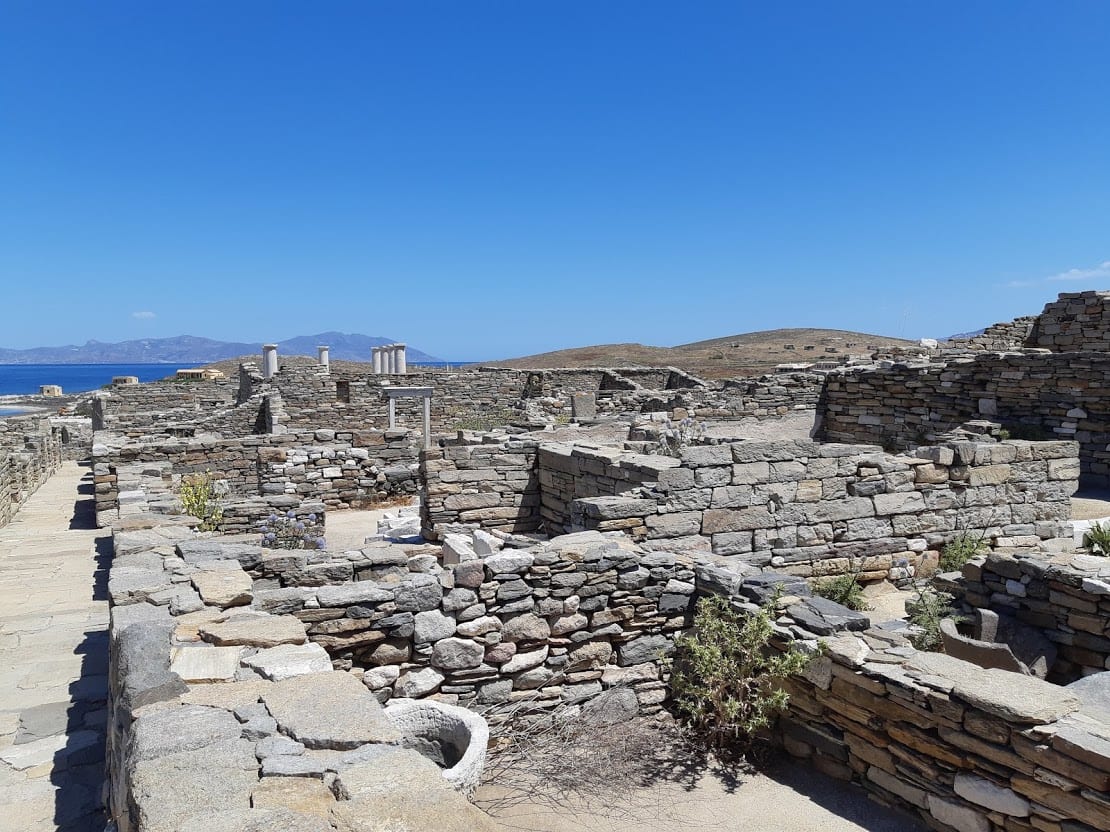 In later centuries, Delos gradually lost its prestige, and was often attacked by pirates, until eventually it was completely abandoned.
Excavations on the site began in the 1870s and are still ongoing. A few archaeologists live here year-round, but otherwise staying on the island overnight is not allowed.
Delos ruins – What to see in Delos
If you are asking "what to do in Delos", there is only one answer. Walk around the Delos archaeological site and try to imagine life 2,000 years ago! Also, allow some time for the small museum at Delos, where you can see several ancient artefacts.
To me, visiting Delos felt like wandering around an outdoors museum, as there are ancient ruins everywhere. You will see remains of temples, public buildings and the superb aqueduct.
Τhe Agora of the Competaliasts, the Propylaia, the Temples of Apollo, the Sanctuary of Artemis and the Treasuries are among the most notable constructions.
Some of the ruins, like the superb mosaics or the ancient theatre, don't need much explanation. The majority, however, are best visited with a guide, who will also tell you some stories about life in ancient times.
The famous Naxian lion statues are replicas of the originals, which are housed in the Delos museum.
This big stone was once the base of a giant ancient statue of Apollo, which has been partly destroyed. Parts of the statue can be found in several museums, including the one in Delos.
The phallic symbol was meant to attract fertility and prosperity. Look closely on the walls of the ancient mansions, and you will notice it everywhere.
You can also go up mount Kynthos and admire the lovely views of Delos ruins, Mykonos and Rhenia. Fun fact – during ancient times, Mykonos was not nearly as important as the Sacred Island of Delos!
Frequently asked questions about Delos
Here are some commonly asked questions about Delos island in Greece
How far is Delos from Mykonos?
The Delos – Mykonos distance is about 2 nautical miles. The boat to Delos from Mykonos takes around 30-40 minutes, whereas a tour with a yacht might take slightly longer.
How do I get to Delos from Mykonos?
There is only one way to take a trip to Delos from Mykonos, and this is by boat. There are ferries departing several times a day from the old port in Mykonos to the small Delos port.
The boat trip to Delos from Mykonos lasts about 30-40 minutes. As a rule, the Mykonos – Delos boat schedule varies according to the season.
As we were the only people visiting Delos on the day, we ended up on the smaller Sea Bus. There are other vessels that would more typically make the journey to Delos though.
When is Delos island open?
Delos is only open to visitors from April to October, and this is the period when Delos tours are running. During winter, the Delos island ferry only operates to transport guards and archaeologists who work on the island.
Are entrance fees to Ancient Delos included in tours?
Certain boat trips Mykonos to Delos do not include entrance fees, so read the descriptions carefully. In this case, you will need to buy the ticket when you get to the site. Tickets cost 12 euro at the time of writing, and it's better to have cash, just in case.
What does the ferry from Mykonos to Delos Greece look like?
The ferries normally running the Delos – Mykonos route have an indoors and outdoors seating area. They have toilets and a small snack bar where you can buy water, coffee and snacks. In fact, as there are very few toilets on the site itself, try to use the on-board toilets if you can.
What do I need to bring on my Ancient Delos – Mykonos day trip?
This is a great question! Unless you are taking a tour where food and drinks are included, I suggest that you bring PLENTY of water and maybe a couple of snacks. In 2020, there was nowhere to buy them in Delos. Also, make sure you wear comfortable shoes, and definitely bring sunscreen and a hat.
Is the Ancient Delos – Mykonos trip worth it?
Absolutely! From a personal point of view, I have always been fascinated by ancient civilizations, and Delos had been high on my list for ages. Visiting here also helped in my quest to visit every UNESCO World Heritage site in Greece!
However, even for people who are not especially interested in history, visiting Delos island from Mykonos should definitely be a priority. After all, how many times in your life will you have the chance to wander around one of the most important places in the ancient Greek world?
Travel Guides to Greece
Planning to spend some time in Mykonos? You might also like to read these guides:
---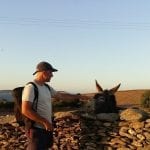 –
Dave Briggs
Dave is a travel writer from the UK, currently living in Greece. He created this travel blog back in 2005 to document his travel adventures around the world. Since moving to Greece he has a somewhat ambitious (perhaps impossible) goal of visiting every Greek island and writing about it.