What do a fairy-tale castle built by a man a sandwich short of a picnic, a temple under a circus big-top, and a church seemingly designed by someone on acid have in common? They are the weirdest buildings in the Peloponnese, that's what! During my recent road trip through Greece, I visited these three weird looking buildings all on the same day. Read on for more!
The Weirdest Buildings in the Peloponnese
My recent two week road trip through the South Peloponnese included many 'must-see' places, such as Mystras and Ancient Messene. Sometimes though, it is the unexpected places that you find which make a trip. This was certainly the case when I came across what must be the weirdest buildings in Greece!


The Fairy Tale Castle
Who would build a place like this, and why? Well, there are several stories! The general consensus, is that the Kastro ton Paramythion (to give its full name), was designed and built in the 1960's by Harry Fournier, who returned from the US after achieving fame and fortune as a surgeon. (At some point he changed his name to Haris Fournarakis, or changed it back. The sources are hazy on this). Regardless, it is fair to say that this guy was clearly a few fuses short of a full circuit. Actually, as he was rich, I guess he would have been described as eccentric.
Again, the story varies between this place being his family home, and for it being built for the local kids to enjoy. It is definitely one of the weirdest buildings I have ever seen! It is also in a way, one of the saddest. Now, it is all but abandoned, with swallows making their home along with the occasional squatter. Rumour has it that a son intends to renovate the building, but as this will cost millions of Euros, it doesn't look like it will happen any time soon.
Years after the man who designed it passed away, the fairy tale castle is itself slowly dying. His dream didn't quite die with him, but it is certainly following closely behind. Soon, all that will be left will be photos in a travel blog like this one.
Temple of Apollo Epicurius at Bassae
This building is not actually weird in itself. What is weird though, is the fact that it is hidden under what appears to be a giant circus Big Top!
This giant tent has been covering the Temple of Apollo Epicurius since 1987. Painstaking restoration work is being carried out, and has been for some years. Estimated time of completion? I don't imagine it being within the next 20 years, so the Big Top will remain in place until it's finished!
Underneath the tent, the Temple of Apollo Epicurius is sheltered from the elements. Visiting here was something of an unexpected highlight of our Peloponnese road trip, and I would recommend it to anyone else planning a trip in the area. Word of warning though – The roads leading here are 'Greek' roads, not 'European Union' roads, if you know what I mean!
Agia Foteini
This church easily makes the weirdest buildings in Greece list. Situated opposite the archaeological site of Mantineia, the church is an immediate attention grabber.
The church is the brainchild of architect, painter, and possibly acid taker Kostas Papatheodorou. The aim, was to combine the styles of many ancient religions into one building. As you look closer, you can see the ancient Egyptian, ancient Greek, Byzantine, and traditional Greek-Orthodox influences.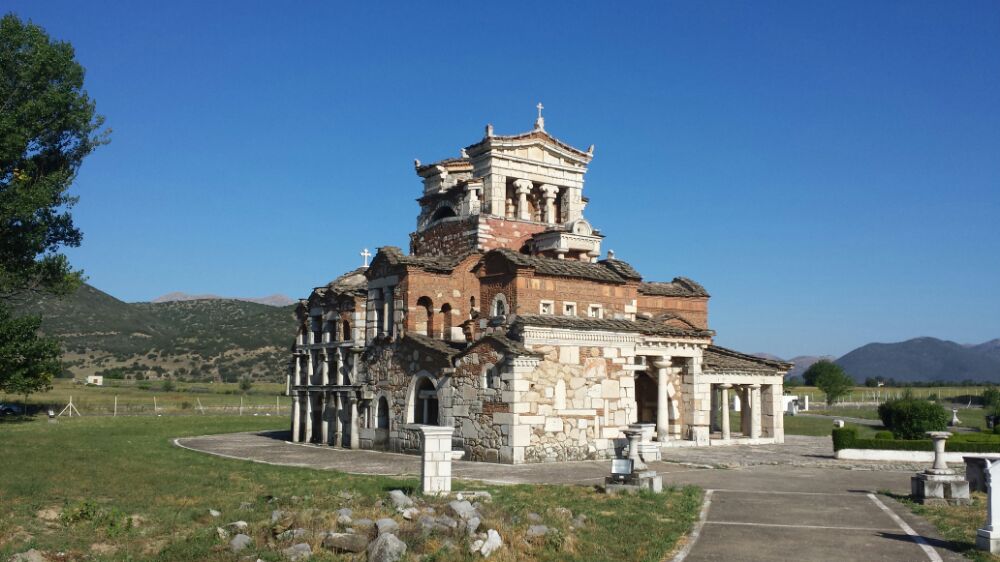 The church has all sorts of hidden meanings and combinations. We were only there for less than half an hour, but I would guess that we would still be discovering new things if we were there all day!
The Agia Foteini (sometimes Fotini) is something of a well kept secret within Greece. It is certainly not on the tourist trail, and really only accessible to people with their own transport.
And that's all I have for the weirdest buildings in Greece. So far! If you know of any I should visit, then please leave a comment below, and I will check them out when I can.