This Peloponnese road trip itinerary is based on a trip I took in the south of the Peloponnese Peninsula in Greece. Highlights include Monemvasia, Gythion, Mani, Mystras, Ancient Messene, Foinikounta, Methoni, Koroni, and finally Mycenae on the way back to Athens.
If you're thinking of a road trip in the southern Peloponnese, Greece, you might find this Peloponnese itinerary useful. I share lots of insights and tips to help your travel planning, as well as links to full guides for specific attractions and destinations in the peninsula.
Of course, there is much more to see in the Peloponnese than just the places I mention here. For example, this road trip itinerary doesn't even include Olympia or Epidaurus, two of the most important historical sites in Greece.
Take this itinerary as something of a base from which to build on. After all, you could spend months driving around the Peloponnese and never see it all!
Want to know where to find rental cars? Take a look at: Discover Cars
Southern Peloponnese Map
Here's a map of the route we covered in the Peloponnese, Greece. We followed a roughly clockwise route, starting and ending in the Greek capital of Athens.
Peloponnese Travel Planning
Before leaping into the southern Peloponnese road trip itinerary itself, I thought I'd give a bit of background information. The main point being, I have been living in Athens, Greece for a few years now.
As such, I'd already visited some of the important sites and places of interest in the Peloponnese, so didn't need to include them on this itinerary.
Additionally, I have my own car so don't need to worry about car rentals or the novelty of driving in Greece.
These are things you may need to think about, and so I've included a FAQ section at the end of this travel blog post. I've also a guide here on renting a car in Greece that's worth reading.
Related: Travelling by Car: Advantages and Disadvantages
Our Peloponnese Itinerary
Let's set the scene…
The Mrs and myself had a couple of weeks free for a vacation which coincided with a wedding we were attending in the Peloponnese. It seemed a good opportunity to take a road trip, and so we planned around the set dates we had at the wedding.
We had previously travelled through parts of the Peloponnese only a few weeks before. On that occasion, it was mainly in the centre of the region, and you can read about it here – A 2 Day Peloponnese Tour.
As a result, we didn't need to include Ancient Olympia in this itinerary which most people would do Instead, the idea was to get some beach time, and see as many key highlights of the southern Peloponnese as possible in 2 weeks, before finishing back in Athens.
During our 2 week road trip along the south of the Peloponnese, we would use our own car, and stay in a mix of accommodation which ranged from camping through to medium priced hotels and apartments.
Our South Peloponnese Road Trip Itinerary
We spent the first three nights of our road trip in the coastal town of Neapoli Vion. This is one of the southernmost towns in mainland Greece, and was a pleasant enough place to stay.
The reason for being here, was that a couple of friends were getting married. It was my first Greek wedding, and despite the uncertainty of the referendum in Greece looming in the background, was a great day.
There were a couple of strange customs, such as the grooms friends taking it in turns to shave him, and then slapping him. Yes, I did have a go, and was gentle both with my shaving and the slap!
Most notably on a personal level though, this wedding was the first time I had worn a suit in 20 years since my grandmother got married (long story!). What's your verdict?
The wedding was on the Saturday, and on the Sunday, we took a day trip over to Elafonisos island. The stretch of sand out on Simos beach was one of the best I have seen in all my travels. It's an easy day trip to make, although taking the car on the ferry as well costs 10 euro extra.
Leaving Neapoli Vion Greece
So, the Peloponnese road trip resumed proper again on the Monday. Leaving Neapoli Vion, we drove to some nearby caves at Kastania. These were really quite spectacular, but spoiled by the fact that the guide was clearly bored with her job, and that no photos were allowed.
A real shame, because otherwise it is a little gem of a place to visit, quite off the normal tourist trail. Never mind. Onward after that to Monemvasia, where we spent two nights.
Monemvasia is a small town housed in a medieval fortress on an island, connected to the mainland by a bridge. Strolling around the lower town area, there are now all manner of shops and bars catering for the many tourists that visit each year.
For my tastes, it was a little 'too' touristy, but beautiful nonetheless.
Unfortunately for us, the upper town and fortress were closed for repairs, so we didn't get to climb to the top. Not to worry though, as we went to a couple of beaches in the area instead!
Our favourite, was Pori beach, so if you are staying in the area, just ask someone how to get there.
Shipwreck on Valtaki beach
On the Wednesday, we drove out of Monemvasia and to the lagoon at Limenas Ieraka. This was a another really pretty location, but it got overshadowed somewhat later on, when we discovered a shipwreck!
We genuinely didn't know anything about this shipwreck at all, before glimpsing it out of the corner of our eyes as we drove by the coast. Stopping to have a look, it is a vast, rusting hulk, washed up on the shoreline of Valtaki beach, near Gythio.
There are a lot of urban legends surrounding this ship. The main one, seems to be that this was a cigarette smuggling ship, which was at one point impounded, and then broke free in a storm to end up stranded on the shore.
Whatever the actual truth is, the shipwreck is a must see when driving along this section of the coast on a Peloponnese road trip!
Mavrovounio Beach
We stayed just the one night in Gythio (by the way, the spelling of this name varies a lot!). After a bit of sight-seeing the next day, we drove on to Mavrovounio Beach, where we had the first night camping together at Camping Kronos.
After having spent literally years camping alone in tents during my various trips around the world, I wondered how this would go, but it worked out just fine!
I would describe Camping Kronos as a 'rustic' camp site. It does have all the facilities, but they are not particularly well cared for. The upside though, is that the place does have a nice, laid-back vibe to it, and that it is right on the beach. Excellent!
We based ourselves here for two nights, and the next day visited the Diros Caves. These are perhaps the most famous caves in Greece, made all the more memorable because a tour there is taken on a small boat, which is paddled through the caves by a guide.
Sorry, no photos as they didn't turn out too great. I do have some video footage which I may put on YouTube at some point though.
Vathia in Mani, Peloponnese
Our drive away from the caves and back towards the coast, took us through the town of Vathia, which is famed for its stone houses which look like castle towers.
In fact, many of the villages in this area of Mani have houses built in a similar fashion.
We also checked out a few beaches before heading back to the camp site. Gerolimenas, Marmari, and Skoutari. Many people rate Skoutari quite highly, but we weren't super impressed with it.
That's not to say it was a bad beach though – There is a lot of competition when it comes to the best beaches in Greece!
A couple of years later, we spend more time in Mani. Read our travel guide here: Road trip in Mani, Greece
Mystras
The Saturday saw us break camp, and resume our Peloponnese road trip as we drove to Kalamata. This would be another two night stay at a camp site, and the next day, we visited Mystras.
Mystras is a Byzantine hill fortress, spread out over three levels. There will be a full blog post coming over the next couple of weeks, but suffice to say, it is a major place of interest which should be visited when on a Peloponnese road trip in Greece.
Also read: Best day trips from Kalamata
Ancient Messene in the Peloponnese
Monday we left Kalamata, and drove to Ancient Messine. Surprisingly, this ancient site is little visited, even among Greeks. It is a real shame, as I feel that it is one of the best archaeological sites I have seen in Greece.
I've written a fuller travel blog post, which you can read about here >> Ancient Messene.
It took between 3 and 4 hours to see the site, and when done, we drove on to Foinikounta beach, where we camped for 3 nights.
Camping at Foinikounta Beach
Camping Thines was my favourite camp site of our entire Peloponnese road trip, and I could quite easily have stayed there a week. Or a month. The site was well set up, and the beach was right on the doorstep. It was a nice beach as well, with some lovely natural shade under some trees.
Tuesday was a bit of a chill day, although I did work from the beach on my tablet computer. Nice to see that this is actually possible to do! I don't want to use the term digital nomad, but, well I was for one day. You have to embrace the laptop lifestyle!
The following day, we visited Koroni Castle. This is one of a pair of castles known as the Eyes of Venice, and I will be writing more about them in a few weeks time.
Methoni Castle
Methoni castle is the other 'eye' of the pair, and we visited this after packing up from the campsite. Of the two castles, I found this to be far more impressive.
In a way, it felt like a scaled down version of Gondor from the Lord of the Rings films. I will just include the one photo here, because as I mentioned, it will get its own write up a few weeks from now.
At night, we stayed in Pylos, where the next morning we briefly visited the castle. This had two museums in dedicated to underwater archaeology. Then it was on to an area called Terpsithea, just outside of Kyparissia.
Here, we stayed in what was easily the best accommodation of the entire Peloponnese road trip. The accommodation was called Terpsi Apartments, and we got an incredibly well maintained, clean and immaculate apartment which included washing machine and kitchen for just 30 euros for the night. Highly recommended!
After checking in, there was still a little beach time, so we spent a few hours on Elaia beach before catching an awesome sunset.
Weird Buildings of the Peloponnese
On leaving the great apartment, Saturday turned into a very strange day in terms of buildings. It seemed that we discovered every weird looking building in Greece all in one day.
Perhaps this Fairy Tale castle was more creepy than weird though! I have written a full blog post about the buildings we saw, and you can read that here >> Weird looking buildings in Greece.
Even the hotel we stayed at in Xiropigado that night was a little strange. The owner was really nice and friendly though.
Mycenae
On to Sunday, and the last day of our Peloponnese road trip. It was an initial short drive to Mycenae, which is arguably one of the more important archaeological sites in Greece. Between 1600BC and 1100BC, Mycenae was a military stronghold, and influential centre of ancient Greek civilisation.
I have always wanted to visit here, and it was a great feeling to finally wander around the site. Again, I will write a fuller blog post later, but for now, here is a photo teaser.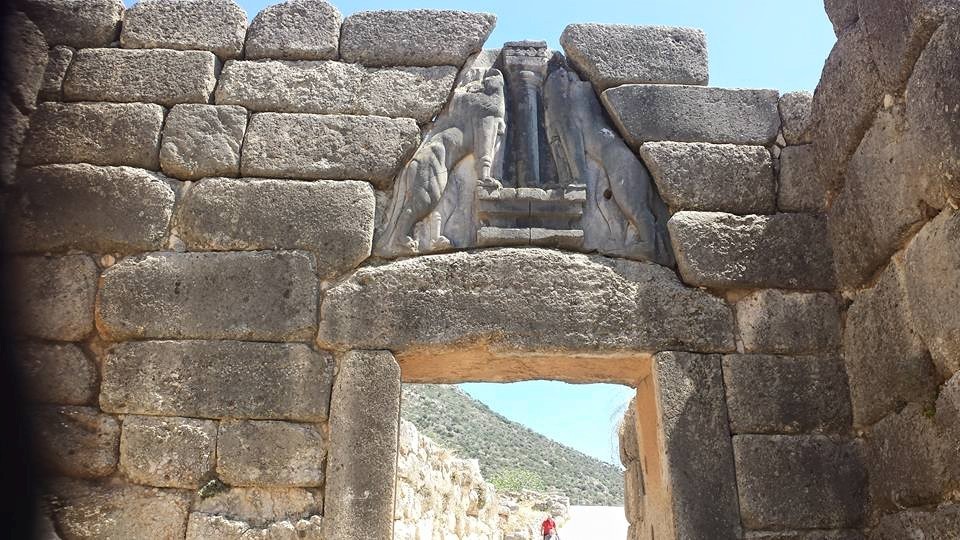 And that brings our Peloponnese Road trip in Greece to an end. It would have been nice to have 3 weeks. Or 4. Or 5. It's all there for next time however!
Note: A recent attraction you might want to check out, is the Patrick Leigh Fermor House in Kardamyli.
Peloponnese Peninsula Road Trip FAQ
Here are some commonly asked questions about taking a road trip in the Peloponnese region of Greece.
Is it safe to drive around Greece?
Driving in Greece can be quite an experience the first time! Cars are driven fast, and with a 'might is right' mentality. Driving in Athens is particularly challenging, but on the Greek islands, there is far less traffic and it is easier to drive.
What side of road do you drive in Greece?
Traffic in Greece drives on the right side of the road.
Do you need an international driver's license to drive in Greece?
If you have a valid licence from an EU country you do not need an IDP. Drivers with licences from non-Eu countries (including the UK in 2021) will need an International Driver's Permit (IDP).
How do you pay tolls in Greece?
You can pay toll roads in Greece by card or cash. Motorway tolls have signs above the lanes indicating of they are open, and the payment method they accept. Some toll gates offer payments by card or by coins using automatic cashiers.
How long is the drive from Athens to Nafplio?
The driving distance from Athens to Nafplio is 138 km. It takes around 1h 47m to drive from Athens to Nafplio in the Peloponnese of Greece.
Other Greek Road Trip Articles
I've written several other Greek road trip articles, but this one is the best of them all – The best places to see on a Greek road trip. It details 4 Greek road trip itineraries, and has tonnes of useful information.
Please pin this Peloponnese Blog for later
Finally, if you would like some additional info, or think we drove right by something we should have seen, then leave a comment below. I would love to hear from you!
Next read: What is Athens famous for?