Start planning the ultimate Greek road trip with these epic itinerary suggestions. A selection of Greece road trip ideas for all tastes!
Traveling around Greece by car
Greece is a much bigger country than its size suggests, and the sheer abundance of things to see and do is mesmerizing.
Most visitors to Greece like to base themselves in one or two places, relax on the beach, and perhaps take the occasional day trips to ancient ruins or historical places.
Others though, want to see more of the country, and there's no better way than taking a road trip.
Related: Travelling by Car: Advantages and Disadvantages
Partly due to the thousands of Greek islands, partly due to its mountainous landscape, it's impossible to see it all and so there's no definitive road trip suggestion.
Instead, I've put together some of the best travel insights and itinerary suggestions based on my own road trips around the country during my 7 years of living here.
If you're planning to see Greece on a road trip, this guide shows you how!
Car Rentals in Greece
Here in Greece, I drive our battered but trusty Starlet as pictured above. I think it's over 25 years old now, but still going strong!
Unless you've driven your car to Greece though, the chances are you're going to have to hire one.
As you might expect, Greece has a mixture of 'household name' car rental companies and local businesses.
When I travel in other countries, I tend to check out the Discover Cars website to get an idea for prices, and then shop around after. Have a look here for more car rental tips.
Depending on the season and the type of car, you can expect to pay between 35 Euro and 50 Euro per day.
Keep in mind that your car rental insurance won't cover taking a car onto a ferry. If your Greek road trip plans involve multiple islands, you'd need to hire a new car on each one.
I've a good guide here on how to rent a car in Greece.
Driving in Greece
This is really an entire mini-guide in itself, and I suggest you check out our Real Greek Experiences guide to driving in Greece for more info.
Basically summarized: Drive on the right, wear a seat belt, avoid driving in Athens if you can, highways have toll roads, make sure you have an international driving license.
Take it nice and easy, and you'll be fine!
Driving in Athens
A quick note about driving in the Greek capital Athens.
There really is no need to drive around the city itself. Almost all of the things you will want to see and do in Athens are contained within the historic center which is walkable.
Using a car in Athens will only create problems for you. Not only is the Athenian traffic borderline chaotic, but parking is a major issue.
So, while you will see Athens mentioned in these Greek road trip ideas more than once, keep this in mind. It will also save you a couple of days car rental fees by not driving in Athens!
In these itineraries I won't go into detail about the possibilities of what to see in Athens. Instead, you should take a look at my guide on how to see Athens in 3 days.
Greece Road Trip Itineraries
Ok, let's get to the good stuff!
Pick and choose from the dozens of places to see in Greece listed here, or spend six months trying to see it all.
Incredible food, UNESCO World Heritage sites, great beaches, and clear warm waters await. What more could you ask for?!
Related: Best time to visit Greece
---
Ancient Greece Road Trip Itinerary
This Greek road trip starts in Athens. It loops through the Peloponnese, over the bridge at Patras, goes through Delphi, and then finishes in Athens.
It would make a nice 2 week road trip itinerary, and would even give you some spare days to go and spend time on the beach and soak up the sun. Let's begin!
Athens – I suggest spending 2 full days in the city to see the major attractions such as the Acropolis, Ancient Agora, and museums. My Ultimate Guide to Athens can help you plan your time in Athens.
Drive out of Athens, and head for Corinth Canal for the obligatory photos!
Visit Ancient Corinth.
Wine tasting – The Peloponnese is famous for its wine. There are many vineyards all through the region. Consider visiting a few, taste the different types, and pick up some bottles along the way.
Nafplion – Often considered to be one of the most picturesque towns in Greece, it is a relaxing place to stay for a few days. You can also make side trips out to other places of interest such as Epidavrous.
Mycenae – Legend has it that this ancient city was home to Agamemnon of Trojan War fame. This is a must-see site.
Ancient Olympia – Home of the first Olympic games. An interesting complex to visit, and the chance to run on a running track thousands of years old!
Nafpaktos – An interesting town that is a secret even amongst Greeks it seems! It has all the tourist facilities you want though, and has a lovely port, beaches, and scenic mountain areas. A good place to enjoy outdoor activities, or simply relax. Read my article on the best things to do in Nafpaktos here.
Delphi – Navel of the world, and home to the famous Oracle.
Back to Athens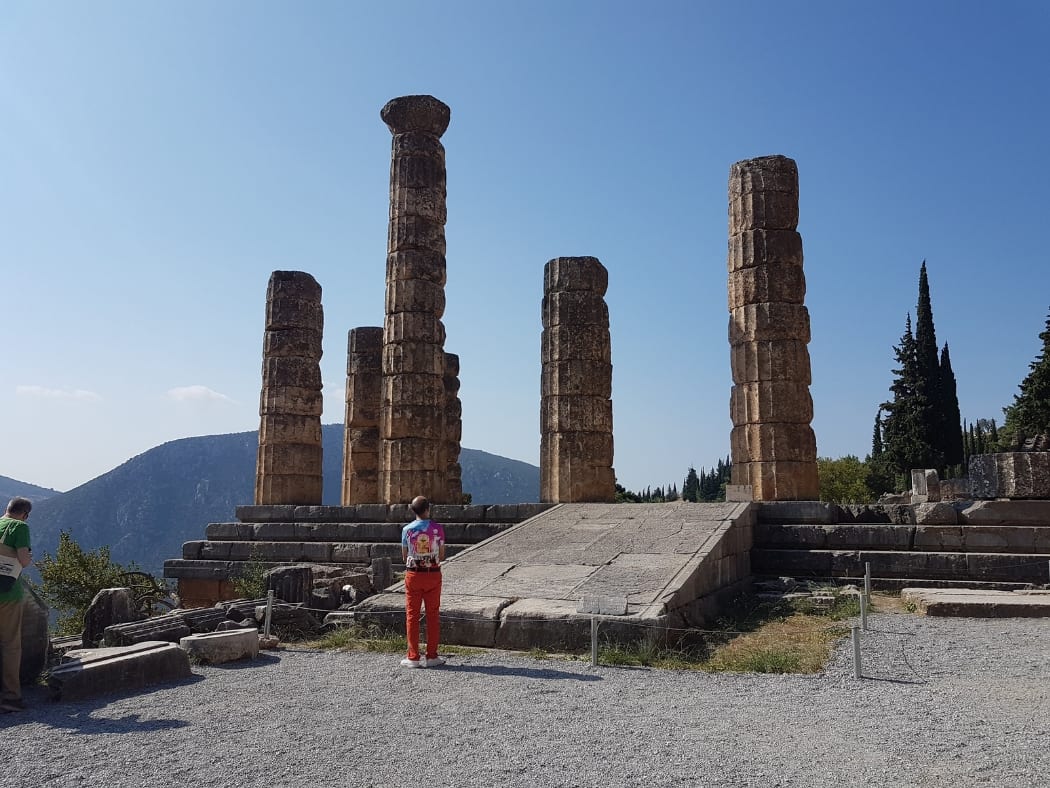 ---
Peloponnese Road Trip Itinerary
The Peloponnese seems purposefully designed with road trips in mind! It has several regions within it, all with their own unique characteristics such as the Mani Peninsula.
There are ancient archaeological sites, great beaches, Venetian castles, mountains, and even shipwrecks! Here is a rough road trip itinerary for the Peloponnese based on my own experiences there.
Again, start in Athens where you should spend a couple of days seeing the sights like to Acropolis, Parthenon, Ancient Agora, and Acropolis Museum
Drive on to Corinth Canal and Ancient Corinth.
Epidaurus for the magnificent theatre
Nafplion – A beautiful coastal town with a romantic feel
Mycenae – An ancient Greek city where myth and history collide
Monemvasia – A small town in a medieval fortress
Diros Caves
Mani Peninsula – Peculiar tower like houses
Mystras – A huge Byzantine castle town, and a UNESCO World Heritage site few people know about
Kalamata – Famous for its olives and olive oil, it is a pleasant coastal town. Base yourselves here, and explore the coastline in search of a perfect beach. My favourite is Foinikounta
Ancient Messene – One of the largest and most impressive ancient sites in Greece.
Koroni and Methoni Castles – Two amazing Venetian castles which don't seem to be given the prominence they deserve.
Ancient Olympia – Home of the original Olympic games thousands of years ago!
Back to Athens
For extra information, check out: Peloponnese road trip
---
Central Greece Road Trip
Apart from the obvious places such as Delphi and Meteora, the the North of Greece doesn't receive as many visitors as other parts of the country. I guess this is understandable, as people rush to the islands for their two weeks of sun, but it's a shame, as there is a lot to see and do there.
In some sense, I am also guilty of this, as I haven't spent as much time exploring the areas as I would like. In a similar fashion to the Peloponnese, it is ideal for a road trip. There is a sense of adventure and discovery, and arguably you are going to see more of the authentic rural Greece here than anywhere else in the country. Here's an example road trip itinerary for the north of Greece:
Begin with a couple of days in Athens.
Drive north to Arachova, a pretty mountain town. In the winter, this is a popular destination for skiing.
Delphi – This ancient site seems to have a sense of calm due to its location. It's easy to see why the Ancient Greeks though that this was the centre of the world!
Nafpaktos – A small coastal town which many people overlook. History was made here in the naval battle of Lepanto, a significant encounter which may have altered the course of European History.
Missolonghi – An historic town with connections to pirates, the War of Independence and Lord Byron
Lefkada – A little known Greek island which is accessible via a bridge. This has some wonderful beaches, and is a popular destination with Greeks.
Nicopolis – A massive archaeological site that rarely features in the marketing and promotion campaigns of Greece. Why? Probably because it is of Roman origin, but it is one of the largest and most interesting sites to visit in Greece.
Parga – This coastal town is a popular destination with British families, and is situated on the west coast. I visited Parga when cycling from Greece to England.
Ioannina – I've now visited Ioannina in the Epirus region of Greece twice. It's a beautiful town next to a huge lake!
Kalambaka – You are going to want to stay here when you visit the astounding Meteora region. I would suggest spending at least a couple of days exploring the area to fully appreciate the monasteries and rock formations.
Mount Olympus – Home of the Ancient Greek Gods, and a National Park area. Spend a couple of days hiking, visit a monastery, or just breathe in that cool, clean mountain air!
Vergina – The burial site of Philip, King of the Macedons and father of Alexander the Great.
Thessaloniki – The second largest city in Greece, and it has a more laid back vibe than Athens. There is plenty to see and do here over a 2 day break.
Pelion – If you want to experience a more authentic side to Greece that few foreign tourists visit, then spend a little time in the Pelion region. Mountains, outdoor sports, beautiful beaches, quaint villages… What more do you want?
And back to Athens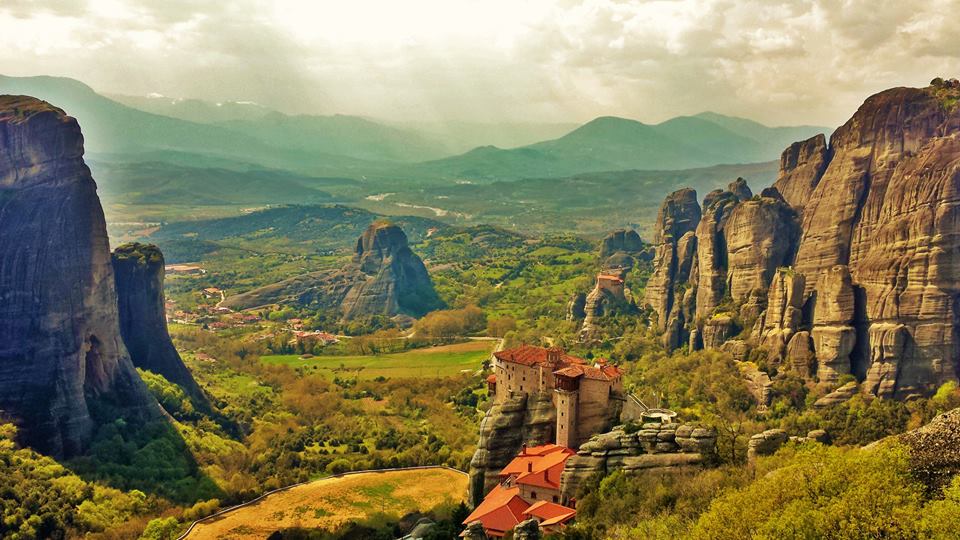 ---
Crete Road Trip Ideas
Crete can be described as almost a country in itself. It has its own culture and traditions, and Greeks have an admiration for the people who seem to have a natural ability to live life on their own terms. There is of course plenty to see and do here. This is a suggested road trip itinerary for Crete that will take in some of the highlights.
Heraklion – This road trip in Crete will start and end in Heraklion, the capital of the island. Plan to stay here 2 or 3 days, where you will want to visit the Palace of Knossos, archaeology museum, walk around the Venetian Walls, and enjoy what the town has to offer. Why not take a food tour in Heraklion whilst you are there?

Dikteon Cave and Lasithi plateau – Visit the cave where Zeus was hidden as a child from his father Kronos! The plateau itself is also pleasant to drive around.

Spinalonga – A popular day trip in North Crete, this island is reached after a short boat journey. Spinalonga itself was once a leper colony.

Gortyna and Phaestos – I wasn't fully aware of these sites before embarking on my own road trip, although I knew that the famous Phaestos Disc was obviously found at one of them. Both are worth visiting, and I personally felt that they were better than Knossos.

Matala Caves – These famous caves on Matala beach have been used for thousnads of years, most recently by hippies in the 60s who set up home there! Now a protected area, you can visit this almost Flintstone like cave system, and then sunbathe and swim in the sea after.

Preveli Beach – Crete has some amazing beaches, and I won't gointo them all here. It's probably worth an article by itself!

Chania – A quaint port town which people rave about. Personally, I found it a little too geared towards tourism and very crowded. It probably looks and feels better in quieter off season months.

Elafonisi – Another one of those beaches you have to visit! Famous for its pink sands. Kedrodasos Beach is a short drive away down a dusty track. In my opinion far more relaxing, beautiful, and fewer people!

Rethymnon – An coastal city with an old harbour, fortress, and plenty of museums. Stay for a night or 2, or even base yourselves here to explore the north of the island.
Back to Heraklion!
For extra information, check out: Highlights of a 2 week road trip in Crete
---
UNESCO World Heritage Site Road Trip in Greece
Greece is a year round destination, and especially so if you are interested in its rich history. A Greece road trip based on visiting the UNESCO World Heritage sites on the mainland is entirely possible to put together.
Greece has 18 UNESCO Sites in all, 12 of which are on the mainland. If you're visiting Greece in spring, autumn or winter, this UNESCO World Heritage Site itinerary could be a good one:
All you need to do is juggle them around into an order which best suits you!
---
FAQ About Road Trips in Greece
Readers planning a road trip route around Greece often ask many questions to do with what driving is like in the country. Here's some of the popular ones:
Is driving in Greece easy?
Although driving in Greece is normally simple on the main roads, keep in mind that traffic and parking may be problematic, especially in the big cities like Athens and Thessaloniki.
Is Greece easy to drive around?
Mainland Greece, including the Peloponnese peninsula is very easy to drive around. A modern highway system (with tolls) connects the main population centers and places of interest, and Google maps works very well for navigation.
What is the best way to tour Greece?
If you really want to get off the beaten path, and enjoy the magical landscape of Greece at your own pace, hiring a rental car and taking a road trip is an excellent way to tour around Greece.
Can I take a Santorini road trip?
The Greek island of Santorini is so small, that a multi-day road trip doesn't really make sense. Instead, it would be better to be based in one place such as Perissa, and then take day drives our to different locations around the island.
Can I take my car on a Greek ferry?
Most of the larger Greek ferries take vehicles on board, so if you are using your own car, you will be able to take it island hopping with you! One important consideration, is that your rental car agreement may not allow you to take the car on a ferry so check before you plan.
Please pin this travel guide for later
If you found this article useful, would like any advice for a trip you are planning, or would like to contribute some thoughts on the best places to visit in Greece on a road trip, please leave a comment below! For more information on travelling in Greece, sign up for my newsletter!
---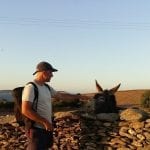 –
Dave Briggs
Dave is a
travel writer
from the UK who lives in and writes about Greece. As well as creating this road trip Greece guide, he's also written many more travel blogs about the best way to travel in Greece. Follow Dave on social media for travel inspiration from Greece and beyond: