2016 is almost over. Where did the time go?! Well, it looks like I spent a lot of 2016 travelling! Here's a look at the countries I visited during the year, and what I got up to in terms of travel.
2016 Travel Review
I was very fortunate to be able to travel a lot during 2016. Regular readers may know about the cycling trip across Europe, but there were many other trips and short breaks as well. Let's take a look at them…
Two Weeks In The Balkans (January)
2016 got off to a great start, with a two week trip around the Balkans area.
The Mrs and myself visited three countries we had never been to before, which were Albania, Kosovo, and Macedonia. Admittedly, winter is perhaps not the ideal time of year to be visiting this part of Europe. We had a great time all the same though!
Writing about Macedonia (FYROM) was an interesting challenge.
I have a significant Greek readership, and many people take offence at 'that country' being called Macedonia. In fact, they rarely refer to it as FYROM either, instead, simply calling it Skopje.
Even just writing these few sentences will probably provoke some comments below.
Such are the passions involved in a region where ethnicity is most often equated with nationality, where new countries are trying to find an identity, and where old countries look back to a 'golden past' whilst struggling to adapt to current circumstances. Of course, this is what makes the Balkans such a fascinating place to live in and travel around!
Meteora in Greece (March)
This is an area of Greece that I have visited once before. Meteora is quite an amazing place, with its mountains, monasteries, and rock formations. I mean, you only need to see a couple of photos and fall in love with it!
My weekend trip to Meteora took place in March, and was supported by a tour company who invited myself and other members of Travel Bloggers Greece there for a weekend.
Rhodes (April)
In April, I visited Rhodes for a long weekend with the Mrs in order to see some friends there.
It's a beautiful island, and the castle there is amazing. As I write this article, I have just realised that I never actually blogged about Rhodes at all! I will have to create a short guide to Rhodes at some point soon!
Cycling From Greece To England (May – July)
This was my big trip of the year!
Cycling from Greece to England took me 2.5 months, during which time I visited several European countries for the first time.
The list of countries I cycled through was as follows – Greece, Albania, Montenegro, Bosnia-Herzegovina, Croatia, Slovenia, Slovakia, Austria, Germany, France, and England.
I also made a daily vlog during this cycle ride. You can find the complete playlist for the bicycle touring vlogs here.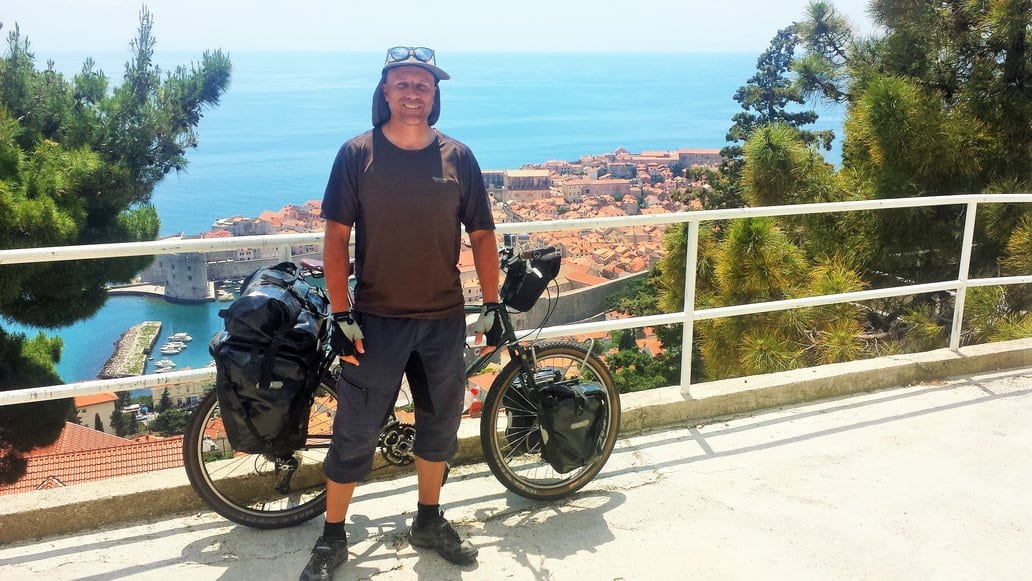 A 2 Week Road Trip Around Crete (August-September)
So, I guess most people that had just returned from a 2.5 month cycle ride would probably not leap straight into a 2 week road trip around Crete.
Clearly, i am not most people, and besides, I deserved a vacation after all that cycling!
Crete is a Greek island I had previously visited as a kid with my parents, so I was really seeing things for the first time with adult eyes at least.
My verdict – A beautiful place, with great beaches and relaxed pace. I could easily see myself settling there in a little house up in the mountains somewhere!
Nafpaktos (October)
Most people outside of Greece have never heard of Nafpaktos let alone visited. To be fair, even many Greeks that have heard of it, have never visited either.
It is a lovely part of the country though, with an interesting history and plenty to see and do.
Read about things to do in Nafpaktos here.
Nafpaktos makes a good weekend trip from Athens, and could also be combined into a road trip which could start in Athens, and then take in Nafpaktos, Delphi, Arachova, and Athens. Perhaps this is a route I might take on the bicycle sometime next year. Watch this space!
England (November)
Living in Greece has meant that I don't get to see family as often as I could. This was my second trip back to the UK this year, and I stayed over for a couple of nights. There are no blog posts as such from this trip, but it was nice to see everyone!
Barcelona (December)
I highly recommend visiting Barcelona during December. You get all the benefits of being able to see the attractions, with far fewer people.
The Christmas lights and markets are also another touch which makes a winter visit to Barcelona very memorable. I was only there for a couple of days, whilst attending a conference. I still managed to see most of the sights though.
Thessaloniki (December)
Thessaloniki is just a short 40 minute flight away from Athens, and we go there a couple of times a year to see the Mrs family.
As such, I haven't seen as much of the city as I probably should have. The parts I have seen though, I like.
A winter walk along the seafront promenade is a nice way to spend some time, as is visiting some of the museums. The Archaeology Museum was particularly good. I would suggest that anyone planning to visit Thessaloniki should put aside 3 hours or even more to give it justice.
Read this next: How to live for yourself and travel more