The sixth update of my bike tour from England to Africa. This travel blog post covers the section of cycling from Schonau to Budapest. Somewhere along the way, I bought a power lead extension so I could use my laptop in the tent when at campsites!
Cycling from Schonau to Budapest
This blog post covers the section of cycling across Slovakia and into Hungary. This was the start of my second month of cycling from England to South Africa.
Day 34 Schonau to Bratislava
A bit of an odd start to the day, as there didn't appear to be anybody in the guesthouse when I woke up. No guests, no staff, no dogs…. nobody. I hung around until 8.30, but still no one appeared, so i thought sod 'em and left.
The only slight drawback, was that I hadn't had any breakfast, so instead of the full amount of money, I left the following calculation behind on the bedside table (full amount-x for lightbulb not working – y for no breakfast – z for hassle).
It meant I hadn't spent as much as I had thought, but also meant that I had to cycle 30kms to the nearest town on an empty stomach, and anybody that knows me can tell you I hate doing things on an empty stomach!
Reaching Hainburg
I reached Hainburg, and stocked up in the supermarket before buying a map of Romania and having an excellent lunch in a restaurant.
I was in two minds whether to stay the night in Hainburg or not, as it had been absolutely chucking it down all day, but the rain seemed to grow tamer when I finished my meal, so I decided to push on.
The border crossing into Slovakia was straightforwards, although some other cyclists on an organized tour (they didn't have any baggage) asked me for help in what they should do. Do i look like a tour guide? 'I'll probably join the queue going into Slovakia' I answered, barely masking the sarcasm.
The cycle way into Bratislava was easy enough to find, and when I got into the centre, I milled about aimlessly for a bit before locating the tourist information. They were able to show me a range of places to stay in Bratislava.
I got them to reserve me a room at a hostel close by and rode over. It was a nice enough place, but quite pricey at 31 euros for a single room. Did have a TV though with English news. Checked internet, bought a map, wandered around, had a meal.
Day 35 Bratislava – Gyor
My bike was still in the lobby in the morning, so that was a semi-sleepless night worrying about it wasted! Got a reasonably early start, and the route was quite simple.
From Bratislava to the border with Hungary I followed a purpose built cycle way for most of the way. The border crossing was straightforwards, and I changed 40Euros and my remaining Slovakian krones into Forints.
Talking of Krones, I wonder what all the sour faced female money changers are going to do when the Euro takes over down here?? Work in a post office probably.
Anyway, once in Hungary I followed quiet country roads, and then a purpose built cycle way once more. Stopped off for a stupidly cheap lunch, and then carried on into Gyor.
There was a campsite on the cycle way so I dived in there. As I set up, I got mugged by the most vicious gang of mosquitoes and midges I have ever encountered. They almost emptied me of blood, but not quite.
A quick shower and application of insect repellent later, and I walked into town, which I was quite impressed with. It had some lovely old buildings and a big square, where some sort of local festival was going on. On returning to the campsite, somebody kept buzzing it very low overhead in an old, engine misfiring bi-plane.
Day 36 Gyor – Neszmety
I was the only person staying in the campsite, which in reality was somebody's back garden. The exit from Gyor was as tricky as I had expected (no signing, all motorways), until out of nowhere, a Hungarian guy on a bicycle appeared and led me out of the city. He didn't speak any English, and I certainly don't speak any Hungarian, but I showed him where I needed to go on the map, and he led the way.
It must have been totally out of his way, but ten minutes later, I was on the correct road, and we parted company with a handshake. I think acts of kindness like that are what make travelling such a pleasure, and it certainly reaffirms your faith in humanity.
No sooner had I started on the new road, I was joined by an ultra-light German cyclist on his way to Poland. It was quite good cycling with somebody else for a change, and at one stage, we had a tractor in front of us acting as a nice windshield, so we cruised along at 25kmph for quite a while with little energy expended.
At Neszmety I decided to call it a day, and the German guy carried on. The campsite was cheap, so treated myself to another cooked meal.
Day 37 Neszmety – Szentendre Mon 28/08/06
The traffic was a bit busier today, but other than that, not a lot to report.
Day 38 Szentendre – Budapest Tuesday 29/08/06
Not any easy ride into Budapest, but then cities are always harder for cyclists to get into. Got there in the end though, and even found my way somewhat miraculously to a campsite called Hiller Camping.
Quite dear, but still way cheaper than a hostel. Anyhow, I set up, and got chatting to another cyclist. She was going to try to follow the River Danube all the way to the sea.
Its not a bad idea, as things in Serbia are calmer now, but I'm all set to go to Romania now.
Related: River Captions and Quotes
Went to the supermarket. At 5 pence each, I will be living off bread rolls for a while. Also bought an electric extension lead… I now have internet in my tent!
Day 39 Budapest Wed 30/08/06
Not quite a day off cycling, as I used my bike to go sightseeing on. It seemed ever so weird cycling without three tonnes of crap on the back!
I must say, I really like Budapest. It's got some wonderful bridges, views and buildings. the weather has been a bit overcast all day, and it noticeably chillier.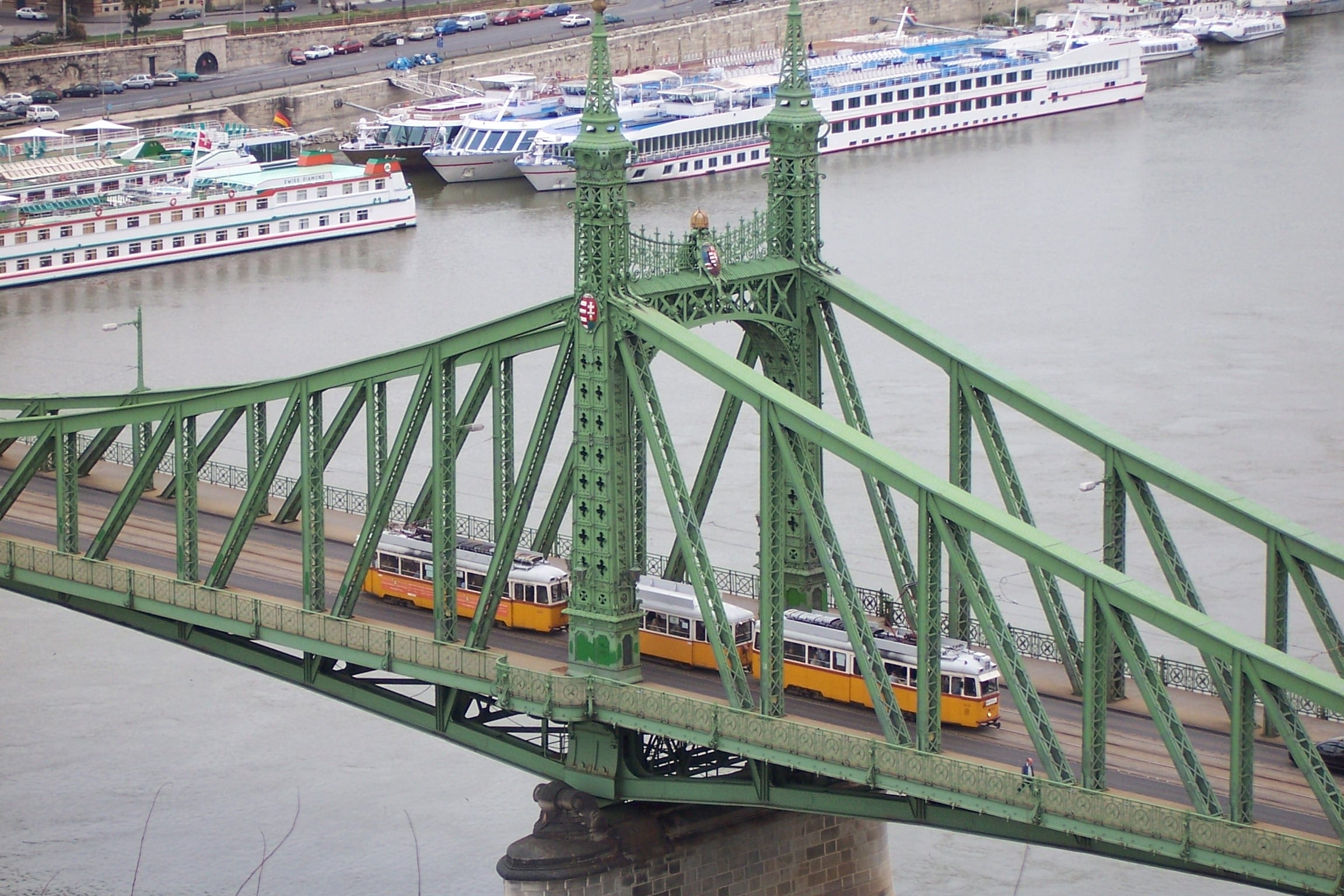 So, the River Danube section is now done!! Go me! Everything is looking good. The only major equipment problems I have at the moment are
1. Sleeping bag – Ripped and a bit too lightweight.
2. Sleeping mat – Inadequate
3. Tent Pole – managed to break a bit off. thats going to annoy me as I set it up over the next year!
4. Bike – The tape on the handlebars is coming off.
The next section of my trip through Romania and Bulgaria to Istanbul will be harder, but I'm looking forwards to it all the same. Also looking forwards to hopefully seeing my brother in Istanbul for a couple of days. Steve – bring some teabags mate!!
England to Cape Town Bike Touring Blogs
Read my blogs for bicycle touring England to Cape Town, including the Cairo Cape Town section here:
You might also like to read: