A complete guide to the best areas to stay in Mykonos, including Mykonos Town, Ornos Beach, Platis Gialos and other beach resorts in Mykonos, Greece.
In this Mykonos Accommodation Guide
If you're looking for a hotel in Mykonos, this guide will help you choose which area on the island is best for you.
Click through for the following travel tips and information on where to stay in Mykonos:
Tips and Advice for Staying in Mykonos
Where to stay on Mykonos island Greece
Mykonos is one of the most famous Greek islands. Many people associate it with luxury resorts with infinity pools, villas with sun terraces and five-star hotels. Others think of sandy beaches, beautiful sea views, crystal-clear waters and beach bars.
Most visitors will picture Mykonos Town, Little Venice and the windmills overlooking the Aegean Sea. The distinctive Cycladic-style architecture, with the white-washed houses and narrow alleys, is also a trademark of the island.
The truth is, Mykonos is all of the above, and much more. While the party-island reputation is very accurate, it's possible to be isolated if you want.
Mykonos is the first place in Greece that attracted gay-friendly crowds and naturists, but it also has family-friendly beaches. In addition, there are plenty of outdoors activities such as kite-surfing, sailing, horse riding or kayaking.
In short, the famous Greek island has many faces. Accommodation options can be overwhelming, as they need to suit all tastes. There are hundreds of places to stay, from boutique hotels and luxury villas to a couple of campsites.
You will find a wide choice of Mykonos hotels almost everywhere on the island. Depending on when you are visiting and what you are looking for, here are the best areas to stay in Mykonos.
Best places to stay in Mykonos
When it comes to staying in Mykonos, there is one great big dilemma that people face. Should I stay in Mykonos Town, or by the beach?
Mykonos City, also known as Chora, is on the west coast. It's a maze-like, spread-out Cycladic town, unlike any other. Most people will probably get lost in the narrow, picturesque alleyways.
Mykonos Town is one of the best areas to stay when you visit. The town never sleeps, and it's ideal if you want to be a few minutes walk from the best nightlife. This is also where you'll find the best shopping in Mykonos, and the island's most famous restaurants.
On the other hand, Mykonos has dozens of beautiful beaches. In fact, this is one of the few Greek islands I've been to where there are no inland villages, apart from Ano Mera. Some of the beaches are only a few kilometres out of Mykonos Town, while others are a longer drive.
If being by the beach is more important to you than the after-hours bars, it would be best to stay at one of the seaside resorts. Areas like Ornos, Psarou, Platys Gialos, Super Paradise or Elia Beach are among the most popular places to stay in Mykonos.

Map of Hotel Locations in Mykonos
Here is an interactive map showing where the hotels in Mykonos are located, along with some pricing information.
Getting around Mykonos island
Before deciding where to stay in Mykonos, you should also consider your way of getting around the island.
If you are planning to rent your own vehicle, it will be easy to get around at your own timetable. In this case though, it's best to find a Mykonos hotel with private parking. Generally speaking, parking during peak season can be a bit of a challenge.
If you prefer to avoid driving on the Greek islands, you can get around by bus, taxis and your own two feet. While buses are frequent and punctual, they may end up being full. Taxis on the other hand are just a few dozens, so it makes sense to book in advance.
** Book Your Sightseeing Ride In Mykonos **
Some beachfront Mykonos hotels provide shuttle services to Mykonos Town. This is definitely worth taking advantage of if you don't have your own transport.
In addition to land travel, water taxis depart several times per day from Ornos Beach. They stop on many of the southern beaches on their way to Elia Beach. For more information and updated timetables, check out their website.

Staying in Mykonos Town
Mykonos Town is one of the best places to stay in Mykonos. If you are after all the all-night party buzz, or if you are only here for a night or two, my suggestion is to stay in Mykonos Town.
We loved exploring the quaint, white-washed streets at all times of the day and evening. We would definitely stay here if we were travelling during the off-season, or if beach time wasn't so important.
If you decide to stay in Mykonos Town, you will have a wide choice of all tourist facilities. This includes restaurants, cafes, bars and clubs, as well as upscale shopping.
In addition, you can easily get to many of the famous beaches, like Platys Gialos, Paradise Beach, Super Paradise or Psarou Beach.
There are hundreds of hotels in Mykonos Town. Most of them are in the area behind the Old Port and Little Venice, stretching all the way to Megali Ammos beach.
Visitors looking for luxury would want to have a look at the best boutique hotels in Mykonos Town. Some of them are Cavo Tagoo, Semeli, Theoxenia boutique hotel and Belvedere Suites.
These upmarket hotels have a number of different facilities, such as private pools and sea-facing balconies. The infinity pool and views at Cavo Tagoo are particularly impressive.
Budget-minded travellers will also find several options in Mykonos Town. Mykonos View hotel, Poseidon and the family-run Aeolos are all popular choices. Their facilities include swimming pools and private parking space.
Bottom line: If you are visiting Mykonos for nightlife or are on the island for just a night or two start looking for a place to stay here.
Staying in Megali Ammos
If you don't want to be right in the centre of Mykonos Town, but still want to be walking distance, a good alternative is around Megali Ammos beach. This is a much quieter area, though you can still find many tourist facilities.
One of the best options in this area is Bill & Coo suites and lounge, offering amazing sea views and an infinity pool. Note that this luxury hotel also has a adults-only coastal part in Agios Ioannis, a few kilometres away.
The nearby Apiro hotel is extremely well-located if you are after the best sunset views on the island. It's a short walk from Megali Ammos, and not too far from Ornos Beach.
Megali Ammos beach is really pretty, and is great to watch the sunset from. Just note that it might not be as calm as you had hoped for on those windy days.

Top hotels in Mykonos Greece
Moving away from the town itself, lets look at hotels, villas and other accommodation in the beach areas of Mykonos island.
Hotels in Ornos Beach Mykonos
Ornos is a popular seaside resort, a 10-minute drive from the town. There are plenty of accommodation options, and all other tourist facilities, including a well-stocked supermarket.
Ornos beach is a long, sheltered stretch of sand. It is fully organized with sunbeds and umbrellas, and there are many tavernas and restaurants nearby. The north-facing Korfos beach is ideal for watersports, such as kite-surfing.
This is where we stayed ourselves. We were kindly hosted at Pleiades Apartments, offering spacious accommodation with an outdoor pool. Even though it's only a short walk from the beach, the location was exceptionally quiet.
There are many boutique hotels and villas in Ornos, and there is an incredible selection of rooms and suites. Some of the best-known in the area include Mykonos Ammos Hotel, Santa Marina Villas and Adorno Suites.
These luxury hotels are all a stone's throw from the beach, where you can relax on the loungers. In addition, they all have open-air pools for more privacy. Santa Marina provides a shuttle service to Mykonos City and back.
Finally, for those celebrating a special occasion, Kensho is probably the best option in Ornos. In addition to other facilities, they have rooms and suites with plunge pools and hot tubs. Kensho also provide free transfer to and from the town.
If a private beach is equally important with a swimming pool, check out Kivotos. Located to the right of the main sandy beach, it also has spa facilities and a fitness centre.
All in all, Ornos is a good area if you want to be close to Mykonos City, but prefer a beachside location with a range of facilities. It's also one of the best places to stay in Mykonos for families.
Ornos is well connected to Mykonos Town by bus. In addition, this is where water taxis depart for many of the south beaches.

Accommodation in Psarou beach
Psarou is an exclusive beach, where some of the most famous Mykonos hotels are located. It is fully organized, and we didn't see any public parking spaces. This seemed to be the most upscale beach on Mykonos island.
If luxury and privacy are your main goals, you can't go wrong with Kensho Psarou or Mykonos Blu. Featuring private pools, spa centres and on-site restaurants and bars, they are among the best places to stay in Mykonos.
You can get to Psarou on a bus from the town, while the water taxis don't stop here.

Stay in Platis Gialos Mykonos
Platis Gialos is a popular resort right on a gorgeous white-sand beach, with palm trees and amazing blue water. It is a 15 minute drive or bus ride from Mykonos Town, and you can find all amenities and tourist facilities.
Platis Gialos beach is popular with pretty much every category of visitors. Its south-facing orientation and shallow waters make it suitable for families. Its proximity to the town makes it one of the most easily accessible beaches on public transportation. Additionally, there is a large selection of beach bars and restaurants that would appeal to everyone.
Branco Mykonos, right on Platys Gialos, offers high-end facilities and a large outdoor swimming pool. There is a bar and a restaurant, and on-site shopping is also available.
Palladium hotel is a few hundred metres away. There is a selection of spacious suites and family rooms with beautiful views to the Aegean Sea.
Similarly, Nissaki boutique hotel is halfway between the two beaches. Its name literally means "Little island", and the views to the Aegean are outstanding.
Another advantage of staying at Platis Gialos is that you will be a five to ten minute walk from two more beaches, Agia Anna and Paraga. The nearby Scorpios cafe / restaurant / club-lounge is a luxurious all-day alternative to the popular beaches.
In addition, you can hop on the hourly water taxi to further out beaches like Paradise Beach, Super Paradise Beach or Elia.

Hotels in Agios Ioannis Mykonos
If partying is not a priority, but you want a relaxed Myconian vacation, Agios Ioannis area might be the best place to stay in Mykonos.
While the west-facing peninsula is home to several private residences, you will also find a few upscale hotels. Mykonos Grand Hotel and Resort and Anax Resort and Spa are among the most luxurious options in the area. They both offer impressive sea views towards the Aegean.
Agios Ioannis is connected with Mykonos Town on the local buses, that also pass by Ornos. If you have your own transportation, it is a 10-15 minute drive from Chora.

Best luxury villas in Mykonos for privacy
People travelling in larger groups, or those looking for the ultimate privacy, might prefer to rent a villa. There is a good selection of impressive properties spread all around the island and managed by private hosts.
People who are after luxury accommodation will be spoilt for choice in Mykonos. The traditional Myconian architecture has been combined with features such as outdoors pools, hot tubs and private balconies.
As an example, here are some private residences in Mykonos Town and Psarou. These lavish self-catering options will appeal to visitors who want to be close to the Mykonian nightlife, yet in a peaceful location.
On the other hand, many of the exclusive villas around the island are located outside the popular resorts. Visitors looking for isolation and quietness might prefer those areas.
Check out these private villas in Agios Stefanos, Kalo Livadi, Agrari, Panormos – Agios Sostis, and Ftelia.
FAQ about Where to Stay in Mykonos
Here are some commonly asked questions by people looking for the best hotels in Mykonos.
What are the best areas to stay in Mykonos?
The majority of travelers will find it most convenient to stay in either Mykonos Town, Ornos, or Platis Gialos. These areas have a selection of accommodation for all budgets – by Mykonos standards!
Is it better to stay in Mykonos Town or beach?
Mykonos Town is the best place to stay for visitors with just a few nights in Mykonos. The beach resorts have arguably better high-class accommodation, but have very few choices nearby such as tavernas and bars. Ideally you would need to hire a vehicle to explore the island if staying at a beach in Mykonos.
Can you walk from Ornos to Mykonos Town?
You can walk from Ornos to Mykonos Town, although it will take approximately 40 minutes. If walking at night, you might want to take a torch or make sure your phone battery has enough power to turn on the torchlight.
Where to stay in Mykonos on a budget?
The best part of Mykonos to stay for travelers on a budget would be on the outskirts of Chora. This way, you will be close to the nightlife in the town, and won't spend so much on transport compared to if you found a randomly cheap place to stay in Mykonos in the countryside.
Accommodation in Mykonos Guide
If you use pinterest, please add this best Mykonos hotel guide to one of your boards. That way, you'll be able to find it again closer to when you are booking your trip.
---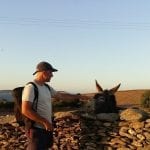 –
Dave Briggs
Dave is a
travel writer
living in and writing about Greece. In addition to creating this travel guide on where is the best place to stay in Mykonos, Dave has also created many other Greek island travel guides. Follow him on social media for travel inspiration from Greece and beyond: