An ideal one day Mykonos itinerary for anyone with limited time on the island. I'll show you what to see in Mykonos in one day so you can plan your Mykonos cruise stop to perfection!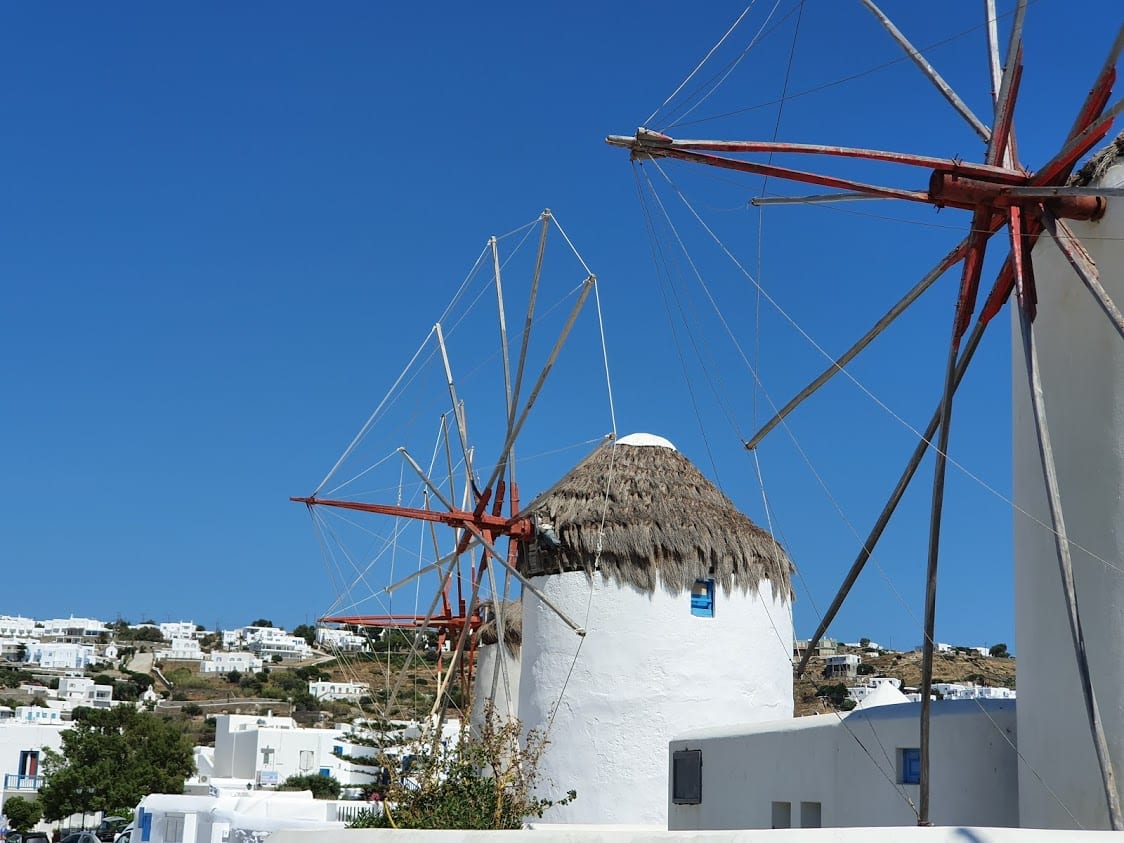 How to see Mykonos in a day
Mykonos is one of the most famous Greek islands in the Cyclades. It has amazing beaches, a lovely main town called Chora, and it is incredibly popular for its party scene.
Oh, and did you know you can take a guided tour of the UNESCO site of Delos which is the Greek island right next door?
We've written this 1 day Mykonos itinerary for people who only have limited time on the island. Typically, this is people going ashore on a Mykonos cruise stop as part of a Greek isles or Mediterranean cruise.
It's always going to be difficult giving such a fantastic destination as Mykonos the time it deserves during relatively short shore excursions. Fortunately, due to its compact nature, you can see many of the must-see highlights of Mykonos island in just a few hours.
Mykonos Shore Excursion Vs See It Yourself
Before we dive in, I'll start by saying that I personally don't find the organized tours in Mykonos to offer particularly good value for money.
That said, I also totally understand why some people prefer a private tour during their port day in Mykonos. It makes life easier, all the logistics are taken care of, and hey, you're on vacation!
With that in mind, this sightseeing tour is one of the best for visitors to Mykonos arriving on a cruise ship: Mykonos Shore Excursion with Terminal Pickup
If you're undecided on whether you want to take an organized tour of Mykonos or do it yourself , read the rest of this guide. I'll share with you the best things to do with one day in Mykonos, Greece so you get a real taste of what this picture-perfect island is all about.
(Our Mykonos travel tips and suggestions are based on our own experiences on the island. We hope you enjoy your visit as much as we did!)
Explore Mykonos Town
Whether you are spending 1 day in Mykonos or 5, you'll want to check out Mykonos Town. Also known as Chora, it is one of the most impressive main towns in the Cyclades.
If you've arrived by cruise boat, you'll find yourselves at the New Port of Mykonos (Tourlos). This is just one bus stop away from the city center, and the ride takes only a few minutes.
Mykonos Town is full of the typical Cycladic white-washed houses and narrow winding streets. There are cute churches hidden around every corner, in addition to restaurants, cafes, bars and all types of shops.
Some people arriving in Mykonos on a cruise ship choose to wander around Mykonos Town for their whole time on the island. It's extremely picturesque, and there's lots of places to take time out and enjoy drinks or a meal.
What to see in Mykonos Town
You can comfortably explore the town on your own, but an excellent idea is take a guided walking day tour and avoid getting lost in the maze-like Chora. Although honestly, getting lost in the Chora is half the fun, as you discover a lot more that way!
As you are wandering around the Old Town, do not miss Paraportiani church, better known as Panagia Paraportiani. This strangely shaped church is actually made up of five churches.
The lower part construction, including four of the churches used to be part of the Mykonos castle, which was built here several centuries ago. The last church, which is named Panagia Paraportiani, is the one on top. The name "Paraportiani" comes from the Greek word "paraporti", which was the side-door to the castle.
Finally, if you are interested in archaeology, visit the Archaeological Museum in Mykonos Town, where you can see many artifacts excavated on the nearby Rhineia island. More on this below.
Little Venice in Mykonos Town
Mykonos Town is also where the famous Little Venice is located. This tiny area is made up of a series of old houses, built right above the sea. It's extremely photogenic and you can never get bored of the views.
Sit at one of the seaside bars, or wander around the small quarter and find your own favourite spot to enjoy the ambiance and take photos from.
Opposite Little Venice, you will see the iconic Mykonos windmills. While there are plenty of windmills in other Greek islands and the rest of Greece, the ones in Mykonos are among its best known landmarks.
Historically, the windmills were once used to grind wheat and other crops. Today, they have been restored and are a favourite attraction for people visiting Mykonos.
This area is also one of the best places to visit in Mykonos Greece for the sunset. If your time on the island allows, it's worth considering. More on sunsets later!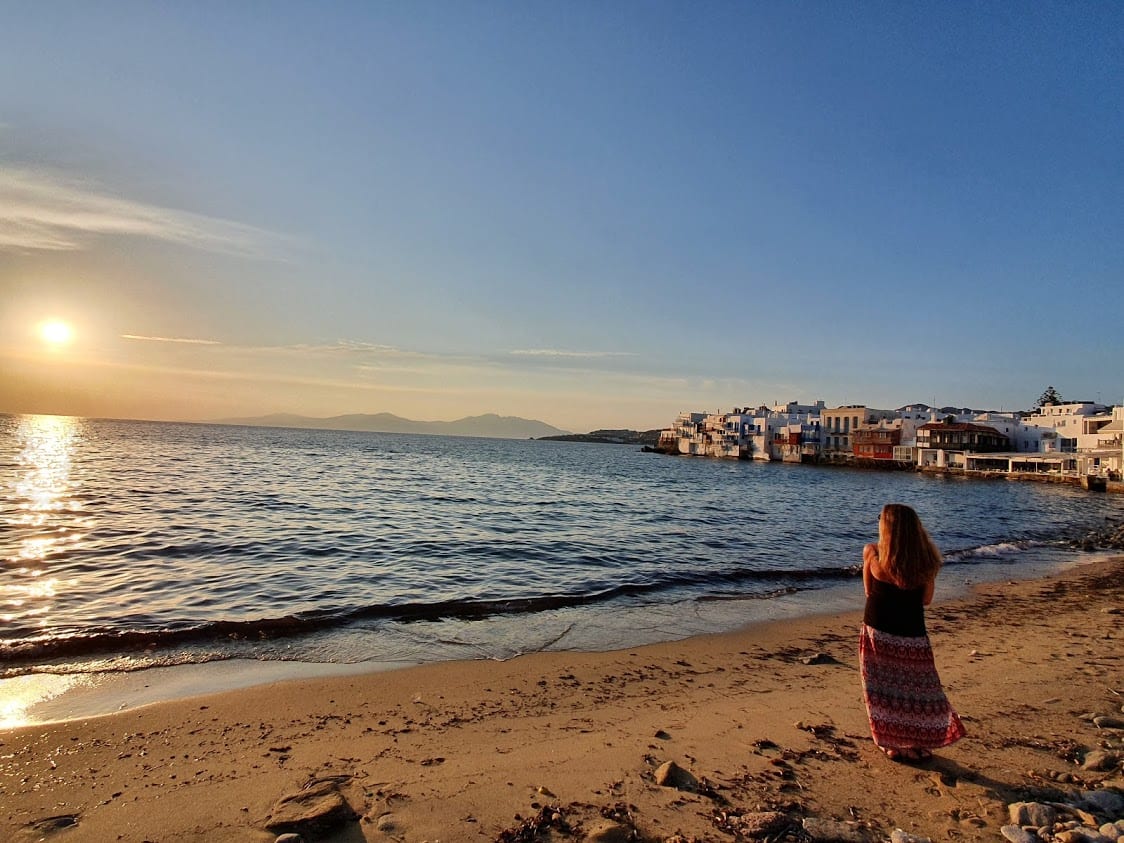 Visit the archaeological site of Ancient Delos
The way Mykonos tours and excursions go, one of the most popular activities is a tour to the nearby Delos island. This is a UNESCO World Heritage site, and is highly recommended if you are considering what to do in Mykonos from a cruise ship.
The small island of Delos, which is just a half hour away by boat from Mykonos itself, was extremely important in Ancient Greece. Delos is where Leto gave birth to God Apollo and his sister Artemis, and as such it was considered a sacred island.
In addition to it being one of the most important sacred places in ancient Greece, it was also an important center for trade and commerce.
It is estimated that Delos was once home to around 30,000 people, which is an incredible number for its size. In comparison, the current population of Mykonos is around than 20,000 people! Today, it is one of the most popular World Heritage Sites in Greece.
This massive archaeological site would need several hours to be fully explored, and much of it hasn't been excavated yet. The most important areas, however, can be visited in about 3 or 4-hours.
You can see the remains of awesome ancient mansions, stunning mosaic floors, the Sacred Way, and the famous marble lions given to the island by the Naxians. Allow for some time in the small Delos museum, which contains several ancient artefacts.
Day Trip to Delos
Small cruise boats depart from the Old Port in Mykonos Town a few times per day, carrying visitors to Delos and back. The journey takes a little over a half-hour.
If you are visiting Mykonos on a cruise, chances are your time on the island will be limited. It's best to book a Delos tour, run by a local tour operator and including a licensed tour guide.
I am very glad that I took a guided tour in Delos. Our guide explained a lot about Delos and the nearby Rhenia island. We also had discussions about the Delian league, the city-states of the time, and the Cycladic civilization in general.
In my opinion, it was the only way for this UNESCO World Heritage Site to come alive.
Cruise around Delos island and Rhenia island
If you prefer to spend longer cruising around the Aegean, it is possible to combine a tour of Delos island with a cruise to the deserted Rhenia. This is another island close to Delos where a lot of ancient ruins have been found. It is currently abandoned, but there are talks of if it becoming an archaeological park in the future.
These sailing tours allow for time to explore the archaeological site of Delos, but also time for a swim off the coast of Rhenia. The Mykonos boat trips to Delos and Rhenia start from Agios Ioannis port and transfer can be included.
Go to a beach in Mykonos
You'll have to judge for yourself if you have time to venture out and see more of the island. If you do, you'll find the famous Cycladic island is a paradise for people who like swimming. There are over 30 beautiful beaches in Mykonos. Depending on your preferences, there will be at least one that you will want to spend some time on.
If you have been to Santorini, you will remember that most of the beaches have grey / black sand. By comparison almost all of the beaches in Mykonos are far better and have soft, powdery white sand, and crystal clear waters.
The closest option to Mykonos Town is Megali Ammos beach. You could even walk there if you wanted. If you are planning to tour the island by car, you could stop here for a quick swim. In our experience, this beach is a great sunset spot.
Another option not too far from Mykonos Town is Ornos Beach. The whole area is a busy resort, and Ornos sandy beach is fully organized with beach bars and cafes. There are also plenty of restaurants all around.
More Mykonos Beaches
People who are interested in beach parties will enjoy Super Paradise beach, which is a beautiful, wide stretch of sand. Unless you go off-season it will probably be quite crowded.
The famous Jackie O club offers amazing views of Super Paradise. This picturesque, gay-friendly bar is known for its drag shows and other similar events.
Paradise beach on the other hand is more low-key. There are plenty of bars and clubs as well as water sports and a diving school. For people thinking to stay longer in Mykonos without breaking the bank, Paradise Beach camping is a popular choice.
Platis Gialos beach has amazing white and golden sand and palm trees, and it feels really exotic. It might be easier to get there on a Mykonos tour, as there is no free parking space.
One of our favourite Mykonian beaches was Kalafatis, a little further out of Mykonos Town. It's one of the few beaches on the island with natural shade, and there are also plenty of watersports. We could easily have spent our whole day in Mykonos right here!
Finally, if you prefer more relaxed beaches and you can take a full-day tour in Mykonos, head to Agrari. While a part of the beach is organized with loungers and umbrellas, some of it is natural and wild. This was one of our top things to do in Mykonos island.
Most of the beaches mentioned above are accessible in some form of public transportation, taxi or private car. However, an easier (and more fun) way to see a few of the beaches is a full-day coast cruise.
Here is a complete guide of all Mykonos beaches.
See the sunset in Mykonos
Wait, what? Isn't Santorini the island where the sunsets are spectacular? Well, Santorini may be more famous for its sunsets, but we found that some of the sunsets in Mykonos were actually better.
Sure, Mykonos does not have a volcano like Santorini, but the Mykonian sunsets are great regardless!
Where to see the Mykonos sunset
One of the most advertised places to see the sunset in Mykonos island is the Armenistis lighthouse. It can get quite crowded in peak season, but the views are beautiful and wild, and feel miles away from the all-night parties.
Walk all the way past Armenistis, and you will feel like you are on the edge of the world.
Another beautiful spot to watch the sunset from in Mykonos is Kapari beach. You can only get there in your own transportation. Turn right after Agios Ioannis church, and you'll then need to drive on a narrow dirt road where you can't reverse. Bonus – you can see Delos in the background.
One of our favourite sunsets in Mykonos was from the beach under the windmills in Chora, just behind the Sea Satin restaurant. The restaurant was closed when we were there, and we were the only people on that small beach. While seeing the sunset from Caprice bar in Little Venice is very high on most people's things to do in Mykonos, we were happier to stay on the quiet little beach.
If sunset views from above are important to you, a great place to go is 180 Sunset Bar. Depending on when you are visiting Mykonos, reservations may be required. Check their website for more information.
Finally, if your schedule allows it, another option is to take a half-day sunset tour to some of the island's beautiful beaches. This is an ideal tour if you want to explore the best beaches of Mykonos island without having to worry about transportation.
Nightlife in Mykonos
The nightlife in Mykonos doesn't really need an introduction. If you are staying 24 hours in Mykonos including overnight, go for a late drink in one of the numerous bars and clubs. Walk around Chora, and discover your own favourite.
Should I visit the monastery of Tourliani in Ano Mera?
Apart from Mykonos town, the island doesn't really have many other villages like Tinos or Naxos do. The only other settlement which is not a tourist resort is Ano Mera, a small inland town.
The main attraction here is the Monastery of Panagia Tourliani. While it's quite impressive, I wouldn't include it in my list of what to see in Mykonos in one day. If you are staying longer, by all means go.
How to get to Mykonos
Mykonos has an international airport. There are several direct flights connecting major European cities with the pretty Aegean island. Alternatively, you can fly to Athens and take a domestic flight.
Another option is to take a ferry from one of the nearby islands or Piraeus, the Athens port. Santorini, Naxos, Paros, Tinos, and many other of the Cyclades are directly connected with Mykonos.
You can take a look at my Mykonos to Santorini ferry guide, as this is one of the more popular connections.
Many people choose to take a normal ferry, which is slower and offers a comfortable trip. Others prefer a high-speed ferry, which is more expensive but takes considerably less time.
Mykonos Shore Excursions
If you've gotten this far and you feel a little overwhelmed, perhaps organized Mykonos shore excursions might suit you. Here are the best of the best:
FAQ About What to do in Mykonos in one day
Many tourists who want to plan their time in Mykonos off the cruise ships ask questions similar to:
Is one day enough in Mykonos?
There are many things to do in Mykonos, but with a well thought out itinerary, you can see most of the major highlights of this beautiful Greek island.
What can I do in one day in Mykonos?
Day trippers to Mykonos will be ale to explore Mykonos Old Town, see the Windmills and Little Venice, have a lovely meal of Greek food, and even have time to see Delos.
Where do the cruise ships dock in Mykonos?
The Greek island of Mykonos is a popular stop on cruise ship tours of the Greek Islands. The majority of cruise ships arrive at the new port in Tourlos, while some cruise ships may dock/anchor off the old port. Make use of the cruise shuttle bus to get from the new port to Mykonos Town.
How much money do I need in a day in Mykonos?
If you are not staying overnight in Mykonos, you'll avoid the cost of a hotel which is the biggest single expense. Cruise passengers should probably allow $100 to $150 per person to cover meal, gifts from souvenir shops, and perhaps a trip to Delos.
Is the Delos Unesco World Heritage Site worth visiting?
Delos is one of the most important archaeological sites in the world. It is the mythical birthplace of the Greek God Apollo, and Delos is well worth visiting as a half day trip from Mykonos (perfect for cruise passengers!).
What to do in Mykonos in 1 day
Feel free to pin this Mykonos one day itinerary to one of your boards on Pinterest for future reference. That way, you'll be able to find it easily for when you finalise your plans to spend one day in Mykonos from cruise ship.
You might also be interested in these other travel guides:
---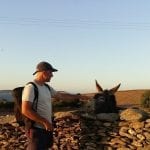 –
Dave Briggs
Dave is a
travel writer
living in and writing about Greece. In addition to creating this travel guide on Mykonos things to do in a day, Dave has also created countless other destination guides about things to see and do all over Greece. Follow him on social media for travel inspiration from Greece and beyond: