Experience more of Mykonos by taking a sightseeing trip or excursion. Here's some amazing Mykonos tours and day trips.
Mykonos Island, Greece
Mykonos is one of the most famous and cosmopolitan islands in Greece. Well known for being a destination for the jetset, it's also popular with people planning a Greek vacation itinerary.
If you're spending a week on Mykonos, you'll have plenty of time to see all the highlights.
If you're spending just a day in Mykonos, taking a shore excursion from a cruise ship, or are there for a few days though, it might make sense to take an organized tour or two. This way, you'll make the best use of your time on Mykonos island.
Mykonos Excursions and Day Tours
Sure, you can spend your days on the beach and your nights in the bars and clubs, but there's so much more of Mykonos to be enjoyed.
I've carefully selected these best tours in Mykonos to give you a better perspective of what the island has to offer. They include sightseeing excursions on the island itself, as well as Delos island trips and boat tours.
From Greek cooking classes to a personal private tour, take your pick of the best and upgrade your vacation in Mykonos from good to amazing!
---
The 10 Best Mykonos Tours
When visiting Mykonos, these sightseeing day trips will take you to the most famous attractions on this exciting Cyclades island.
From walking tours to cooking classes, Mykonos boat trips to visiting archaeological sites, there's something for everyone!
---
Looking for more Mykonos boat tours, day trips, Delos private tours including Rhenia, tailor-made activities, and other shore excursions?
Check out Get Your Guide for more details.
---
Pin these Mykonos Day Trips for later
If you are building up a pinterest board for Mykonos and other islands in Greece, please feel free to add this day trip post by pinning the image below.
FAQ About Mykonos Tours
Readers planning to visit Mykonos often ask questions such as:
How long does it take for a tour of Mykonos?
Three days is the ideal amount of time to spend in Mykonos. You will be able to explore Mykonos Town, visit secluded beaches, perhaps visit Armenistis Lighthouse for an amazing sunset, and take a guided tour of the Sacred island of Delos.
Can you do day trips from Mykonos?
You can take many day trips from Mykonos to other nearby islands. An organized trip to the archaeological site on Delos island is an obvious choice, but you could also take trips to other islands in the Aegean Sea such as Tinos, Syros, Paros and Naxos.
What is Mykonos best known for?
Mykonos is famous for being a cosmopolitan island with beautiful beaches and great nightlife. It is also the main access point to the Unesco World Heritage Site of Delos, which is an uninhabited island nearby.
Can you do a day trip from Santorini to Mykonos?
it is not really practical to make a day trip between Santorini and Mykonos, as the ferries between the two Greek islands do not allow much time for sightseeing.
When is the best time to visit Mykonos?
Late September is perhaps the best time to go to Mykonos, as there are fewer tourists, the weather is still fantastic, and the Meltemi winds than can blow quite strongly in August have died down.
---
Read more:
---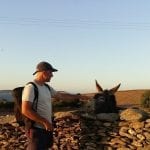 –
Dave Briggs
Dave is a
travel writer
based in Greece As well as creating this guide to Mykonos excursions and tours, he's also written hundreds more travel guides to Greek destinations. Follow Dave on social media for travel inspiration from Greece and beyond: