Experience more of Mykonos by taking a sightseeing trip or excursion. Here's some amazing Mykonos tours and day trips.
Mykonos Island, Greece
Mykonos is one of the most famous and cosmopolitan islands in Greece. Well known for being a destination for the jetset, it's also popular with people planning a Greek vacation itinerary.
If you're spending a week on Mykonos, you'll have plenty of time to see all the highlights.
If you're spending just a day in Mykonos, taking a shore excursion from a cruise ship, or are there for a few days though, it might make sense to take an organized tour or two. This way, you'll make the best use of your time on Mykonos island.
Mykonos Excursions and Day Tours
Sure, you can spend your days on the beach and your nights in the bars and clubs, but there's so much more of Mykonos to be enjoyed.
I've carefully selected these best tours in Mykonos to give you a better perspective of what the island has to offer. They include sightseeing excursions on the island itself, as well as Delos island trips and boat tours.
From Greek cooking classes to a personal private tour, take your pick of the best and upgrade your vacation in Mykonos from good to amazing!
---
The 10 Best Mykonos Tours
These sightseeing day trips will take you to the most famous attractions on this exciting Cyclades island.
From walking tours to cooking classes, Mykonos boat trips to visiting archaeological sites, there's something for everyone!
---
Looking for more Mykonos boat tours, day trips, Delos private tours including Rhenia, tailor-made activities, and other shore excursions?
Check out Get Your Guide for more details.
---
Pin these Mykonos Day Trips for later
If you are building up a pinterest board for Mykonos and other islands in Greece, please feel free to add this day trip post by pinning the image below.
---
Sign up for free Greece Travel Guides
Planning a trip to Greece and the Greek islands? You'll find my free travel guides useful and informative. Get hold of them by signing up below!
---
Read more:
---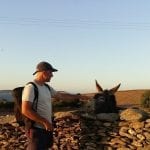 –
Dave Briggs
Dave is a
travel writer
based in Greece As well as creating this guide to Mykonos excursions and tours, he's also written hundreds more travel guides to Greek destinations. Follow Dave on social media for travel inspiration from Greece and beyond: