Experience more of Mykonos by taking a sightseeing trip or excursion. Here's some amazing Mykonos tours and day trips.
Mykonos Island, Greece
Mykonos is one of the most famous and cosmopolitan islands in Greece. Well known for being a destination for the jetset, it's also popular with people planning a Greek vacation itinerary.
If you're spending a week on Mykonos, you'll have plenty of time to see all the highlights.
If you're spending just a day in Mykonos, taking a shore excursion from a cruise ship, or are there for a few days though, it might make sense to take an organized tour or two. This way, you'll make the best use of your time on Mykonos island.
Mykonos Excursions and Day Tours
Sure, you can spend your days on the beach and your nights in the bars and clubs, but there's so much more of Mykonos to be enjoyed.
I've carefully selected these best tours in Mykonos to give you a better perspective of what the island has to offer. They include sightseeing excursions on the island itself, as well as Delos island trips and boat tours.
From Greek cooking classes to a personal private tour, take your pick of the best and upgrade your vacation in Mykonos from good to amazing!
---
The 10 Best Mykonos Tours
When visiting Mykonos, these sightseeing day trips will take you to the most famous attractions on this exciting Cyclades island.
From walking tours to cooking classes, Mykonos boat trips to visiting archaeological sites, there's something for everyone!
A trip to see the UNESCO site of Delos is one of the most popular excursions to take in Mykonos. In the company of an expert tour guide, you will get to explore both the ancient site of Delos and the accompanying museum, learning about its importance to the ancient Greek world along the way.
As a 4 hour morning tour, it still leaves plenty of free time for sun and beach later in the day. Or, you can use your remaining day time to enjoy strolling through Mykonos Town, take windmill photos, marvel at Little Venice.
Click through to find out more about the most popular Delos day trip from Mykonos.
Photo Credit: www.getyourguide.co.uk
If a morning tour isn't quite your thing, don't worry, this evening Delos island tour is just for you! You'll get all the highlights mentioned in the morning tour, only with a slightly later start. So whether you want to spend the day lazing in bed before the night begins, or want to spend time exploring Mykonos Chora, this evening Delos tour makes a good alternative.
Delos is a must-see UNESCO site, and accompanied by a licensed tour guide, you'll get to appreciate the Delian site and its significance in the ancient world.
Photo Credit: www.getyourguide.co.uk
Mykonos can be a busy, vibrant place, but sometimes it's just nice to get away from the crowds. This half day tour does just that, with the tour operator introducing you to the more authentic side of Mykonos.
Picture traditional villages, awesome views, hidden harbours, and secret beaches. Perfect for anyone that wants to see more of the island, and show some variety on their Instagram feed!
Photo Credit: www.getyourguide.co.uk
Greek food is one of the most underrated cuisines in the world, and this cooking class is the perfect opportunity to get hands on and discover for yourself what it's all about. Learn about Mykonian culture and tradition, prepare tasty local snacks, and enjoy it all with a relaxing drink and friendly company.
The Mykonos cooking class is particularly suitable for families. Find out more about this Mykonos tour by clicking the button below.
Photo Credit: www.getyourguide.co.uk
A jeep safari in Mykonos? Yes, you read that right! This is a fun day trip in Mykonos, especially if there is a small group of you or you are a family. This full day tour reveals the dramatic and rugged landscape of Mykonos island at its finest, and you'll get to explore the off the beaten path attractions along the way.
For the full tour description, use the button below.
Photo Credit: www.getyourguide.co.uk
If water sports are your thing, but you've never tried scuba diving before, there's no better place than Mykonos! This taster course for beginners takes you through the basics, and also gives you the chance of an open water dive.
The underwater photos you'll get of this experience make it one of the best Mykonos tours to choose from!
Photo Credit: www.getyourguide.co.uk
It's often said that a view looks much better once it has been earned, and that's what this hiking activity in Mykonos is all about. Explore the rugged Mykonos landscape with a qualified guide, who will escort you through the countryside.
This tour is suitable for people staying on the island for a few days, as well as those just dropping by Mykonos on a day excursion from a cruise ship.
Photo Credit: www.getyourguide.co.uk
It's time to discover the rural side of Mykonos with this evening farmhouse tour. Drive through a picturesque village and then spend time on the farm. There's no better way to find out about the history and culture of the island, and you'll also get to taste local snacks and sip a little raki as well!
Great for families or anyone who just wants to see a more authentic side to Mykonos that is so rarely advertised.
Photo Credit: www.getyourguide.co.uk
There's plenty of Mykonos boat tours to choose from, but this is one of the best. Consider this day cruise as a chance to go beach hopping, with the bonus of being able to swim in different stunning locations thrown in for good measure.
Some of the beaches you'll visit include Elia, Super Paradise, and Paradise. Worried you'll get hungry along the way? No need - the BBQ will be one you'll remember for years to come!
Photo Credit: www.getyourguide.co.uk
What better way to end the day, than with a sunset cruise? You'll sail along the Aegean, admiring the coastline as you wait for the sky to change colour. With a glass of wine in hand, and the sea breeze on your face, this sunset cruise in Mykonos is perfect to share with a loved one.
Find out more about this boat trip by using the button below.
---
Looking for more Mykonos boat tours, day trips, Delos private tours including Rhenia, tailor-made activities, and other shore excursions?
Check out Get Your Guide for more details.
---
Pin these Mykonos Day Trips for later
If you are building up a pinterest board for Mykonos and other islands in Greece, please feel free to add this day trip post by pinning the image below.
FAQ About Mykonos Tours
Readers planning to visit Mykonos often ask questions such as:
How long does it take for a tour of Mykonos?
Three days is the ideal amount of time to spend in Mykonos. You will be able to explore Mykonos Town, visit secluded beaches, perhaps visit Armenistis Lighthouse for an amazing sunset, and take a guided tour of the Sacred island of Delos.
Can you do day trips from Mykonos?
You can take many day trips from Mykonos to other nearby islands. An organized trip to the archaeological site on Delos island is an obvious choice, but you could also take trips to other islands in the Aegean Sea such as Tinos, Syros, Paros and Naxos.
What is Mykonos best known for?
Mykonos is famous for being a cosmopolitan island with beautiful beaches and great nightlife. It is also the main access point to the Unesco World Heritage Site of Delos, which is an uninhabited island nearby.
Can you do a day trip from Santorini to Mykonos?
it is not really practical to make a day trip between Santorini and Mykonos, as the ferries between the two Greek islands do not allow much time for sightseeing.
When is the best time to visit Mykonos?
Late September is perhaps the best time to go to Mykonos, as there are fewer tourists, the weather is still fantastic, and the Meltemi winds than can blow quite strongly in August have died down.
---
Read more:
---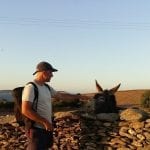 –
Dave Briggs
Dave is a
travel writer
based in Greece As well as creating this guide to Mykonos excursions and tours, he's also written hundreds more travel guides to Greek destinations. Follow Dave on social media for travel inspiration from Greece and beyond: