The best beaches in Mykonos include Platys Gialos, Paradise Beach, Super Paradise Beach, and Ornos Beach to name just a few! This guide to the best Mykonos beaches will help you choose which beautiful stretch of sand you want to relax on during your Greek island vacation.
From organized beaches to wild coves, here's everything you need to know about the Mykonos best beaches.
Best Beaches Mykonos
Beginning from Chora Mykonos, and going counterclockwise, here are the best beaches in Mykonos.
Best Mykonos beaches for partying – Paradise, Super Paradise, Paraga, Psarou
Best beaches in Mykonos for water sports – Ftelia, Korfos, Kalafatis
Best Mykonos beaches for families – Panormos, Agios Stefanos, Lia
Best beaches in Mykonos to avoid the crowds – Kapari, Fokos, Mersini, Merchias, Tigani, Loulos
Mykonos in Greece
The Greek island of Mykonos has achieved an almost mythical status as the Mediterranean paradise the jetset choose to vacation. The party scene is legendary, and for some it's a place to see and be seen.
There's a reason why Mykonos became famous in the first place though…
The island is blessed with impossibly beautiful beaches. They all seem to offer clear, transparent water under the blue summer sky. Most of them are long stretches of sand, while just a couple of them are pebbly.
From a distance, the waters reflect shades of blue as the sun basks down. Private yachts moor in bays, and each one seems more stunning than the next.
Sounds good?
This guide to the best Mykonos beaches has been written so you can pick and choose which ones to spend your time on. If you have a week or more on Mykonos, you can visit them all!
Related: Best Greek Islands For Beaches
Mykonos Travel Information
Before we dive into details, here's a few recommendations to make your Greek vacation travel planning a little easier.
Ferryhopper – If you need to book a ferry between Greek islands, this is the best place to check schedules and book e-tickets online.
Booking – Looking for accommodation in Mykonos? Booking helps you easily find, compare, and book hotels and villas online.
Get Your Guide – Sometimes, the best way to see a destination is in the company of a local guide. Get Your Guide have a range of tours and activities you can check out.
Revolut – Say goodbye to terrible exchange rates, and get yourself a Revolut travel card!
And a few more specific travel guides:
What are the beaches like in Mykonos?
The majority of the beaches in Mykonos are organised with loungers, umbrellas and beach bars, and they are great for people who enjoy partying and socializing. Psarou, Paradise, Super Paradise and Ornos are some of the busiest beaches.
At the same time, it is actually possible to find hidden spots and secluded corners if this is what you are after. You will just have to drive around and look for them (using this guide, of course).
While Mykonos doesn't have as many beaches as Milos or Andros, there are still well over 30 beaches and coves on this beautiful island. You will need several days to explore them all.
Note: We visited Mykonos in June 2020, to research this article. It's a tough job, but someone has to do it!
The island was still preparing for the season, and as such, the loungers and umbrellas had not yet been put on most of the beaches we visited. We were lucky to experience this beautiful island without the crowds, and all our photos are from that time.
How to get to the beaches in Mykonos
You can get to all of the beaches in this article in your own transportation. Free parking can be tricky in some cases, especially if you have a car. It is easier to find parking space for a quad or scooter.
Like in most of the Cyclades, the roads are winding and pretty narrow. Unless stated otherwise, all roads leading to the beaches are paved, so you can easily get there in any type of vehicle.
For people who don't have their own transport, buses from Chora and boats from Platis Gialos run frequently to most of the southern beaches. You can check the local bus website for updated route information.
Island of the Wind
One of the things that most people find out about Mykonos (only when they are there!), is that it can be quite a windy island. This is due to the Meltemi winds.
If it's windy when you visit, it might make sense to choose to spend time on beaches that are protected from the winds.
As a rule, the beaches on the south are more popular than the ones on the north. When the strong meltemi winds start blowing in summer, they are still fairly protected. This is where some of the best clubs in Mykonos are, and the parties go on pretty much 24/7.
If you are looking for secluded beaches, or you are after a bit of adventure, head to the north beaches instead. Just be prepared for big waves when it's windy.
Here's some more information for all of the beaches in Mykonos Greece.
Town beach
Marked on some maps as Dagkou, this is a small beach right next to Chora. On Google Maps, you will find it as "Paralia Choras Mikonou", just a stone's throw from the Old Port.
You will see locals swimming here, and it's good for a quick swim, though not exactly impressive by Mykonian standards.
Chora – Megali Ammos
If you are staying in Chora, this is the closest option. There are a few umbrellas and loungers as well as free space.
Megali Ammos is suitable for wind surfing, kite surfing, and even snorkelling. Because of its orientation, it's quite open to the northern winds. It's also great to watch the sunset and the beautiful views to the Aegean.
There is paid parking space closeby. If you are staying in Chora it may be easier to just walk as you could be here in five or ten minutes.
Mykonos Beach Hotel is located right here. It's an option worth considering if you want to be close to the town, but still be able to avoid the crowds.
Korfos
Korfos is a long stretch of sand within a closed bay. Like Megali Ammos, it is mostly suitable for wind surfing, as it faces north and the water is fairly shallow. Wave riders and surfers will love it!
Korfos is only 2,5 kms from Mykonos Town, and free parking space is available. Ornos beach, which faces south, is very close.
Kapari beach
A small beach barely marked on some maps, Kapari is a "secret" beach, visited by locals and people who like exploring. It's got fine golden sand and no amenities. In our experience, it was a little too crowded when we went there.
Kapari can be approached through a dirt road, to the right just after Agios Ioannis church. The road is fine, but it gets too narrow towards the end, and there is no place to turn around if you have a car.
Scooters or motorbikes will easily get to the end of the road. After leaving your vehicle, you will need to walk on a steep path to reach the beach.
Try and stay for sunset if you can, and enjoy the best views of the sacred island, Delos.
Agios Ioannis beach
This is a fairly cosmopolitan beach, looking towards the south-west. There are plenty of hotels and restaurants offering sunbeds and umbrellas. Still, Agios Ioannis is fairly quiet by Mykonos standards.
If you are driving towards Agios Ioannis, you will have an impressive view towards Delos. The beach is about 3,5 kms from Chora, and there is limited parking space if you have your own car. Alternatively, you can use one of the frequent buses.
If you happen to be in Mykonos in September, try to catch the feast (panigiri) of Agios Ioannis on September 26.
Glyfadi
This is a small private beach, on the southern tip of the peninsula between Agios Ioannis and Ornos. It is not marked on Googlemaps, but it's close to the boutique hotel Casa Del Mar Mykonos.
If you are staying in the area, you can enjoy this small, secluded bay. Don't forget your snorkel.
Ornos
A stone's throw from Korfos, you will find the sheltered Ornos beach looking to the south. It is a popular beach with dozens of sunbeds and umbrellas. Ornos has several hotels, restaurants, tavernas and bars that are open pretty much at any time. There is also a diving school.
To the left of Ornos beach there is a fishing port, and you can see the fishermen sitting around.
Transportation to Ornos from Mykonos Town is fairly regular. If you have your own vehicle you will find that parking space is limited at certain times of the year.
Ornos is a very popular place to stay, and you will find many rooms and villas all around. We stayed in Pleiades apartments, which is conveniently located and walking distance from both Korfos and Ornos beaches.
Psarou beach
Psarou beach has been very cosmopolitan for many decades. Jetsetters and "normal" people have been visiting from all over the planet.
This pretty beach is fully organized, with loungers, umbrellas, food, drink and showers. There are also water sports and a diving school. Warning – it's an exclusive beach, and it comes with exclusive prices. All in all, this is not my cup of tea, and it's definitely not for someone looking to relax, especially in peak season.
This is where the luxurious KENSHŌ Psarou and Mykonos Blu hotels are located. They are both beachfront and offer modern, comfortable suites and spa facilities.
Psarou is about 4 kms from Chora, and all parking space is owned by the clubs and resorts.
Platis Gialos Beach
Platys Gialos is often considered the best beach in Mykonos, with crystal-clear waters and a convenient starting point to discover other beaches.
Platis (or Platys) Gialos, literally meaning "wide coast", is one of the most touristy beaches in Mykonos. The nice sandy beach is surrounded by hotels, including the Lyo Boutique Hotel and the Nimbus My Aktis Hotel.
It has some nice restaurants, and is ideal for families with children. The sand is like fine white powder, and the whole setting reminded us of the Caribbean! However, it can get crowded in July and August.
Distance from Chora is about 4 kms, and free parking space is virtually non-existent. There are frequent bus connections to other areas of the island. This is where small boats depart from, going to other southern beaches – Paraga, Paradise, Super Paradise, Agrari and Elia.
Agia Anna – Paraga beach
These two beaches are almost side by side. Agia Anna, looking to the west, is small, quiet and pretty, with just a few loungers and umbrellas. Paraga beach, facing south, is home to one of the two campsites in Mykonos.
If you are looking for a budget vacation in Mykonos, this campsite could be a good option. There is an on-site restaurant and mini-market, and there is free transportation from the port.
Paradise Beach (Kalamopodi)
Originally known as "Kalamopodi", Paradise beach became popular since the first hippies arrived. There are plenty of rooms for rent, as well as Paradise Beach Camping.
There are many beach bars, one of the most famous being Cavo Paradiso. Parties happen here on a daily basis, from late in the afternoon till early in the morning.
In addition, there are water sports and one of the oldest diving centres on the island, Mykonos Dive Centre, offering snorkeling and scuba diving.
Paradise beach is about 5.5 kms from Chora, and there is regular transportation if you don't have your own. Alternatively, you can use the water taxis from Platis Gialos.
Super Paradise (Plintri)
The famous Super Paradise doesn't need much introduction. It's one of the best beaches in Mykonos, and in fact the whole of Greece, for people who like to party. Some of the best clubs in Mykonos, like Jackie O, can be found in this area.
In fact, Super Paradise is one of the first beaches that became famous for its endless party atmosphere. Celebrities, eccentrics, VIPs and everyone who wants to see and be seen needs to pass by Super Paradise during a vacation in Mykonos.
Super Paradise is 7 kms from Chora. You can drive, take a private bus or take the water taxi from Platis Gialos.
Agrari Beach
If you are not a party person, Agrari beach might be one of the best beaches in Mykonos for you. It's pretty, great for swimming, and there are many amenities in terms of tavernas and bars, without the extreme party scene. Water sports are also available.
This was one of our favourite beaches in Mykonos, especially as we saw it without the crowds or any of the sunbeds. The road to Agrari is in great condition and there is plenty of parking space.
Elia beach
Elia beach, literally meaning "olive tree", is one of the best beaches in Mykonos if you are looking for natural beauty combined with upscale restaurants and other amenities.
The long sandy beach is often frequented by VIPs. There's a very open-minded vibe here, and as such the beach is preferred by nudists.
Access is easy in your own car or by bus, and the 8-km drive from Chora is very straightforward. Alternatively, is the last beach you can reach on water taxis from Ornos.
Kalo Livadi
One of the longest beaches in Mykonos, Kalo Livadi is another popular beach with many bars and tavernas and lots of live music. There are loungers and umbrellas, showers and water sports, but also plenty of free space to put your own towel.
The beach is easily accessible by your own vehicle, bus or taxi. Depending on the time of year, the water taxis from Ornos might come here – check their website for up-to-date information.
Loulos
For people who are tired of partying and are after some peace and quiet, Loulos is one of the best beaches in Mykonos. It's a pebbly beach with crystal-clear waters, which feels miles away from Kalo Livadi, even though it's walking distance!
You can either walk here from Kalo Livadi, or drop your car at Mykonos Pantheon hotel and follow the path. This is a non-organized beach, so make sure you bring everything you need with you, including water, snacks and shade.
Agia Anna Kalafati
Not to be confused with Agia Anna Paraga, this small south-facing beach is full of loungers and umbrellas. There is a surfing and diving school, and a few restaurants.
Agia Anna is accessible in your own car, or by public transportation. There is parking on the road, but it might be difficult to park at busy times of the year.
Kalafatis
A 500-metre-long sandy beach, Kalafatis has been continuously awarded with the prestigious Blue Flag for many years. It is one of the few beaches in Mykonos with trees offering some much needed shade, especially in the evening.
Kalafatis is great for water activities – you can rent bananas, tubes, wakeboards, SUPs, jet skis and water skis. However, one of the best water sports to try in Kalafatis is windsurfing.
There are several tavernas and beach bars for all-day fun and relaxation, without the party vibe of Paradise and Super Paradise beach.
The small Divounia peninsula nearby is interesting to explore, especially if you are after unique sea views and fishing harbours. Human settlements have existed here for thousands of years. You can go to Taverna Markos for fresh fish and organic vegetables.
You can easily reach Kalafatis and Divounia in your own transport of by public bus.
Lia beach
Not to be confused with the upscale Elia beach, Lia is the last south-looking organized beach in Mykonos. The rocky landscapes surrounding this sandy beach highlight its natural beauty. The water is crystal clear, and there is a scuba-diving / snorkelling centre and a beach bar – restaurant.
Lia beach has plenty of umbrellas and loungers, showers, tavernas, a beach bar and all other amenities. It is one of the best beaches in Mykonos if you are here with family.
You can get here either in your own vehicle or by taxi, and the road is paved and in good condition. Lia is about 12-14 kms from Chora.
Tsagaris – Fragias
Not far from Lia, you will find two of the best beaches in Mykonos if you want some quiet time. Tsagaris, marked as "Mini Lia" on Googlemaps, is the first cove to the east of Lia, while Fragias is further east. Fragias is privately owned and used to be inaccessible.
Both of these beaches can be approached through a dirt road, or on foot. There are no amenities, so you need to take everything you want with you.
Tigani
Literally "pan", this east-looking beach is as remote as it gets. It is accessible through a dirt road, which might not be everyone's cup of tea! Make sure you bring everything you need with you, including shade, water and snorkelling gear.
Vathia Lagada
Another remote beach, where you will probably find yourself on your own, especially if you visit in low season. It's a small, wild beach facing north-east, and as such would be affected by the strong meltemi winds.
The landscape is very dramatic, though the beach itself isn't as pretty as some of the other beaches in Mykonos.
Vathia Lagada is 15 kms from Chora, and you can only access it by 4WD followed by a short hike, or by sea. If you are driving, make sure your car is fit for this road. On the way there, you will see a tomb for mining workers who died of respiratory problems.
Merchia or Merchias
Another secluded sandy beach, Merchia is pretty good for snorkelling, as the water is deep and there are plenty of rocks all around. Like the other northern beaches, it's best avoided when the winds are strong.
To the right side of the beach, you will see some fishermen's houses, that are miles apart from the developed Chora. In addition, you will see the small St Nicholas church.
If you walk – or swim – towards the right of Merchias, you will discover another hidden beach in a protected bay. This is called Tragomantra, and it's not marked on Googlemaps. There is also another small beach to the left, where you can easily swim to.
You can approach Merchia through a dirt road in great condition. Although there is some natural shade, it's best to bring your own, along with everything else you will need for the day. Mobile phone reception is virtually nonexistent, so you can take this opportunity to relax!
Fokos Beach
Another off-the-beaten-track beach, Fokos is a sandy beach inside a closed bay facing north-east. The landscape is very different from the rest of the island, and the water is crystal-clear.
There are no umbrellas and loungers, so bring your own shade as there is practically none.
Fokos is about 13 kms from Chora, and can be approached through an easy dirt road. You will also see Fokos dam on the way. Mobile phones may not operate here, so make sure you've checked the map earlier.
Mersini
Close to Fokos, you will find Mersini beach, which has similar orientation. Mersini is divided in two, with a range of rocks right in the middle. It's better to have some proper shoes if you want to explore both sides of the beach.
Mersini is supposed to be a nudist-friendly beach, however we didn't see any signs of it when we were there.
You can get here in your own vehicle, through an easy dirt road. Distance from Chora is 13 kms.
Ftelia beach
Ftelia is a long sandy beach right in Panormos bay. Because of its northern orientation, it's often affected by the strong meltemi winds, which makes it very popular with surfers and kite surfers. On a non-windy day though, it looks like a lagoon. A series of rocks divides the beach in two, and both sides are equally beautiful, while the landscape is pretty unique.
If you like ancient Greek history, you will be delighted to know that remains of an ancient town dating from 4,500 BC were found on Ftelia beach. In addition, Aias of Lokros, the mythical hero of the Trojan War, is said to have been buried here.
You can reach Ftelia in your own vehicle, and there is plenty of free parking space. There are a couple of tavernas and cafes to the left of the beach.
Panormos beach
Another sandy stretch in the large bay with the same name, Panormos faces northeast. It used to be quite secluded, but has gained popularity over the years. There is a beach bar, Principote, but also plenty of free space to put your own mat if you like their loud music. There's a second smaller beach to the north.
Panormos seems to be fairly popular with people of all ages, including local families and seniors. People who don't like the crowds of the southern beaches will appreciate it.
This is an easy 4,5 km drive from Chora, and is easily accessible in your own vehicle, though parking might be tricky.
Agios Sostis
Agios Sostis is one of the longest, prettiest beaches in Mykonos. It's a natural beach, without umbrellas, loungers or any other services on the beach. If Paradise beach is your thing, you probably won't be very happy here.
In the past, Agios Sostis was one of the best known beaches in Mykonos if you were a nudist or a free spirit. The vibe seems to remain, and it's ideal if you want to chill, relax and enjoy nature. That said, it can get busy with like-minded people, especially later in the afternoon.
To the left of the beach, you can find Kiki's taverna, which used to be secret but now you can read about it pretty much everywhere.
You can reach Agios Sostis in your own vehicle or a taxi from Chora, and then a short walk down a steep path.
You can find several coves all along the shoreline from Panormos to Agios Sostis and further north. Not all these beaches have names, but they are all small and quiet. If you take a trip with Mykonos Kayak, they will show you around this wild, unspoilt part of Mykonos.
Choulakia
Choulakia is a small, pebbly beach with great sea views towards Syros and Tinos. The round pebbles known as "choulakia" are unique in Mykonos, and this type of pebble doesn't exist anywhere else in the world. As such, it is prohibited to collect them from the beach. To be fair, we didn't find them so special!
In any case, it is worth visiting if you want to enjoy a quiet sunset over the Aegean. Choulakia is only 4km north from Chora. Drive a little past it, and you will reach Armenistis Lighthouse, for some beautiful sunsets.
Agios Stefanos
Agios Stefanos is one of the most popular beaches in Mykonos. Offering wonderful views of Delos and Rinia, it is protected from the northern winds.
Alongside the beach there are several tavernas, cafes and mini markets. The wider area is very developed with hotels, villas and rooms to let. It is one of the best beaches in Mykonos for families.
Agios Stefanos is walking distance from Tourlos, the New Port, and only 3 kms north of Chora. If you don't have your own vehicle, there are regular buses.
How to find a nice beach in Mykonos – FAQ
Readers who are planning a trip to Mykonos and for whom finding a picturesque beach is a priority often ask questions similar to:
Which is the nicest beach in Mykonos?
Platis Gialos is often considered to be the best beach on Mykonos. It's nice and wide, has plenty of facilities, and you can take a water taxi from Mykonos Town.
What is the most family friendly beach in Mykonos?
It might surprise you to know that Mykonos has a number of family friendly beaches to choose from such as Ornos, Agios Stefanos Beach and Platys Gialos beach.
Does Mykonos have sandy beaches?
Yes, Mykonos has plenty of sandy beaches. In fact it's one of the reasons the island became popular in the first place in the 60s.
What is the closest beach to Mykonos Town?
Paralia Choras Mikonou is the closest beach to the Old Town, and is within easy walking distance just to the north. It's not a big beach, but is popular with locals and visitors alike who just want a quick swim. To the south of Mykonos Town you can find the bigger Paralia Megali Ammos.
How do I get to Super Paradise Beach?
Super Paradise Beach is located about 7kms from Mykonos Town. You can reach the beach by private bus and water taxi. If you have a vehicle, you can also drive there.
---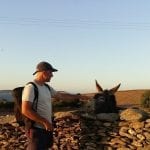 – Dave Briggs
Dave is a travel writer who's been living in Greece since 2015. In addition to writing this guide on finding a wonderful beach (which most beaches are!) in Mykonos, he's created hundreds of travel itineraries and blog posts about Greece which you can find here on Dave's Travel Pages.
Follow Dave on social media for travel inspiration from Greece and beyond: