This guide to the best Santorini beaches will help you choose between organized beaches and secluded coves for peaceful swims. Here's the top beaches in Santorini.
Santorini in Greece
The Greek island of Santorini is one of the most famous destinations in the world. The blue-domed churches, whitewashed buildings and sweeping views to the Aegean Sea make it a must-visit during a vacation in Greece.
After living in and writing about Greece for 5 years, I've been fortunate to have visited Santorini many times, and so created this guide to the beaches in Santorini.
As I begin though, this first section might seem to go against what you have read about the beaches of Santorini.
Does Santorini Greece have good beaches?
If you've ever read that Santorini has great beaches, you can take it from me that the writer has either never visited Santorini, or has no idea what a good beach is!
In short, Santorini does not have good beaches. Unique? Yes. Interesting? Yes. Nice enough for a swim? Yes. Awarded with the prestigious Blue Flag? Yes. Beautiful beaches? Debatable. But good beaches? No.
This is because there are not many sandy beaches in Santorini. The material on the beaches can best be described as dark volcanic grit or pebbles.
Sure, they look ok on photos, but compare them to the beaches of Greek islands such as Mykonos, Milos or Naxos, and you'll quickly see that Santorini is playing in the lower divisions. In fact, this should help explain why so many hotels in Santorini have their own pools.
That's not to say you shouldn't try out any of the Santorini beaches when you're there. I'm just saying don't book your holiday in the expectation you are going to a beach paradise. Santorini's charms are elsewhere.
Related: Best Greek Islands For Beaches
Why visit Santorini beaches?
So if the beaches aren't fantastic, why did I write this travel guide? Great question!
Basically, all I'm saying is don't visit Santorini if you are looking for a perfect beach destination. By all means go for other reasons, such as the sea views and setting, or even the reputation.
If you are visiting in peak season though, you'll definitely want to go for a swim! It can get very hot in Santorini in summer. A dip for a few hours in late afternoon is a good way to cool down before heading out to one of the sunset spots.
Also, you're on holiday in Greece. It's your duty to go swimming!
Related: How to keep valuables safe at the beach
How to get to the Beaches in Santorini
If you don't have a car rental or quad, you'll find many of them are accessible by an inexpensive bus from Fira. To get to others, you will need some form of transportation though, like a car, quad, scooter, your own two feet, or a bicycle. At least one you can only get to via the sea.
After spending many days driving around the island and trying them all out, here's a selection of the best Santorini beaches you can visit. It was a difficult assignment, but someone had to do it!
By the way, this guide may also help you: How to get around Santorini
Best Beaches in Santorini
Here's a list of Santorini beaches, beginning from Kamari and going anti-clockwise.
Kamari Beach Santorini
On our last visit to Santorini, we decided to stay at Kamari, a Santorini beach resort on the east coast.
This was a good choice for us as we had our own transport, and wanted to explore the famous Greek island over the course of a week. It also gave us the option for a later afternoon swim!
By the way, I've a guide here on Where to stay in Santorini that goes into detail on each area, as what was best for me may not be best for you.
In July, when the days are long, we found the best time to swim at Kamari beach was between 16.00 and 18.00. This gave us enough time to shower, change, and then head out to sunset spots later on. (Sunset in July in Santorini can be after 20.30).
Going for an early morning swim at Kamari Beach was also a nice start to the day – and the sunrise was pretty awesome!
What is Black Sand Beach Santorini like?
You'll often find Kamari described as a "black sand beach with pebbles". We found it more like a very dark gritty beach with many pebbles! Still, the 'sand' was deep enough to set up a sun umbrella we had brought with us for shade.
A note on the black grit – It really retains the heat! If you don't want to pay for the use of an umbrella, it's best to set up on the shoreline so you don't have to walk too far barefoot on the black sand.
On still days, you can hire paddle boards and even pedalos for the kids! Vanessa went for a couple of snorkels there, but there wasn't much of interest in the way of fish or marine life. The sea water is relatively clear, but nothing like in most of the other Cyclades.
Facilities at Kamari Santorini
The beach front itself is organized, which means you'll find many umbrellas. If you don't have your own shade, you can pay to use them. Even better, look for places where you just buy a coffee or snack and use the umbrellas for free.
There's a nice promenade lined with cafe-bars and restaurants all along the beachfront, so you won't go hungry or thirsty! The far north side, which is closer to the airport, is also known as Avis, and is ideal for windsurfing.
Kamari Resort Area
Behind Kamari beach, you'll find the village of Kamari which is a resort area. There's plenty of Kamari beach hotels, along with places to eat and drink and all kinds of tourist shops.
If you're staying in Kamari, there are a few supermarkets, with one slightly larger one with more items to shop at. As Santorini is a small island, you can get from Kamari to other parts of the island pretty quickly, depending on traffic.

Perissa Beach Santorini
Perissa black sand beach is one of the most popular in Santorini. You will find the same mix of black sand and pebbles as in Kamari beach.
Along the coast, there are plenty of cafes, restaurants, beach bars and other tourist facilities. Water sports and a diving school are also available. There are plenty of hotels and rooms to rent, including a few with luxurious suites, spa facilities and outdoor pools.
A long asphalt road where you can walk or drive with your vehicle passes right next to Perissa. Note that the road is closed to traffic from the early afternoon onwards. If you come here in your own transportation and are planning to stay for a few hours, make sure you park somewhere else.
The far north side of Perissa beach is sheltered by Mesa Vouno (Inner Mountain), on the other side of which is Kamari. Up the top of the hill, you will find the archaeological site of Ancient Thera.
In our experience, this area is the most protected from the winds, while it's also the most sandy. As a result, it's more popular with visitors and there are several holiday beach resorts all around.
Going into the sea in Perissa Santorini isn't always smooth, as there are big stones and rocks in many areas. I didn't find it particularly welcoming, though some of the beach bars were quite attractive and cosmopolitan.
Continuing all the way south, you will find Perivolos beach, which is really the natural extension of Perissa.

Perivolos Beach
Walk or drive along the beachside road, and at some point you will notice a couple of signs marking Perivolos Beach. To be honest, I wouldn't know the exact point where Perivolos begins, as the whole coast looks pretty much the same.
The pattern remains similar – black pebbles, dark sand, beach bars, restaurants, ice-cream shops. There is also a big water sports company where you can rent equipment for a few hours.
We were on Perivolos Beach at the hottest time of the day, and the black beach felt unpleasantly warm. I guess this is why many visitors want to stay in a hotel with a pool bar!
The pretty Emporio village is only a short drive from Perivolos. It's definitely worth a visit, and you can have a meal or drink after you've finished exploring.

Agios Georgios
At the southern end of Perivolos Beach, you will find an area called Agios Georgios. This is a part of the coastline that is less organized than Perivolos, and isn't as popular.
If you are looking for somewhere quieter, but still not far from facilities, head here for a few hours. As for accommodation, there is a range of budget hotels and rooms to rent. In addition, there are a few high-end hotels and suites in this area, offering spa facilities and pools.

Vlychada Beach
Vlychada is a long stretch of volcanic sand, facing south. Its orientation means that it should normally be well protected from the meltemi summer winds.
This wasn't the case on the day when we visited, and swimming there would have been a challenge.
Although you will generally find some facilities like umbrellas and loungers, there is normally quiet space if you have your own equipment.
The shoreline and landscape are quite dramatic, with wild volcanic cliffs. You will also notice the Tomato Industrial Museum – you can't miss it!
There are very few daily buses to Vlychada from Fira, so it may be easier to come here in your own vehicle. On the plus side, it's not as crowded as Kamari or Perivolos, so it could be a good option during the peak season.
If you want to do something quite unique, you can go on a fishing trip from Vlichada!

Eros Beach
A short drive from Vlychada, you will find Eros Beach. The dramatic landscape with the white cliffs behind it, makes a good contrast with the gray sand beach.
Eros was the god of love in Ancient Greece, and in fact "Eros" means "romantic love" in Greek. Therefore, you should expect this beach to be quite romantic! Theros bar looked like a nice place for sunset views, if you don't care about being right on the caldera.

Almyra
If you are looking for something really quiet and secluded, try finding Almyra. We didn't have time to go ourselves, but we know you have to follow a dirt road. There is also a small taverna there, serving fresh fish and vegetables from their own garden.

Red Beach
Without a doubt, the Red Beach is one of Santorini's unique trademarks. There are many black beaches, but only one Red Beach! Known in Greek as Kokkini Paralia, it's very close to the Ancient Akrotiri archaeological site.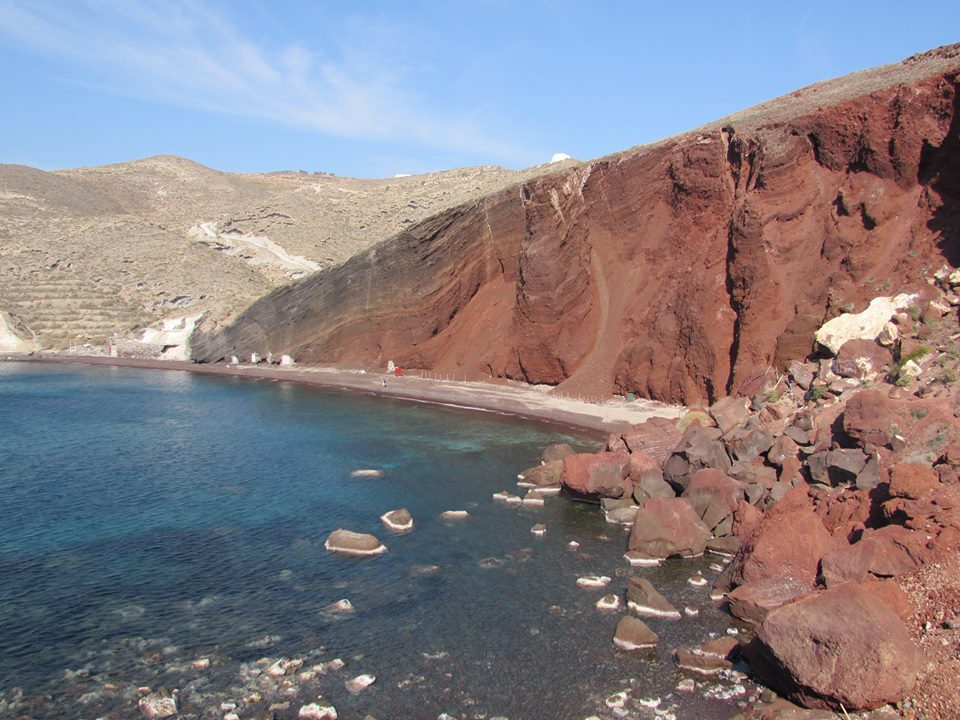 In all honesty, swimming here isn't all that special. The landscape, though, is quite unique and dramatic making it one of the best beaches Santorini.
You can reach Santorini Red Beach after a short hike. In spring 2020 there were landslides, so the area was cordoned off, but many tourists were going there regardless.
Find out more about Red Beach Santorini.

Kambia (Kampia)
This lesser-visited cove lies between two of the best-known beaches, Red and White Beach. You can drive all the way here with your own vehicle, and leave it at the parking area. To us, it felt like we were driving through rugged, dusty farmland!
On the beachfront, a taverna rents out sun-beds and umbrellas, and of course also sells food and drinks.
In my opinion, the real bonus to coming down here, is the narrow pebbly shoreline to its left. Walk along for 5 minutes and you will be greeted with a unique view of Red Beach.
You'll also find a tree here for shade. As we were very much on our own on that day, I took full advantage to doze off for a few minutes! You can easily swim to the Red Beach from here, which is what Vanessa did.

White Beach Santorini
Unless you are a mountain goat, the White Beach, or Aspri Paralia can only be reached from the sea. To do this, you can take a taxi boat from near Red Beach, visit on a Santorini boat tour, or take a kayaking trip.
There are plenty of sailing trips and catamaran cruises that include White Beach in their itinerary. It's the best way to explore the clear waters in the area.
If you are feeling energetic and the weather is calm, you can also swim there from Kambia. Unlike other areas on the island, the water was crystal-clear when we visited. Mind the currents!

Mesa Pigadia, Akrotiri
Given the popularity of Santorini and its relatively tiny size, you might think that quiet hidden beaches would be elusive. Not so on the less developed south-west coast of the island though.
This one might be the true hidden gem of this coastline. It's a low-key, short stretch of black sand and stones, accessible via a dirt road, or by boat.
This is great if you want to escape the crowds and get away from the more organised beaches. You'll also find the family-run Mesa Pigadia Taverna, serving delicious food in a peaceful setting.
Trekking Hellas also have a stall, and organize kayak trips along the coast. Even if you haven't tried kayaking tours before, you will have great fun! Choose from a morning tour, or a sunset tour. Say hi to Sebastien too!
** Santorini Sea Kayaking Tour South Coast **
** Santorini Sea Kayak Tour At Sunset **
Gialos, Akrotiri
This rather unattractive stretch of grey sand is accessed by a rough road that descends at quite a steep angle. When we visited, it appeared there's a taverna which would rent out umbrellas, but on the day we went it was closed.
Not as nice as other beaches on the island, but there's a view to the caldera. Ιt would be a useful place to visit on a non-windy day, as few people seem to know about it.
Athinios Port
The iconic west side of the island is characterized by the complete lack of places to swim! The island's main port is nothing to write home about.
That said, if you are coming on a ferry from Piraeus or one of the other islands, make sure you go out on the deck. The caldera views, as the ferry is sailing in the Aegean Sea and approaching Santorini, will stay in your mind forever. You will probably say the same for the winding road heading up from the port to the villages!
Talking about villages, both Megalochori and Pyrgos are only a short distance from the port. They are both lovely, and it's worth taking some time to wander around the quaint alleyways.
This is also a great area to visit on a wine tour, as many of the best wineries are located here.

Armeni, Oia
We heard that Armeni is popular with locals. We wouldn't know, as we didn't feel like going down (and up) some 300 steps since we didn't have our beachwear on that day.
Some of the most luxurious, adults-only hotels in Oia, like Andronis Suites, are located just above the tiny port. Many of them have private balconies, offering impressive views to the cliff above.

Ammoudi Bay, Oia
Ammoudi used to be Oia's main port. Nowadays, it's another popular spot, full of traditional tavernas. You will see many people going down the 214 steps from the castle.
If you are planning to walk down, don't forget to wear comfortable shoes! You can also drive to Amoudi, but my impression is that finding a parking spot in peak season can be a challenge.
Swimming here might be a challenge for some people, as the blue water gets deep fairly quickly.
Some of the sunset cruises in Santorini start from Ammoudi. There are different routes, including the volcanic islets of Nea and Palea Kameni, and the nearby Thirasia. We saw those sailing boats from up the castle, and they looked pretty amazing!
Katharos
Katharos beach, also known as Kantharos, is located to the west side of the northern peninsula, overlooking Thirassia. A few decades ago, it used to be popular with naturists. Even today, it somehow feels off-the-beaten-track.
The stylish Katharos Lounge vegan meze bar is located here. The building was once a sanatorium, used to treat people with leprosy. Today, it's a great, quiet place to watch the sunset from, without the crowds.

Baxedes
The long waterfront on the north coast of Santorini is known as Baxedes or Paradisos. This wild coast is more exposed to the winds, but you will find several holiday beach resorts regardless.
Columbo / Koloumbos Beach
Further east, you will find Cape Columbo, which is a wild spot, popular with naturists. You can reach it after a short hike. Just bring your essentials for the day, as it's not organized.
Few people realize that, a few kilometres out from the Cape into the Aegean Sea, there is another volcano! The Columbo underwater volcano erupted in 1650 AD, causing about 50 deaths and a lot of destruction on the island. Nothing to be compared with the ancient times though!
If you are an experienced swimmer / diver, you will definitely enjoy snorkeling and diving in this area, which is full of caves and strange rock formations. Just make sure that it's a non-windy day, as it can get dangerous otherwise.

Pori beach
On the north-east coast, you will find Pori beach. It's a small, relatively unknown stretch of the usual black and grey sand. It can be a good option if you want to avoid crowds on a non-windy day.
Close to the seafront, you will find the small Pori port. It feels miles apart from the beach hotels and resorts with luxury suites.

Vourvoulos
This long, pebbly part of the coastline was pretty deserted when we were there. While it was picturesque, we wouldn't have chosen to stay here, as the pebbles would make it rather uncomfortable to put out a towel.
If you drive inland, you will find a small village with the same name. Imerovigli, the popular resort with spectacular sunset views from hotels and private terraces, is also very close.

Exo Gialos Thiras
You won't be surprised to find yet another beach with the same dark gray colour. This is the beach closer to Karterados, an increasingly popular area to stay on a budget.
Monolithos Beach
The way Santorini beaches go, this was Vanessa's favourite. It is a large, black sand beach (no surprise here!), with plenty of free space, watersports, a volleyball court and many other facilities.
Unlike Kamari, Perissa and Perivolos, Monolithos isn't surrounded by a line of restaurants and beach bars, so it feels a lot wilder and more remote.
You'd think there is a catch though – indeed. Due to its orientation, Monolithos is less sheltered from the northern winds. While on a quiet day it's ideal for families, you wouldn't find it as appealing when the meltemi is strong.
If you want to stay around Monolithos Beach and want a bit of luxury, check out Nikki Beach Resort & Spa Santorini. It has a large outdoors swimming pool, certain suites with private pools, spa facilities and private sunbeds.
It will appeal to you if you want an upscale stay close to the coast, or just don't want the hustle and bustle of Oia and Fira. Nikki Beach is located between Monolithos and Kamari, so you get the best of both worlds.
If you go all the way to the north side of Monolithos Beach, you will find the pretty East Breeze beach bar, which is breezy indeed!
FAQ About Santorini's Beaches
Still have questions about the famous beaches on the island of Santorini? You might find some answers here:
Does Santorini have good beaches?
Santorini's beaches are made up of volcanic sand and stones, with a lot of character and beautiful vistas. They are very unique, but when compared to the fine sand beaches of Mykonos or Naxos, they are not considered to be among the best in Greece.
What is the nicest beach in Santorini?
The finest sand and swimming on Santorini is at Perissa and Perivolos beaches, which are essentially a continuation of one another.
Can you swim in Santorini beaches?
Like other Greek islands, the best time of year to swim at Santorini's beaches is between the months of June and October when the sea temperatures are ideal.
Are there any beaches in Santorini?
The Red beach is the most well-known of Santorini's beaches, while Perissa's long black sand beach, Kamari beach, and Perivolos beach are among the most popular.
Guide to Best Beaches on Santorini
If you use Pinterest, please feel free to use the image below and add this Santorini Greece beaches guide to one of your boards. That way, You'll easily be able to find it again later.
You might also be interested in these other guides on things to do in Santorini, where to stay and more:
---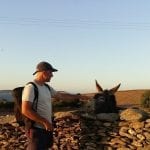 –
Dave Briggs
Dave's
travel writer
from the UK who's been living in Greece since 2015. As well as writing this Santorini beach guide, he's also written hundreds of other travel blog posts and itineraries for travel destinations all over Greece. Follow Dave on social media for travel inspiration from Greece and beyond: