Ancient Athens was the cultural heart of the classical Greek world. Between 508–322 BC, the city was a centre for arts, philosophy, trade, learning, and development. During this time, many buildings were constructed, some of which still survive today. Interested in exploring ancient Athens when you visit the city? Here's all you need to know!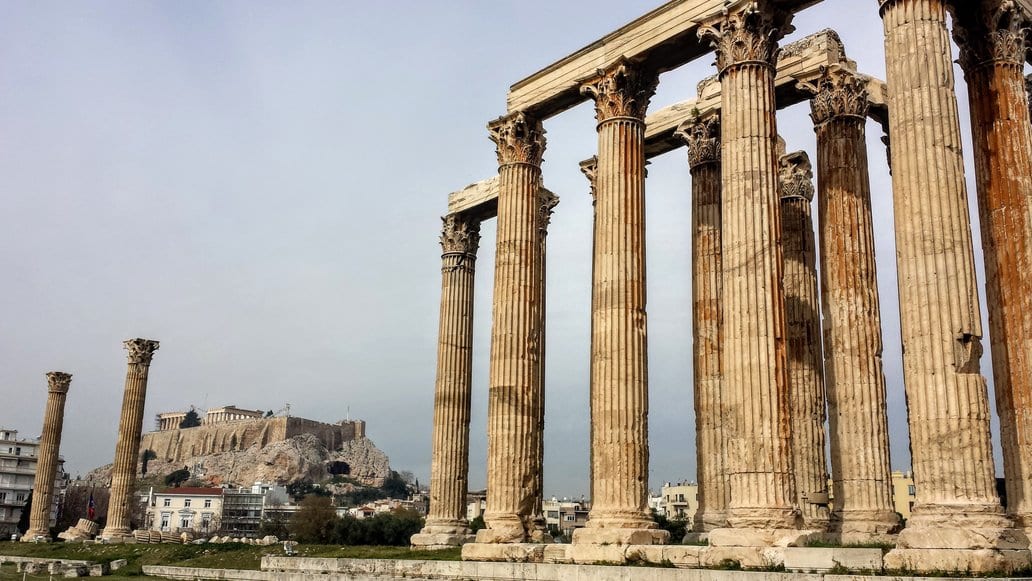 How To See Ancient Athens
Over the last two thousand years, Athens has endured countless invasions, occupations, earthquakes and disasters. In fact, it is something of a miracle that any buildings have survived from ancient Athens at all. They must have known a thing or two about building things back then!
There are two ways you can see the surviving buildings from the classical period in Athens. One, is to simply take a
self guided walking tour around Athens
and soak up the sights.
You can actually see everything without going into the archaeological complexes themselves. In my opinion, some sites such as the Acropolis look better from the outside. Realistically though, you are not going to travel to Athens and not go inside the sites.
The Athens Combined Ticket
The second way to see the ancient Athens sites, is to buy the combined ticket which allows access to a number of important archaeological sites in Athens.
There has recently been a massive rise in the price. For many visitors, the ticket price of 30 Euros might seem reasonable. For many locals this is outrageous.
There is talk of reducing the prices during the 'low season', but I will believe it when I see it. For full information about the combined ticket prices, take a look here – New combined ticket price for sites in Athens.
Note – I have deliberately left out any Roman sites in an effort to keep it focused on Greek sites from ancient Athens. Keep in mind though, that most of these sites were built on, knocked down, re-built and expanded upon over many years and even centuries. The list below features the core remaining buildings.
Ancient Sites in Athens
Here is a list of the most significant buildings and sites to see in Athens. As they are all centrally located, they are easy to reach either on foot or by the metro.
There are of course many more minor sites and areas you can see if you have time. As most people tend to spend just a few days in Athens though, these are the ones you shouldn't miss.
1.The Acropolis Complex
If there is one place not to miss during a visit to Athens, it's the Acropolis. This huge ancient citadel set on a rocky outcrop must have been an awe-inspiring sight two thousand years ago. It doesn't look too shabby today either!
Dominating the landscape, it houses many important buildings, such as the Parthenon and the Erechtheion. The slopes contain other notable structures such as the Herodeion Theatre, and the Theatre of Dionysus.
The views from the top out over the city of Athens can be stunning. Best avoided during the hottest times of the day, it is the most visited archaeological site in Greece.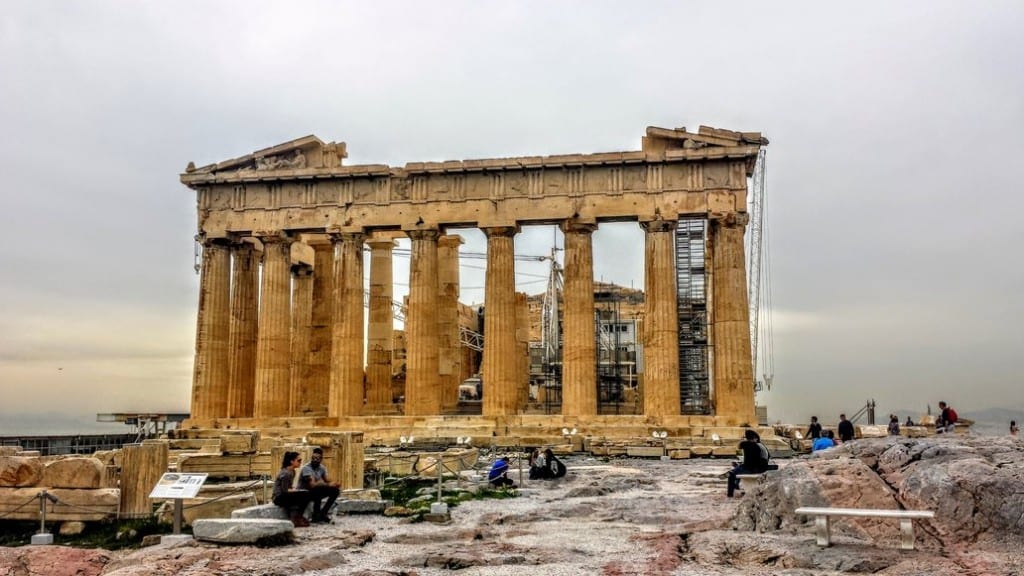 You can check out some incredible photos of the Acropolis, by checking out Beer and Croissants blog about exploring Athens.
2.Ancient Agora in Athens
Whilst the Acropolis may have been the defensive and then religious heart of ancient Athens, the ancient Agora was the nerve centre for trade, commerce, and culture. This is the area where people came to buy and sell goods, talk politics, and generally hang around.
Although the Agora has been destroyed several times, enough of it remains to give an indication of the scale of the place. For me, the highlight is the Temple of Hephaistos, one of the finest and most complete temples in all of Greece.
You can find out more about the ancient Agora in Athens here – Ancient Agora Sightseeing Tips. There is also a great museum on-site housed in the reconstructed Stoa of Attalos.
3.Temple of Zeus
In many ways, I find this temple area more impressive than the Parthenon. The sheer scale of it is incredible. Many of the columns have now fallen down, and a few have been restored.
I think this adds to the ambience of the place, and gives an indication as to how the columns were erected. You can also take some great pictures from here with the Acropolis in the background.
4.Ancient Cemetery of Kerameikos
This is one of the most under-rated sites in Athens. Often ignored by visitors on a tight schedule, it is perhaps one of the key surviving areas dating back from the classical period.
The cemetery itself was used for many years, and artefacts found in the tombs have helped cast a light onto life in ancient Athens. The archaeological complex also has sections of the city wall, which helps to give an idea of what the city looked like many years ago.
If you have time, pay it a visit! You can find out more about it here – Cemetery and Museum of Kerameikos.
5.Museums in Athens
Over the years, countless objects and artefacts have been found at the ancient sites in Athens. Most of these are kept in the city in a variety of museums. (With some notable exceptions – don't mention the Elgin marbles)!
I have been working on a project to visit every museum in Athens. As there are over 80, it is still a work in progress! The museums you should visit in order to see the most significant artefacts dating back to the heyday of ancient Athens are –
The Acropolis Museum – Considered one of the best museums in Greece. Containing objects and artefacts discovered at the Acropolis complex, and places them into context.
The National Archaeological Museum – My favourite museum in Athens. You probably need to block out 3 hours to make the most of this place. This is the best place to increase your knowledge of ancient Athens, and Greece in general.
The Cycladic Art Museum – The top floor has a great display about daily life in ancient Athens.
The Museum of the Ancient Agora – I would recommend visiting the museum before walking around the Agora itself. It is included on the same ticket.
6.Metro Stations
It is often said that you can dig anywhere in Athens, and find something of historical value. This was certainly the case when they were building the underground metro lines! Countless artefacts were discovered, along with sections of walls, and building foundations.
A number of the metro stations have objects on display from ancient Athens. When you use the metro, be sure to check out each station! If you only want to visit one, then make it Syntagma station. You do not need a ticket to see the objects on display there.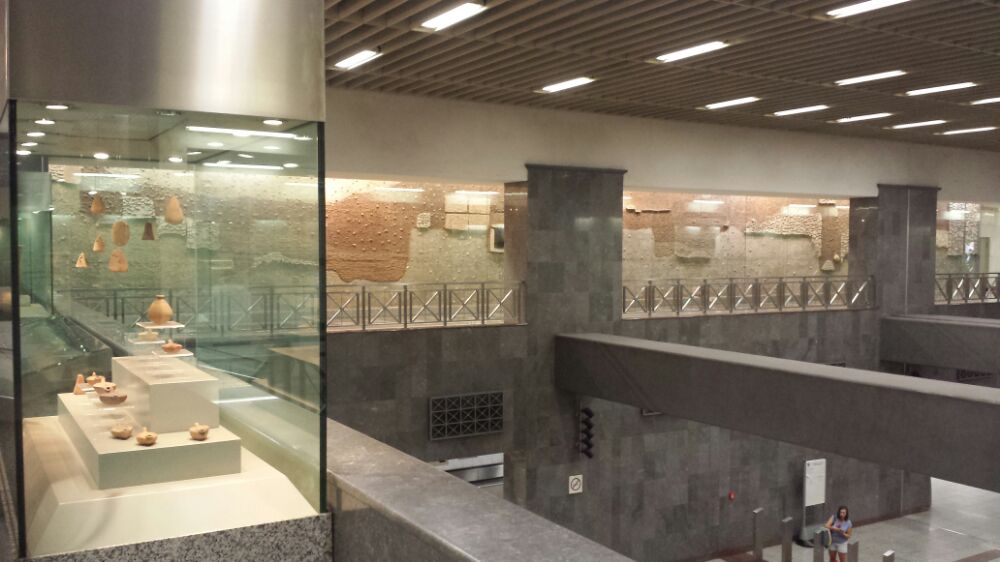 Walking Tours in Athens
I have plenty of free guides throughout this site that can help you put together your own self-guided walking tour to see ancient Athens. Sometimes though, it is nice to take a guided tour. This way, you get a deeper appreciation of the city and explore other Athens neighborhoods. Take a look here to find out about walking tours in Athens.
I hope that has given you enough information on which parts of ancient Athens you can still visit today. If you have any questions, please leave a comment below, and I will do my best to answer them. If you think I have missed anything out, you can mention that below as well!
Pin this guide to ancient sites in Athens
Further Information About Athens
I have put together some useful guides on Athens that you might find useful when planning your trip.