Just a couple of hours by ferry from Athens, Andros island is an ideal destination to spend a few days. Here's a guide to Andros Greece hotels, and areas to stay.
Andros Island in Greece
Whilst Andros is well known to Athenians, it flies under the radar of most foreign tourists visiting Greece. It's a shame, because it is a very beautiful island, with great beaches, interesting villages, and stunning scenery.
Less than two hours away from Rafina port near Athens by ferry, it's an ideal destination for people seeking to escape the crowds of Mykonos and Santorini, but still want to enjoy a chic vibe.
Whether you plan to visit for a short break, or take a longer vacation, you'll need to find somewhere to stay. This guide on where to stay on Andros in Greece will help you choose where.
** Travel Guide to Andros and Tinos now available on Amazon! **
Where to stay in Andros Greece
In my opinion, where to stay in Andros largely depends on what you want to get out of your holiday. Andros has a lot to offer – lovely beaches, hiking trails, dramatic landscapes and a lot of ancient and contemporary culture.
You can choose your accommodation in Andros according to the amount of time you have there, the way you are planning to get around the island, and to what you would like to do during your holiday. Let's start by assuming you want to have a beach and sun vacation in Andros.
A beach holiday in Andros
According to locals, Andros has over 170 beaches! This makes it an ideal place to visit if you are after a beach holiday, although you will have to bear in mind that the Meltemi winds appear in July, August and sometimes early September.
The Meltemi winds are strong northern winds that affect most of Greece, and the Cyclades islands in particular. During that time of year, staying on a sandy beach can be anything from unpleasant to impossible!
That said, as Andros has so many beaches, you can always find a protected cove to spend some time on.
There are beaches all around Andros. Many of them are easy to reach, while others require driving on dirt roads. Some of the most popular and easily accessible beaches are located in the area between the port of Gavrio and the town of Batsi.
Hotels in Batsi Andros
A small resort town, Batsi is where many people choose to stay in Andros. While a lot of it closes down in winter, it is fairly lively in summer, and there is plenty of accommodation to choose from.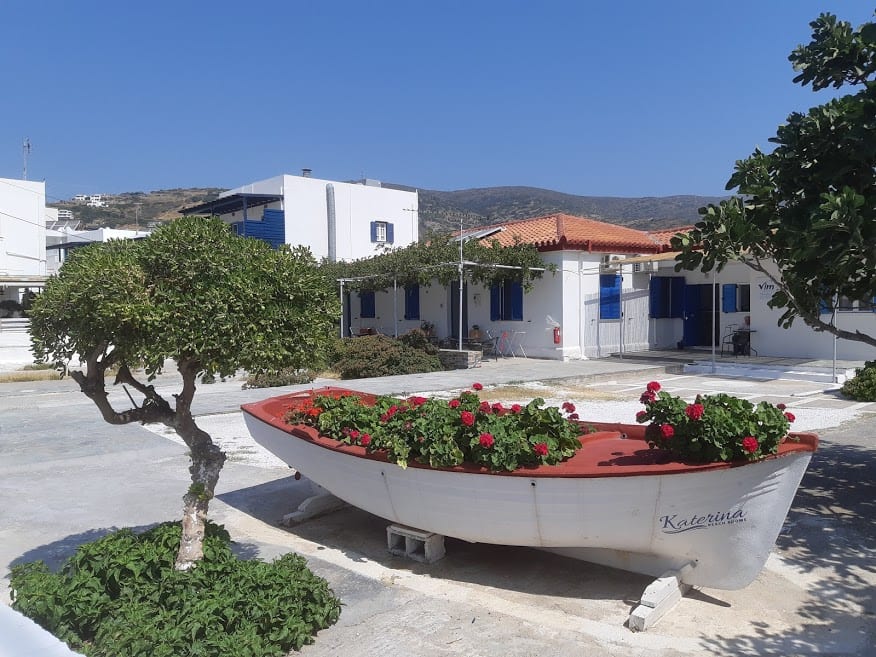 You will find a selection of tavernas, cafes and bars, where you can hang out at different times of the day. We tried a few of the tavernas there, and while nothing particularly stood out we enjoyed both Mi Se Meli and O Stamatis. There is also an outdoors cinema, where you can see a different movie every night.
If your main priority when you are visiting Andros is to go to the beach, and you also want a bit of nightlife, our advice is to stay in Batsi town. The seafront promenade gets quite busy, especially in the evenings. Although Batsi is ideal if you want a little bit of life, do not expect clubbing – Andros is a fairly quiet place.
The town itself has a small sandy beach, which is not bad for a quick swim. You can easily access several other beaches between Batsi and Gavrio by either bus or rented car.
We stayed in Batsi ourselves, and were very happy with our accommodation, St George Studios. The owner, Christos, is a young, enthusiastic guy who will offer plenty of information about Andros and will help you plan your holiday there.
They also have the slightly more upmarket St George Village nearby.
Staying in the area between Batsi and Gavrio port Andros
If you want to be on the beach but would prefer something quieter, you could stay at one of the areas between Gavrio port and Batsi town. Agios Petros and Agios Kyprianos both have lovely beaches, and there are also a few tavernas nearby.
Villa Maniati would have been our preference, but they were fully booked for the days we wanted to go to Andros.
We would not suggest staying at Gavrio port itself, as you would still need to drive to a beach somewhere. However, you can spend a couple of hours here for a coffee or drink. Gavrio offers fewer options for food and nightlife than Batsi.
Staying at Chora in Andros
If beaches are not your main interest, the best place to stay in Andros is probably Chora, the main town. If you thought that you may have seen the name "Chora" before, you are absolutely right. Most main towns on the islands are named Chora, which literally means "country" in Greek.
Located about an hour's drive from Batsi, the Chora is a really picturesque town. We had actually considered splitting our time between Batsi and Chora to avoid a lot of driving, but decided to base ourselves at one place instead.
Why stay at Chora
Chora is a small town, but there is a lot to see. There are several museums, which you could actually visit in the space of just one day, though you might find it slightly overwhelming.
Chora is the best place to stay in Andros if you want to experience an authentic Greek island town. There are also a few places to do some souvenir shopping, if this is what you are after, as well as an outdoors cinema.
There are a couple of beaches where you can walk to, note however that they are fairly exposed to the winds.
If you want to be right in the middle of everything, you can't go wrong with Micra Anglia hotel. Located close to the museums, it's the perfect place to stay in Chora Andros.
To find out what there is to do in Chora Andros, check out our main Andros guide.
Staying at Korthi Andros
For people who want to escape everything, staying at Korthi bay could be a good choice. Korthi town itself is very quiet, and there are a few tavernas and cafes to choose from.
We saw no other tourists there when we visited, and had a pleasant conversation with some of the locals who live there all year round.
The town has a long sandy beach that is fairly protected from the wind, as well as a smaller cove where many of the locals go. The famous Grias to Pidima beach is quite close.
There are a few buses daily to both Gavrio and Chora, but if you decide to base yourself in Korthi you might be better off renting a car.
Nicolas Hotel is one of the best options in Korthi, and there is also a pool, if it's too windy to go to the beach.
Best Hotels Andros
If the location of your hotel in Andros is not an absolute priority, but the quality of the hotel is, this list of luxury hotels is worth looking at:
Andros Hotels FAQ
Readers looking for the best Andros holiday hotel to stay at during their Greek island vacation often ask similar questions when planning their trip. Some of the questions that other travelers have asked include:
What is the best area to stay in Andros?
Most tourists find that Batsi is a good area to stay in Andros. It has an ideal location to explore the island, and has a good range of accommodation in addition to restaurants, shops, and cafes.
Is Andros a nice island?
When it comes to Greek islands close to Athens, Andros is one of my favorite places, and I love the beautiful beaches and contemporary chic.
How much does it cost to stay on Andros island?
With a range of rooms and hotels to choose from, you can pay as little as 30 Euros a night for a simple studio, and over 200 Euros a night for the very best hotels in Andros.
Is Andros a Greek island?
Andros is one of the Cyclades islands of Greece, and the neighboring Greek islands include Tinos, Mykonos and Syros.
Where are the best luxury hotels in Andros Greece?
The best Andros hotels are spread around the island, although the north of Andros seems to have more luxury hotels than the south.
Have you been to Andros, and where did you stay? Let us know in the comments.
You might also be interested in: When to go to Andros and Tinos in Greece. and how to get from Mykonos to Andros.
---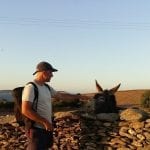 – Dave Briggs
Dave is a travel writer who's been living in Greece since 2015. He researched this blog post to the best hotels in Andros and places to stay on the island when writing his guidebook to Andros and Tinos in Greece – Now available on Amazon!
Follow Dave on social media for travel inspiration from Greece and beyond: