There are at least three ferries a day sailing from Athens to Ios. The quickest ferry ride takes 4 hours and 5 minutes. This guide has all the information you need on traveling from Athens to Ios in Greece.
Athens Ios Ferry Route – Quick Look
Athens to Ios ferry time: The earliest ferry departs Piraeus port of Athens for Ios island at 07.00
Athens to Ios ferry price: Ferry ticket prices for Athens Piraeus to Ios start at 23.50 Euro for a slow (10 hour!) crossing. A fast ferry with SeaJets ( 4 hour crossing) costs 84.70 Euro.
Book ferry tickets online: Ferryscanner
Ios is one of the Cyclades islands in Greece, and has long been a popular destination for twenty somethings looking for a Greek island with a party atmosphere in the summer season.
Nowadays, it's also starting to attract a different crowd of people who are not interested in the party scene, but instead visit Ios for the amazing beaches and wild landscape.
You can find out more in my guide to the best things to do in Ios.
If you're considering visiting Ios from Athens, this guide will show you exactly how to get to Ios, and you'll also pick up some essential travel tips to make your trip easier.
How to get from Athens to Ios Island
Traveling to Ios is not as simple as flying there, as the island does not have an airport. This means that the only way to travel to Ios from Athens is by ferry.
Most of the ferries sailing to Ios leave from Piraeus Port, which is the biggest port in Greece. You may also find occasional ferries that leave from Lavrio Port, and very rarely Rafina Port.
In my opinion, unless you have your own vehicle, it is going to be easier for you to book your ferry tickets for a departure leaving from the Port of Piraeus.
During the peak season, you may find as many as 3 ferries a day on the Piraeus Ios ferry route.
For the latest Ios ferry schedules, and to book ferry tickets online, visit: Ferryhopper.
Athens to Ios Ferry Schedules
The schedules and ferry companies making the Athens to Ios crossing change from year to year and season to season.
Recently, ferries on the Piraeus Ios route are operated by Zante Ferries, SeaJets and Blue Star Ferries. The Blue Star Ferry company also runs the lone, sometimes weekly, crossing from Lavrio to Ios.
SeaJets use smaller, high speed ferries than can make the crossing in 4 hours and 5 minutes. These high speed vessels are normally more susceptible to rough seas though. The 4 hour trip duration might seem 10 times longer on a Meltemi day with strong winds blowing across the Aegean Sea!
Blue Star Ferries and Zante Ferries use a more conventional ferry, but the ferry ride is a lot slower. You might find that getting to Ios by ferry on these boats takes 8 hours or more.
There is of course a price difference. The fastest ferries can cost over 80 Euros, while the slower ones can be half that.
Check ferry timetables and compare prices at: Ferryscanner
For foot passengers, my advice is to reserve your Ios ferry ticket about a month in advance. Maybe a little earlier if you are traveling to Ios from Athens in the peak month of August.
Where do the Athens to Ios ferries leave from?
The Greek ferries to Ios Island leave from Piraeus and Rafina Port. These ports are at opposite ends of Athens.
If you plan to get on the ferry to Ios directly from arriving by plane in Athens, you may find Rafina is more convenient. If you are staying in the center of Athens, and then taking an Ios ferry, you'll be better departing from Piraeus.
You can get to Pireaus Port from Athens Airport or Athens center using the metro, bus or taxi. Depending on where your ferry to Ios leaves from, it could be easier to get a taxi. The reason is, that Piraeus ferry port is quite big, and you might end up walking some ways to get to your gate.
Pre-book taxis to Piraeus here: Welcome Taxis
Note: When we took the ferry from Piraeus to Ios Greece in 2020, we left from Gate 7. You should check your e-tickets after booking so you know which gate you're leaving from.
Which ferry companies travel from Athens to Ios?
Up to half a dozen different ferry operators cover the crossing between Piraeus and Ios depending on the time of year. In 2020, our choices were between Blue Star Ferries, SeaJets, and Zante Ferries.
My personal preference of company is Blue Star Ferries, as the ferries are generally huge with lots of space on board. The last time I took the Ios ferry, I used the Blue Star Patmos car ferry.
How to book Greek ferry tickets?
As mentioned earlier, I find that the simplest way to book ferry tickets in Greece online is to use Ferryhopper. Here, you can look at all available crossing on any given day, and make a booking.
You can also use each individual ferry operators site such as Blue Star Ferries, but you'll find the price remains the same.
If you are a last minute type person, you can also go into a travel agency or ferry agent in Greece to book tickets there. In the high season though, don't be surprised if there's not much availability especially if you want to travel the same day to Ios Greece!
How long does the Piraeus Ios crossing take?
It really depends on the ferry boat you are using, and the overall route that it is taking. The last time I took the Blue Star ferry from Athens to Ios, it stopped at Paros and Naxos first, and we reached Ios 6 hours 40 minutes after leaving Athens.
Other routes might also include a stop at Syros, which will add time on to the journey.
The SeaJets High Speed World Champion boat is probably the fastest, and crosses from Athens to Ios in 4 hours 55 minutes.
Where to stay in Ios, Greece
Depending on the type of vacation you want in Ios, you have two obvious choices of places to stay. The first is in Chora, and the second is at Milopotas Beach.
If you're feeling energetic and want to save some money, you can walk up the hill from the ferry port in Ios to Chora – it should take about 10 minutes.
You can also take buses to both Chora and Milopotas beach. Below, you can see a map of hotels in Ios where you can reserve your hotel before taking the Piraeus Ios ferry.
We stayed at Sunshine Studios when we visited the island of Ios in Greece. We paid 25 Euros a night for a studio apartment with a small kitchenette because Vanessa called them up in Greek.
If you can't speak Greek, you'll need to use Booking to make your reservations and probably pay a little more.
Greek Island Hopping from Ios
Once you've enjoyed yourself of the Greek island of Ios, there are plenty of options to carry on to other islands in the Cyclades chain.
If you've not already blown your budget in Ios, Mykonos is just a 2 hour journey away, with Santorini even closer with a high speed ferry taking just 25 minutes.
If you prefer quieter or lower key islands in Greece though, Sikinos is right next door, and other lesser known Greek destinations such as Serifos, Sifnos, Folegandros, and Kythnos are all possibilities.
Stick to the Cyclades island chain unless you decide to go on to Crete though, as it's far easier to get around and be flexible if certain ferries are not available.
FAQ About the Athens to Ios Ferry Trip
Readers planning to travel to Ios and the other Cycladic Islands often ask questions similar to:
How long is ferry from Athens to Ios?
The time taken to get to Ios by ferry can be as little as 4 hours and 5 minutes during the summer months on a high speed vessel, while more conventional ferry crossings can take 8 hours or longer.
How much does ferry from Athens to Ios cost?
Ticket prices for the ferry trip to Ios from Athens start from 30.00 Euros for the slower boats, and are more expensive for faster vessels.
Can you fly direct to Ios Greece?
There is no airport on the island of Ios. Overseas travelers have the option of flying to Athens International Airport and then taking a ferry to Ios, or flying to Santorini airport and then taking a ferry from Santorini to Ios.
Where do the ferries from Athens to Ios depart?
Most of the ferries sailing to the island of Ios from Athens depart from the largest port which is Piraeus. There may be some occasional crossings leaving from Lavrio on a seasonal basis.
Pin this guide on the Ferry from Athens to Ios
If you found this Athens Ios ferry guide useful, please pin it for later so that other travelers can also find more about these ferry routes.
Planning to visit more than one Greek island? Take a look at some of my Greek travel blogs and island guide below.
---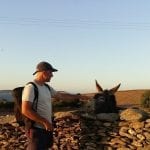 –
Dave Briggs
Dave is a
travel writer
currently living in Greece. In addition to creating this travel guide on how to travel from Athens to Ios, he's also written hundreds more travel guides to Greek destinations. Follow Dave on social media for travel inspiration from Greece and beyond: