A complete travel guide to getting around the Greek island of Andros. Here's how to explore Andros Island Greece by car, scooter, biking and hiking!
Andros Island in Greece
The Greek island of Andros is just a couple of hours away from Athens by ferry. Whilst most visitors to Greece remain unaware of it, Andros is a popular weekend break destination for Athenians. It's also a go-to destination in the peak month of August.
Whether you intend to spend just a few days in Andros before heading back to Athens, or want to visit Andros as the first destination in a Greek island hopping itinerary, you'll want to get out and about to explore the place.
And Andros is a great place to explore. With plenty of beaches, great hiking trails and a few interesting museums, there's lots to see and do. This article will help you decide how to get around Andros.
** Travel Guide to Andros and Tinos now available on Amazon! **
Getting around Andros by car
If you want to be independent, the best way to get around Andros is by car. It might take you some time to get used to driving on the narrow, winding roads, but you should be fine in a few minutes.
That said, do not underestimate the locals who literally know every little curve of the road and will stay directly behind you.
Rent a car in Andros
We took our own car (pictured above!) on the ferry from Athens to Andros, so we didn't need to hire one. There are plenty of places to rent a car in Andros however, close to Gavrio port and in Batsi.
You can also find great deals for rental cars in Andros, Greece at: Discover Cars
Prices depend on the season, and it doesn't hurt to bargain, especially if you are booking the car on the spot.
While most of the roads on Andros are paved, there are long stretches of dirt roads. If you want to head to some of the popular beaches on the north, like Zorkos, Vitali and Ateni, it's best to rent a 4WD.
If you rent a regular car, insurance will typically not cover you on dirt roads, so think about it before you decide.
I've some tips here on renting a car in Greece.
In our case, we didn't bother with the northern beaches as the weather was too windy, but we went to Vlychada (pictured above) and Pyrgos beaches, to the northwest of the island.
These two beaches were quite protected, but in order to get there we had to drive on a dirt road for 15 minutes. It was totally worth it, and we would definitely suggest renting a car in Andros, especially if you are planning to visit as many beaches as you can.
Tip – if you are driving into Chora, you will need to leave your car in the parking spaces before you enter the town.
Getting around Andros by ATV or motorbike
Another way to get around Andros is by motorbike or ATV. While we didn't use any of those in Andros, we used motorbikes extensively in Thailand and Vietnam, and it was great fun!
Unlike Asia, you will need a valid driver's license if you want to rent any of these in Greece.
While ATVs are very popular, especially with younger visitors, it's best to be cautious, as they are apparently quite easy to turn over. Also, if you decide to rent an ATV or motorbike, remember to use sunscreen, and don't forget your legs!
There are many companies on the island offering good quality bikes and ATVs, such as Dinos in Batsi town and Odysseas in Gavrio port.
Tip – check the weather first!
We visited Andros in August 2019. As this was the strong Meltemi winds season, it was quite hard to stay on the beach for long, as the sand showers were far from pleasant.
At times, even opening the car door was not exactly easy! It would have been very difficult or even dangerous to do this on a motorbike, so make sure you check the weather before you decide.
Related: Pros and cons of road trips
Getting around Andros by taxi
Some people may prefer to go around Andros by taxi. There is a taxi service located in Batsi, and a good starting point is Yiannis the driver who is friendly and polite. You can reach him at 22820-41081 or 6945-351079.
As an indication, a ride from Batsi to Chora costs 30 euro at the time of writing. If you are staying in Batsi and want to spend a whole day in Chora, you can get there on the KTEL bus and ask for a late evening taxi service.
Getting around Andros by bus
Like most of Greece, Andros has a dedicated local bus service, with buses going to a few places around the island. The buses are called KTEL, and they are a fairly inexpensive way to see some parts of the island.
The bus network is not very extensive, as it only covers the biggest towns and a few of the beaches in Andros. The daily service between the port of Gavrio, the seaside town of Batsi and the picturesque Chora is fairly frequent, while buses to and from Korthi only run twice a day.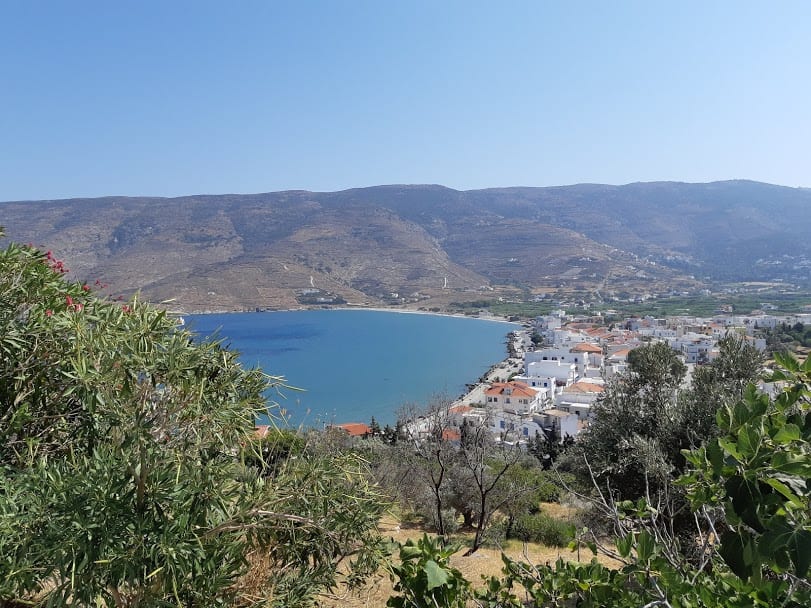 As you would expect, if you want to reach the smaller villages or the most remote beaches, you will need to find an alternative way to get around Andros. We actually gave a couple of people hitchhiking from the beach a ride on one day!
Also, note that there are no buses after it gets dark, so if you are staying at Batsi but want to go out at Chora or Korthi for the evening, you will need to find another way to return to your hotel.
You can check out bus timetables for Andros here.
Getting around Andros by bicycle
I have to admit that cycling Andros would have been a bit of a challenge in 30 degrees, especially with the strong winds. The island is also quite mountainous, so it would probably not be for beginners. Still, it would be great to cycle around Andros in spring or autumn.
Interested in finding out more about bike touring? Check out these bike touring tips, written from my experiences of having cycled 40,000 kms around the world!
Getting around Andros on foot
Andros is a fantastic island to walk around. There is an extensive network of 180 kms of hiking trails and paths that are very well marked, covering most of the island.
While we didn't do any serious hiking when we visited, we walked along various parts of the main hiking trails.
In fact, there is an annual walking festival in Andros, happening in October. With average temperatures peaking at 21-22 degrees, the weather should be very pleasant to hike around Andros, and perhaps even go for a quick swim.
Take a guided tour of Andros
If you prefer to take it easy while you are on holiday, the best choice is to take a tour of Andros by private vehicle, and see the highlights of the island.
For a tasted of the local culture, you can take a 6-hour private tour and visit the picturesque Chora as well as some of the smaller villages of Andros. This tour also includes a visit to the small Olive Oil museum, which we thought was a very interesting place to visit.
Another option, if you want to see one of the best beaches in Andros, is to take a tour on a 4WD, and go to Vitali beach. While not ideal when there are strong winds, this tour will give you a different perspective of the island, and you will enjoy your time on the beach.
Getting around Andros – Conclusion
This completes our guide on getting around Andros. In our opinion, renting a car offers more flexibility and you will be able to explore more of the island. However, if you don't feel like driving on a Greek island, you can use the buses, and perhaps take a tour to get a local perspective. Whatever you decide, Andros won't disappoint!
If you have been to Andros, let us know how you decided to get around the island!
More Andros Travel Guides
Would you like to find out more about Andros Island Greece? Check out these guides below: