There are 3 or 4 ferries per day sailing from Mykonos to Andros in Greece during the summer months. The Mykonos Andros ferry trip takes around 2 and a half hours.
Andros island in Greece
As it's only a couple of hours from Athens to Andros by ferry, the Greek island of Andros is a popular summer and weekend destination for Athenians.
Even so, it's still managed to keep its unspoiled charm and fly underneath the radar of visitors from other countries seeking the beauty of the Cyclades islands.
In addition to a certain chic and sophistication in some of the towns architecture, Andros has lots of lovely places to visit.
Just take a look at Old Lady's Jump Beach below. I'm sure in any other country, that would be on the marketing material as a main attraction!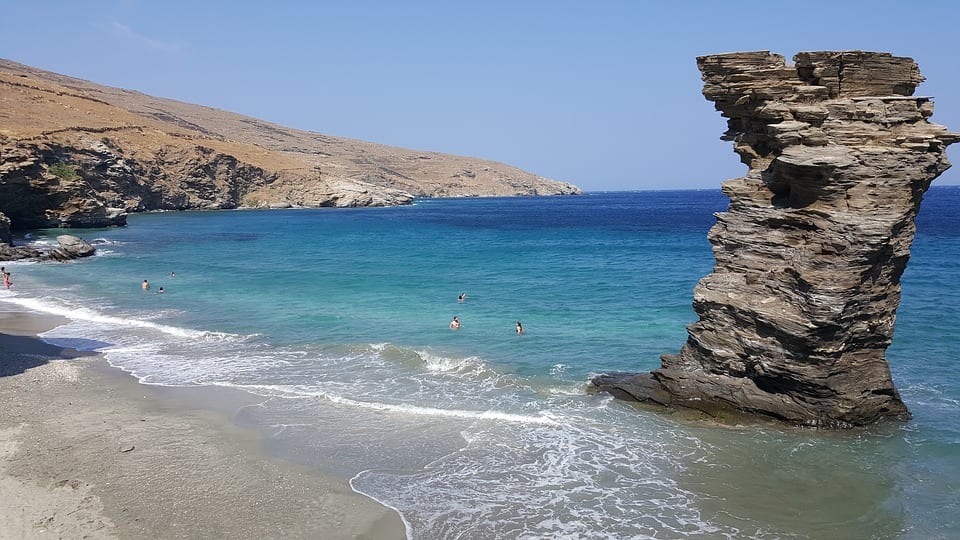 I think that Andros really is one of the underrated destinations in Greece. I've also co-written a guide book about the island which you can find on Amazon here: Andros and Tinos in Greece.
Anyhow, enough of the introduction. Let's look at how to travel to Andros from Mykonos.
Mykonos Andros Ferry Route
There's no airport on Andros island, so the only way to get from Mykonos to Andros is by the ferry services.
Ferries depart Mykonos at the New Port. You can reach the port from your hotel in Mykonos by either public transport or taxi.
Welcome Taxis offer a pre-booked taxi service. Take a look here: Welcome Mykonos Taxis.
During the height of the tourist season, there may be up to 4 ferries per day from Mykonos to Andros. These ferries to Andros from Mykonos are operated by Fast Ferries, SeaJets, and Golden Star Ferries.
I find that Ferryhopper is a good website to use to look at timetables and to book ferry tickets online. You could also use a local travel agency in Mykonos if you choose, however if you are traveling in the busy summer months, don't leave it until the last minute.
Ferries to Andros from Mykonos
The fastest connection from Mykonos going to Andros takes around 2 hours and 25 minutes, with the slow ferry sailing to Andros from Mykonos island taking only slightly less time at around 2 hours and 35 minutes.
The ferries may also stop at Tinos island along the way, but on the direct ferries you don't have to leave the boat. The stop is usually no more than 15 minutes.
Ferries to Andros then arrive at Gavrio Port. Gavrio, along with Batsi, is one of the more popular areas to stay in Andros.
Ferry Operators and Ticket Prices
The best price for the Mykonos to Andros ferry ride is 21.00 for passengers on a conventional ferry. SeaJets cost more, and the price for their crossing is 32.00 Euro.
Cars of course cost more, although if you've hired a car, you should check with your rental firm that you are allowed to move them between the Cyclades islands.
Golden Star and Fast Ferries operate this route all through the year, although as you might expect, there are more services per week in the high season than in winter.
Use Ferryhopper to plan your island hopping route Mykonos to Andros, and to check the trip duration on the day you want to travel.
Andros Island Travel Tips
A few travel tips for visiting Andros island:
For hotels in Andros, I suggest using Booking. They have a great range of places to stay in Andros along with customer ratings. If you are traveling to Andros in the tourist season, I advise reserving accommodation in Andros a month or so in advance. I've got another article specifically about the best hotels in Andros, Greece.
---
One of the best places to look at ferry schedules and to book Andros ferry tickets online is at Ferryhopper. I think it's better that you book your Mykonos to Andros ferry tickets in advance, especially during the peak months of summer.
---
---
---
What to see in Andros Greece
Some of the things to do and see in Andros include:
Hiking – Like many of the Cycladic islands, Andros has a superb network of hiking trails.
Explore – The Chora and soak up the old-fashioned vibe.
Culture – Andros is known for its museums and art galleries.
Road Trip – Get to know the island by driving around Andros.
Swimming – There's lots of great beaches like the Old Lady's Jump!
Check out this more complete guide to the best things to do in Andros, Greece.
How to take a trip from Mykonos to Andros FAQ
A few common questions about traveling to Andros from Mykonos include:
How do we get to Andros from Mykonos?
The best way to make a trip from Mykonos is to take the ferry. There are up to 3 ferries per day sailing to the Cyclades island of Andros from Mykonos.
Does Andros have an airport?
There isn't an airport in the Greek island of Andros, so the only way to make the journey from Mykonos to Andros is by using the ferry network. The airport nearest to Andros is at Athens.
How long does the ferry from Mykonos to Andros take?
The ferries to the island of Andros from Mykonos take between 2 hours and 25 minutes and 2 hours and 35 minutes. Ferry operators on the Mykonos Andros route may include Fast Ferries and Golden Star Ferries.
Where do I buy ferry tickets to Andros?
I find that the Ferryhopper website is the best place to book tickets for the ferry from Mykonos to Andros online. It's better that you book your Mykonos Andros ferry tickets a few weeks in advance when traveling in the summer.
Other islands near Mykonos
If you're still planning exactly which islands close to Mykonos to visit after, take a look at these suggestions:
Mykonos and Andros
Have you used a ferry Mykonos to Andros? How was your experience island hopping in the Cyclades group and what did you think to the prices and travel times? Please leave a comment below, especially about which ferry companies you think provide the best service.
---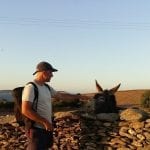 –
Dave Briggs
Dave is a
travel writer
living in and writing about Greece. In addition to writing this guide about ferries from Mykonos to Andros, he's also written hundreds more travel guides to Greek destinations. Follow Dave on social media for travel inspiration from Greece and beyond: