There are three direct ferries per week from Piraeus Port to Schinoussa island in Greece during the summer. There are also other daily indirect options to get from Athens to Schinoussa.
Schinoussa island in Greece
Not everyone has heard of Schinoussa, an island in the Small Cyclades group, close to Naxos. This little paradise of an island is a great choice if all you want to do is relax and take it easy.
Due to its protected bays, Schinoussa is relatively popular for people who are sailing around the Cyclades.
Given its small size, Schinoussa has more than its fair share of great sandy beaches, all with crystal clear water. As the terrain is pretty flat, you can easily get to most of them on foot.
There are a few beaches close to the main town, which has a wide choice of excellent tavernas and a few relaxed cafes.
Athens Schinoussa Ferry Schedules
During the summer, Blue Star Ferries with their vessel the Blue Star Naxos operate three ferry crossings per week between Athens and Schinoussa leaving from Piraeus Port in Athens. These ferries from Piraeus to Schinoussa depart on a Tuesday, Thursday, and Sunday.
Travel times are slow as most ferries on this route are conventional ferries, and there will be stops at other islands along the way. Ferry trips from Athens to Schinoussa can take between 6 hours and 45 minutes in the summer and 7 hours and 40 minutes in the winter.
Look at the latest schedules and book ferry tickets at: Ferryhopper
Other Ferries to Schinoussa from Athens
In addition to the Blue Star direct ferry, it is also possible to take a ferry from Athens to Naxos, and then use the Express Skopelitis ferry as mentioned above. This would give you more options in terms of departure times.
If you want to book Schinoussa ferry tickets online, I recommend using Ferryhopper. You can easily see which ferry companies sail on the days you want to travel, compare prices, and plan your itinerary.
Schinoussa Island Travel Tips
Make your Schinoussa trip planning a little easier with these insights:
Passengers should be at the main port of Piraeus at least an hour before departure.
---
Booking has a selection of hotels in Schinoussa (there's not that many!)
---
The Ferryhopper website is the best place I've found to book Greek ferry tickets online. Make sure to get e tickets a month or so in advance if traveling in high season.
---
Piraeus is a very big and busy port, so be there an hour before departure.
---
Use Welcome to get your taxis to and from Piraeus organized.
---
---
What to see in Schinoussa Greece
Schinoussa doesn't have too much sightseeing, but it's not necessarily a bad thing! Here are a few things to do:
Walk everywhere on the small island
Relax on the beach at Tsigouri, Livadi, Piso Ammos, Psili Ammos, Fikio or Almyros
Eat delicious food at the tavernas – try the fava beans and the local cheeses, vegetables and meat dishes
Enjoy the local festivals in July and August, which always include food, drink and dance!
I've a full travel blog post here on Things to do in Schinoussa, and a guide here on where to stay in Schinoussa.
Flying from Athens to Schinoussa
The island of Schinoussa does not have an airport, so you can't fly directly there. One option though, is to first fly to the much larger island of Naxos first, and then take the small Express Skopelitis ferry to Schinoussa from there.
This might be worth thinking about for international travelers, especially if their flights into Athens International line up nicely with a domestic flight to Naxos.
The most common way to travel to Schinoussa island is to take a ferry ride however.
FAQ About Traveling To Schinoussa
People planning to travel between Athens and Schinoussa ask similar questions such as:
How do I get to Schinoussa?
There are 3 direct ferries per week to Schinoussa from Piraeus Port in Athens. You can also take a ferry to Schinoussa from Naxos. Other ferry connections with Schinoussa include: Paros, Iraklia, Koufonissi, Amorgos and Donoussa.
Is there an airport on Schinoussa?
There is no airport on Schinoussa. The closest airport to the island is on neighboring Naxos.
Where does the Schinoussa ferry leave from in Athens?
Ferries to Schinoussa from Athens depart from the large Piraeus Port in Athens. During the summer months, Blue Star Ferries offer three services per week from Piraeus to Schinoussa.
How long does the Athens to Schinoussa ferry take?
The Blue Star ferry from Piraeus to Schinoussa takes 6 hours and 45 minutes in the summer. During the winter, the journey takes 7 hours and 40 minutes, making more stops on the way, and it is also a less frequent service.
How do I buy ferry tickets for Schinoussa?
I've been using Ferryhopper to plan al my Greek island hopping travels online. I find it an easy site to use, and the best place to book Greek ferry tickets online.

Have you taken any Greek ferries across the Aegean sea from Piraeus to Schinoussa? Which ferry company did you use, and what did you think?
Please leave a comment below to help other travelers looking at this ferry schedule!
---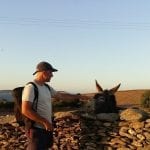 – Dave Briggs
Dave is a travel writer who's lived in Greece for the last six years. He's visited many of the Cyclades islands in Greece such as Schinoussa island, and has a somewhat ambitious goal of visiting every single Greek island (there's over 200!) and writing about them all.
Follow Dave on social media for travel inspiration from Greece and beyond: