Schinoussa could be the quiet Greek island getaway you've been looking for. Incredible food, amazing beaches and peace and quiet. Sounds good?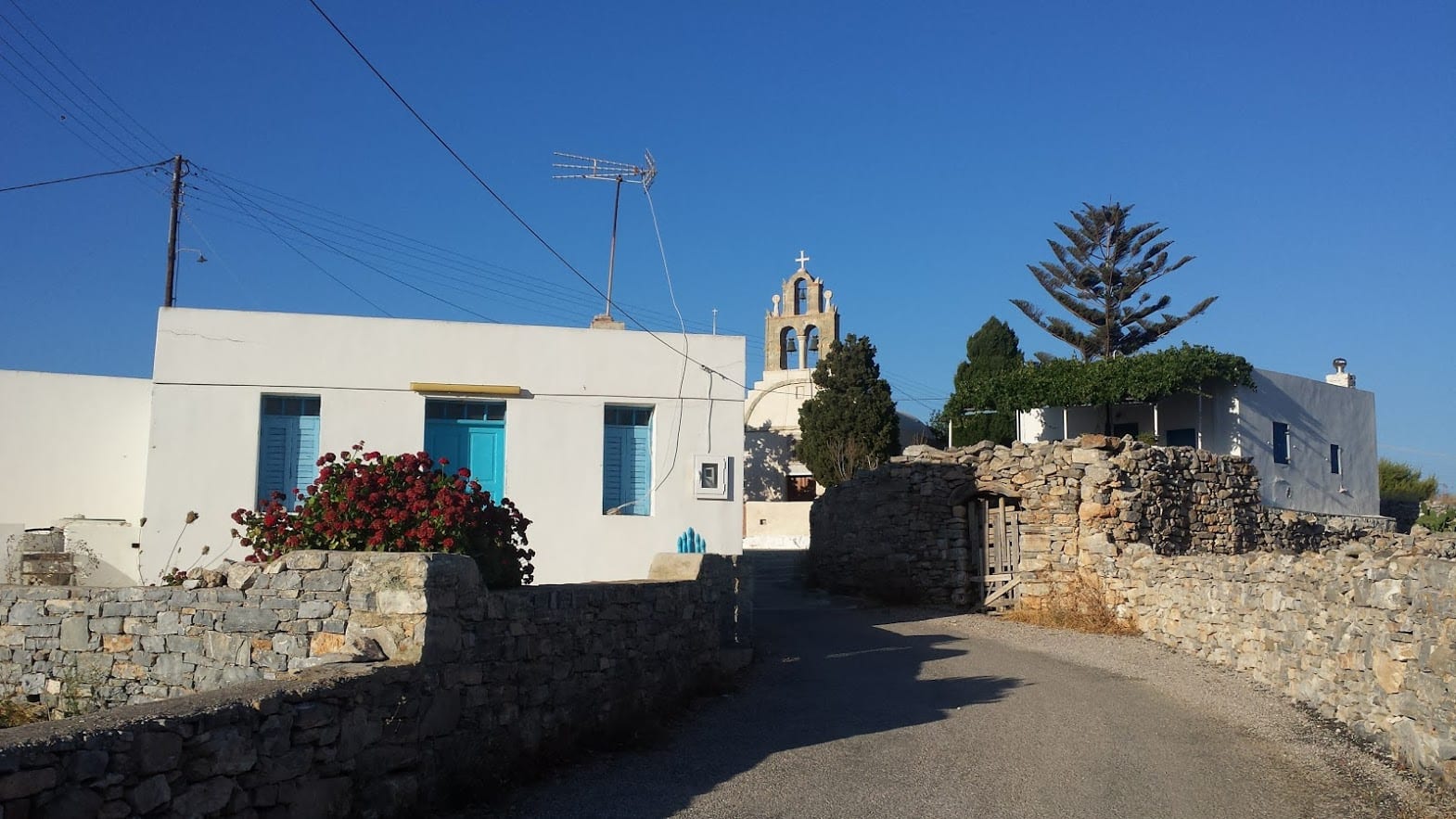 You've probably never heard of Schinoussa
In a way, it's hardly surprising. With some people wanting to see the ancient sites of Greece, and others concentrating on the world-famous destinations of Santorini, Mykonos and Athens, a lot of the Greek islands get overlooked.
Schinoussa is one of those islands.
In a way, I think this is a good thing. It means that Schinoussa has retained its authenticity, and all those things that make a 'secret' Greek island great – amazing food, cool beaches, clear blue waters, and peace and quiet.
In a way, I think it's a shame. There's people returning to Greece for the third, fourth or fifth time on vacation that haven't heard of it, but I'm sure would love it.
I know I did when I visited Schinoussa in the summer a couple of years ago!
Who is Schinoussa for?
Like Iraklia Island, Schinoussa Island belongs to the "Small Cyclades" group of islands. Other islands in this small group are Ano Koufonissi, Kato Koufonissi, Donoussa and Keros, which is uninhabited.
So, if your ideal Greek island is heavy on the party scene, stick to Mykonos, because you won't like Schinoussa. However, if your perfect vacation is one where you go to the beach, have delicious food and just relax then you certainly will.
You'll also need to be the sort of person that puts the effort in to get to Schinoussa in terms of booking your own transport and accommodation.
This Schinoussa Greece travel guide shows you how to book ferries (Ferryhopper is easy!), and suggests accommodation. But will you do it? Maybe I'll see you there next year?!
Schinoussa travel guide – Information about Schinoussa
Schinoussa Island is one of the smallest islands in Greece, with just over 200 residents. Its natural port, Mersini, is one of the best shelters for small yachts all around the Aegean.
Schinoussa has two main settlements, Chora and Messaria. Chora, otherwise known as Panagia, is located about a kilometer from the port, and was built up on a hill since the times that pirate ships roamed the Aegean. Messaria is about 3 kms away from Chora.
There are enough Schinoussa hotels and restaurants to accommodate plenty of overnight visitors. There are also people who arrive on their sailing boats or yachts and spend a few days around the island.
Getting around Schinoussa, Greece
Most roads on Schinoussa are unpaved and there are only a few cars. As the island is small, it's perfectly possible to walk everywhere.
Schinoussa's highest peak is at just 133 metres, and the whole island is fairly flat. You can also rent a bicycle or a car during your stay if you prefer.
Beaches in Schinoussa Island
For an island of its size, Schinoussa has way more than its fair share of beaches, most of which are accessible by road but not necessarily by car.
The majority of the beaches are shallow, and therefore suitable for children. With so many beaches all around the island, you will always be able to find one that is protected by the strong summer winds.
Some of the best beaches on the island with natural shade include the following:
Piso Ammos, the beach opposite the port, a tiny beach with lots of shade
Tsigouri, a short walk from the Chora, accessible through stairs
Livadi, good for families with small children
Almyros, one of the shallowest and most protected beaches in Schinoussa, a little further out from the Chora
Psili Ammos, an easily accessible sandy beach to the north-east of the island. Not the best choice when the winds come from the north
Fikio, to the north-east of the island. Access is through a trail, but be prepared to climb a couple of walls and go through some gates.
Schinoussa Beaches Without Shade
Other beaches in Schinoussa don't have much shade, so you should bring an umbrella, or go late in the evening
Aligaria, Kambos and Gagavi beaches, at the southernmost bay of the island, they are about 2 kms from the Chora, and you will need to follow a narrow path to reach them
Lioliou and Vazeou, the beaches furthest away from the Chora
Gerolimnionas, where you can get through a trail, ideal for snorkelling and diving, and one of the most protected beaches on Schinoussa
Hidden beaches in Schinoussa
There are also smaller beaches around the island. If you want, you can take a day trip around Schinoussa on the Aeolia boat, or visit the nearby islands.
Related: Best Greek Islands For Beaches
Walking around Schinoussa Greece
Schinoussa is an ideal destination for anyone who likes walking. Most roads are either dirt roads, smaller paths, or covered with cobbled stone.
On your way, you will see several windmills, aligned in two straight lines that form a 90 degree angle. Strange!
Walking around the whole island shouldn't take you more than a couple of hours. There are six distinctive trails you can follow:
Chora – Vardies – Gerolimnionas. This hike of 3.5 kms passes by the highest point of the island and leads to the small picturesque beach of Gerolimnionas, offering great views on the way.
Chora – Messaria port – Kambos – Psili Ammos. This 2.7 km long trail passes by Messaria village, with the old church and some deserted stone houses. The trail reaches the sandy beach of Psili Ammos.
Chora – Stavros – Profitis Ilias – Almyros. This short trail of 1.5 kms passes by the hill of Profitis Ilias and leads to the lovely, secluded beach of Almyros.
Chora – Port. If you take this path, ask the locals to direct you to the Pirate's cave, close to the coast.
Chora – Tsigouri. This short walk leads to the cosmopolitan beach of Tsigouri, where an Hellenistic-Roman settlement and an early Christian basilica were found.
Chora – Livadi – Agios Vassilios. This trail of about 1 km leads to the lovely beach of Livadi and the small peninsula of Agios Vassilios.
There are also smaller trails you can follow, such as the ones to the north (Fikio beach) and south (Aligaria, Lioliou beaches) of the island.
As Schinoussa is a part of the Natura 2000 network, you will see plenty of different plants and trees, as well as the occasional donkey. You can decide which is the donkey in this photo!
Where to eat in Schinoussa Island
Schinoussa is tiny, but it has some of the best food we've had in Greece. Quite honestly, all the tavernas and restaurants that we tried in the Chora were fantastic.
Many of them had extensive menus of traditional Greek dishes, while there were also a few modern restaurants that we absolutely loved. Don't leave without trying the Schinoussa fava beans, the local cheeses and fresh fish and seafood.
Festivals in Schinoussa
There are a few special occasions on the island, the famous "panigiria" (similar to fiestas in other countries), where you can taste local food.
These include the fava fiesta in the beginning of July, the dance festival on 12-14 August and the Dormition of the Virgin on the 15th August.
Schinoussa Accommodation
There are quite a few choices for accommodation if you want to spend a few days in Schinoussa. Peak season is mid to late July and August, so you should definitely book ahead.
The majority of the hotels in Schinoussa don't appear on Booking. Fortunately, 've got a full guide here one – where to stay in Schinoussa.
Here's the best that Booking have to offer in terms of Schinoussa hotel choices.
Where to stay in Schinoussa
Here's some of the best hotels to stay in Schinoussa, varying from budget to luxury options.
How to get to Schinoussa Greece
The only way to get to Schinoussa is by boat. There are direct ferries from Piraeus on some days a week, and also ferries from Naxos, Amorgos and the other Small Cyclades islands.
Not all island in the Cyclades connect directly with Schinoussa. For example, if you wanted to travel from Santorini to Schinoussa, you'd have to go via Naxos and swap ferries.
Island Hopping From Schinoussa To Other Greek Islands
The easiest way to plan how to reach Schinoussa from Piraeus Port and ways to travel around the small islands of the Lesser Cyclades is to use Ferryscanner to look at ferry times and buy tickets online.
In 2022, the Blue Star Naxos will be running from Piraeus to Schinoussa three times a week (Tuesdays, Thursdays and Sundays). It departs at 6.45 am from Piraeus and arrives at Schinoussa at 13.30, stopping at Paros, Naxos and Iraklia on the way.
Another option if you want to get to Schinoussa on any other day of the week is to first get any ferry to Naxos, and then take the Skopelitis Express ferry to Schinoussa.
Related: How to get from Athens to Schinoussa
This small, slow ferry runs daily apart from Sundays, leaving Naxos at 14.00 and arriving at Schinoussa Island at 15.50.
The Skopelitis Express has been running this route since the 1950s. Don't worry – the boat is replaced from time to time, but the name lives on.
Naxos to Schinoussa
If you want to get from Naxos to Schinoussa, both the Blue Star Naxos and the Skopelitis Express serve the route. You can take either boat on Tuesdays and Thursdays, while on all the other days it's one or the other. Note that the Express Skopelitis takes approximately 30 minutes longer.
These two boats can also take you to Schinoussa from Amorgos, Koufonissi or Iraklia, and there are trips on a daily basis.
As Amorgos has two ports, Katapola and Egiali, check out where you need to be.
The more remote island of Donoussa is also linked to Schinoussa three times a week, on Tuesdays, Thursdays and Saturdays. Guess what? It's Express Skopelitis again!
For more information on ferry tickets to Schinoussa, check out www.ferryhopper.gr.
Should I go to Schinoussa for a day trip?
We stayed in Schinoussa for five days in summer 2017, and couldn't get enough of it. If you want to relax, swim and spend some days away from everything, it's a lovely destination. That said, it's also possible to visit for a day trip.
If you want to visit from Naxos, Iraklia or Koufonissi, you will see that the ferry schedules aren't very convenient if you want to plan a day trip on your own as you will have very little time on the island. This means your best option is to take a day trip to the Small Cyclades from Naxos.
Pin this Schinoussa Greece travel guide for later
Please pin this travel guide to Schinoussa Greece to one of your Pinterest boards. That way, you'll easily be able to find it later!
Related: Getaway Captions for Instagram
Schinoussa in Greece FAQ
Readers planning to travel to the beautiful island of Schinoussa often ask questions such as:
How do you get to Schinoussa?
The only way to get to Schinoussa is by ferry as there is no airport. There are direct ferries from Piraeus on some days a week, and also ferries from Naxos, Amorgos and the other Small Cyclades islands.
What other islands are near Schinoussa?
Naxos is the largest island close to Schinoussa, and other nearby islands include Iraklia, Donoussa, and Koufonisa.
Will mass tourism catch up with Schinoussa?
It's highly unlikely that Schinoussa will become as touristy as popular destinations such as Mykonos and Santorini. This small island is likely to remain virtually the same for many years to come!
Why should I visit Schinoussa?
There are several reasons why you should visit Schinoussa. Firstly, the island is incredibly beautiful and has some of the best beaches in Greece. Secondly, the food is amazing – fresh seafood and local produce are aplenty. Finally, Schinoussa is a great place to relax and get away from it all.
---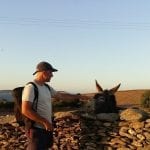 –
Dave Briggs
Dave is a
travel writer
who's now living in
Greece
. Schinoussa is one of his favourite places in Greece, which is why he wrote this guide with everything you need to know about visiting Schinoussa. If you enjoyed reading this guide you should also take a look at his other travel blog posts! Follow Dave on social media for travel inspiration from Greece and beyond: