During the summer, there are 4 or 5 ferries per day leaving from Piraeus Port Athens to Serifos island. The crossing time takes between 2 and 3.5 hours.
Serifos island in Greece
Serifos is the lesser famous neighbour of Sifnos, but this doesn't make it any less special. Overall, it's a relaxed island with wild, arid landscapes and beautiful sandy beaches.
It's great for hiking, swimming, and taking it easy, but there is also enough sightseeing if you want to explore.
The two main settlements in Serifos are Livadi, the port town, and the stunning Chora, built up on the side of a hill. You will find most of the accommodation on the island, as well as many tavernas, cafes and bars. In fact, you might discover more nightlife in Serifos than is obvious at first sight.
There are several ferries from Athens to Serifos daily, after which they continue to Sifnos and some other Greek Cyclades islands. As a result, Serifos is easy to include in an island-hopping itinerary.
How to get from Athens to Serifos
The Greek island of Serifos does not have an airport, so you can not fly directly there. International travelers would be best to get a flight into Athens international airport, and then taking a ferry to Serifos from Piraeus.
Some of the other surrounding islands such as Milos do have airports, but the logistics of flying first to Milos and then taking another ferry to Serifos would just add time on to the journey.
In short: It's best to get a ferry to Serifos from Athens.
Ferries to Serifos from Athens
During the summer months, which is the tourist season, most ferries leave from Piraeus Port to Serifos 4 ot 5 times per day.
In the high season, ferry connections may also sail from the port of Lavrion to Serifos. This Serifos ferry route varies very much from year to year though.
When planning your ferry ride, it is easier to consider leaving from the main port of Piraeus.
There are 3 ferry operators sailing from Piraeus to Serifos, which are SeaJets, Aegean Speed Lines, and Zante Ferries.
SeaJets offer the fastest crossings at just 2 hours to travel from Athens to Serifos. They typically have higher ticket prices for ferry routes.
Zante Ferries have the slowest crossing, which takes around 3.5 hours. They use larger conventional ferries, but they do operate this route all through the year.
Ferry Schedules and How To Book Your Ferry Tickets
Island hopping among the Cyclades islands has been a lot easier since Ferryhopper started their booking engine just a few years ago. You can now check a ferry schedule and ferry ticket prices all in one place.
Whenever I plan a ferry trip in Greece in the summer season it's what I use myself to book ferries online.
Keep in mind that summer ferry schedules may not be released by Greek ferry companies until the end of March and sometimes even April.
Serifos Island Travel Tips
Serifos trip planning doesn't need to be daunting. Make it a little easier with these insights:
---
For Serifos ferry tickets from Athens, check out the Ferryhopper website.
---
---
Use Welcome for taxis to and from Piraeus Port in Athens.
---
---
What to do in Serifos Greece
Serifos belongs to the Cycladic islands chain. Some of the highlights of Serifos you'll want to experience include:
Explore the stunning Chora, with the traditional Cycladic architecture when you visit Serifos
Visit the folklore museum and the archaeological collection in Chora
Enjoy beautiful beaches like Ganema, Livadi, Livadaki, Avlomonas, Psili Ammos and Agios Sostis
Visit the Taxiarches Monastery, and stay for sunset
Explore the abandoned mines near Megalo Livadi
Dive off the coast to see the sunken train carriages and the Kalogeros shipwreck
FAQ About How To Get To Serifos From Athens
Boats from Athens to Serifos leave from Piraeus Port of Athens. Readers planning to travel between Athens and Serifos, and want to find out more about the Piraeus Serifos ferry typically ask questions such as:
How do I get from Athens to Serifos?
The best way to get to Serifos from Athens is by ferry. During the summer months, which is the tourist season, there can be 3 ferries per day leaving from the port of Piraeus going to Serifos.
Is there an airport on Serifos?
Serifos doesn't have an airport, and so there are no flights to Serifos island. The only way of getting to Serifos is by ferry. The closest international airport to the Greek island of Serifos is in Athens. From there, you would need to travel to Piraeus Port and then take a ferry to Serifos.
Where does the Serifos ferry leave from in Athens?
During the summer, up to 3 ferries per day leave from Piraeus Port in Athens and sail to Serifos. Depending on seasonal demand, additional ferries from Lavrion Port may be added in some weeks.
How long does the ferry to Serifos from Athens take?
The ferry from Athens to Serifos takes between 2 and 3.5 hours, depending on the ferry used. SeaJets are normally the quickest ferry at 2 hours, but the tickets are generally more expensive as a result.
What is the Athens to Serifos ferry price?
The Athens Serifos ferry price starts from 36 Euro for passengers on the slower Zante Ferries boat (4 – 4.5 hours crossing time). Passenger ticket prices for the much faster SeaJets high speed ferry (2 hours journey time) are more expensive at 65.70 Euro to get from Piraeus to Serifos by ferry.
How do I buy Serifos ferry tickets?
If you want to book ferry tickets to Serifos online, the Ferryhopper site is very easy to use. If you prefer to wait until you are in Greece, then just visit any local travel agency.
---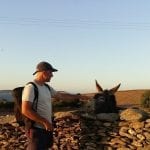 – Dave Briggs
Dave is a travel writer who's been living in and writing about Greece for over six years. During that time, he's visited dozens of Greek islands to write guides such as this one on how to get from Athens to Serifos island. He has a somewhat ambitious goal of visiting every Greek island (there's over 200!) and writing about them all.
Follow Dave on social media for travel inspiration from Greece and beyond: Facebook, Twitter, Pinterest, Instagram, YouTube.