There are 2 ways to travel from Athens to Naxos – by ferry and flights. This guide to Athens Naxos ferry routes and flight information will help you decide which mode of transport is best depending on your circumstances.
A complete and up-to-date 2022 guide on how to get from Athens to Naxos by ferry and plane written by a local. Includes Athens to Naxos ferry information, flight details, and more.
How to reach Naxos from Athens
There are two ways to get from Athens to Naxos island in Greece. These are to travel by ferry or plane.
As Naxos is one of the most popular Greek islands, you can expect plenty of travel connections from Athens in the summer months. Even outside the high season, there are many ferries and flights from Athens.
Taking the ferry from Athens to Naxos is the most common way to travel. Check ferry schedules, recently updated routes and book ferries online here: Ferryhopper
Ferries depart from Piraeus Port on the Naxos route. Ferries arrive at the main port of Naxos in Naxos Town. You will know you are there when you see the iconic Portara of Naxos!
Taking a flight from Athens to Naxos is good for international arrivals who can get on a connecting flight straight away. Check out cheap flights here: Skyscanner
Note for international travelers: Currently, Naxos does not have direct international flights. Perhaps it will in the future? I've a guide here to Greek islands with airports that may make planning onward travel from Naxos easier.
Is it better to fly or ferry between Athens and Naxos?
The best way to get from Athens to Naxos depends on a few things. If you are arriving into Athens International Airport (AIA) and can get a direct flight, then it might make sense to fly. However, if you visiting Athens first and are already in Athens city centre, taking the ferry is usually the better option. The Athens Naxos ferry route is also cheaper than flying.
Athens to Naxos by ferry
Travelling to Naxos island by ferry is a popular option during the summer season. In fact, there can be 10 or more daily ferries sailing on this route!
Naxos ferries leave from both Piraeus port and Rafina port. If you plan to sail to Naxos by ferry directly after landing at Athens International Airport, you may find Rafina Port to be the most convenient point of departure.
If you're planning to spend time in Athens city center first, the Piraeus ferry port might be a better one to leave from.
Before getting to Naxos, the ferries stop at Paros, and some of them also stop at Syros and Mykonos. Make sure you go out on the deck to check out the ports when you sail!
Check ferry timetables and buy Naxos ferry tickets online at Ferryhopper.
Ferry Travel From Rafina
During the summer season, there can be 4 or more Naxos ferries leaving from Rafina Port. You'll find a high speed ferry on the schedule, but also some slower vessels.
As a rule, ticket prices for most ferries get more expensive the quicker the journey!
During the low season, you probably won't find any crossings on this route at all – instead, you'd need to use Piraeus Port.
For the most recently updated routes, and to buy a ferry ticket online, use Ferryhopper.
Ferry Travel From Piraeus
During the summer, there can be 6 or more daily ferries from Piraeus to Naxos island. Even during the winter months, it's not unusual to find 3 or more ferries per day.
Again, there is a mix of high speed and conventional ferries, and prices can vary according to which ferry company you use and how fast the crossing is
A special note for Piraeus – It's always advised to be at your departure port an hour before your ship is due to sail. This is especially the case with Piraeus, as it is such a large place.
Getting to Piraeus Port from Athens airport and central Athens
It is easy to get to Piraeus from central Athens on either the green metro line or a taxi. Metro tickets cost 1.40, while a taxi ride should be around 10-12 euro.
If you are arriving at the ATH-Eleftherios Venizelos airport and need to get straight to the port, you can use the Express Bus X96, the metro, the suburban railway or a taxi.
The bus is probably the simplest option, but it can take around one and a half hours. Tickets cost 6 euro, while the metro and suburban railway cost 10 euro. A taxi, on the other hand, would cost around 45-50 euro and take just under an hour.
Piraeus port has several gates, with ferries departing to dozens of Greek islands. Ferries for Naxos depart from gates E6 / E7, which is very close to Piraeus metro and suburban railway station.
This is a map of Piraeus port. It's in Greek, but the gate numbers are the same. When you have your ticket, make sure you know which gate your Athens Naxos ferry will leave from.
If you've never used public transport in Greece before, take a look at this article: Public transport in Greece
Athens – Naxos ferry prices
You will find the following ferry companies operating the Athens Naxos crossings: Blue Star Ferries, Golden Star Ferries, and fast Ferries.
Ticket prices among these Naxos ferries vary widely. Blue Star have deck seats starting at 34 euro, and several other types of seats and cabins. SeaJets are more expensive, with certain seats costing around 90 euro.
There are discounts for children, depending on their age. In addition, if you are an ISIC holder, Blue Star Ferries offer a 50% discount on all passenger tickets.
Unlike flight prices, ferry ticket prices do not increase closer to the time of your trip. However, booking them last-minute isn't always possible, as they may be sold out.
If you are an early planner, it's worth checking out prices months in advance of your trip. Occasionally, Blue Star Ferries release non-transferrable, non-refundable Piraeus-Naxos deck seats for only 20 euro.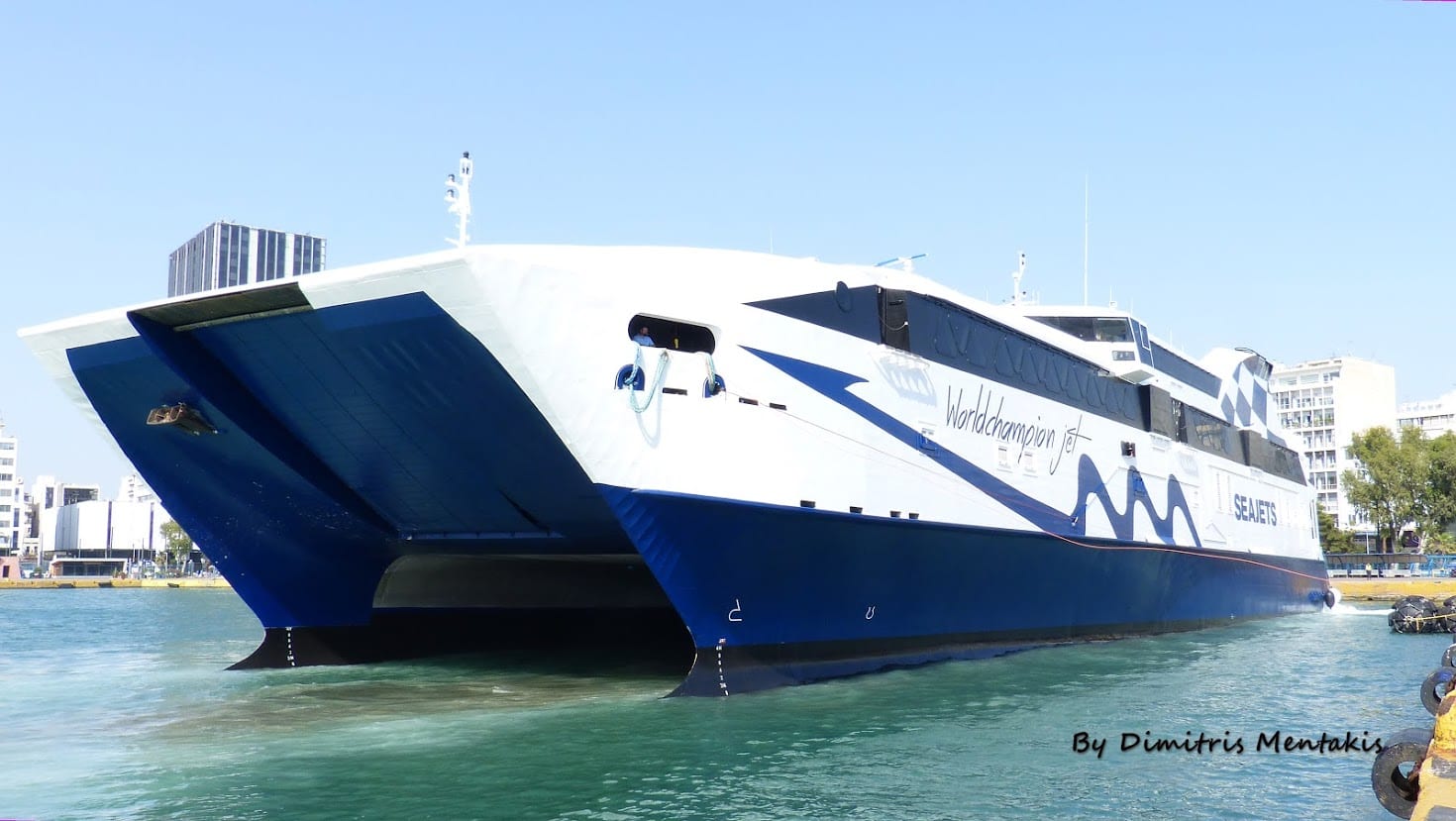 Tips on booking ferry tickets from Athens to Naxos
I personally prefer to book ferry tickets about a week or two in advance. I would suggest you do the same, especially if your dates are not flexible, if you want a specific type of seat / cabin, or if you are travelling in peak season.
Popular times of the year for travelling on Greek ferries include
The days before Easter (for 2021, Greek Easter is on 2nd May)
The time around the Holy Spirit day (a Monday Bank holiday in May or June, falling on a different day every year)
Most summer weekends, when Athenians go on weekend breaks to the islands
Peak season, which is pretty much all of July and August.
For Blue Star Ferries, the cheapest option, "deck" seat, means that you won't have a reserved seat. This might get a little uncomfortable if the ferry is busy, as you may not be able to find a seat you like.
If you are travelling on a Blue Star during peak season, you may want to book an "airplane" seat instead. This is a reserved indoors seat, which gives you the flexibility to wander around most areas of the ferry, including the deck. There is also a business class option.
Once on the ferry, you can buy food and drinks at the numerous cafes, but you can also have your own snacks if you prefer. Bring a light jacket, as the AC can be quite strong, or a hat and sunblock if you are planning to sit outside.
You can see the specification of these ferries, and all information you need for seats and cabins, in this detailed article: Ferries in Greece.
How to book ferry tickets from Athens to Naxos
My favourite website to book ferry tickets in Greece is Ferryhopper, which I highly recommend. You can quickly create your own island-hopping itinerary from Athens to Naxos and beyond.
Once on the website, you can see all options from Athens to Naxos, along with prices. Only available seats will show up.
After booking the ferry to Naxos, you will receive an e-ticket which you can keep on your phone. This means you won't have to pick it up from the port, as was the case until very recently.
Flights from Athens to Naxos
The small JNX Naxos Island national airport only serves domestic flights. This is why Naxos isn't as easily accessible from abroad as other nearby islands like Paros.
People who prefer air travel can fly to Naxos island national airport (JNX) from Athens though. Flights from the Athens Eleftherios Venizelos airport are very short, around 40-45 minutes.
Airfares vary a lot throughout the year. Generally speaking, it's possible to get a return ticket for 80-120 euro, and the off-season is often cheaper. Last minute prices can rise to about 200 euro or more.
As a rule, the earlier you book, the lower the price. In addition, both companies run promotions now and then, so you could consider subscribing to their mailing lists.
At the time of writing, two companies fly from Athens to Naxos airport (JNX): Olympic Airways / Aegean Airlines, and SkyExpress.
Related: Airplane snacks to take with you
Flights Athens ATH to Naxos JNX – Which company is the best?
Olympic Air / Aegean Airlines is the best known airline within Greece, having won multiple awards over the years. They normally offer three different classes of airfares, some of which only include hand luggage. For more information, check out their website
SkyExpress are a smaller Greek company offering flights within Greece. You can find more information here.
In my experience both companies are great and the trip is short, so I would personally choose any of the cheapest flights available. Before you book, check all your options in terms of luggage and flexibility, if it's important to you.
If you are flying to Naxos JNX just after you have arrived to Athens ATH on an international flight, allow enough time for customs and immigration. It's best to allow at least a couple of hours between your arrival and your onward Naxos flight.
Best way to get from Athens to Naxos
The best way to travel to Naxos island from Athens depends on a few things.
For example, is Naxos your first destination in Greece, or are you spending a few days in Athens first? Do you like ferries? Do you prefer booking your fares months before your trip, or are you more a last-minute type of person? Do you have time, or budget constraints?
In my case, living in Greece, I would just choose a Blue Star Ferry that fits my schedule. As a side note, Blue Star Naxos leaves at 6:45, which many passengers may find a bit early.
I would also suggest the same for people who are spending a few days in Athens before heading out to Naxos island.
On the other hand, some visitors travel to Athens International airport (ATH) aiming to head directly to Naxos island. In this case, the best option would be to catch an onward Naxos flight which suits your schedule.
Are there alternatives to the Athens-Naxos route?
Before deciding on how to get to Naxos, you should be aware that there are ferry connections with several other islands, mostly in the Cyclades.
A few examples are Mykonos, Santorini, Paros, Syros, Milos, Kimolos, Sifnos, Amorgos, Schinoussa, Iraklia, Koufonisia, Donousa, Anafi, Ikaria and Astypalea.
I've a guide here on how to get from Athens to the Cyclades islands.
If you aren't necessarily thinking to visit Athens in this trip, you can always book a direct flight to another island instead. Then you can take a quick ferry trip to Naxos. Some of the islands with international nearby airports include Mykonos (JMK), Santorini (JTR) and Paros (PAS).
Now if you are thinking island-hopping from Naxos, the choice might be a little overwhelming! Again, you can use ferryhopper to search for ferries from Naxos and book your seats. In terms of the logistics, this article on island-hopping on a budget might help.
Why visit Naxos?
You may not know much about Naxos island. You are not alone! While Mykonos and Santorini are world-famous, Naxos is lesser known. However, it's a popular destination among Greeks and devoted fans from abroad.
In a nutshell, Naxos is the biggest of the Cycladic islands in Greece. It has dozens of amazing sandy beaches, like Agios Prokopios and Plaka. Its quaint villages, like Apiranthos, Filoti and Apollonas, are very unique. It also has some of the best food I've had in the Cyclades!
Naxos island is also one of those destinations that doesn't rely on tourism alone. There's plenty of farming and agriculture, including the famous Naxian potatoes, all around the island.
Is it as cosmopolitan as Mykonos? No. Does it have a volcano, like Santorini? No. Do we care? Definitely not!
You see, Naxos is a lot more authentic and down to earth than some other famous Greek islands.
This might be a) because Naxos airport is not international and b) because cruise boats don't stop here. If you ask me, this is a good thing!
Here's some more information on visiting Naxos, to help you decide if it's for you: Naxos Travel Guide
Once you've decided you want to go to Naxos, check out my guide on where to stay in Naxos.
If you already know all this, here's how to get there from Athens.
FAQ about getting to Naxos
Here are some commonly asked questions about travel to Naxos from Athens.
Can I fly from Athens to Naxos?
You can get to Naxos island on a domestic flight from Athens. Flights are operated by Sky Express and Olympic Air.
How long is the ferry ride from Athens to Naxos?
Depending on which ferry you choose, the journey from Athens to Naxos takes between 4 and 6 hours.
How much is the ferry from Athens to Naxos?
The Athens – Naxos ferry ticket prices vary a lot, from 34 to 90 euro. If you book well in advance, you can find non-refundable, non-transferable tickets for 20 euro. Discounts for children and students are also available.
Is Naxos better than Mykonos?
Naxos has a lower profile than Mykonos, and so it appeals to travelers who like less crowded places. The beaches are as equally nice, and overall, Naxos is considerably cheaper, especially when it comes to accommodation.
Is Naxos better than Santorini?
Naxos has far better beaches than Santorini, and you will have a much more genuine experience on this far bigger Greek island. If you plan to visit both, allow more time in Naxos as there is far more to see and do.
Greek Islands Travel
You might also like to read these other guides:
---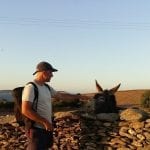 –
Dave Briggs
Dave's
travel writer
from the UK who's been living in Greece since 2015. As well as writing this Athens to Naxos travel guide, he's also created hundreds of other travel blog posts about destinations all over Greece. Follow Dave on social media for travel inspiration from Greece and beyond: