My pick for the best bike handlebar bag for touring is the Ortlieb Ultimate 6 classic, but Vaude, Thule and Rockbros also have great waterproof bags for your handlebars.
Are you researching handlebar bags for your next bicycle tour in 2023?
In this blog post, I'm going to run through the different aspects of bike handlebar bags and what you should look for so you can choose the right one.
What are the best handlebar bags for bike touring?
Here's a quick list of the most popular handlebar bags for cycle touring:
Personally, I have settled on the Ortlieb Ultimate 6 handlebar bag as my go-to bag for bike touring. I'll be taking it on my next bike tour in Iceland.
It's waterproof, easily accessible when riding, and is one of the most durable bags you'll find in its class.
I'll go into more details about it later, along with the other handlebar bags that have made the list.
First though, I want to make a distinction between bike touring and bikepacking which is important when it comes to looking for the best bike handlebar bags for touring.
Bike Touring Handlebar Bags vs Bikepacking Roll bags
If we go back 10 or 15 years, traveling by bicycle was known as bike touring or bicycle touring. Generally, this involved a racks and panniers approach to carrying your gear on a bike.
Around 2009, the term bikepacking started to become more introduced. This came about from people who wanted to carry less gear on their bikes.
With a backpackers mentality, they wanted to go as ultralight as possible, and so started to develop their own frame bags to stow gear.
Fast forward to 2023, and bikepacking with frame bags and the like has really taken off. In addition, the word bikepacking is almost more commonly used than bike touring and it has become interchangeable.
This can lead to some confusion, which may affect what type of handlebar bag you choose to buy.
Typically, a bikepacker will want a setup that does not use a handlebar bag. Instead, they use a waterproof roll bag which most commonly contains camping gear like a sleeping bag, tent, or tarp.
A cyclist with a traditional racks and panniers bike touring arrangement however, will most likely prefer a traditional handlebar bag. They prefer the ease of which they can take snacks, phones, and other daily use items out of the bag as they ride.
This article is focused solely on handlebar bags which are more suited to classic bicycle touring setups. I might take a look at bikepacking rollbags in a future blog post.
A typical bike touring set up by Mexican on a Bike
What to look for in a bike handlebar bag
So, now we've got a clearer idea of what a bicycle handlebar bag is, what should you look for when choosing one for touring?
Well, it's got to be waterproof. That's a no-brainer.
Simple yet sturdy design
You should have quick access to gear from the top while stationary or cycling.
It has to be easily detachable with a quick release so you can take it with you when locking the bike and nipping into stores.
Larger handlebar bags are generally more useful than smaller handlebar bags when touring.
Large enough to keep all the essentials used in a day like a spare tube, powerbanks, snacks, etc
The handlebar bag should be long lasting.
It should have a proven track record.
I'll be upfront with you now – the answer really is Ortlieb! Still, it was fun looking at the other types of handlebar bag available online.
Note: I've been hearing great things about Arkel bags. I couldn't find them on Amazon, hence they are not listed below.
10 best handlebar bags for bike touring
Here then are 10 of the best bike touring handlebar bags. I've listed them in an order from what I consider to be the best downward. As always I'd love to hear from you, so feel free to leave a comment at the bottom of the article!
---
Ortlieb Ultimate6 M Classic Handlebar Bag

For cyclists outside of the USA, Ortlieb is the number one choice for bike touring bags. This German company produces hard-wearing, incredibly waterproof products that last for years and years.
When it comes to handlebar bags, the Ortlieb Ultimate 6 is their number one offering. This bar bag does come in two sizes which are Medium and Large, but most people find that the medium bicycle front bag is more than adequate for their needs.
Unlike some bags, this is a waterproof handlebar bag due to the materials it is made of. So, no need for additional rain covers. There's also a detachable shoulder strap, so when you do take it from the bike, you can hang it over your shoulder. Useful for going into shops!
The Ultimate6 handlebar bag is compatible with several other systems from Ortlieb, meaning that you can attach map cases and mobile phone holders.
The large storage capacity, and the tried and tested design which has fundamentally changed little over the last 10 or even 20 years makes the Ortlieb one of the best bicycle handlebar bags on the market.
I've personally used Ortlieb bike touring products for many years such as the Ortlieb Back Roller Classic Panniers, and have no complaints. Balance out their slightly more expensive nature against how many years they will last, and you'll end up with a bike handlebar bag that offers great value for money.
Ortlieb Ultimate6 Handlebar Bag Dimensions
height:21 cm
width:24 cm
depth:13 cm
weight:710 g
volume:7 L
Available via Amazon.com – Ortlieb Ultimate 6 Bag
Available via Amazon.co.uk – Ortlieb Ultimate 6 Bag
---
Vaude Road I bike handlebar bag

Vaude are another European outdoor brand which have a range of bike touring products to choose from. Their Vaude Road 1 Bike Handlebar bag is worthy of consideration.
A classic look and lightweight, the Vaude handlebar bag is available in several different colours, and like the Ortlieb this bag features a carry strap so you can take it with you when locking the bike up.
In my opinion, despite the easy access the real let-down with the Vaude bar bag is that the materials it is made of are not waterproof. Instead, additional rain covers (provided) need to be put on.
Still, the Vaude is a well respected brand, hard-wearing, and normally comes in a little cheaper than the Ortlieb bags.
Weight: 495 g
Volume: 6 l
Dimensions: 18 x 24 x 15 cm
Max. load weight: 7 kg
Available via Amazon.com – Vaude Road 1 Bike Handlebar bag
Available via Amazon.co.uk – Vaude Road 1 Bike Handlebar bag
---
Brooks Isle of Skye Handlebar Bag

Brooks of England are most famous for their bicycle saddles such as the classic Brooks B17 saddle and the Cambium C17 saddle. They do make a range of other items suitable for bike touring though, one of those being the Isle of Skye Handlebar bag.
Now I'll be honest and say that this handlebar bag from Brooks has something of a hipster feel to it. Is this really the best bike handlebar bag for long distance bike touring?
The phrases 'water resistant' are used instead of waterproof, and somewhat remarkably it weighs even more than the Ortlieb handlebar bag – Quite a feat!
Still, this bicycle handlebar bag might appeal to those looking for a more stylised look to their bike touring equipment.
VOLUME: 9 Lt
WIDTH: 26 cm
HEIGHT: 21 cm
DEPTH: 17 cm
WEIGHT: 1050 gr
Available via Amazon.com – Brooks Isle of Skye Handlebar Bag
Available via Amazon.co.uk – Brooks Isle of Skye Handlebar Bag
---
Ibera Bicycle Handlebar Camera Bag

It seems you can't get away from this Ibera handlebar bag when looking on Amazon! Touted as a bicycle handlebar camera bag it seems to tick all the boxes for people looking for a bar bag for their camera gear.
Or does it? Again, the material is only water-resistant and the bag is supplied with a rain cover. Would you really want to risk your DSLR camera in a handlebar bag that may absorb water rather than repel it? Something to consider.
The price point is very attractive though, making it a nice entry-level handlebar bag for touring. If you are more of a fair-weather cyclist and are looking for a way to take your camera equipment with you on short bike tours, perhaps the Ibera bike handlebar camera bag appeals to you.
Large: IB-HB3
Dimensions: 12.6″ x 8.6″ x 9″
Capacity: 7L
Carry limit: 11 lbs. (5 kg)
Weight: 1.9 lbs.
Medium: IB-HB4
Dimensions: 9.8″ x 6.7″ x 6.3″
Capacity: 4.4L
Carry limit: 6.6 lbs. (3 kg)
Weight: 1.38 lbs.
Available via Amazon.com – Ibera Bicycle Handlebar Camera Bag
Available via Amazon.co.uk – Ibera Bicycle Handlebar Camera Bag
---
Thule Unisex Pack 'n Pedal Shield Waterproof Handlebar Bag
The name is something of an indicator that this waterproof handlebar bag is not aimed squarely at the bike touring market.
Designed to be a bag you can attach to your bike, and then easily remove and take with you when you reach your destination, it's probably aimed more for day riders, commuters, and weekend cyclists.
With that said, Thule are a respectable brand who do make quality products. In terms of bike touring though, I think the roll-top is a bit of a let down. Given the pricing points for the Thule handlebar bag and the Ortlieb are similar, I'd probably want to stick with Ortlieb.
Product Dimensions: 14 x 14 x 7 inches ; 12.8 ounces
Available via Amazon.com – Thule Waterproof Handlebar Bag
Available via Amazon.co.uk – Thule Waterproof Handlebar Bag
---
TOPEAK Tourguide Handle Bar Bag
Topeak are a well respected brand in the cycling world, perhaps most famous for their Topeak Alien 2 Multi-Tool. They have several offerings when it comes to bike handlebar bags, with the best being their Tourguide Handlebar bag.
Visually, I'm sure this will appeal to people who like to see lots of exterior pockets on things. Already, you can imagine which essential items you will be keeping in which compartments of the Tourguide handle bar bag.
On a practical level however, I've found that more pockets with zips is not necessarily a good thing. There's more zips to break, more places for crumbs and rubbish to accumulate, and inevitably some compartments will be impractical.
For me, the main issue is again the rain cover. Once cycle handlebar bags like this get wet (and it will despite the rain covers) they're never quite the same after. It might last a year or two, but lacks the longevity of the Ortlieb front handlebar bags.
Dimensions: 10 by 7.1 by 9.1 inches (L x W x H)
Weight: 1.48 pounds
Available via Amazon.com – TOPEAK Tourguide Handle Bar Bag
Available via Amazon.co.uk – TOPEAK Tourguide Handle Bar Bag
---
Altura Grey-Black Dryline 2-7 Litre Bicycle Handlebar Bag
Altura are another well known cycling brand, and so I was somewhat surprised to see that their bicycle handlebar bag doesn't have any reviews on Amazon in the USA or UK. Perhaps they sell mainly through other stores or sites?
I've owned a number of Altura products through the years, and whilst I think they offer good value for money, my feeling is they are a notch below Ortlieb products.
Still, this waterproof bike handlebar bag does seem to tick all the boxes from what I can see, although the absence of reviews does puzzle me. There are also no product dimensions from what I can see.
Available via Amazon.com – Altura Grey-Black Dryline 2-7 Litre Bicycle Handlebar Bag
Available via Amazon.co.uk – Altura Grey-Black Dryline 2-7 Litre Bicycle Handlebar Bag
---
ROCKBROS Bike Handlebar Bag
Rockbros do a range of bike packing packs and and top tube accessories. This is their offering for more traditional bags for the handlebar.
For the price, it seems to punch above its weight. They claim it is 100% waterproof, with high strength tear resistant 600D nylon + waterproof TPU film. Its roll down top does not allow for immediate and easy access, but it will keep things dry.
I think this is a rather basic design, and using it on a multi-day ultra-distance bike tour might show that it is more annoying than useful. Still, its fixing system does make it an option if you are considering touring on your road bike, and it is lightweight.
Material: 600D nylon + TPU film
Size: 11.8*12.2*2.56cm(approx)
Weight: 180g
Available via Amazon.com – Rockbros Bag
---
Bushwhacker Durango Black – Bicycle Handlebar Bag
Another choice of bike touring handlebar bag to consider, is the very affordable Bushwhacker Durango Black. It's two compartments mean that you could separate food and electronic items, and the price is very appealing.
The one drawback – and it's a major one – is that this cycling front bag is not waterproof. It's also unclear as to if it is supplied with rain covers.
So, it might be a suitable product for casual cyclists and fair-weather bike touring, but certainly not up to the rigours of the road during a long distance bicycle tour where a guaranteed dry bag is preferred.
Dimensions: 10″x4″x6″ (LxWxH). Volume: 235 cubic inches.
Available via Amazon.com – Bushwhacker Durango Black – Bicycle Handlebar Bag
---
ZETOM Cycling Bicycle Bike Bag
Finally, I am going to throw in a newer style handlebar-pack. After all, just because I don't think it's suitable for me, doesn't mean it won't work for you.
In all fairness, this seems to be a very versatile bike. It can switch from being a bike front bag to a top tube bag to a shoulder bag very easily. With this in mind, it might appeal more to the bikepacking enthusiast out there.
For me, the real downside is that it doesn't appear to be easy to access your day to day items. I'm not entirely convinced by the fixing system either. Still, the manufacturers do claim that it is a waterproof front bag for a bike.
Size: 13.8″ x 7″ x 5.5″
Weight: 0.5kg/1.1 lb
Available via Amazon.com – ZETOM Cycling Bicycle Bike Bag
---
Bike Handlebar bags FAQ
Thinking of getting new bike bags for your handlebars? Here's some questions that other cyclists often ask:
What is the best bicycle bag?
Ortlieb offer a great range of waterproof bags and panniers for bike touring, including bike handlebar bags.
What is a handlebar bag?
Bar bags attach to the handlebars and act as a convenient location for storing items such as a map, snacks, or your phone while cycling. This is a really useful feature, whether you're going on a long bike trip or just heading into town to shop.
What do you keep in your handlebar bag?
Bike handlebar bags are a very useful place to keep items you may use on a regular basis during long rides on a bicycle tour. Bike tools, snacks, phones, and even spare clothing can be carried in a bikepacking handlebar bag.
Do handlebar bags affect handling?
The bicycle's handling is not affected by a handlebar bag. The bag itself would weigh only 1.5kg, and it is unlikely to be filled with anything that weighed more than 2kgs.
Should a good handlebar bag be waterproof?
Just like any other bags you use for bicycle touring, the best handlebar bag should be waterproof. Most handlebar bags of a high quality will be made out of a waterproof material. A cheap handlebar bag may come with sperate rain covers.
Pin this guide to bike touring handlebar bags for later
The bike handlebar bags we've looked at today are all waterproof and range in price from $35 to $150. The most inexpensive options were the Bushwhacker Durango Black and ZETOM Cycling Bicycle Bike Bag, while the more expensive ones included Ortlieb bikepacking handlebar bags, Rockbros Handle Bar Pack and Altura Grey-Black Dryline 2-7 Litre Bicycle Handlebar Bag. You can find these products on Amazon or other bicycle shops near you!
You might also be interested in:
---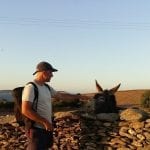 –
Dave Briggs
Dave is a
travel writer
from the UK who has traveled all over the world by bike. As well as writing this guide to choosing the best handlebar bags for bike touring, he's also written many others to do with bike touring and cycle maintenance. Follow Dave on social media for bike touring ideas: