In this Meet the Cyclists feature, I interview Efren E. Zenteno, a Mexican cyclist who has spent many years cycling around the world. Here's his story.
Meet the Cyclists – Efren E. Zenteno
Here's another inspirational bike touring story for you! Meet Efren, a Mexican cyclist who has travelled thousands of miles all around the world by bicycle.
You can check out his website here for more details – Efren Zenteno and check out some of his bike touring photos on Instagram.
1. Can you please introduce yourself and give a bit of background?
Hello, my name is Efren E. Zenteno R. my date of birth is March 1, 1956.
I am a Food Engineer at the University of the Americas in Puebla, Mexico and worked for the Nestle Company…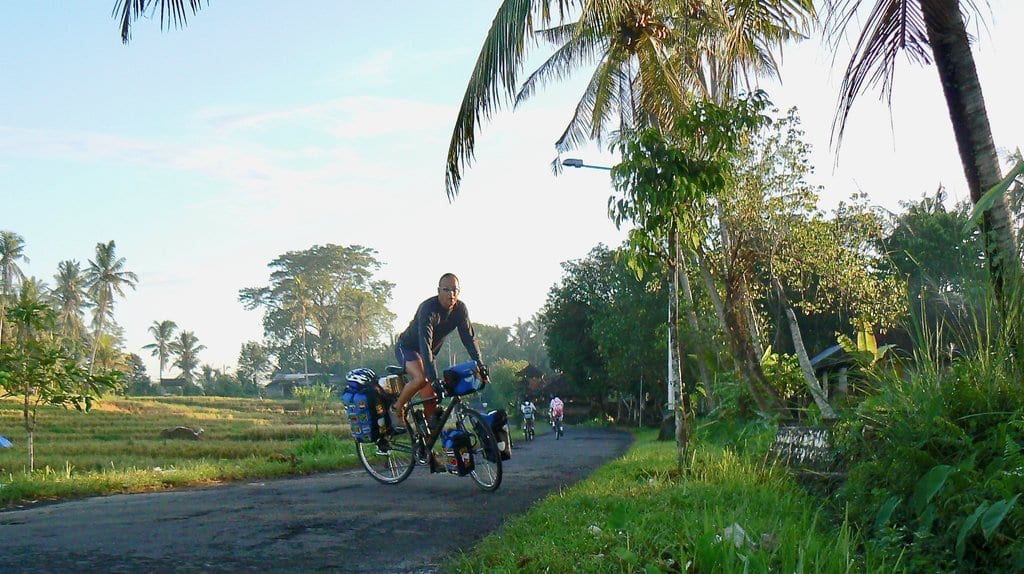 The sport I carry in my blood, my mother put me on the summit of Pico de Orizaba (18855 ft.) which is the volcano and the highest mountain in Mexico when I was only 10 years old.
She taught me everything that is adventure sports such as free rock climbing, kayaking, rafting, high mountain, cycling, trekking, etc. as well as orienting myself with the stars in the jungles, mountains and deserts …
And good with just a few words she taught me everything in life, when she told me Son "All dreams and what you propose in life is possible"

My mother Norma Rodriguez F. being baptized at the summit of the Pico de Orizaba Volcano in Mexico when she was 17 years old in 1950.
I have practised many sports such as karate, foot ball, athletics, etc. I have been national duathlon and triathlon champion, long distance duathlon world champion, national cycling champion, national cross country champion and extreme sports competitions, etc. but what I like most is to travel the world by bicycle …
2. How did you get into bike touring, and what's your motivation?
… in 1975 when I went to play soccer with the University of the Americas to the United States in a bicycle store in Los Angeles I saw a poster of a cyclist on a Grand Canyon bluff looking beyond what others can see and that image graved forever in my mind …
13 years later I was in that same place

… since I was a child I always wanted to see and know the world through my own eyes and not through stories that were lived, photographed or written by other people …
… in 1978 when I was competing in the United States, I met the greatest of all, the Dutch Frank Van Rijn who was on his first trip around the world, and who finally inspired me to travel through this wonderful world where we touched live to know and discover ancient cultures, lost villages, strange tribes, majestic buildings, amazing religions, wonderful people, incredible places …
Many years later I found Frank again in Cambodia and I was able to pedal a few miles with him
… yes, first this was a dream, then it became a fixed idea and later a reality …
My wife Marisol Aguilar R. has always been an extra motivation to carry out all my adventures in this world, always reaching and accompanying me at the end of each continent or each of these adventures for at least the last two months…
3. You have undertaken several long distance bike tours. Can you tell us about them?
America (1987 & 1997)
Travel time: 12 months
Distance traveled by bicycle: 35,200 km. (22,000 mi).
Stages two: 1987 Proudhoe Bay, Alaska to Managua, Nicaragua.
1997 Managua, Nicaragua to Ushuaia, Tierra del Fuego.
Countries: Alaska, Canada, United States, Mexico, Guatemala, Belize, El Salvador, Honduras, Nicaragua, Costa Rica, Panama, Colombia, Ecuador, Peru, Brazil, Bolivia, Chile, Argentina and Tierra del Fuego.
ASIA (2003 & 2009)
Travel time: 6 + 2 months.
Distance traveled by bicycle: 12,480 km (7,800 mi).
Stages Two: Ho Chi Min, Vietnam to Kathmandu, Nepal.
Tibet, Singapore, Bangladesh, Sri Lanka.
Countries: Malaysia, Vietnam, Thailand, Cambodia, Laos, India, Nepal, Tibet & Singapore, Myanmar, Bangladesh, Sri Lanka.
AFRICA (2007 & 2016)
Travel time: 6 + 1 months.
Distance traveled by bicycle: 14,880 km (9,300 mi).
Stages one: Cairo, Egipto to Cape Town, South África.
Países: Egipto, Sudan, Sudan del Sur, Etiopía, Kenia, Tanzania, Malawi, Zambia, Zimbabwe, Botswana, Angola, Namibia and South África & Morocco
OCEANIA & INDONESIA (2009)
Travel time: 6 months.
Distance traveled by bicycle: 13760 km (8,600 mi).
Stages One: Auckland, New Zealand to Jakarta, Java Island.
Countries: New Zealand, Tasmania, Australia, Papua New Guinea, Timor, Pulau Sumbawa, Pulau Flores, Pulau Komodo, Pulau Lombok, Bali Island, Island of Borneo, Java Island and Sumatra Island.
THE SILK ROAD (2013 & 2018)
Travel time: 5 + 3 months.
Distance traveled by bicycle: 16,160 km (10,100 mi).
Stages Two: 2016 Turkey, Georgia, Azerbaijan, Iran, Afganistan, Pakistan, Kazajistán, Rusia, China, Mongolia …
2018 Tajikistan, = Tlakamakan, China. = Siberia, Rusia. = Gobi, Mongolia.
EUROPE (1993 & 2016)
Travel time: 4 + 3 months.
Distance traveled by bicycle: 8,800 km (5,500 mi).
Stages two: Switzerland, Germany, France, Belgium, Italy and Holland
España, Portugal, Francia, The Road to Santiago…
4. Have you kept track of how many countries you have cycled through?
Well, I've crossed through many small countries like Lesotho; Borneo in Malaysia and Borneo in Indonesia; Papua in Indonesia or Papua in Oceania that are inside other countries or in different continents, just as I have entered some other countries only 400 mi and I have had to leave these for safety reasons or to save my life so all these they can add between 78 and 87 countries …
5. Which is your favourite country for bike touring and why?
I really like Asia as a country, because it is a fascinating continent: you never follow a path without crossing with human history. His land is full of traces that tell stories of wonderful spirits, merchants, missionaries, treasure hunters, pirates, explorers, invaders, immigrants, holy men and others not so much. Where on the road you can meet or cross with a camel, with a steed, with a yak, an buffalo of water or with a western man dressed as a monk and barefoot, who at 30, 40 or 50 years old still can not find his destiny in this world. Where also I discovered that Asia is the grandfather; Europe is the father and America is the son.
Fakirs in Tamel
6. Which country do you think was the most difficult to bike tour in?
A country as beautiful as aggressive …
Ethiopia, Africa (2007)
… there are so many stories! but I think it's one of the places where you forgot to pass to God, as you can see in those children who have their heads shaved to avoid scabies and ringworm, but all with a lock of hair in this, for If God comes through here, have this where to grab them to take them to heaven …
… as well as those famous stone piles on the side of the road waiting for tourists saying "stop, stop give me money or throut stones" …
… or as our passage through the mountains, because this is very slow in the rises of dirt or gravel, children and young people tried to pull us from one side so that other children, other children tried to open our bags to steal what could …
… u those others that when they saw us coming they told us you, you, you forangers, they let us come and try to put a stick to the wheels to break the rays, and leave us stranded for the night to be able to assault and steal …
… I get tired of telling hectorin and Yoshi that they will not get into relationships with certain people, which they ignored and for the second time we went to jail because when we were eating a guy came and sat talking with them half taken, consequently they charged us the account of him and other 7 types; when Hector and Yoshi noticed and claimed this bag a knife and grabbed Hectorin from the neck and the others grabbed Yoshi, I pulled up my knife and grabbed this guy from the neck bleeding this, to remove hectorin and to see I was not playing, while everyone backed up when they saw my reaction, then thank God the military police went by and we all walked to the jail with all the people behind us, we arrived and all the prisoners told us welcome forangers behind the cells with wooden bars, while the commander interrogated us and the owner of the restaurant arrived who clarified everything, we paid him and the commander told me, I can not give them more than 40 min, this is very bad people, please go as far as possible and take care …
7. Do you have any tips for people planning to bike tour?
Among many others I believe that one the most important thing before traveling to any country in the world, is to know their culture, their customs and traditions, their religion, etc. With this information, you can respect and take care of your behavior within it, and you will not have any problem…

A school in Sumbawa Island, Indonesia where they worship the God Ganesh
Never stay to camp at the entrance or exit of a town or human settlement, because it is the place where you find bad people, always camping 4 mi before the town, 4 mi after the town or in the Town.
8. What does the future hold for you? Where are you cycling next?
In April of 2018 I will return to pedal a crossing between the mountains of Tajikistan, Afghanistan and Pakistan to take the Karakorum Hwy towards Kashgar and the Tlakamakan desert, continue through Urumqui and Kazajastan towards Lake Baikal to enter Mongolia on the way to Ulan Bator, then I will cross Gobi and I will finish again in Beijing …
For more Meet the Cyclist interviews, check out the latest here – Bike touring blogs.
Also read: