Choosing the best bike pump for touring can be a bit of a compromise between usability, weight, and size. This guide to picking a pump for cycle touring takes you through a few of the points to consider, as well as suggesting some good quality bike pumps to take on your next bicycle tour.
Pumps for Bicycle Touring
If there's one piece of kit that every cyclist should carry on a bike tour, it's a pump. Even the best bike touring tires need topping up with air every couple of days, and it will end up being your most used bicycle tool during a long tour.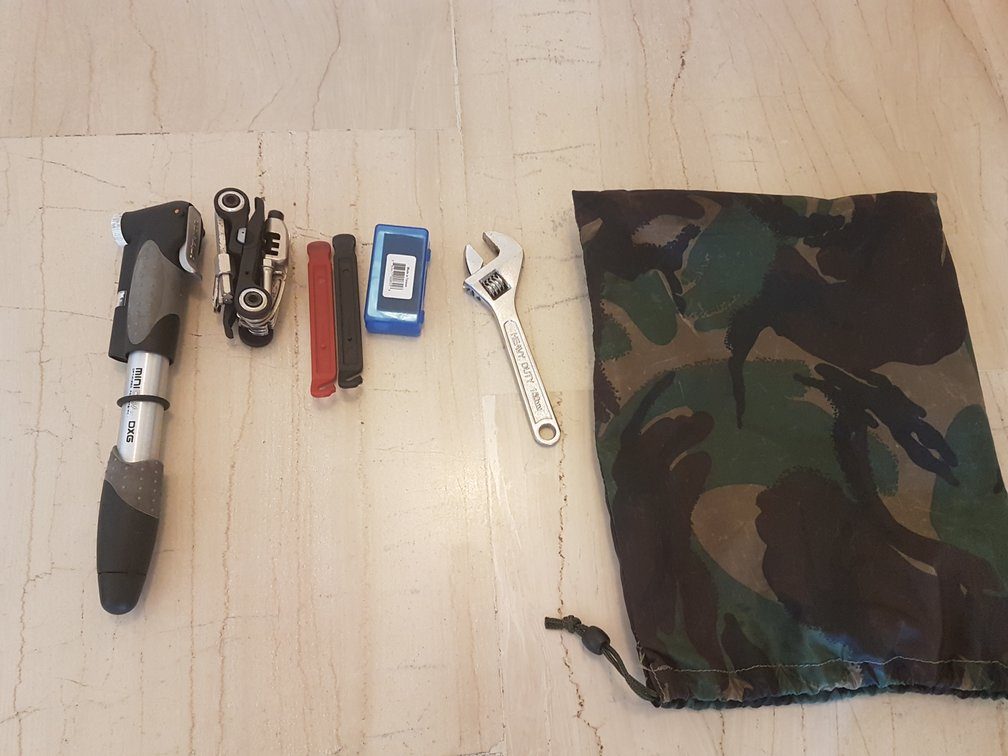 Choosing the best bike pump for touring can be a bit of a challenge though.
You want something that's lightweight and compact. It shouldn't weigh down your panniers or take up too much space in your bag when not in use, but also has to be durable enough to withstand being knocked about on rough terrain while cycling around the world.
After spending several years on different long distance bike tours, there's certain aspects I look for when choosing a bicycle pump.
A regular floor pump is obviously off the cards, so a bike mini pump that fist presta and schrader valves would be ideal.
By sharing some ideas with you in this blog post, I hope to make your next tour a little easier by picking the perfect bike pump, and also save you a bit of money in the long run!
Related: How to stop a Schrader valve leaking
Things to look for in a bike pump for touring
The best pumps for bicycle touring are lightweight and robust. Pumps with a pressure gauge are a definite plus. Other factors to consider include:
The pump should be able to inflate a tire from flat to full pretty quickly without wearing you out!
It should have an attachment for Schrader valves and Presta valves so it's useful for road bike and mountain bike tires.
It should come with an easy to read air pressure gauge so you can see how much air is left inside your tires
The pump should be easy to use and not too heavy
It should fit easily in a bike's handlebar bag, saddle bag or back pocket
Typically, I prefer to use a mini pump design as it takes up less space on the bike. When I carry the pump touring, I tend to keep it in my handlebar bag, as it is my most used piece of kit along with my cycling multi-tool. I prefer them to be easily accessible!
Why I use a mini pump with a pressure gauge
I often describe myself as someone that travels by bike rather than a cyclist that travels. This means that a lot of the lessons I've learned have all been the hard way.
This is especially so when it comes to pressure gauges and bicycle pumps.
Because I wasn't a cyclist, I listened to the 'experts' who said that a mini-pump with a pressure gauge wasn't accurate, therefore there was no point in using one.
As bike pumps without a gauge were also cheaper, I toured a few times with a pump without a gauge.
Then, I thought 'Hey, I'll try a pump with a gauge'.
What a world of difference! My estimates using the old finger test to see how well my tires were inflated were well off when measured on the gauge.
As a result, my tires were better inflated, and guess what, cycling overall with better inflated tires is a lot easier. Who knew!?
Jokes aside – a mini bike pump with a pressure gauge, even if it is roughly accurate, is vastly superior to a pump without a gauge.
Top Picks For Bike Touring Pumps
I have tried a lot of pumps and they all had their flaws. I've found that the best bicycle touring pump is one that is lightweight, has a pressure gauge, and can be used with Presta or Schrader valves.
The cycle pump that I currently have is the Topeak Mini Dual DXG Pump. It must have been a good buy, as I've been using it for over 7 years, and it survived a bike tour from Greece to England very well!
As far as bike mini pumps go, this one is hard to beat when it comes to use and value for money.
Best Bicycle Pump For Touring
The following three are my top choices for the best bike pumps for traveling by bicycle.
---
Topeak Mini DXG MasterBlaster Bike Pump
This is the pump that I have used for many years now. It's still available, although I thought MasterBlaster was a character from Mad Max Beyond Thunderdome!

The Topeak Mini DXG MasterBlaster Bike Pump is the perfect travel bike pump for touring bikes, road and mountain bikes.
Its SmartHead design makes it easy to attach to Presta, Schrader, or Dunlop valves. The Dual Action pumping system allows you to inflate tires quickly with less effort.
The aluminum barrel and thumb lock make this cycling pump lightweight yet durable. It comes with a mounting bracket that can be attached to your frame or seat post so you have easy access when you need it.
Bottom line – I think this is the best mini pump out there, and ideal for your bikepacking adventures.
Check this bicycle touring pump out on Amazon: Topeak Mini DXG Bike Pump
---
Diyife Mini Bike Pump with Gauge
To be honest, I have to ask questions about this pump, simply because the price looks super cheap.
Normally, being cheap comes with a downside, and the downside of a touring bike pump that doesn't work when you're halfway across a desert with no civilization in site would probably make you wish you'd spent a little bit more on a more robust pump!
That said, I've not tried it for myself, but it does have over 8000 largely positive reviews on Amazon.
Diyife mini bike pump is a portable and lightweight bicycle tire pump which can be used on both Schrader valve and Presta valve.
It's designed for road bikes, mountain bikes, hybrid bicycles and other types of bicycles. It's easy to use with high pressure 120psi allow quick and easy pumping to 60psi for mountain bike and 120psi for road bike.
The hose head can be switched between Schrader and Presta valves with no reverse or adapters needed. It comes with an inbuilt gauge that measures up to 120 PS.
Check it out on Amazon: Diyife Portable Bicycle Pump with Gauge
---
LEZYNE Pressure Drive Bicycle Tire Hand Pump
If I've not convinced you that a pressure gauge on a bikepacking pump is a good thing, you may also be in the camp that an external hose is best. If so, this Lezyne pump might be a good option.
LEZYNE's Pressure Drive Bicycle Tire Hand Pump is a lightweight, CNC machined aluminum pump with durable and precise parts that are built to last.
This high pressure bicycle tire hand pump was designed for efficient and ergonomic overlapping action which is optimized for high pressure applications in a small body. Max PSI: 120psi – Dimensions: (Size Small) 170 mm, (Size Medium) 216 mm
The Lezyne pump is equipped with Presta and Schrader valve compatible ABS Flex Hose with integrated valve core tool that enables a tight seal with no air leaks.
The high-pressure, alloy cylinder and precision pump head are designed to deliver maximum volume in minimum time. Mounts to frame or seat post.
Check this pump out on Amazon: LEZYNE Bicycle Hand Pump
---
Make sure your bike pumps work!
One final bit of advice. Make sure you use your pump a few times on the bike you will use on your next tour.
It was on the second day of a bike tour that I was in the middle of nowhere when I got a flat tire. So, naturally, I went to use the brand new pump I had only bought a couple of days before I left, and it didn't work!
From memory, I think there was a problem with the adapter for the valve head, or the locking lever wasn't working properly.
It was all quite humiliating pushing the bike a few miles until I could get to the nearest bike shop and get it all sorted out. Don't be like me – use the pump a few times before you leave to make sure it actually works!
Also read:
Best Bikepacking Pump FAQ
Some of the most frequently asked questions readers have about choosing the best cycling pumps are:
What is the best bicycle pump to buy for a bike tour?
A compact bike pump with an internal pressure hose and gauge is a good choice of pumps for cycle touring. I've been using the Topeak Mini DXG pump for many years now.
What kind of pump do you need for a road bike?
Road bikes typically have Presta valves, but you may want to get a bicycle pump which can pump up both Presta and Schrader Valves without too much messing around with swapping adapters especially if you have bikes with different valves types.
How do I choose a bike pump?
First work out what type of valve your bike has, as your bike pump needs to be able to fit it! After that, consider if you want a small, compact and portable bike pump to take with you on the road, or a larger floor bike pump you keep at home. Better still, get both types!
Why are Presta valves better?
Presta valves are not necessarily better than Schrader valves, although some people believe the smaller hole needed for the helps with wheel strength, which could be a plus for bike touring.
Final Thoughts on Mini Pumps
So, a few concluding thoughts on mini bike pumps: When people talk about which bike tool they should take on tour, they often don't pay enough attention to picking out which mini pumps are best suited to them. Personally, I think the best mini bike pumps should work with all tire valve types (obviously!), should have a gauge so you can get more or less the right tire pressure, and should either fit easily in a cycling jersey pocket or handlebar bag.
Do you have any preferences, or would recommend other mini pumps I've not mentioned here? Leave a comment below, and share it with the cycling community!
---
– Dave Briggs
Dave has cycled around much of the world on different bicycle tours. He's biked from Alaska to Argentina, and England to South Africa among many other travel adventures. In addition to this best travel bike pump guide, he's written many other guides to bike touring.
Follow Dave on social media for travel, adventure and bike touring inspiration: