There are no direct ferries between Naxos and Kea islands in Greece, so the best thing to do is go via a third island such as Syros. This Naxos Kea ferry guide shows you how.
How to get from Naxos to Kea
It has to be said that there are easier Greek islands to travel between than Naxos and Kea. Although they don't look too far apart on the map, they are positioned on two different ferry routes in the Cyclades.
As a result, there are currently no direct ferries sailing from Naxos to the island of Kea.
If, for whatever reason, you do want to travel between the two islands, you'd have to swap ferries at an island in between the two. The best choice here, would be to swap at Syros.
Getting to Kea from Naxos via Syros
As Syros is the administrative capital of the Cyclades islands, it has ferry connections with most of them. So, if you want to travel from Naxos to Kea, you'd divide your trip into two stages.
The first, would be to get a ferry from Naxos to Syros. There's normally around 4 ferries per week during the summer months sailing this route.
Once on Syros, you'd then need to take another ferry from Syros to Kea. This is where you might start having problems, as you might end up staying for a couple of nights on Syros until there's a ferry.
Not that this is a bad thing of course! Check out my guide here: Top things to do in Syros.
If Syros doesn't work out for you, other islands to consider going via include Serifos and perhaps Tinos.
Kea Island Travel Tips
A few travel tips for visiting Kea island:
---
---
---
---
How to get from Naxos to Kea FAQ
A few of the questions readers ask about traveling to Kea from Naxos include:
How do you get to Kea from Naxos?
In order to make the trip from Naxos to Kea you would need to go via another island first such as Syros. There are no direct ferries sailing to the Greek island of Kea from Naxos.
Is there an airport on Kea?
The island of Kea does not have an airport. The closest airport to Kea island in Greece is actually in Athens.
How long is the ferry ride from Naxos to Kea?
With no direct ferries going to Kea from Naxos, it is hard to calculate the exact travel time. If connections line up perfectly, it could be 8 hours or less. In the worst case, you may need to stay a night or two on Syros.
How do I buy ferry tickets to Kea?
The best place to look at Greek ferries online is Ferryhopper. Although I suggest you book your Naxos to Kea ferry tickets in advance, you could also wait until you are in Greece, and use a travel agency.
Naxos Kea Greek Island Hopping
In this article, you've discovered that even in the high season, there are no direct ferry trips from Naxos to Kea. The only way to travel from one to the other, is via another island in the Cyclades group.
If you have any questions about this journey or any crossing between popular destinations in the Greek islands just leave a comment below. I'll do my best to answer!
---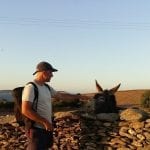 –
Dave Briggs
Dave is a
travel writer
originally from the UK, and now living in Greece. As well as creating this travel blog post about ferries from Naxos to Kea, he's written many more travel blog posts about destinations in Greece. Follow Dave on social media for travel inspiration from Greece and beyond: