This guide on what to look for in a front pannier rack explains the different types of front bike racks available, and which ones may be best for you.
Front Pannier Racks
While most touring bikes are designed to carry the heaviest load (including cyclist) at the rear of the bike, the traditional bike touring setup has racks front and back.
This is because by balancing the load out in the front and rear panniers, the bicycle feels less "rear heavy" and handles better overall. In addition, by swapping some of the weight from the back of the bike onto the front racks, there is less strain put on the rear spokes.
Some touring bikes may come supplied with a front rack. Not all do though, and so you may need to think about what sort of bike racks you want to use on the front of your bicycle.
In this guide on choosing the best front racks for bicycle touring, I'll try to help you work out the most important things to consider.
What to look for in a front rack for bike touring
As with all bike touring gear, in an ideal world a good front rack for a bicycle should be strong, lightweight, affordable, and virtually indestructible.
We live in a realistic world rather than an idealistic one though, so you'll probably need to work out a balance between all these things!
Personally, I am always happy for something to weigh and cost a little bit more if I know it will last longer. I also prefer things like bicycle front racks to be made from stainless steel (coated) where possible.
Aluminum racks are always going to be lighter, but sooner or later, along some remote, dusty, very bumpy road, the aluminum will fail and you'll be be making a duct tape repair wishing you'd bought steel.
Or, like me, you'll be in the middle of the Sudanese desert asking a bunch of very nice chaps if you can borrow their welding gear to make a temporary bracket to fix a broken rack.
Does your bike have a fixed fork?
If the bike you want to use for your next tour has a fixed fork, life is slightly easier and you have more options.
If you have a suspension fork, you'll need to get a front rack that is designed to take that into account. The Old Man Mountain Sherpa rack might be a good choice for this.
Does your bike frame have eyelets?
If you have a specifically designed touring bicycle such as a Thorn, Stanforth, or Surly, the frame of your bike will almost certainly have eyelets designed for mounting racks.
If you have a gravel bike or MTB bike, its frame may have eyelets for a front rack.
Road bicycles sometimes do and sometimes don't have eyelets for front racks. If your bike has a carbon frame, I would be hesitant to consider racks at all – perhaps a trailer might be better for bike touring instead.
Check your bike out, and see if it has eyelets. If it does, move on to choosing which front rack might be the most suitable for your bike. If it doesn't, you'll need to consider if a front rack really is the best solution for you, and see if the clamping kits that are available might be a solution.
Types of Front Racks for Bicycles
While there are many different styles of front bike racks, the vast majority of cyclists will only need to choose between a couple of them:
Lowrider Racks
The best type of front rack for bicycle touring is a lowrider. These will come as a pair, and one a piece go either side of the front wheel.
Best suited to bicycles that have two braze on eyelets on the fork (one in the middle and one at the bottom), you can mount panniers on either side of the wheel.
As the front panniers are carried lower on the bike, the center of gravity is also lower, making for a more stable cycling experience.
The only downside to lowriders are their reduced ground clearance. If you are doing the type of bicycle touring that most cyclists do, this won't be an issue. If you're looking to hit singletrack MTB trails with low rocks or bushes, you might prefer a rack design that gives you more clearance.
My current touring bike is a Thorn Nomad, which has their own Thorn MkV Cro Mo Steel Lo-Loaders – Black Powder Coat installed. To say this is bomb proof is an understatement.
If you think that this front rack will fit your bike, buy it, and you'll probably never have to buy another front rack again!
Highrider Racks
I've never actually seen them called this, so I just made up the word! As you might guess though, these racks will hold the panniers up a lot higher on the bike.
Stability might be an issue on the bike if you're carrying a lot of weight. They can be a good fix for bikepacking enthusiast who might want a bit of extra room with small side panniers or bags.
I've already mentioned the Old Man Sherpa front racks as being suitable for suspension forks – they're also a good example of my newly categorized highrider type of rack!
Top Mount Racks
You can also get front racks which give you the option to mount panniers high or low. In addition, they have a small platform where you can keep an additional bag.
The best examples of this are the Surly Cromoly Front Rack 2.0 and the Bontrager Carry Forward Front Rack.
Porteur Front Rack
You see this type of front rack a lot on European city bikes, and perhaps delivery bicycles. In terms of bike touring, they may be a little heavy overall, and are not really designed to take a pannier.
Instead, you could use this type of rack for other types of bag, or to strap a tent and other camping gear too. Overall, they might not be the ideal choice for bike touring, but if you want your setup to be more multipurpose, and you use your bike to carry large loads in everyday regular life, it could be worth considering.
You might find this type of system referred to as a messenger rack or a pizza rack.
FAQ About Front Racks
Readers thinking about getting a front bike rack for their touring bicycle often ask questions similar to:
How do you use a front bike rack?
In order to install a front rack on your bike, you'll need to have an eyelet on the fork. It should be mounted in the middle of the fork and at the base, with a space between them. Once installed, you will then need to choose appropriate bags or panniers to clip onto the racks.
Why do bikes have front racks?
Bicycles have front racks so that bags can also be carried on the front of the bike as well as the rear. This ensures a more equitable weight distribution on the bicycle, and makes the overall balance of the bike better on a ride.
Which cycle rack is best?
I like the simplicity, strength, and durability of the Thorn MkV Cro Mo Steel Lo-Loaders – Black Powder Coat, available through SJS Cycles in the UK. The Tubus Duo and Tubus Tara are also good models to choose.
Can I put a bike rack on any bike?
Yes you can put a front rack on any bike, although if your bike does not have eyelet mounts, you may need to search for a fixing kit that would be compatible with your bike.
What is the best material for bike racks to be made of?
You can never really go wrong with good quality steel when it comes to materials front and rear racks are made of. Steel may not be as light as aluminum, but lasts longer and is stronger.
For lots more great content on cycle touring gear and equipment check out our dedicated section of cycling blogs that are aimed at providing useful cycle tour information:
Questions about parts of the bike or bicycle touring equipment? Leave a comment below!
---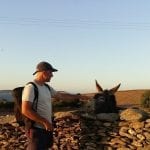 –
Dave Briggs
Dave is a
travel writer
from the UK who has years of bike touring experience having cycled from England to South Africa and Alaska to Argentina among many other travel adventure. As well as creating this guide to front bicycle racks, he's also written many more articles about bicycle touring and bikepacking. Follow Dave on social media for travel inspiration: