A complete guide by a local on how to use the public transport system in Greece to travel around, includes domestic flights, ferries, KTEL buses, trains, the suburban railway, the Athens metro, bus and tram network, and more!
How to get around Greece
Greece is a relatively small country. It consists of mainland Greece, which is a largely mountainous area, and the famous Greek islands.
Finding out how to travel from one place to another isn't always easy though. Patience is required!
Often times, information on public transport in Greece isn't easily accessible. You may have to navigate numerous websites, some of which are only available in Greek.
Depending where you want to go, getting from point A to point B in Greece using public transport can be surprisingly complicated. This is why some travel itineraries in Greece are more popular than others – Athens – Mykonos – Santorini for example.
What is the best way to travel in Greece?
The public transportation network in Greece is made of KTEL bus services, a national rail network, Greek ferries, and a metro system in Athens (Thessaloniki coming soon!). Ferries are the best way to travel between the Greek islands, while buses are an excellent way to get around the mainland.
Public Transportation Greece
In this article, I will try to make your life a little easier when it comes to traveling around Greece. I'll explain everything you need to know about how public transport in Greece operates.
There's also a separate section for travelling on the public transportation system in Athens, the Greek capital.
1. KTEL buses in Greece
A great, relatively inexpensive way to travel around Greece is to use the KTEL buses. The word "KTEL" is an acronym, and effectively stands for a Joint Association of Bus Operators.
KTEL buses are run by private local companies. As a result there are dozens of them around the country.
To this date, there is no central Greece transportation website that includes all KTEL bus information. You will have to rely on Google to figure out the best ways to travel on the KTEL buses in Greece.
Generally speaking, there are two types of KTEL buses: inter-regional buses, which connect several large cities, and local buses.
Itineraries for the most popular inter-regional KTEL buses
Inter-regional KTEL buses travel on the Greek highways, and serve the most important locations all around Greece.
Many of those buses depart from two main bus stations in Athens: Kifissos station and Liosion station.
These two stations are both accessible by bus X93 from the airport. As none of them are very close to a metro station, the best way to get there from your hotel in Athens is probably a taxi.
Liosion KTEL bus station in Athens
Liosion station is located in the suburb of Patissia in Athens. The closest metro station is Agios Nikolaos (900 m. walk).
Buses depart from Liosion station to the following mainland destinations:
Fokida – Delphi and Arachova
Fthiotida – Lamia, Thermopylae
Viotia – Thebes, Livadia
Magnisia – Volos, Mt Pilion
Pieria – Mt Olympus
Evia
Evritania
Karditsa
Larissa
Trikala
Kifissos KTEL bus station in Athens
Kifissos station is located at the outskirts of Athens. The closest metro stations are Sepolia and Eleonas (around 2 km).
Buses from Kifissos station go to the following regions in Greece:
Peloponnese
Achaia – Patras, Aigio, Kalavrita
Argolida – Nafplio, Mycenae, Epidaurus
Arcadia – Tripoli, Dimitsana
Ilia – Pyrgos, Ancient Olympia
Corinth – Corinth, Corinth canal
Laconia – Sparta, Monemvasia, Gythio, Areopoli
Messinia – Kalamata, Pylos, Methoni, Finikounda
Ionian islands
Zakynthos
Corfu
Kefalonia
Lefkada
In addition, KTEL buses depart from Kifissos station to numerous regions in western and northern Greece, such as Thessaloniki, Ioannina, Kavala and Chalkidiki.
If you are coming from abroad and want to visit any of these regions, it's probably best to fly into another airport and then take a local bus.
Local KTEL buses in Greece
Local KTEL buses are a great way to explore Greece. They use the extensive network of regional roads on most islands and much of mainland Greece.
All in all, a bus journey is the most affordable way to travel on the islands, other than hiking. A one-way ticket will cost you a few euros, depending on the distance covered.
Local buses will typically pass by the larger towns. Often, they will stop at a few small villages on the way. They are a good alternative to rental cars if you only want to see the highlights or prefer not to drive in Greece.
Bus services typically vary a lot by season. As a rule, there will be more frequent routes in summer. In winter, some bus routes may not operate at all.
If you are planning to use the local buses in Greece, check the routes in advance of your trip. Just type in the word "KTEL" and the name of your destination, and you should be able to find information.
For example, "KTEL Santorini" will bring you the official website for buses in Santorini.
Alternatively, just leave a comment down below and I'll do my best to answer.
Related: What currency does Greece use?
2. Ferries to the Greek islands
Everybody has heard of Greek island hopping! This is normally done using the extensive network of ferries, and it's a fun mode of transportation in Greece.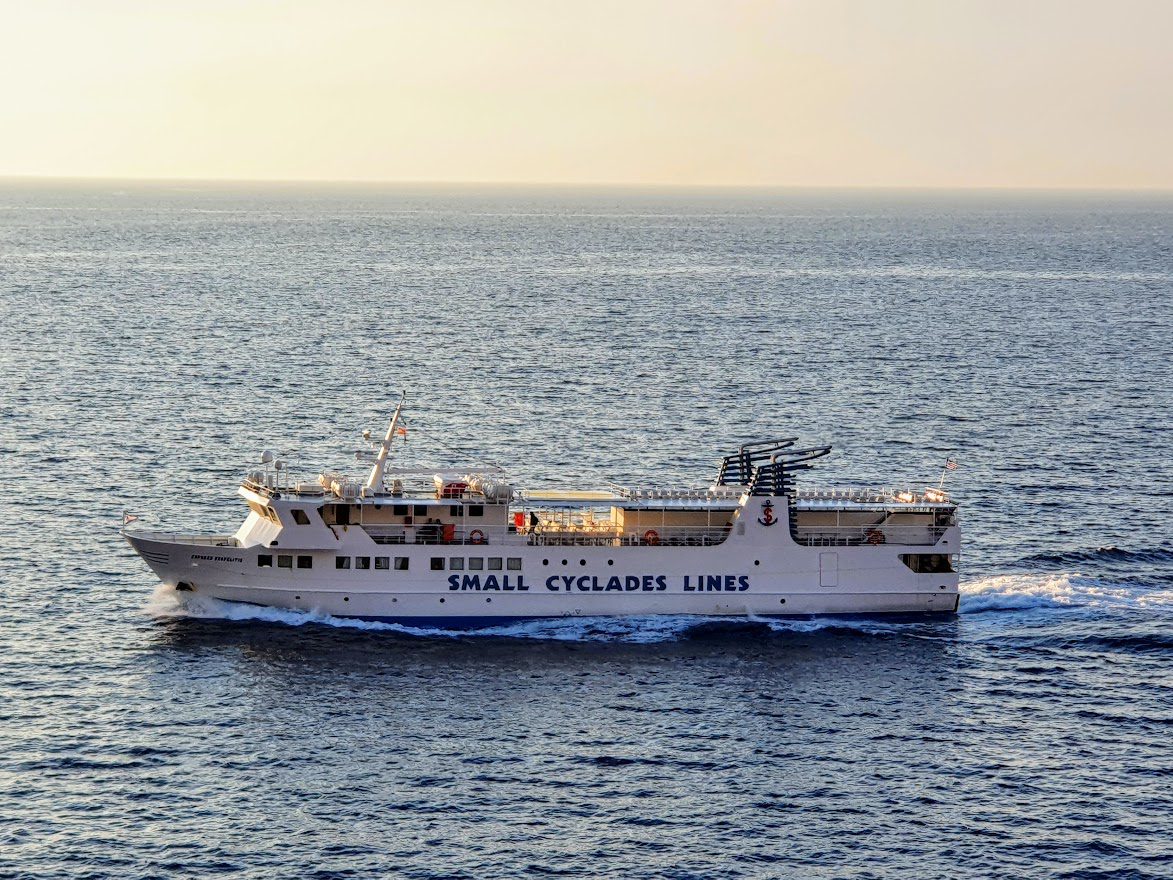 Run by several private companies, the ferries connect the hundreds of Greek islands between them, and with certain ports on the mainland.
Before you plan your Greek island hopping adventure, there's a few things to know about how Greek ferries operate and which islands you can reach from where.
Ferries from Athens ports
There are three main ports close to Athens: Piraeus, Rafina and Lavrion. Ferries depart from these ports to the following island groups:
the Cyclades, like Santorini, Mykonos, Paros and Naxos
the Dodecanese, like Rhodes or Kos
the Northern Aegean islands, like Lesvos, Ikaria and Chios
the Saronic islands, like Hydra, Aegina or Spetses.
In addition, ferries from Piraeus port travel to Chania and Heraklion ports in Crete.
For most foreign visitors, it makes more sense to fly straight to an island rather than take a ferry whenever possible in order to save time.
However, if you are planning to island-hop between islands, you will eventually have to use a ferry at some point. As an example, the Mykonos – Santorini route is much easier done on ferries than flights.
This article describes each of the three ports in detail, and explains how to get there: Ferry Ports in Athens
Ferries to the Ionian islands and Sporades islands
There are two more groups of islands, which are accessible from other ports:
the Ionian islands, like Corfu, Zakynthos and Kefalonia. You can get there from Patras, Kyllini and Igoumenitsa ports, on the western coast of mainland Greece.
the Sporades islands, namely Skiathos, Skopelos and Alonissos.
Again, foreign visitors might want to fly to an island with an international airport, and then use ferries to island-hop.
As an example, It only takes 20 minutes to travel between Kefalonia and Ithaca. Similarly, Skopelos is only 30 minutes on the ferry from Skiathos.
Booking ferry tickets in Greece
These days, you can book most of your ferry tickets online. Ferryhopper is an excellent website where you can compare routes and prices, and buy your ticket.
Various discounts apply for children, students and seniors, upon proof. If you have bought a student ticket, don't forget your student ID.
For more information about ferries in Greece, check out this in-depth article. Includes information about types of ferries, seats, cabins, and anything else you need.
3. The rail network in Greece
The railway network in Greece is another interesting way to explore some of the mainland. The train lines have been renovated in the last decades, so the trip is comfortable and quick.
Northbound trains depart from Athens and pass by many towns and cities, like Thebes, Livadia, Larissa, Katerini and Thessaloniki. Trains run every few hours during the day.
As an indication of time, it only takes four hours and fifteen minutes to get from Athens to Thessaloniki by train.
Train to Kalambaka and Meteora
Many visitors use the train to get to Kalambaka, a small town close to the majestic Meteora monasteries. There is one direct train per day, while all other routes connect at Paleofarsalos.
A single ticket normally costs 30 euro, or you can book a first class ticket for a small extra cost. Various discounts apply for children, students, seniors, and also for return tickets.
You can check the routes and book your tickets in the official website.
Tip: For an extra discount, you can buy your ticket through the Trainose app, which you will need to download on your phone.
Trains to the Peloponnese
Another train line currently serves the Athens – Kiato route. In the near future, this train will terminate in Patras.
This line is part of the suburban railway, which also serves several routes within the city of Athens. More on this, later on.
The Athens train station
The main train station in Athens is called Stathmos Larissis, or Larissa station. This is not to be confused with the city of Larissa!
The red metro line drops you right outside the trains. Frustratingly, there is no escalator or elevator at the metro exit which is closest to the train station.
Tip: If you have heavy luggage, you can use take the elevator towards Diligianni exit, and then cross the street at the traffic light.
4. Domestic flights in Greece
Let's take a look at flying. There are dozens of international and domestic airports all around the country, so when you plan a Greece itinerary, it's perfectly possible to plan to fly between different parts of Greece.
Some of the Greek islands, like Mykonos, Santorini, Rhodes, Corfu or Crete, have airports that double as both domestic and international airports. This means that you can reach them on a direct flight from abroad, or fly domestically if an air connection is available.
Other Greek islands have a domestic airport only, so you might only be able to fly in from Athens, and possibly another major airport in Greece such as Thessaloniki.
In this article, you can see which Greek islands have an airport.
Several large cities around mainland Greece also have airports. Some of the most popular mainland destinations you can reach by plane include Thessaloniki, Kalamata and Volos.
How to take a plane in Greece
Let's say you are traveling from another country, and you want to get to a destination with a domestic airport, such as Milos, Naxos, Paros or Ioannina.
In this case, you would usually have to book a flight to the Athens international airport, and then an onward domestic flight to your destination of choice.
If there are no connections from Athens airport, you'd have to connect through another airport instead.
The airlines that run the most domestic routes in Greece are Olympic Air / Aegean Airlines, and Sky Express. Ryanair also runs a few routes in the summer months.
Plane fares tend to increase if you book them last minute, so it's best to book as early as possible. Before you book, check the various fare categories and rules, as some fares only allow hand luggage.
One of the benefits of flying domestically in Greece is that the routes operate all the year through.
You can use websites like Skyscanner or Kayak to compare routes and prices.
5. Public transportation in Athens
The Greek capital is a large, chaotic city. It is located in the region of Attica, a peninsula surrounded by sea.
The Athens city centre, where you will find historic attractions like the Acropolis, is quite small. Some people could comfortably walk around the whole of the centre.
However, there are dozens of suburbs that can only be reached by public transportation, or a taxi ride. These include Glyfada, Voula, Faliro, Kifissia, and the port of Piraeus.
If it's your first trip to Greece and you land at Athens Airport, your first enounter with the Greek public transport services are likely to be when you want to get from the airport to the city center, or from Athens Airport to Piraeus.
Ticket prices for public services in the city centre
A single ticket for all public transport in central Athens costs 1.20 euro, and is valid for 90 minutes. During this time, you can use a combination of different types of transport.
If you are staying in Athens for a few days, check out alternative ticket options. There are passes offering unlimited travel for a period of time, like 24 hours or 5 days.
Different pricing policies apply for tickets to and from the Athens airport.
Here's an introduction on how to get around the capital of Greece.
5a. Athens metro system
The metro is a fast and convenient way to travel around Athens. It is a popular form of public transport which covers a large area of the city, including the airport and Piraeus port.
There are currently three Athens metro lines:
the blue line, which runs from the Athens airport to Nikea
the red line, which runs from Elliniko to Anthoupoli
the green line, which runs from Kifissia to the port of Piraeus.
All three lines pass by major metro stations in the centre, including Syntagma, Monastiraki, Thissio and Acropolis. The metro system is constantly been extended to connect more suburbs.
Here's an in-depth guide on how to use the Athens metro system.
5b. Athens tram network
The tram system connects central Athens with areas on the western coast of Attica, like Faliro, Glyfada and Voula.
It is an inexpensive way to get around, and the coastal route is quite scenic. However, it is rather slow, so if you are in a hurry you might prefer to take a taxi.
5c. Athens suburban railway
The suburban trains connect the Athens airport with several areas of the city and the port of Piraeus. Confusingly, it uses part of the metro line, and part of the national rail line.
Once you've figured out which platform you need to be on to catch the train you want, it's a fast and convenient way to travel around the capital.
Take that into consideration, especially if you are planning to take the suburban trains from the airport.
5d. Athens buses and trolleys
The extensive network of public buses and trolleys reaches most areas in the Attica peninsula. The Athens city buses also cover different routes in the suburbs.
People visiting for a few days are probably unlikely to use them. Working out the itineraries can be complicated, and you will need to know the names of the areas you are going to.
The OASA telematics app is probably the best way to work out bus and trolley routes.
5e. Athens KTEL buses
The extensive network of KTEL buses cover several areas in the outskirts of Athens. A few examples are Marathon, Sounion, and the ports of Rafina and Lavrio.
Itineraries are supposed to be posted on the KTEL Attikis website, which is rarely updated on time, and never in English. Ask your hotel manager or another Greek speaking person for help.
Tickets for the KTEL buses are fairly inexpensive – as an example, it costs a little over 6 euro for a one-way ticket to Sounion.
You can buy your ticket on the bus, and it's best to try and have some small money.
5f. Athens international airport services
There are three ways to get from the Athens airport to the city centre: taxis, metro and buses. You can also take the suburban railway, which is useful for people going straight to Piraeus.
Tickets for the metro and suburban train cost 9.20 euro, while the bus fare is only 5.50 euro.
If you are tired from a long trip or have lots of luggage, you might find that public transportation isn't the best way to leave the airport. Instead, you can take a taxi, or private transfer.
You can always find a taxi at the airport taxi ranks. However, I strongly suggest pre-booking a transfer.
Even at this day and age, many taxi drivers in Greece will try to get a few more euros out of you – I see it all the time in travel forums.
This article gives an in-depth overview of public transport from the airport.
6. Taxis in Greece
Ok, so strictly speaking taxi cabs aren't really public transport, but the chances are you'll end up taking one sooner or later during your vacation.
In Athens, official taxis are yellow, but in other parts of the country they might be different colours.
Legally, a driver is required to use a meter that is clearly displayed for the passenger to see. Reality may differ though!
I personally like to use either the Beat or Taxiplon apps to hail a cab ride. You'll be given an estimation of the charge, and also be able to see when the driver is due to arrive.
You should note that Uber as you know it doesn't work in Greece!
Frequently asked questions about public transport in Greece
Here are a few questions that people often ask about Greece and the Greek islands:
How do you get around in Greece?
In order to travel around Greece, your can use a mix of flights, buses, trains and the extensive network of ferries.
Is public transportation good in Greece?
Generally speaking, public transport in Greece is pretty good. You will find that services on the most popular routes are frequent. With that said, you should always allow for delays caused by weather, especially when taking ferries.
Is public transport free in Greece?
Public transport in Greece is free for young children. Depending on which means of transport you are using, your child might be entitled to travel for free. Check each service for more information.
What is the most common transportation in Greece?
Most visitors arrive to Greece by plane. While in Greece, they usually use a combination of ferries, buses, trains, taxis and possibly rental cars.
Can tourists drive in Greece?
Tourists with a valid driving licence can rent a car and drive in Greece. Visitors from outside the EU will need to issue an International Driver's Permit prior to their trip to Greece.
---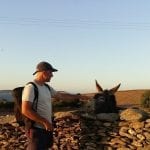 –
Dave Briggs
Dave is a
travel writer
from the UK who lives in and writes about Greece. As well as creating this Greece transportation guide, he's also written many more travel blogs and itineraries for destinations all over Greece. Follow Dave on social media for travel inspiration from Greece and beyond: