It's time to start thinking about your next vacation in Greece with this travel guide to the best Greek islands to visit in 2023 that aren't Santorini or Mykonos!
Best Islands in Greece
It might feel like sacrilege to some for me to say this, but Santorini and Mykonos are not the best islands in Greece!
It's not that they're not nice, it's not that they're not pretty.
It's just that EVERYONE in the world seems to want to go there!
Which when you think about it, is a bit strange, considering there's hundreds more islands in Greece to choose from.
So, if you've been planning a vacation in Greece, but feel that Santorini and Mykonos are not for you, perhaps one of these other Greek islands will be more appealing?
Best Greek Islands To Visit
Because different people want different things from a vacation, I've put these Greek islands into different categories. You'll find a description of each one, and then the option to find out more by clicking through to a deeper dive guide.
And why should you listen to me?
I've been living in Greece now for nearly 5 years, both traveling around and writing about this beautiful country. It's a tough job, but someone's got to do it!
Best Up-and-Coming Greek Island – Tinos
Let's kick off with Tinos, a Greek island that has somehow managed to fly low under the tourist radar for a long time. It's an island I think you're going to start hearing a lot more about in coming years, and also one of my favorite islands in the Cyclades.
I spent 10 days there in 2019 with Vanessa, enjoying both the amazing beaches and picturesque villages. There's a lot to see and do, and it's often been compared to Mykonos as twice as nice but for half the price.
I think this is a bit misleading, because the two islands are very different.
Tinos has a much more laid back vibe, and there's no party scene to speak of. It's a perfect Greek island to visit for anyone that wants to get out and explore an authentic island at their own pace.
Just a 3 or 4 hour ferry ride away from Athens, Tinos makes a nice destination by itself, or a good place to begin a Greek island hopping trip.
Find out more: Tinos Island Travel Guide
Best Greek Island for a Road Trip – Crete
If you're looking to spend all your time on one Greek island, and want a place big enough to drive around for a week or two, Crete is your number one choice.
Crete is by far the biggest Greek island, and people find themselves returning year after year, attracted to its varied landscapes, beaches and way of life.
There's ancient history of course, such as the Minoan remains of Knossos and Phaistos, villages where life seems little changed with the passing of years, and some of the best food in the world.
If you're planning a road trip to Crete, you have a choice of places to stay such as hotels, guesthouses and campgrounds. There's even something of a beach free-camping culture on the south coast – if you know where to look!
Find out more: Take a road trip in Crete
Best Greek Island for Couples – Milos
Just a few years ago, Milos would have found itself in the up-and-coming category, but it's fair to say that it's been 'discovered' now! Whilst we're not talking Santorini levels of tourism, the peak month of August is certainly a lot busier than it used to be.
Milos has always had something of a reputation as a couples island. Perhaps this was due to the Venus de Milo (now on display in the Louvre, Paris) being discovered there. Perhaps not.
Regardless, it's a quiet island perfect for couples, where nightlife activity is a late meal with wine, ouzo and a starry sky.
There's plenty to do during the day though, with well over 70 beaches in Milos, the options for tours of the island, and some incredible sailing trips.
Find out more here: Milos island travel guide, and if you're interested in discovering more couples islands in Greece, take a look here: Best Greek islands for couples
Best Family friendly Greek island – Naxos
Whilst Mykonos is not totally unsuitable for a family vacation, there are far more suitable Greek islands. Naxos is perhaps the best of them all, boasting a mix of authentic culture, great food. There are also some great beaches in Naxos.
There's a far more relaxed atmosphere to Naxos, with none of that party vibe that might be off-putting to families with younger kids. Additionally, there's plenty of opportunities for all sorts of activities to keep kids occupied, such as cooking classes, water-sports lessons, and even the Aqua Fun Water Park!
There's also a selection of very family friendly resorts you can choose to stay at, such as Iria Beach Art Hotel, Nissaki Beach Hotel, and Galaxy Hotel Naxos.
Find out more here: Things to do in Naxos
Best Greek island for peace and quiet – Schinoussa
Two of my favourite Cyclades Islands to get away from it all are Iraklia and Schinoussa. They are both ridiculously quiet, with Schinoussa being perhaps the more tranquil. Visit outside of August, and it will feel like you have the place to yourself!
Schinoussa is a great choice for anyone who just wants to get away from it all. It would be ideal for anyone seeking a retreat such as artists, writers, and even travel bloggers like me!
When I visited, we stayed in a lovely little room overlooking a beach which had one taverna. Life doesn't get any simpler than waking up, walking to the beach for a swim and a lay down, having a big lunch, and falling asleep on the beach again. Perfect!
Find out more here: Schinoussa Travel Guide
Best Greek island day trip from Athens – Hydra
There's a few islands that can be visited as a day trip from Athens, with Hydra being perhaps the most famous one. This cosmopolitan little place is one of the Saronic Islands just an hour from Athens.
Visitors often take what is known as a 3 islands trip, combining a visit to Hydra with Aegina and Poros. I would encourage people to stay the full day – or longer – on Hydra though so as to not be too rushed.
The port town is very quaint, and wandering through the narrow, winding streets feels like being on some sort of romantic adventure. There's plenty of places to eat of course, and you can also take water taxis to various beaches.
Find out more here: Day trip to Hydra
Best Greek island for a weekend break from Athens – Andros
Andros is one of the closest islands to Athens, and can be reached in under two hours by ferry. Whilst unknown to a lot of foreign visitors to Greece, it's a popular weekend destination from Athens.
The island is something of a cultural hot-spot, where wealthy donors fund museums and art galleries. The Andros Museum of Contemporary Art is one such example, where local artists have their work displayed alongside world renowned artists such as Picasso.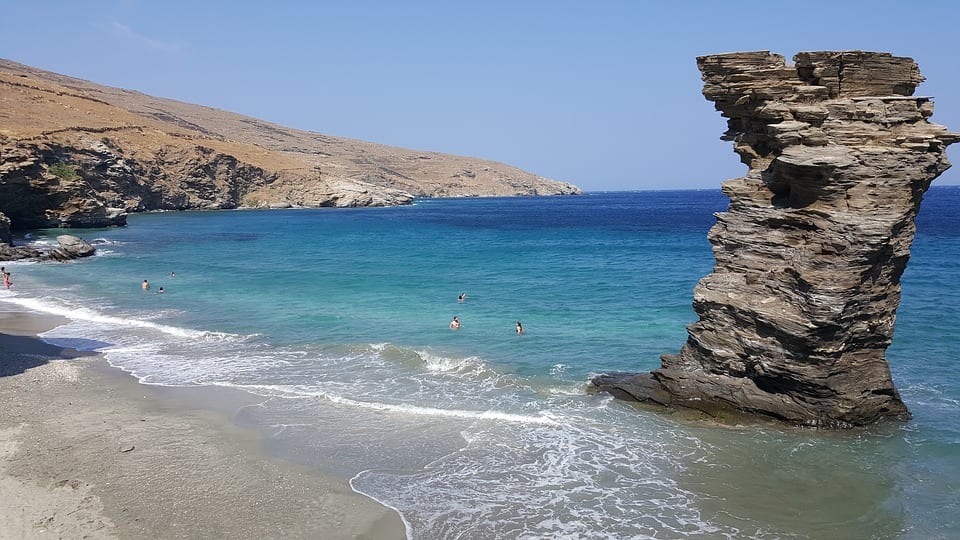 This cultural side to the island lends it an aspect of chic, but it also has plenty of unpretentious beaches and nice places to eat. It's also got one of the most photogenic beaches in Greece – "tis Grias to Pidima", or "Old Lady's Jump Beach".
Related: Best Greek Islands For Beaches
Best Greek island for people who have visited Greece before but want to try somewhere new – Patmos
Wow, that was a long category title!
I'll be honest, the reason I came up with it, was I was struggling to fit Patmos into a category, but didn't want to miss it out completely.
And why didn't I want to miss it out?
Find out more here: Patmos Island in Greece
Honourable Mentions
Other Greek islands you should consider visiting, include:
Islands of Greece FAQ
Readers planning a vacation to the Greek isles often have very different needs. Some like sandy beaches, whereas others like to explore archaeological sites. If you're planning on visiting Greece, these frequently asked questions might help you choose which places to include on an island hopping itinerary:
Which is the nicest Greek island to visit?
All the Greek islands are very nice, and each one has its own personality and attractions. The largest Greek island of Crete is a good choice as there is something to do there for literally everyone.
How do I choose which Greek island to visit?
There are several ways to go about this. For example, you might want to choose an island that has direct international flights or domestic connections with Athens. Alternatively, you might prefer a remote island with few visitors. The best thing to do, is first choose an island group such as the Ionian Islands or Cycladic Islands, and from there narrow down an island to visit.
Which is the quietest Greek island to visit?
The tiny island of Iraklia (one of the Cyclades islands) definitely ticks the box for a quiet, small island in Greece.
Which island of Greece as the best beaches?
As you can imagine, there's a lot of stunning beaches to be enjoyed in Greece! Perhaps Milos, a Cycladic island, has the best variety ranging from golden sand to unique chalky white bays with crystal clear waters.
Whichever Greek island you decide to visit, I hope you have a great time! Have any questions? Leave a comment down below, and I'll get back to you.
Also read:
---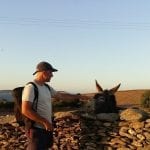 –
Dave Briggs
Dave is a
travel writer
originally from the UK, and now living in Greece. He loves the gorgeous beaches, and although finds it really hard work visiting beautiful islands in the Mediterranean Sea somehow finds a way to struggle through! In addition to creating this travel blog post about Greek islands you should visit that you might not have heard of before, he's also written hundreds more travel guides to Greek destinations all over the country. Follow Dave on social media for travel inspiration from Greece and beyond: