Patras is the largest city in the Peloponnese of Greece, famous for its carnival celebrations. Here's some more things to do in Patras, Greece when visiting.
Patras Travel Guide
Patras is situated on the north coast of the Peloponnese, right by the bridge which connects the peninsula with the west coast of mainland Greece.
Outside of the Carnival season, I think it's fair to say it's not a tourist destination in itself, but more of a transit point for travellers.
You might spend the night in Patras either waiting for a ferry to or from the Ionian islands of Kefalonia or Ithaki, or pass through when driving to or from Delphi.
If you're wondering how to get there, take a look here – How to get from Athens Airport to Patras.
Still, there's plenty to do in Patras for at least one day, and possibly two if you want a good night out in this city with a lively student vibe.
What to do in Patras
This list of things to do in Patras is by no means extensive, and really covers the main highlights. It's based on my own sightseeing itinerary of Patras when spending a day there waiting for a ferry to Ithaki.
Keep in mind that Patras is the third largest city in Greece, so the longer you stay, the more you will find to do!
1. Archaeological Museum of Patras
In my opinion, the archaeological museums of Patras is easily one of the best museums in Greece. Perhaps rather controversially, I think it's even better than the Acropolis Museum in Athens!
The Patras archaeological museum is a large place, clean, and we'll laid out. All the exhibits are well marked, and and there's plenty of light giving it a modern feel.
Visiting here gives a true appreciation for some of the history of Patras.
Before visiting, I was blissfully unaware that it was an important city during the Roman / Byzantine era.
Some of the displays reflect this time, and the Archaeological museum of Patras had some of the best mosaics I've seen to date.
If you only have time to do one thing in Patras, then push the museum to the top of you list, and allow about 1.5 hours to walk around.
2. Castle of Patras
Set up on one of the highest points of the city, Patras Castle is another place you should visit when in town.
Entrance here is free, and whilst in some respects it's not the most overwhelming castle you'll have visited, the views from the top out over the city of Patras are worth the walk.
It also has several nice green areas, making it a pleasant place to take some time out, have a stroll, something to eat, or simply soak up the beauty and quietness of it all. Allow about half an hour, or as much time as you want if you just want to chill whilst staying in Patras.
3. Roman Theatre in Patras
Just a short walk away from the castle is the Roman Theatre of Patras. It has recently been reconstructed, and now holds small outdoor gigs during the summer months. It doesn't take much time to visit the theatre in Patras and entrance is free, unless you are seeing a concert.
4. Street Art in Patras
Patras is a student city, and as such has a happening urban vibe which includes street art.
I found quite a few pieces just walking between the main places to see in Patras, although I daresay there is a lot more tucked away elsewhere. These are just two examples of some of the street art in Patras that I literally stumbled into.
5. St. Andrew's Cathedral
Patras has a number of very impressive churches, but I think that St. Andrews church was the best… and probably the biggest!
As with all churches in Greece, feel free to walk inside if it's open (and I would guess this one normally is), but be respectful in your dress and of the people worshipping there.
6. Sunset in Patras
If you have time, head down to the port area and catch the sunset. It's always good to take a few moments out as the evening turns to night!
7. Roman Odeon
A Roman conservatory for musical performances, built during the reign of Emperor Augustus at the turn of the first century AD, may be found in Patras' hilltop upper town, near to the castle.
The Odeon was connected to Patras' Roman Forum and was actually constructed before the Odeon in Athens. Live performances are held at the Odeon, with the main events being part of the summer Patras International Festival.
8. Achaia Clauss Winery
No vacation in Greece is complete without a wine tour, so why not drop by the Achaia Clauss Winery?
The winery is built a little like a castle, and visitors will experience not only the wines themselves, but also the history behind this interesting place.
Where to eat in Patras
Eating at an Ouzeria in the evening is a must-do when visiting Patras. Many of these places don't open until later in the evening though, so if you are from Northern Europe you may need to adjust your body clock to Mediterranean eating times!
Just below the castle on Ifestou, a row of small places will open any time between 19.00 and 21.00, and this is where the students and millennials come to hang out. No real place to recommend here – you'll just need to find any one of them that has a table!
Onward Travel from Patras
The Port of Patras is the gateway to the Ionian islands as well as several different ports in Italy. You can also drive to most places in the Peloponnese quite comfortably within 3 hours from Patras.
FAQ About Patras in Greece
Readers planning a trip to the Greek city of Patras often ask questions like these:
Is Patras Greece worth visiting?
Patras is one of the largest cities in Greece, and has plenty of attractions to keep visitors occupied during their stay. It's definitely worth spending a night or two in Patras if you have time.
What is Patras known for?
Patras is most well known for its Carnival, which is one of the biggest in Europe. Other notable attractions include the Castle of Patras, and the Roman Odeon.
Where can I go from Patras?
You can take ferries from Patras to the Greek Ionian Islands such as Kefalonia and Ithaca. If you are driving to the UK from Greece, you can take a ferry from Patras to Italy for a more direct route across Europe.
Is Patras a nice city?
Patras has a nice mix of ancient sites, culture, and a contemporary scene influenced by its large student population, making it a lovely city to visit.
Pin this Patras things to do travel guide for later
---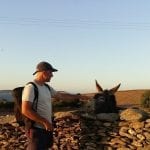 –
Dave Briggs
Dave is a
travel writer
who has been living in and writing about Greece since 2015. In addition to creating this guide to Patras Greece, he's written hundreds more guides to other destinations. Follow Dave on social media for travel inspiration from Greece and beyond: