You can travel the 69 km distance from Chania airport to Rethymno by bus, taxi, or rental car. This guide shows you the best options.
Chania International Airport – Rethymno Transport Options
As Rethymno does not have its own airport, one of the best ways to get there is to take a flight into Chania airport, and then take a bus, taxi or rental car from there.
As the distance between Chania Airport and Rethymnon is only 69 kms, travel times can be between 1 hour and 10 minutes and 1 hour 30 minutes depending on the type of transfer option you go for.
One note: You may see Rethymnon spelled in various ways, such as Rethymno, Rethimno, Rethimnon etc. It's all the same place! Check it out here on Google maps
Bus from Chania Airport to Rethymnon
If you're looking for the cheapest way to travel from Chania airport into Rethymnon, then public transport is the way to go.
There is a direct bus line that travels the route between Chania International Airport and Rethymno. The bus operates seven days a week and tickets can be purchased on board the bus from the driver. It might be a good idea to have cash and small coins in case the bus driver does not have a card machine or much change.
The journey takes around 1 hour 30 minutes and costs €7.30, and buses leave from just outside the arrival terminal.
For the most part, there are 4 buses a day. These leave at different times depending on the season, and so it's advisable to check out the E-Ktel website for the latest timetables.
If the timetables leave you waiting at the airport for too long, another option is to get a bus from Chania Airport into Chania Town bus station, and then take another bus from Chania Town to Rethymnon. There's normally a bus every hour on this route.
Taxi from Chania Airport to Rethymnon
If you are two or more people traveling together, a taxi may be a good option. It's certainly the most convenient and fastest way, and can also take you directly to your hotel door at your final destination.
When I was last at Chania Airport in January 2023, the set price for the journey from Chania Airport to Rethymno by taxi cost €94.
You can see the set prices for transfers from Chania Airport at a small taxi kiosk outside Chania airport. Photo shown below, although prices of course change from year to year. This photo was take January 2023.
I expect that the taxi fare prices for this ride would be higher in the summer months.
You can take a taxi from the queue outside the airport. In the summer, there may be fewer taxis available and wait times could be longer.
If you are traveling in August in particular, I'd recommend pre-booking a taxi suing Welcome Pickups. It might be a little more expensive, but at least you aren't waiting around and and get straight to your hotel in Rethymno!
Rental Cars at Chania Airport
One thing you do notice on the way out of Chania airport, is there are dozens of car rental places! So, renting a car and driving yourself is definitely an option, and you could return the car to the airport on the day you fly back home.
Having a rental car also gives you the option to explore more of Crete – the largest island in Greece.
Take a look at Discover Cars to find affordable car rentals at Chania airport.
Visit Chania FAQ
Some of the most commonly asked questions about public and private transfers from Chania airport to Rethymnon in Crete include:
How much is a taxi from Chania to Rethymno?
The set price for the journey from Chania Airport to Rethymno by taxi is €94. Prices may be higher in the summer months, and you can check the latest prices for the trip on the sign by the taxi stand outside Chania airport.
Which is nicer Rethymno or Chania?
Too tough to call! Rethymno and Chania are two of the most popular cities in Crete, Greece, and they both offer a unique charm that draws travelers from around the world. Both cities provide a range of attractions to explore, from historical sites to stunning beaches, making them ideal destinations for those looking for an unforgettable holiday.
How far is Rethymnon from airport?
Rethymnon does not have its own airport. The closest international airport is at Chania which is 69 kms away. Heraklion International Airport is slightly further away from Rethymnon at 80kms.
How far is Chania from Rethymnon?
The road distance between Chania and Rethymno is 69 km. It takes around 1 hour and 10 minutes to 1 hour and 30 minutes to travel between the two cities depending on the type of transfer you choose.
You might also be interested in these other travel guides for Chania, Rethymnon and Crete:
---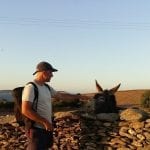 –
Dave Briggs
Dave's
travel writer
from the UK who's been living in Greece since 2015. As well as writing this guide on how to travel from Chania airport to Rethymnon in Crete, he's written hundreds of other travel blog posts and itineraries Greek islands and destinations all over Greece. Follow Dave on social media for travel inspiration from Greece and beyond: