The best time to visit Crete is often thought to be between May and September. This travel guide describes the best time of year to visit Crete and what to expect.
When to visit Crete
The island of Crete is one of the most unique destinations in Greece. It offers an abundance of archaeological sites, such as Knossos, Festos, Gortyna and Matala, and some of the best beaches in the world. It also has some of the warmest weather in Greece in the summer – no wonder it's a popular destination!
A Crete vacation is something you should take once in your life, but when is the best time to go?
Personally, I think the best time to see Crete is in the months of June and September. It is an all-year destination though, so let's take a look season by season to work out what is the best time of year to visit Crete.
---
Is summer the best time to visit Crete?
Greece is predominantly a summer destination, and as a result the island of Crete receives most of its tourism in summer.
People with only a few days to spend on Crete may find the most famous destinations, such as Chania, Elafonissi and Knossos to be very busy.
Crete is a huge island though, and copes much better with the increased summer tourist numbers than small islands like Santorini.
Summer is a great time to take a road trip around Crete (totally recommended!), where you can get off the beaten path and still find quieter destinations and beaches.
Much of South Crete, as well as many of the mountain villages, can be fairly quiet in summer, and will offer a less spoilt, more authentic experience.
Crete Summer Weather
The weather in summer in Crete is quite hot, with very little rain. There's also sun. Lots and lots of sun! The town of Ierapetra, on the south of Crete, is said to have the most sunshine in Greece (and maybe Europe), with 3,101 hours of sun per year
One thing you should be cautious of when visiting Crete in summer, are the occasional strong winds. The beaches in Crete are often affected by the summer winds, and the waves can get really high. If you see a red flag on the beach, don't go for a swim!
Related: Best Greek Islands For Beaches
With all the above in mind, summer is a great time to visit Crete. Just make sure you have enough days to explore the island, and don't get disappointed if it's too windy for a swim – have a raki instead.
As for the archaeological sites, visit first thing in the morning or late in the evening, as the midday sun is really strong in the summer months.
Also read: Best time to visit Greece
---
Should I visit Crete in winter?
At the time of writing, Crete doesn't have a ski resort, despite the fact that there is a fair amount of snow in winter.
However, there are plenty of villages up on the mountains that are worth exploring. As for the archaeological sites, they are open in winter, and you will enjoy them more, as you will be very unlikely to queue for tickets and you won't get burnt by the scorching summer sun.
Places such as Heraklion are buzzing all year around, and in fact in winter offer a more authentic feel dues to the reduced visitor numbers. Check out my guide on the best things to do in Heraklion for more.
If you decide to visit Crete in winter, you might be better off spending most of your time in the biggest towns, as some of the smaller places, especially on the south, might close down.
Crete Winter Weather
The weather in winter can be very variable. Winter 2018-2019 was particularly rainy and cold, and there were severe floods all around the island.
Other winters have been relatively dry and quite warm, at least enough for locals to go swimming.
All in all, winter can be an interesting time to visit Crete, especially if you don't care much about the beaches – still, it's the trickiest season weather wise.
Bottom line: The winter months are the low season with fewer crowds, cooler weather and chilly nights. Many beach towns will be very quiet if not completely closed, but it's a good time of year to visit small villages and have a more authentic experience.
---
Is spring the best time to go to Crete?
Spring is definitely a great time to visit Crete. Following the winter, the weather will generally be sunny and bright, and nature will be at its best.
As Crete is south of mainland Greece, it is generally warmer, and spring temperatures are a lot more pleasant than summer highs. That said, some people find the sea quite cold even in June.
Late spring might be the best time to travel to Crete, especially for people who don't like crowds. The days are long, people are friendly, and the island is preparing for the summer.
Local's tips: Shoulder season Crete travel in spring can be a very interesting time to go, especially around Greek Easter. There will be some local celebrations and you'll get an increasing amount of sunny days as the season moves on.
---
And what is visiting Crete like in autumn?
September and October are some of the best times to visit Crete. With many of the crowds gone, and lovely weather overall, you will definitely enjoy Crete in autumn. In fact, autumn in Greece in general is one of the best seasons to visit.
There are still regular daily boat services from Athens, and plenty of events and happenings all around the island.
If you are looking to book hotels in Crete, you will also find out that September is much better in terms of cost than August, especially if you want to get off the beaten track. You'll get better room rates in the tourist resorts, although some areas may close down in late October.
If you have several days, it's worth heading south, and perhaps catching a boat to either Gavdos or Chrissi islands, both to the south of Crete. Few places in Greece feel as remote – and in the case of Gavdos, you will really be at the southernmost place of Europe.
I've listed Crete as among my best Warmest Greek islands to visit in October.
---
Let's look at visiting Crete month by month:
Crete in January
It's the start of the year, and whilst many people think that Crete is warm all the year around, they might discover something slightly different. Well, actually, it IS warmer than Norway in January of course, but it doesn't mean it's shorts and t-shirt weather.
If you do visit Crete in January, try to base your trip on history and culture, where you can duck inside if the weather gets wet or cold.
Weather in Crete in January: The coldest month of the year in Crete is January, with average temperatures ranging between 8 and 16 degrees. Day time temperatures hover on average at 11 degrees, and it is the wettest month of the year.
Keep in mind that at higher elevations (of which Crete has many!) there can be snow. Bring warmer clothing!
---
Crete in February
You might find some cheap flights out to Crete in February, and some people fly over from the UK for long weekend breaks. Of course the weather is not guaranteed, but it gets you away from the weather back home!
Weather in Crete in February: February is one of the wettest months in Crete, and also the second coldest after January. It's certainly not the time to visit in the 100% expectation of sun in Crete, but you might be pleasantly surprised all the same. Especially with how unpredictable the planet's weather has been lately!
Whilst you can still expect snow on the mountains, the coastal and sea-level towns and cities enjoy average day-time temperatures of 12.5 degrees. It's still off season and the sea water is perhaps a tad chilly to swim.
---
Crete in March
If you want to enjoy the picturesque harbour towns such as Chania but without the crowds, March is the time of year to do so. In a few weeks time, the cruise ships will start turning up, but right now, you can really soak up the vibes of this quaint place.
Weather in Crete in March
The average day time temperatures slowly increase to 14 degrees in March, with highs of 17 degrees (freak days can be much higher), and lows of 10 degrees.
It's probably still a little too cold for swimming in the sea for most though, with seawater being around 16 degrees in Crete in March.
More here: Greece in March
---
Crete in April
Greek Orthodox Easter normally (but I guess not always!) falls sometime in April. You should note that this is also normally at a different time of year to Easter for Protestant and Catholics.
Visiting Crete in Easter can be a memorable experience. This is the most important religious occasion during the year, with numerous processions and ceremonies held at churches all over the island. Easter is also a popular time for Greeks to travel, but you should keep in mind that not all shops and services will run during the religious holiday.
Weather in Crete in April
It might not be the official start of summer, but April does herald the beginning of consistently warm temperatures of 17 degrees during the day. Day time highs regularly touch 20 degrees or higher. Rainy days give way to clear skies, and you might find warm water to swim.
---
Crete in May
There might not be any solid guarantees on sunny weather, but May is a good choice of month to travel around Crete. Most of the tourist infrastructure such as campsites will now be open since after the Easter break, but few visitors have actually arrived.
Head to the south of Crete, and you may get your first swim of the year on some of those gorgeous beaches without anyone else around. It's a particularly good time to take a road trip, and you might also be able to pick up some cheap holidays in Crete during this month.
Weather in Crete in May
If the temperature chart of Crete in May was analysed like a stock market chart, you would describe it as exuberant, testing new highs before pulling back. The weather in Crete in May is basically getting warmer and warmer,
As I write this on May 22nd 2019, day time highs of 32 degrees are predicted in a few days time. Last week, there were highs of 23 and lows of 13.
---
Crete in June
We're really starting to get going with good weather in June, and Crete makes an ideal destination for some early summer sun. It's around this time of year that campervan and caravan owners from Northern Europe will make their way over, setting up camp for the next few months.
Personally, I find that June is one of the most pleasant months in Greece regarding temperatures. Sure, it can reach high 30s on some days, but it does cool down a little at night.
Weather in Crete in June
Summer has officially begun in Crete in June, and the temperatures are there to match as well. Sea temperatures rise to a comfortable 22 degrees, rain has fallen away to almost nothing, and day time highs regularly touch 27 degrees.
Read: Greece in June
---
Crete in July
You'll find it starts to get busy in July as the build up to August begins. With that said, the first two weeks of July can be a good choice of when to go to Crete. Hotels prices may not have risen, and the school holidays are not yet in full swing.
Weather in Crete in July
Are you feeling hot yet? July in Crete can be very warm, especially if you have just rocked up from somewhere with chillier weather like the UK. With highs of 31 degrees and lows of 22 degrees, you're going to need to pack plenty of sunscreen and have a bottle of water in standby!
---
Crete in August
By far the busiest and most popular time to visit Crete is in August, This is because of the European school holidays, and it is also the month that most Greeks take their own vacations.
Fortunately, Crete is big enough to easily absorb the visitors, but you can expect higher prices. I'd also recommend booking hotels and transportation well in advance.
Weather in Crete in August
August is the warmest month in Crete. In fact, you'll probably feel at as soon as you step off the plane when a wall of heat hits you! Rain is just wishful thinking for the most part, and day time highs of 32 degrees are the norm. Every now and again, there may be 40 degree days, so be prepared!
---
Crete in September
In a similar fashion to June, September is another of my favourite months to spend in Greece. The temperatures are cooling off slightly, and there's an almost audible sigh of relief as the peak tourist crowds thin out.
Many people who love outdoor activities prefer to visit Crete in September. For example, September can be a good time to walk the Samaria Gorge, go bike touring, or take other tours in Crete.
Weather in Crete in September
The Crete weather in September is very similar to June, only that the sea temperatures are still warm as they haven't cooled down yet.
---
Crete in October
October is a good time to visit Crete, especially for outdoors lovers and bargain hunters. It's getting toward the end of the tourist season, so prices are lower, and the temperatures are reduced enough to make activities such as hiking and cycling more pleasant.
Weather in Crete in October
What's the weather going to be like in Crete in October? Honestly, it's anyone's guess! You might get a bright sunny day still warm enough to enjoy a day at the beach. Perhaps you'll need to wrap up in a fleece as you wander around now quieter archaeological sites like Knossos. Thankfully, no matter what the weather does, there's always something to do on the island of Crete!
Check out my guide to what the weather in Greece is like in October.
---
Crete in November
The only downside to visiting Crete in November, is that there is no guarantees on the weather. So, if you were looking for a beach holiday in Crete, November isn't really the month to choose.
Instead, anyone interested in getting a taste for the more authentic side of Crete will find November and interesting time to visit. Get up into the traditional villages, meet the locals, and perhaps even visit those archaeological sites which will now be much quieter.
Weather in Crete in November
Crete still manages to achieve day time highs of 20 degrees in November, making it a good candidate for early winter sun in Europe. At night, it does sink down to 13 degrees, so a fleece or coat is required. You can expect more rain at this time of year.
---
Crete in December
As Crete is blessed with countless archaeological sites and museums, there is always something to see and do. That said, I wouldn't personally say that December is the best month to visit. It would be a shame to miss out on all those great beaches!
Weather in Crete in December
As it can rain up to 15 days per month in Crete in December, it is one of the wettest months. Although not as cold as January or February, it's still a touch on the chilly side, and by this point, most sane people have stopped swimming in the sea. You'll probably still find a few less than sane ones out there though!
Related: Warmest places to go in Europe in December
---
And here's a few other things to consider on the best time to visit Crete:
Best time to visit for cheap holidays to Crete
Crete is located in the Mediterranean Sea to the south of the Greek mainland. With several direct summer flights from all around Europe to Crete, and many daily flights and ferries from Athens all year round, Crete is an easy to reach destination that most visitors fall in love with and aim to return to.
If you are looking to get the best value for money during a holiday in Crete, the summer is best avoided though. In particular, give August a complete miss!
I feel for families who have no choice (because of the school holidays) to visit Crete in August, but if you do have a choice, follow my advice. Not only is this the most expensive month, but it's also more crowded in popular places like Chania.
In order to look for cheap holidays in Crete, aim to visit during the shoulder seasons. Just after Easter break and up until mid-June, and then mid-September to the end of October will give you the best value.
Best time for Greek Island Hopping
There are other fantastic Greek islands within close distance to Crete, including Santorini, Naxos, and Mykonos. The best time to get ferries between the Greek islands is during the summer, when the full schedule is in operation.
Some of these islands can also be visited as day trips from Heraklion.
Take a look here on: How to get to Santorini from Crete
Best time for swimming in Crete
This really depends how brave you are! I know people that swim all the year around in Crete, but that's not my cup of tea!
For most people, the waters in Crete will be warm enough to swim from mid-May until around the end of October.
As you are probably aware though, the climate and weather all around the world seems to change year on year. Don't be surprised if there's freak warm weather even late November!
And the best time to visit Crete is…
Having been to Crete in all seasons, Crete is really an ideal holiday destination all year round. It is probably best to avoid winter if you have the option, and choose spring or autumn over summer if you want to avoid crowds.
However, as Crete is really big, you will always be able to find a beach where you will be on your own, even in August! So just pack your bags and go – the best time to visit Crete is now.
FAQ About When To Go To Crete
Here are some commonly asked questions about the best time of year to travel to Crete.
What is the best time of year to go to Crete?
The best time to visit Crete is between the middle of May until the first week or two in October. During this time, you'll enjoy great weather in Crete as well as beautiful warm seas to swim in.
What is the best month to travel to Crete?
The absolute best months to go to Crete are June and September. These months have all the best weather and climate, but much fewer tourists. If you don't like crowds, avoid August in Crete.
What is the best area to stay in Crete?
Both Heraklion and Chania are good areas to stay in Crete. They are both near airports, and it is easy to reach other parts of the island on day trips around Crete.
How warm is Crete in October?
The average temperatures are still quite high in October in Crete at 24ºC during the day. At night, you might need to have a warmer top so you can still enjoy dining outdoors at night when temperatures average around 15ºC.
Check out my Crete Travel Guides to plan your trip in more detail.
Never been to Greece before? You need to read my travel tips for first time visitors to Greece. And if you're thinking of traveling elsewhere in Europe, my guide to the best time to visit Europe will be a good read.
Do you want my free travel guides to Greece?
Are you currently planning a vacation to Crete and other parts of Greece? You might find my free travel guides to be useful. They're packed full of tips, inside knowledge and practical advice so you can have the holiday of a lifetime. You can get a hold of them below:
Pin this guide on the best month to go to Crete
Feel free to add this guide on the best time to visit Crete to one of your Pinterest boards. This time you can easily find it later.
---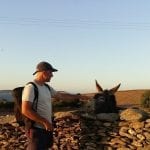 –
Dave Briggs
Dave is a
travel writer
from the UK who has been living in Greece since 2015. As well as writing this guide on this best time of year to go to Crete, he's written hundreds of other insightful travel guides to Greek islands and destinations on this travel blog. Follow Dave on social media for travel inspiration from Greece and beyond: